Abstract
Adverse climatic conditions may differentially drive human migration patterns between rural and urban areas, with implications for changes in population composition and density, access to infrastructure and resources, and the delivery of essential goods and services. However, there is little empirical evidence to support this notion. In this study, we investigate the relationship between climate shocks and migration between rural and urban areas within Mexico. We combine individual records from the 2000 and 2010 Mexican censuses (n = 683,518) with high-resolution climate data from Terra Populus that are linked to census data at the municipality level (n = 2321). We measure climate shocks as monthly deviation from a 30-year (1961–1990) long-term climate normal period, and uncover important nonlinearities using quadratic and cubic specifications. Satellite-based measures of urban extents allow us to classify migrant-sending and migrant-receiving municipalities as rural or urban to examine four internal migration patterns: rural-urban, rural-rural, urban-urban, and urban-rural. Among our key findings, results from multilevel models reveal that each additional drought month increases the odds of rural-urban migration by 3.6%. In contrast, the relationship between heat months and rural-urban migration is nonlinear. After a threshold of ~34 heat months is surpassed, the relationship between heat months and rural-urban migration becomes positive and progressively increases in strength. Policy and programmatic interventions may therefore reduce climate induced rural-urban migration in Mexico through rural climate change adaptation initiatives, while also assisting rural migrants in finding employment and housing in urban areas to offset population impacts.
Access options
Buy single article
Instant access to the full article PDF.
US$ 39.95
Tax calculation will be finalised during checkout.
Subscribe to journal
Immediate online access to all issues from 2019. Subscription will auto renew annually.
US$ 119
Tax calculation will be finalised during checkout.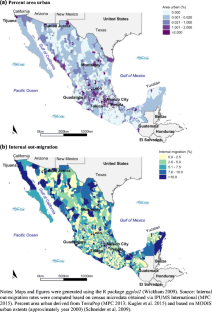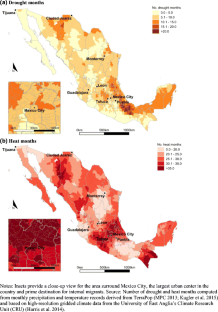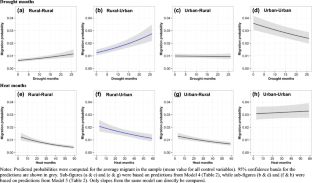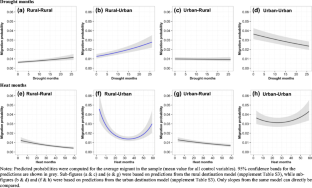 References
Adamo SB (2010) Environmental migration and cities in the context of global environmental change. Curr Opin Environ Sustain 2:161–165. doi:10.1016/j.cosust.2010.06.005

Adger WN (2006) Vulnerability. Glob Environ Change-Human Policy Dimens 16:268–281. doi:10.1016/j.gloenvcha.2006.02.006

Aguayo-Tellez E, Martinez-Navarro J (2013) Internal and international migration in Mexico: 1995-2000. Appl Econ 45:1647–1661. doi:10.1080/00036846.2011.633894

Bardsley DK, Hugo GJ (2010) Migration and climate change: examining thresholds of change to guide effective adaptation decision-making. Popul Environ 32:238–262. doi:10.1007/s11111-010-0126-9

Barrios Puente G, Perez F, Gitter RJ (2015) The effect of rainfall on migration from Mexico to the U.S. International Migration Review online. doi:10.1111/imre.12116

Barrios S, Bertinelli L, Strobl E (2006) Climatic change and rural-urban migration: the case of sub-Saharan Africa. J Urban Econ 60:357–371. doi:10.1016/j.jue.2006.04.005

Bodvarsson O, Van den Berg H (2009) The economics of immigration. Springer, Heidelberg, Germany

Bohra-Mishra P, Oppenheimer M, Hsiang SM (2014) Nonlinear permanent migration response to climatic variations but minimal response to disasters. Proc Natl Acad Sci U S A 111:9780–9785. doi:10.1073/pnas.1317166111

Burney J, Naylor R, Postel S (2013) The case for distributed irrigation as a development priority in sub-Saharan Africa. Proc Natl Acad Sci U S A 110:12513–12517. doi:10.1073/pnas.1203597110

Charlton D, Taylor JE (2013) Mexicans are leaving farm work: what does it mean for U.S. agriculture and immigration policy? Agricultural and Resource Economics Update 16:1–4

Collins M et al (2013) Long-term climate change: projections, commitments and irreversibility. In: Stocker TF et al (eds) Climate change 2013: the physical science basis. Contribution of working group I to the fifth assessment report of the Intergovernmental Panel on Climate Change. Cambridge University Press, New York, pp. 1029–1136

Conde C, Ferrer R, Orozco S (2006) Climate chage and climate variability impacts on rainfed agricultural activities and possible adaptation measures. A Mexico case study Atmosfera 19:181–194

Cooper PJM, Dimes J, Rao KPC, Shapiro B, Shiferaw B, Twomlow S (2008) Coping better with current climatic variability in the rain-fed farming systems of sub-Saharan Africa: an essential first step in adapting to future climate change? Agric Ecosyst Environ 126:24–35. doi:10.1016/j.agee.2008.01.007

Dillon A, Mueller V, Salau S (2011) Migratory responses to agricultural risk in northern Nigeria. Am J Agric Econ 93:1048–1061. doi:10.1093/ajae/aar033

Feng S, Oppenheimer M (2012) Applying statistical models to the climate-migration relationship. Proc Natl Acad Sci 109:E2915

Findlay AM (2011) Migrant destinations in an era of environmental change. Glob Environ Change-Human Policy Dimens 21:S50–S58. doi:10.1016/j.gloenvcha.2011.09.004

Gray CL, Bilsborrow R (2013) Environmental influences on human migration in rural Ecuador. Demography 50:1217–1241. doi:10.1007/s13524-012-0192-y

Gray CL, Wise E (2016) Country-specific effects of climate variability on human migration. Clim Chang 135:555–568. doi:10.1007/s10584-015-1592-y

Harris I, Jones PD, Osborn TJ, Lister DH (2014) Updated high-resolution grids of monthly climatic observations - the CRU TS3.10 dataset. Int J Climatol 34:623–642. doi:10.1002/joc.3711

Hsiang SM (2010) Temperatures and cyclones strongly associated with economic production in the Caribbean and central America. Proc Natl Acad Sci U S A 107:15367–15372. doi:10.1073/pnas.1009510107

Hunter LM, Luna JK, Norton RM (2015) Environmental dimensions of migration. Annu Rev Sociol 41:377–397. doi:10.1146/annurev-soc-073014-112223

Hunter LM, Murray S, Riosmena F (2013) Rainfall patterns and U.S. migration from rural Mexico. Int Migr Rev 47:874–909

IPCC (2014) Summary for policymakers. In: Field CB et al. (eds) Climate Change 2014: Impacts, Adaptation, and Vulnerability. Part A: Global and Sectoral Aspects. Contribution of Working Group II to the Fifth Assessment Report of the Intergovernmental Panel on Climate Change. Cambridge University Press, New York, pp 1–32

Joseph G, Wodon Q, Liverani A, Blankespoor B (2014) Is climate change likely to lead to higher net internal migration? The republic of Yemen's case. In: Wodon Q, Liverani A, Joseph G, Bougnoux N (eds) Climate change and migration: evidence from the Middle East and North Africa. The World Bank, Washington, D.C., pp. 191–204. doi:10.1596/978-0-8213-9971-2

Kugler TA, Van Riper DC, Manson SM, Haynes DA, Donato J, Stinebaugh K (2015) Terra Populus: workflows for integrating and harmonizing geospatial population and environmental data. Journal of Map and Geography Libraries 11:180–206. doi:10.1080/15420353.2015.1036484

Luke DA (2004) Multilevel modeling. Quantitative applications in the social sciences 143. Sage Publications, Inc, Thousand Oaks, CA

Massey DS (1987) Understanding Mexican migration to the United-States. Am J Sociol 92:1372–1403. doi:10.1086/228669

Massey DS, Espinosa KE (1997) What's driving Mexico-US migration? A theoretical, empirical, and policy analysis. Am J Sociol 102:939–999. doi:10.1086/231037

Mberu BU (2005) Who moves and who stays? Rural out-migration in Nigeria. J Popul Res 22:141–161

McLeman R, Opatowski M, Borova B, Walton-Roberts M (2016) Laurier US embassy workshop on environmental migration and displacement: workshop report. Balsillie school of international affairs. Waterloo, Canada

McSweeney C, New M, Lizcano G (2008) UNDP climate change country profiles: Mexico. United Nations Development Programme, New York

Mendelsohn R (2007) What causes crop failure? Clim Chang 81:61–70. doi:10.1007/s10584-005-9009-y

Mercer KL, Perales HR, Wainwright JD (2012) Climate change and the transgenic adaptation strategy: smallholder livelihoods, climate justice, and maize landraces in Mexico. Glob Environ Change-Human Policy Dimens 22:495–504. doi:10.1016/j.gloenvcha.2012.01.003

MPC (2013) Terra Populus: Beta version [machine-readable database]. University of Minnesota, Minneapolis, MN, Minnesota Population Center

MPC (2015) Integrated Public Use Microdata Series, International: Version 6.4 [Machine-readable database]. University of Minnesota, Minneapolis

Mueller V, Gray CL, Kosec K (2014) Heat stress increases long-term human migration in rural Pakistan. Nat Clim Chang 4:182–185. doi:10.1038/nclimate2103

Nawrotzki RJ, Bakhtsiyarava M (2016) International climate migration: evidence for the climate inhibitor mechanism and the agricultural pathway. Population, Space & Place Online, pp. 1–16. doi:10.1002/psp.2033

Nawrotzki RJ, DeWaard J (2016) Climate shocks and the timing of migration from Mexico. Popul Environ 38:72–100. doi:10.1007/s11111-016-0255-x

Nawrotzki RJ, Hunter LM, Runfola DM, Riosmena F (2015a) Climate change as migration driver from rural and urban Mexico. Environ Res Lett 10:1–9. doi:10.1088/1748-9326/10/11/114023

Nawrotzki RJ, Riosmena F, Hunter LM (2013) Do rainfall deficits predict U.S.-bound migration from rural Mexico? Evidence from the Mexican census. Popul Res Policy Rev 32:129–158. doi:10.1007/s11113-012-9251-8

Nawrotzki RJ, Riosmena F, Hunter LM, Runfola DM (2015b) Amplification or suppression: social networks and the climate change-migration association in rural Mexico. Glob Environ Chang 35:463–474. doi:10.1016/j.gloenvcha.2015.09.002

Raftery AE (1995) Bayesian model selection in social research. Sociol Methodol 25:111–163. doi:10.2307/271063

Ratha D, Mohapatra S, Oezden C, Plaza S, Shaw W, Shimeles A (2011) Leveraging migration for Africa: remittances, skills, and investments. World Bank, Washington, DC

Rogers A, Castro L (1981) Model migration schedule. IIASA Research Report RR-81-030. International Institute for Applied Systems Analysis, Laxenburg, Austria

Romero-Lankao P (2010) Water in Mexico City: what will climate change bring to its history of water-related hazards and vulnerabilities? Environ Urban 22:157–178. doi:10.1177/0956247809362636

Romero-Lankao P et al. (2014) North America. In: Barros VR et al. (eds) Climate Change 2014: Impacts, Adaptation, and Vulnerability. Part B: Regional Aspects. Contribution of Working Group II to the Fifth Assessment Report of the Intergovernmental Panel on Climate Change. Cambridge University Press, New York, pp 1439–1498

Runfola DM, Romero-Lankao P, Jiang L, Hunter LM, Nawrotzki RJ, Sanchez L (2016) The influence of internal migration on exposure to extreme weather events in Mexico. Soc Nat Resour 29:750–754. doi:10.1080/08941920.2015.1076918

Sanchez B, Rasmussen A, Porter JR (2014) Temperatures and the growth and development of maize and rice: a review. Glob Chang Biol 20:408–417. doi:10.1111/gcb.12389

Schneider A, Friedl M, Potere D (2009) A new map of global urban extent from MODIS satellite data. Environ Res Lett 4:1–11. doi:10.1088/1748-9326/4/4/044003

Schwarz G (1978) Estimating the dimension of a model. The Journal of Statistics 6:461–464

Scoones I (1999) Sustainable rural livelihoods: a framework for analysis. Institute of Development Studies, Brighton, UK

Scott J (2007) Agricultural policy and rural poverty in Mexico. Centro de Investigación y Docencia Económicas (CIDE), Mexic City

Singer JD, Willett JB (2003) Applied longitudinal data analysis: modeling change and event occurrence. Oxford University Press, New York

Stark O, Bloom DE (1985) The new economics of labor migration. Am Econ Rev 75:173–178

Ward PS, Shively GE (2015) Migration and land rental as responses to income shocks in rural China. Pac Econ Rev 20:511–543. doi:10.1111/1468-0106.12072

Wehner M, Easterling DR, Lawrimore JH, Heim RR Jr, Vose RS, Santer BD (2011) Projections of future drought in the continental United States and Mexico. J Hydrometeorol 12:1359–1377. doi:10.1175/2011jhm1351.1

Wickham H (2009) ggplot2: elegant graphics for data analysis. Springer, New York

Wiggins S, Keilbach N, Preibisch K, Proctor S, Herrejon GR, Munoz GR (2002) Discussion - agricultural policy reform and rural livelihoods in Central Mexico. J Dev Stud 38:179–202. doi:10.1080/00220380412331322461

Winters P, Davis B, Corral L (2002) Assets, activities and income generation in rural Mexico: factoring in social and public capital. Agric Econ 27:139–156

Zhang Q, Kornich H, Holmgren K (2013) How well do reanalyses represent the southern African precipitation? Clim Dyn 40:951–962. doi:10.1007/s00382-012-1423-z
Acknowledgments
The authors wish to acknowledge the statistical office that provided the underlying data making this research possible: Instituto Nacional de Estadística, Geografía e Informática (INEGI). We express our gratitude to Joshua Donato and David Haynes for help with the construction of the spatial variables. Many thanks to the journal editors and two anonymous reviewers for insightful comments on earlier drafts of this manuscript. We also express our gratitude to Rachel Magennis for her careful editing.
Contribution
RJN and JD designed the study and lead the interdisciplinary research collaboration. RJN and MB performed the statistical modeling and generated the figures and tables. JD and JTH developed the theoretical framing and performed background research. All authors jointly wrote the manuscript.
Ethics declarations
Funding
The authors gratefully acknowledge support from the Minnesota Population Center (#R24 HD041023), funded through grants from the Eunice Kennedy Shriver National Institute for Child Health and Human Development (NICHD). This work also received support from the National Science Foundation funded Terra Populus project (NSF Award ACI-0940818). DeWaard received additional support from the U.S. Consulate General Toronto to attend the Laurier Environmental Migration Workshop in Waterloo, Ontario, on January 21–22, 2016.
Conflict of interest
The authors declare that they have no conflict of interest.
Electronic supplementary material
About this article
Cite this article
Nawrotzki, R.J., DeWaard, J., Bakhtsiyarava, M. et al. Climate shocks and rural-urban migration in Mexico: exploring nonlinearities and thresholds. Climatic Change 140, 243–258 (2017). https://doi.org/10.1007/s10584-016-1849-0
Received:

Accepted:

Published:

Issue Date:
Keywords
Environment

Mexico

Climate change

Internal migration

Rural-urban migration