Abstract
Indigenous peoples are uniquely sensitive to climate change impacts yet have been overlooked in climate policy, including within the United Nations Framework Convention on Climate Change (UNFCCC). We identify and characterize the discourse around adaptation in the UNFCCC, examining implications for Indigenous peoples based on a critical discourse analysis of the original Convention and decision texts from subsequent Conference of the Parties (CP). CP16 in Cancun (2010) was a critical juncture after which adaptation emerged as a central component of climate policy in the Convention, with a shift from a purely scientific approach to adaptation to one where local, Indigenous, and traditional knowledge are also valued. Since CP16, the discursive space for incorporating the voices, needs, and priorities of Indigenous peoples around adaptation has expanded, reflected in decision texts and engagement with Indigenous issues in the work streams of relevant bodies. We outline opportunities for greater engagement of Indigenous issues in the UNFCCC post-Paris Agreement, noting the underlying State-centric nature of the Convention limits what can ultimately be achieved.
Access options
Buy single article
Instant access to the full article PDF.
US$ 39.95
Tax calculation will be finalised during checkout.
Subscribe to journal
Immediate online access to all issues from 2019. Subscription will auto renew annually.
US$ 119
Tax calculation will be finalised during checkout.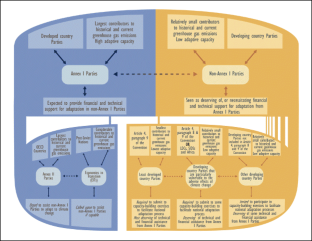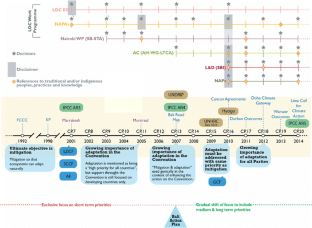 References
Antonova AS (2016) The rhetoric of "responsible fishing": notions of human rights and sustainability in the European Union's bilateral fishing agreements with developing states. Mar Policy 70:77–84

Ayers J, Alam M, Huq S (2010) Global adaptation governance beyond 2012: developing country perspectives. In: Biermann F, Pattberg P, Zelli F (eds) Global climate governance beyond 2012: architecture, agency and adaptation. Cambridge University Press, Cambridge

Barnett M, Finnemore M (2004) Rules for the world: international organizations in global politics. Cornell University Press, Ithaca

Betsill M, Dubash NK, Paterson M, van Asselt H, Vihma A, Winkler H (2015) Building productive links between the UNFCCC and the broader global climate governance landscape. Glob Environ Polit 15:1–10

Betzold C, Flesken A (2014) Indigenous peoples in international environmental negotiations: evidence from biodiversity and climate change. In: Kaime T (ed) International climate change law and policy: cultural legitimacy in adaptation and mitigation. Routledge, New York

Biermann F, Gupta A (2011) Accountability and legitimacy in earth system governance: a research framework. Ecol Econ 70:1856–1864

Brugnach M, Craps M, Dewulf A (2014) Including Indigenous peoples in climate change mitigation: addressing issues of scale, knowledge and power. Clim Chang. doi:10.1007/s10584-014-1280-3

Cole DH (2015) Advantages of a polycentric approach to climate change policy. Nat Clim Chang 5:114–118

CTKW (2014) Guidelines for considering traditional knowledges in climate change initiatives. The climate and traditional knowledges workgroup https://climatetkw.wordpress.com/guidelines/

Dryzek JS (2005) The politics of the earth: environmental discourses. Oxford University Press, Oxford

Eckersley R (2012) Moving forward in the climate negotiations: multilateralism or minilateralism? Glob Environ Polit 12:24–42

Fairclough N (2013) Critical discourse analysis: the critical study of language. Routledge, London

Ford JD (2009) Dangerous climate change and the importance of adaptation for the Arctic's Inuit population. Environ Res Lett 4(2):1–9

Ford J (2012) Indigenous health and climate change. Am J Public Health 102:1260–1266

Ford JD et al (2016) Including Indigenous knowledge and experience in IPCC assessment reports. Nat Clim Chang 6(4):349–353

Foucault M (1982) The subject of power. Crit Inq 8:777–795

Gampfer R, Bernauer T, Kachi A (2014) Obtaining public support for north–south climate funding: evidence from conjoint experiments in donor countries. Glob Environ Chang 29:118–126

Gehring T, Faude B (2013) The dynamics of regime complexes: microfoundations and systemic effects. Glob Gov 19:119–130

Gupta J (2010) A history of international climate change policy. WIREs Clim Chang 1:636–653

Haas PM (2002) UN conferences and constructivist governance of the environment. Glob Gov 8:73–91

Hansen L (2006) Security as practice: discourse analysis and the Bosnian war. Routledge, New York

IPCC (2014) Climate Change 2014: Impacts, Adaptation, and Vulnerability. Working Group II contribution to the Fifth Assessment Report of the Intergovernmental Panel on Climate Change. Cambridge University Press, New York

Jordan A, Huitema D, Hilden M, van Asselt H, Rayner T, Schoenefeld J, Tosun J, Forster J, Boasson E (2015) Emergence of polycentric climate governance and its future prospects. Nat Clim Chang 5:977–982

Karlsson-Vinkhuyzen SI, McGee J (2013) Legitimacy in an era of fragmentation: the case of global climate governance. Glob Environ Polit 13(3):56–78

Keohane RO, Victor DG (2011) The regime complex for climate change. Perspect Polit 9:7–23

Khan MR, Roberts JT (2013) Adaptation and international climate policy. WIREs Clim Chang 4:171–189

Maillet M, Ford J (2013) Climate change adaptation, indigenous peoples and the United Nations Framework Convention on Climate Change (UNFCCC). Health Dipl Monit 4(2):10–14

Maldonado JK, Bennett TMB, Chief K, Cochran P, Cozzetto K, Gough B, Redsteer MH, Lynn K, Maynard N, Voggesser G (2016) Engagement with Indigenous peoples and honoring traditional knowledge systems. Clim Chang 135:111–126

Maru YT, Smith MS, Sparrow A, Pinho PF, Dube OP (2014) A linked vulnerability and resilience framework for adaptation pathways in remote disadvantaged communities. Glob Environ Chang 28:337–350

Schipper ELF (2006) Conceptual history of adaptation in the UNFCCC process. Rev Eur Commun Int Environ Law 15:82–92

Schipper ELF, Ayers J, Reid H, Huq S, Rahman A (2014) Community based adaptation to climate change: scaling it up. Routledge, London

Schroeder H (2010) Agency in international climate negotiations: the case of Indigenous peoples and avoided deforestation. Int Environ Agreements-Polit Law Econ 10:317–332

Singh RK, Singh KP, Turner NJ (2013) Why are you asking our gyan (knowledge) and padhati (practice)?: ethics and prior informed consent for research on traditional knowledge systems. Indian J Tradit Knowl 12:547–562

Smith H, Sharp K (2012) Indigenous climate knowledges. WIREs Clim Chang, 3(5):467–476

UNFCCC (2014) Report on the meeting on available tools for the use of indigenous and traditional knowledge and practices for adaptation, needs of local and indigenous communities and the application of gender-sensitive approaches and tools for adaptation. Fourtieth Session of the Subsidiary Body for Scientific and Technological Advice, UNFCCC, Bonn

UNHRC (2009) Resolution 10/4. Human rights and climate change. Tenth session of the United Nations Human Rights Council. http://ap.ohchr.org/documents/E/HRC/resolutions/A_HRC_RES_10_4.pdf

Waitt G (2010) Doing Foucauldian discourse analysis: revealing social realities. In: Hay I (ed) Qualitative research methods in human geography. Oxford University Press, Oxford
Acknowledgments
This work was carried out with support from the International Development Research Centre, the Canadian Institute of Health Research, the Natural Sciences and Engineering Research Council of Canada, and the Social Sciences and Humanities Research Council of Canada.
The authors thank Kirstie Booth for her help with figure design, colleagues on the Indigenous Health Adaptation to Climate Change project (www.ihacc.ca) for their continued support, and the three anonymous reviewers for their contributions to improve this paper.
IHACC Research Team
Lea Berrang-Ford, McGill University
Sherilee Harper, University of Guelph
Shuaib Lwasa, Makerere University
Didacus Namanya, Ugandan Ministry of Health
Alejandro Llanos, Universidad Peruana Cayetano Heredia (UPCH)
Cesar Carcamo, Universidad Peruana Cayetano Heredia (UPCH)
Electronic supplementary material
Below is the link to the electronic supplementary material.
Appendix
Appendix
1McGill University (Montreal, Canada), Makerere University (Kampala, Uganda), Universidad Peruana Cayetano Heredia (Lima, Peru), and University of Guelph (Guelph, Canada)
About this article
Cite this article
Ford, J., Maillet, M., Pouliot, V. et al. Adaptation and Indigenous peoples in the United Nations Framework Convention on Climate Change. Climatic Change 139, 429–443 (2016). https://doi.org/10.1007/s10584-016-1820-0
Received:

Accepted:

Published:

Issue Date:
Keywords
Indigenous People

Climate Policy

Indigenous Knowledge

Critical Discourse Analysis

Discursive Space