Abstract
This study estimates economic value and management adaptations associated with decadal climate variability (DCV) information. We develop a stylized model to illustrate the value of climate information where agricultural decisions are conditional to different sets of DCV information. The decision maker can adjust management given such information where the economic value and associated adaptations are of interest. The framework is implemented within a stochastic programming model that simulates market activities and welfare changes under different probability distributions on DCV phase occurrence in the Missouri River Basin (MRB), the largest river basin in the USA. This basin produces approximately 46 % of the wheat, 33 % of the cattle, and 26 % of the grain corn in the USA. The results show that a conditional DCV information generates net benefits of $28.84 million annually, while the perfect information results in net benefits of $82.30 million. In addition, crop acreage shifts and the extent of irrigation vary with different DCV information. This study shows that the benefits gained from accurate climate information may address the producers' needs across a range of DCV scenarios characterized by the persistence of the impacts. Most notably, this is the first economic study to our knowledge to investigate the combined occurrence of three DCV phenomena, and the joint and persistent impacts over crop yields. Our results provide compelling evidence for long-term planning of crop mix selection, and infrastructure related to water irrigation mechanisms.
Access options
Buy single article
Instant access to the full article PDF.
US$ 39.95
Tax calculation will be finalised during checkout.
Subscribe to journal
Immediate online access to all issues from 2019. Subscription will auto renew annually.
US$ 119
Tax calculation will be finalised during checkout.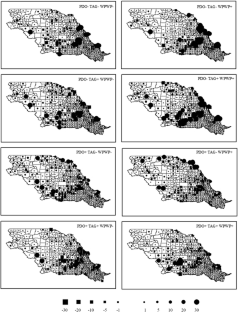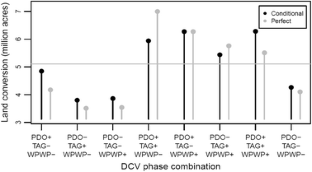 Notes
1.

All deviations are statistically different from zero. See Mehta et al. (2012) for a complete description of the testing approach on both time and spatial scales.
References
Adams RM, Bryant KJ, McCarl BA, Legler DM, O'Brien J, Solow A, Weiher R (1995a) Value of improved long-range weather information. Contemp Econ Policy 13:10–19

Adams RM, Fleming RA, Chang C, McCarl BA, Rosenzweig C (1995b) A reassessment of the economic effects of global climate change on US agriculture. Clim Chang 30:147–167

Adams RM, Chen C, McCarl BA, Weiher RF (1999) The economic consequences of ENSO events for agriculture. Clim Res 13:165–172

Adams RM, Houston LL, McCarl BA, Tiscareño LM, Matus GJ, Weiher RF (2003) The benefits to Mexican agriculture of an El Niño-southern oscillation (ENSO) early warning system. Agric For Meteorol 115:183–194

Adams D, Alig R, McCarl BA, Murray BC, Bair L, Depro B, Latta G, Lee H, Schneider UA, Callaway JM, Chen C, Gillig D, Nayda WI (2005) FASOMGHG conceptual structure, and specification: documentation. Unpublished Paper. Texas A&M University, Department of Agricultural Economics, College Station, TX. http://agecon2.tamu.edu/people/faculty/mccarl-bruce/papers/1212FASOMGHG_doc.pdf

Baumes HS, McCarl BA (1978) Linear programming and social welfare: Model formulation and objective function alternatives. Canadian Journal of Agricultural Economics/Revue canadienne d'agroeconomie 26:53–60

Beach RH, Adams DM, Alig RJ, Baker JS, Latta GS, McCarl BA, Murray BC, Rose SK, White EM (2010) Model documentation for the Forest and Agricultural Sector Optimization Model with Greenhouse Gases (FASOMGHG). http://agecon2.tamu.edu/people/faculty/mccarl-bruce/papers/1959FASOMGHG%20Model%20Documentation_DR_Aug2010.doc

Cabrera VE, Letson D, Podestá G (2007) The value of climate information when farm programs matter. Agric Syst 93:25–42

Cayan DR, Dettinger MD, Diaz HE, Graham NE (1998) Decadal variability of precipitation over western North America. J Clim 11:3148–3166

Challinor A (2009) Towards the development of adaptation options using climate and crop yield forecasting at seasonal to multi-decadal timescales. Environ Sci Pol 12:453–465

Chang P, Ji L, Li H (1997) A decadal climate variation in the tropical Atlantic Ocean from thermodynamic air-sea interactions. Nature 385:516–518

Chen C, McCarl BA (2000) The value of ENSO information to agriculture: consideration of event strength and trade. J Agric Resour Econ 25:368–385

Chen C, McCarl BA, Hill HS (2002) Agricultural value of ENSO information under alternative phase definition. Clim Chang 54:305–325

Ding J (2014) Three essays on climate variability, water, and agricultural production. Dissertation, Texas A&M University

Fernandez MA (2013) Decadal climate variability: economic implications in agriculture and water in the Missouri River Basin. Dissertation, Texas A&M University

Füssel H, Klein RJ (2006) Climate change vulnerability assessments: an evolution of conceptual thinking. Clim Chang 75:301–329

Hill HS, Park J, Mjelde JW, Rosenthal W, Love HA, Fuller SW (2000) Comparing the value of Southern Oscillation Index-based climate forecast methods for Canadian and US wheat producers. Agric For Meteorol 100:261–272

Hill HS, Mjelde JW, Love HA, Rubas DJ, Fuller SW, Rosenthal W, Hammer G (2004) Implications of seasonal climate forecasts on world wheat trade: a stochastic, dynamic analysis. Can J Agric Econ 52:289–312

Hilton RW (1981) The determinants of information value: Synthesizing some general results. Manag Sci 27:57–64

Huang P (2015) An inverse demand system for the differentiated blue crab market in Chesapeake Bay. Mar Resour Econ 30:139–156

Katz RW, Murphy AH (1997) Economic value of weather and climate forecasts. Cambridge University Press, Cambridge

Kim M, McCarl BA (2005) The agricultural value of information on the North Atlantic Oscillation: yield and economic effects. Clim Chang 71:117–139

Letson D, Podestá GP, Messina CD, Ferreyra RA (2005) The uncertain value of perfect ENSO phase forecasts: Stochastic agricultural prices and intra-phase climatic variations. Clim Chang 69:163–196

Letson D, Laciana CE, Bert FE, Weber EU, Katz RW, Gonzalez XI, Podestá GP (2009) Value of perfect ENSO phase predictions for agriculture: Evaluating the impact of land tenure and decision objectives. Clim Chang 97:145–170

Mantua NJ, Hare SR (2002) The Pacific decadal oscillation. J Oceanogr 58:35–44

Mantua NJ, Hare SR, Zhang Y, Wallace JM, Francis RC (1997) A Pacific interdecadal climate oscillation with impacts on salmon production. Bull Am Meteorol Soc 78:1069–1079

McCabe GJ, Palecki MA, Betancourt JL (2004) Pacific and Atlantic Ocean influences on multidecadal drought frequency in the United States. Proc Natl Acad Sci U S A 101:4136–4141. doi:10.1073/pnas.0306738101

McCarl BA (1982) Cropping activities in agricultural sector models: A methodological proposal. Am J Agric Econ 64:768–772

Meehl GA, Hu A, Santer BD (2009) The mid-1970s climate shift in the Pacific and the relative roles of forced versus inherent decadal variability. J Clim 22:780–792

Mehta VM (1998) Variability of the tropical ocean surface temperatures at decadal-multidecadal timescales. Part I: The Atlantic Ocean J Clim 11:2351–2375.

Mehta VM, Delworth T (1995) Decadal variability of the tropical Atlantic Ocean surface temperature in shipboard measurements and in a global ocean-atmosphere model. J Clim 8:172–190

Mehta VM, Rosenberg NJ, Mendoza K (2011) Simulated impacts of three decadal climate variability phenomena on water yields in the Missouri river basin. JAWRA Journal of the American Water Resources Association 47:126–135

Mehta VM, Rosenberg NJ, Mendoza K (2012) Simulated impacts of three decadal climate variability phenomena on dryland corn and wheat yields in the Missouri River Basin. Agric For Meteorol 152:109–124

Mehta VM, Knutson CL, Rosenberg NJ, Olsen JR, Wall NA, Bernadt TK, Hayes MJ (2013) Decadal climate information needs of stakeholders for decision support in water and agriculture production sectors: A case study in the Missouri River Basin. Weather, Climate & Society 5:27–42

Mehta VM, Mendoza K, Daggupati P, Srinivasan R, Rosenberg NJ, Deb D (2015) High-resolution simulations of decadal climate variability impacts on water yield in the Missouri River basin with the Soil and Water Assessment Tool (SWAT). J Hydrometeorol.

Meza FJ, Hansen JW, Osgood D (2008) Economic value of seasonal climate forecasts for agriculture: Review of ex-ante assessments and recommendations for future research. J Appl Meteorol Climatol 47:1269–1286

Miller AJ, Schneider N (2000) Interdecadal climate regime dynamics in the North Pacific Ocean: Theories, observations and ecosystem impacts. Prog Oceanogr 47:355–379

Minobe S (1997) A 50–70 year climatic oscillation over the North Pacific and North America. Geophys Res Lett 24:683–686

Mjelde JW, Hill HSJ (1999) The effect of the use of improved climate forecasts on variable costs, input usage, and production. Agric Syst 60:213–225. doi:10.1016/S0308-521X(99)00,033–5

Mjelde JW, Thompson TN, Hons FM, Cothren JT, Coffman CG (1997) Using Southern Oscillation information for determining corn and sorghum profit-maximizing input levels in east-central Texas. J Prod Agric 10:168–175. doi:10.2134/jpa1997.0168

Mjelde JW, Hill HSJ, Griffiths JF (1998) A review of current evidence on climate forecasts and their economic effects in agriculture. Am J Agric Econ 80:1089–1095

Murphy J, Kattsov V, Keenlyside N, Kimoto M, Meehl G, Mehta V, Pohlmann H, Scaife A, Smith D (2010) Towards prediction of decadal climate variability and change. Procedia Environ Sci 1:287–304. doi:10.1016/j.proenv.2010.09.018

Nelson RR, Winter SG (1964) A case study in the economics of information and coordination: The weather forecasting system. Q J Econ 73:420–441

Önal H, McCarl BA (1989) Aggregation of heterogeneous firms in mathematical programming models. Eur Rev. Agric Econ 16:499–513

Önal H, McCarl BA (1991) Exact aggregation in mathematical programming sector models. Canadian Journal of Agricultural Economics/Revue canadienne d'agroeconomie 39:319–334.

Rowell DP, Folland CK, Maskell K, Ward MN (1995) Variability of summer rainfall over tropical North Africa (1906–92): Observations and modelling. Q J R Meteorol Soc 121:669–704

Solow AR, Adams RF, Bryant KJ, Legler DM, O'Brien JJ, McCarl BA, Nayda W, Weiher R (1998) The value of improved ENSO prediction to US agriculture. Clim Chang 39:47–60

Sutton RT, Hodson DL (2005) Atlantic Ocean forcing of North American and European summer climate. Science 309:115–118

Wang H, Mehta VM (2008) Decadal variability of the Indo-Pacific warm pool and its association with atmospheric and oceanic variability in the NCEP-NCAR and SODA reanalyses. J Clim 21:5545–5565
Acknowledgments
Seniority of the paper is shared between Mario Andres Fernandez and Pei Huang. This research was supported by the U.S. Department of Agriculture National Institute of Food and Agriculture under grant 2011-67003-30213 in the NSF-USDA-DOE Earth System Modelling Program, and by the NOAA-Climate Programs Office-Sectoral Applications Research Program under grant NA12OAR4310097. We are grateful to Katherin Mendoza for providing simulated data from the SWAT model on DCV impacts on crop yields. Part of this work was done at Texas A&M University and Landcare Research New Zealand, we acknowledge the support of these institutions. We also thank Pike Brown, Adam Daigneault, Richard Woodward and ​Witsanu Attavanich, for their helpful comments. We also thank Leah Kearns for editorial assistance. Two anonymous referees provided comments that improved the initial version of this paper.
Electronic supplementary material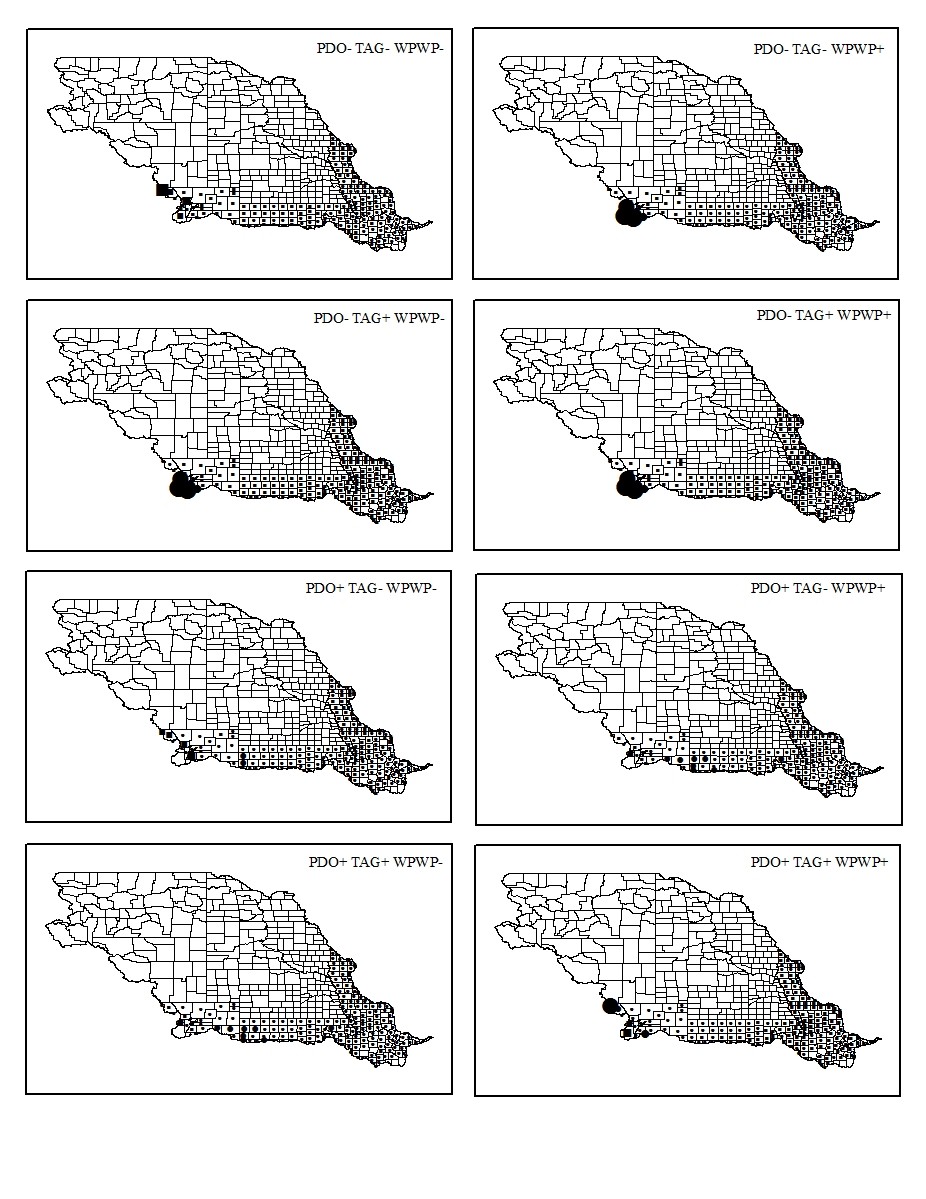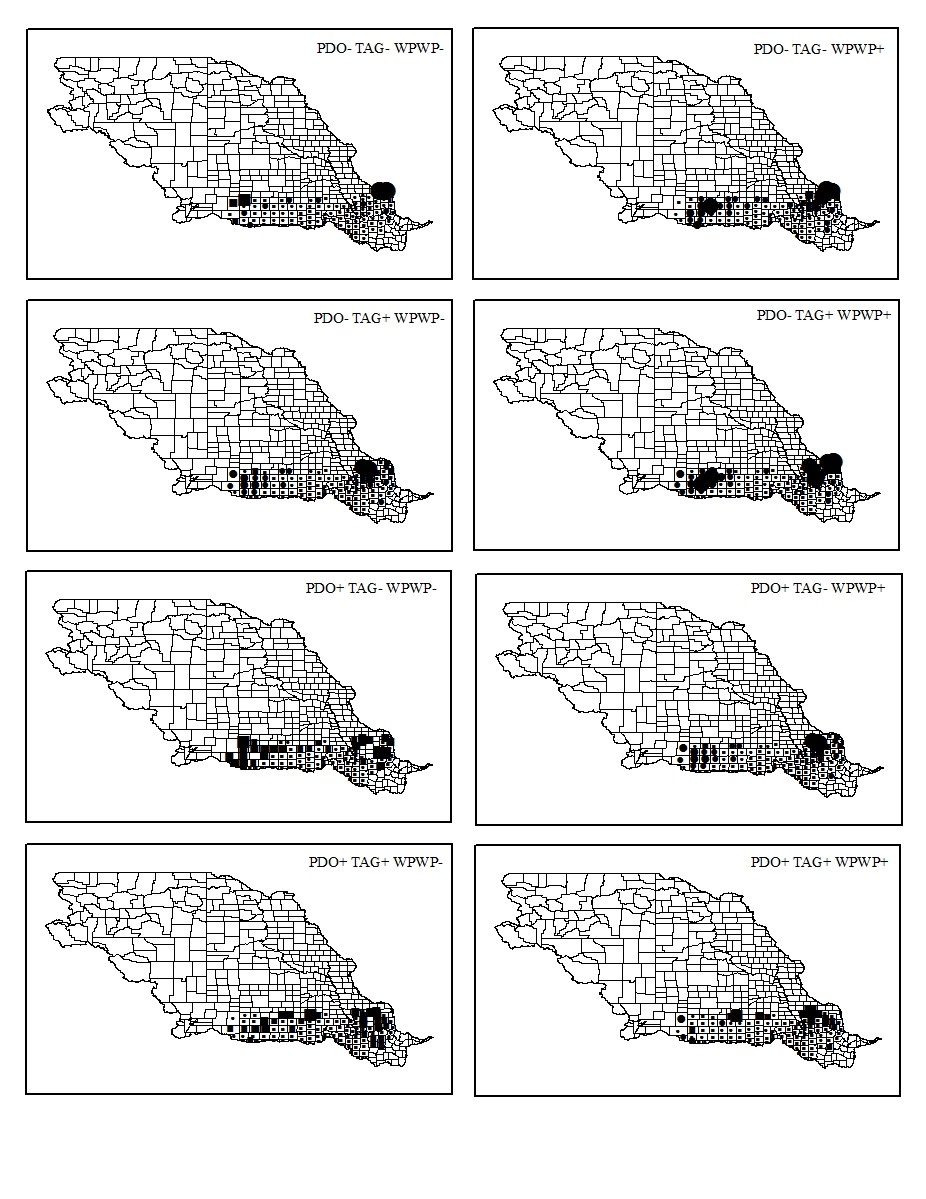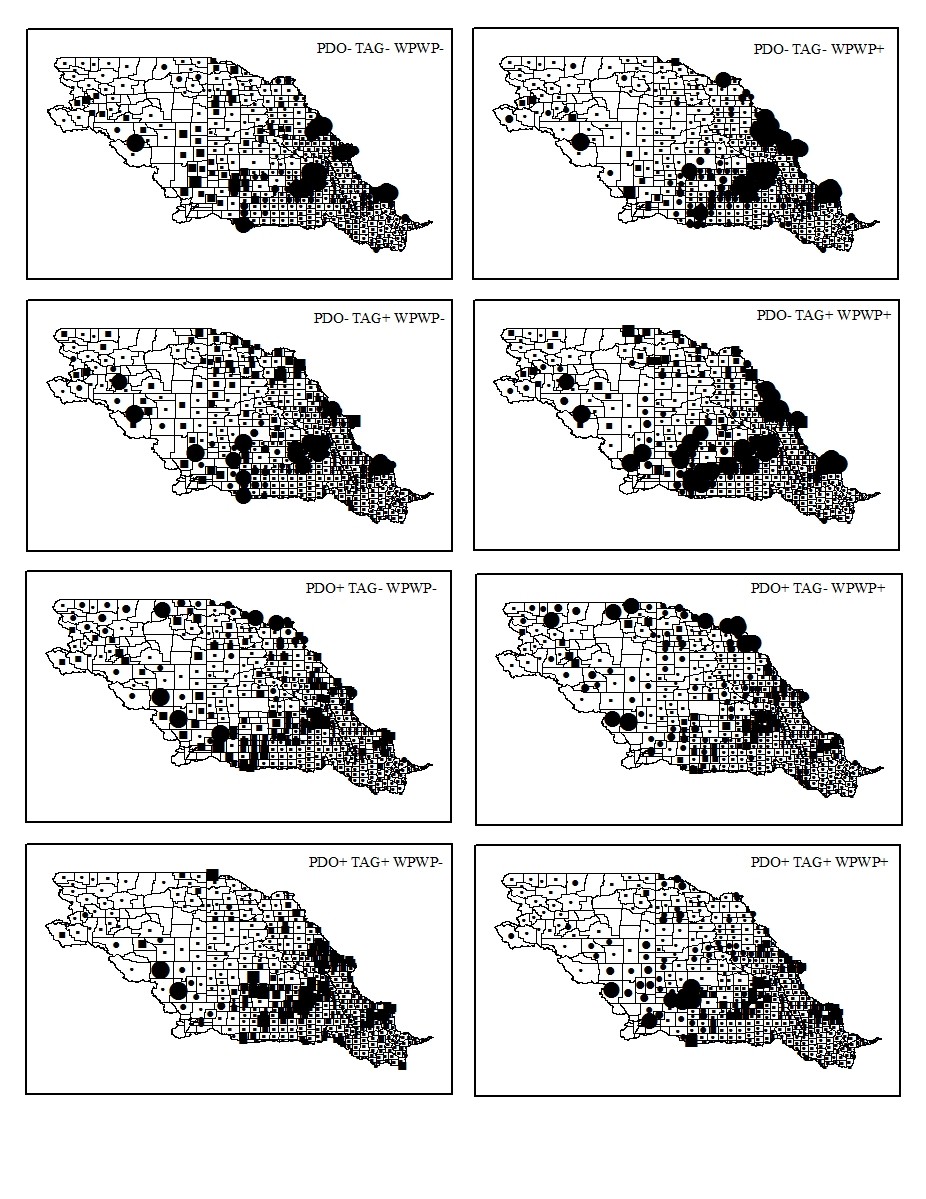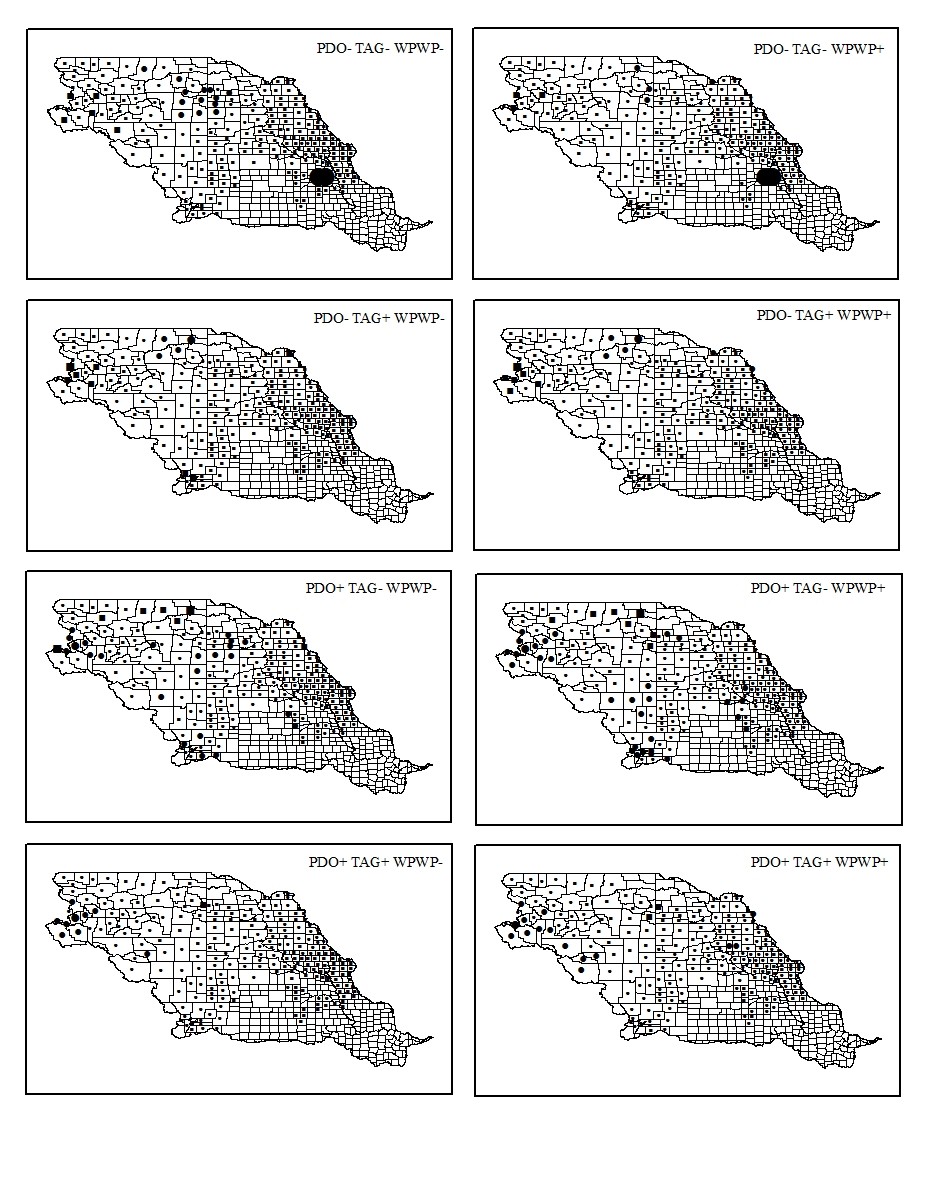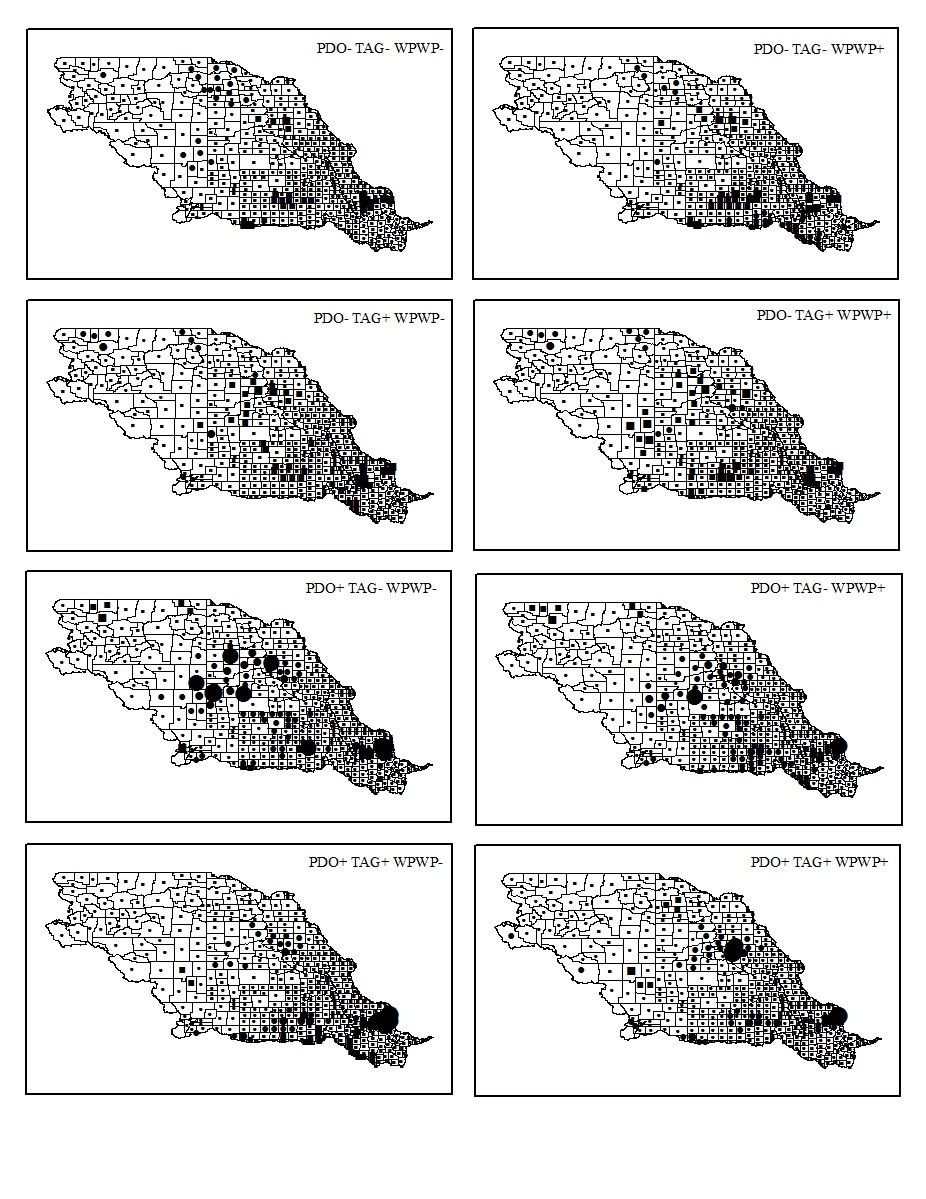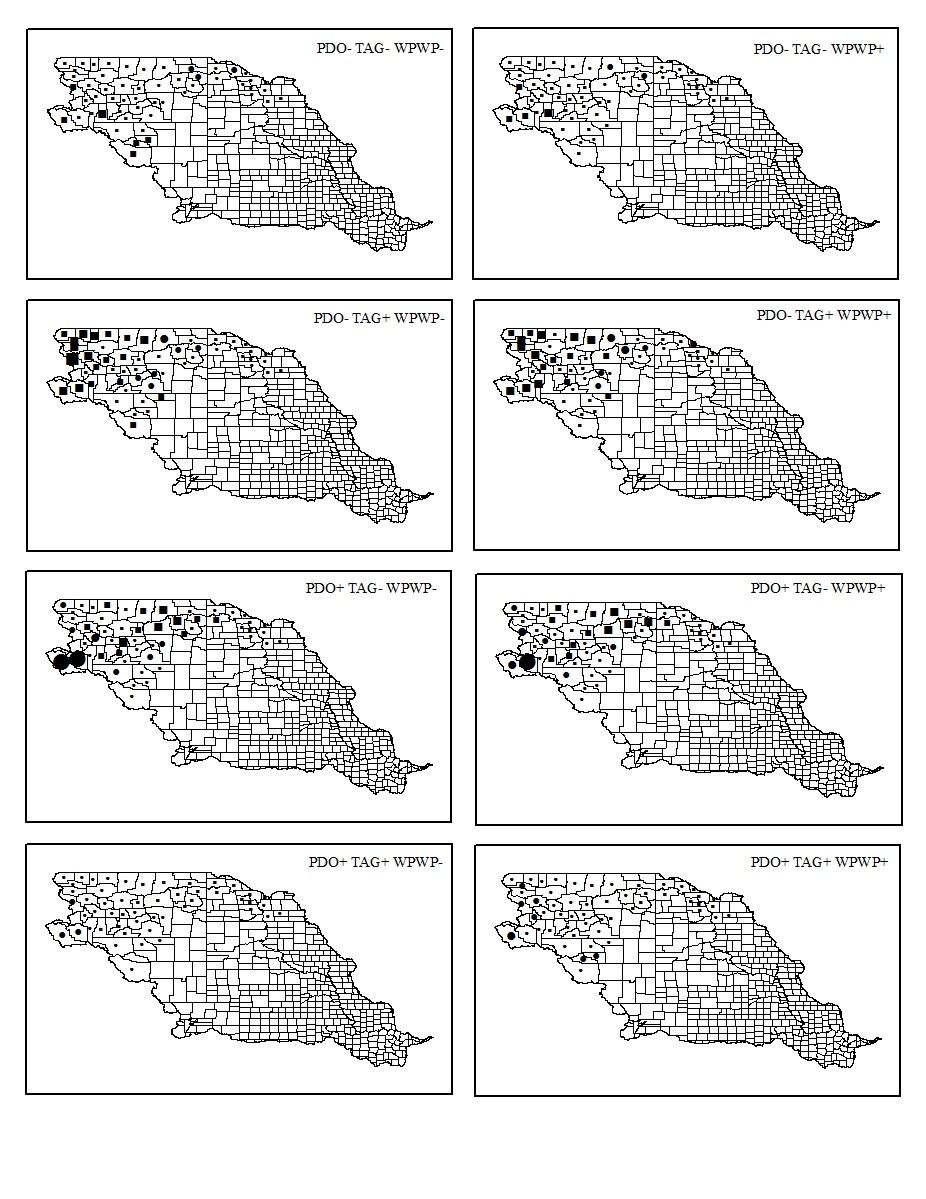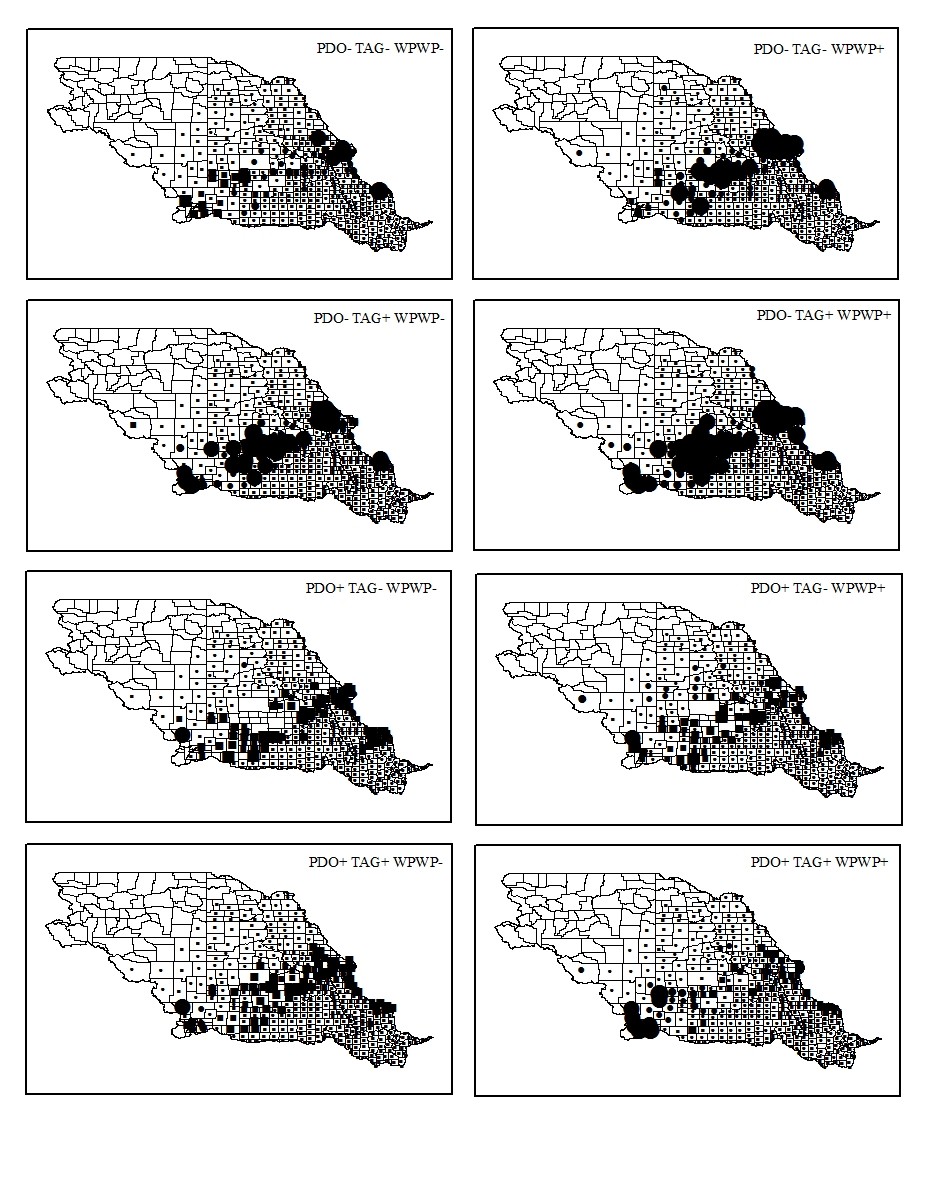 About this article
Cite this article
Fernandez, M.A., Huang, P., McCarl, B. et al. Value of decadal climate variability information for agriculture in the Missouri River basin. Climatic Change 139, 517–533 (2016). https://doi.org/10.1007/s10584-016-1807-x
Received:

Accepted:

Published:

Issue Date:
Keywords
Phase Combination

Conditional Information

Crop Acreage

Decadal Climate Variability

Markov Transition Probability