Abstract
Global warming has strong impacts on snow cover, which in turn affects ecosystems, hydrological regimes and winter tourism. Only a few long-term snow series are available worldwide, especially at high elevation. Here, we analyzed several snowpack characteristics over the period 1970–2015 at eleven meteorological stations, spanning elevations from 1139 to 2540 m asl in the Swiss Alps. Snow cover duration has significantly shortened at all sites, on average by 8.9 days decade−1. This shortening was largely driven by earlier snowmelt (on average 5.8 days decade−1) and partly by later snow onset but the latter was significant in only ~30 % of the stations. On average, the snow season now starts 12 days later and ends 26 days earlier than in 1970. Overall, the annual maximum snow depth has declined from 3.9 to 10.6 % decade−1 and was reached 7.8 ± 0.4 to 12.0 ± 0.4 days decade−1 earlier, though these trends hide a high inter-annual and decadal variability. The number of days with snow on the ground has also significantly decreased at all elevations, in all regions and for all thresholds from 1 to 100 cm. Overall, our results demonstrate a marked decline in all snowpack parameters, irrespective of elevation and region, and whether for drier or wetter locations, with a pronounced shift of the snowmelt in spring, in connection with reinforced warming during this season.
This is a preview of subscription content, log in to check access.
Access options
Buy single article
Instant access to the full article PDF.
US$ 39.95
Tax calculation will be finalised during checkout.
Subscribe to journal
Immediate online access to all issues from 2019. Subscription will auto renew annually.
US$ 199
Tax calculation will be finalised during checkout.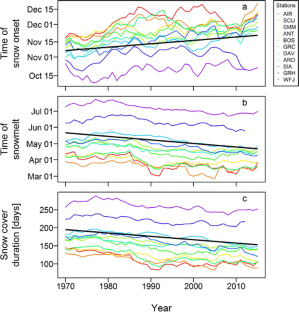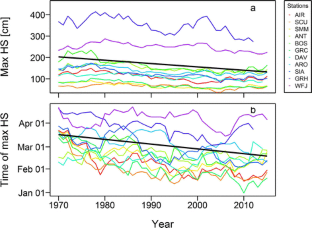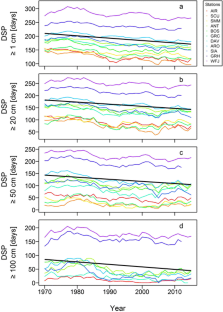 References
Acquaotta F, Fratianni S, Garzena D (2015) Temperature changes in the north-western Italian alps from 1961 to 2010. Theor Appl Climatol 122:619–634

Auer I, Böhm R, Jurkovic A, Lipa W, Orlik A, Potzmann R, Schöner W, Ungersböck M, Matulla C, Briffa K (2007) HISTALP—historical instrumental climatological surface time series of the greater alpine region. Int J Climatol 27:17–46

Barnett TP, Adam JC, Lettenmaier DP (2005) Potential impacts of a warming climate on water availability in snow-dominated regions. Nature 438:303–309

Bavay M, Grünewald T, Lehning M (2013) Response of snow cover and runoff to climate change in high Alpine catchments of Eastern Switzerland. Adv Water Resour 55:4–16

Callaghan TV, Johansson M, Brown RD, Groisman PY, Labba N, Radionov V, Bradley RS, Blangy S, Bulygina ON, Christensen TR (2011) Multiple effects of changes in Arctic snow cover. Ambio 40:32–45

Carbognani M, Tomaselli M, Petraglia A (2014) Current vegetation changes in an alpine late snowbed community in the south-eastern alps (N-Italy. Alp Bot 124:105–113

Casassa G, Rivera A, Escobar F, Acuña C, Carrasco J, Quintana J (2003) Snow line rise in Central Chile in recent decades and its correlation with climate. in EGS-AGU-EUG Joint Assembly, p. 14395.

Damm A, Greuell W, Landgren O, Prettenthaler F (2016) Impacts of + 2 °C global warming on winter tourism demand in Europe. Climate Services.

Durand Y, Giraud G, Laternser M, Etchevers P, Mérindol L, Lesaffre B (2009) Reanalysis of 47 years of climate in the French Alps (1958–2005): Climatology and trends for snow cover. J Appl Meteorol Climatol 48:2487–2512

Ernakovich JG, Hopping KA, Berdanier AB, Simpson RT, Kachergis EJ, Steltzer H, Wallenstein MD (2014) Predicted responses of arctic and alpine ecosystems to altered seasonality under climate change. Glob Chang Biol 20:3256–3269

Falk M (2010) A dynamic panel data analysis of snow depth and winter tourism. Tour Manag 31:912–924

Fierz C, Armstrong RL, Durand Y, Etchevers P, Greene E, McClung DM, Nishimura K, Satyawali PK, Sokratov SA (2009) The international classification for seasonal snow on the ground. UNESCO/IHP Paris.

Gajić-Čapka M (2011) Snow climate baseline conditions and trends in Croatia relevant to winter tourism. Theor Appl Climatol 105:181–191

Hantel M, Hirtl-Wielke LM (2007) Sensitivity of alpine snow cover to European temperature. Int J Climatol 27:1265–1275

Harsch MA, Hulme PE, McGlone MS, Duncan RP (2009) Are treelines advancing? A global meta-analysis of treeline response to climate warming. Ecol Lett 12:1040–1049

IPCC (2013) Climate Change 2013: The Physical Science Basis. Contribution of Working Group I to the Fifth Assessment Report of the Intergovernmental Panel on Climate Change. Cambridge University Press, Cambridge, United Kingdom and New York, NY, USA

Körner C (2012) Alpine treelines: functional ecology of the global high elevation tree limits. Springer Science & Business Media.

Laternser M, Schneebeli M (2003) Long-term snow climate trends of the Swiss Alps (1931–99). Int J Climatol 23:733–750

Lenoir J, Gégout J-C, Marquet P, De Ruffray P, Brisse H (2008) A significant upward shift in plant species optimum elevation during the twentieth century. Science 320:1768–1771

Marty C (2008) Regime shift of snow days in Switzerland. Geophys Res Lett 35

Marty C, Blanchet J (2012) Long-term changes in annual maximum snow depth and snowfall in Switzerland based on extreme value statistics. Clim Chang 111:705–721

Marty C, Meister R (2012) Long-term snow and weather observations at Weissfluhjoch and its relation to other high-altitude observatories in the alps. Theor Appl Climatol 110:573–583

Park S-H, Lee M-J, Jung H-S (2012) Analysis on the snow cover variations at Mt. Kilimanjaro using Landsat satellite images. Korean Journal of Remote Sensing 28.

Pederson GT, Betancourt JL, McCabe GJ (2013) Regional patterns and proximal causes of the recent snowpack decline in the Rocky Mountains, US. Geophys Res Lett 40:1811–1816

Pons M, López-Moreno JI, Rosas-Casals M, Jover È (2015) The vulnerability of Pyrenean ski resorts to climate-induced changes in the snowpack. Clim Chang 131:591–605

Rebetez M, Reinhard M (2008) Monthly air temperature trends in Switzerland 1901–2000 and 1975–2004. Theor Appl Climatol 91:27–34

Reid PC, Hari RE, Beaugrand G, Livingstone DM, Marty C, Straile D, Barichivich J, Goberville E, Adrian R, Aono Y (2015) Global impacts of the 1980s regime shift. Global change biology.

Rixen C, Teich M, Lardelli C, Gallati D, Pohl M, Pütz M, Bebi P (2011) Winter tourism and climate change in the alps: an assessment of resource consumption, snow reliability, and future snowmaking potential. Mt Res Dev 31:229–236

Rixen C, Dawes MA, Wipf S, Hagedorn F (2012) Evidence of enhanced freezing damage in treeline plants during six years of CO2 enrichment and soil warming. Oikos 121:1532–1543

Sanchez-Lorenzo A, Wild M (2012) Decadal variations in estimated surface solar radiation over Switzerland since the late nineteenth century. Atmos Chem Phys 12:8635–8644

Scherrer SC, Appenzeller C (2006) Swiss alpine snow pack variability: major patterns and links to local climate and large-scale flow. Clim Res 32

Scherrer SC, Appenzeller C, Laternser M (2004) Trends in Swiss alpine snow days: the role of local-and large-scale climate variability. Geophys Res Lett 31

Scherrer SC, Wüthrich C, Croci-Maspoli M, Weingartner R, Appenzeller C (2013) Snow variability in the Swiss alps 1864–2009. Int J Climatol 33:3162–3173

Schmucki E, Marty C, Fierz C, Weingartner R, Lehning M (2015) Impact of climate change in Switzerland on socioeconomic snow indices. Theor Appl Climatol:1–15

Seager R, Kushnir Y, Nakamura J, Ting M, Naik N (2010) Northern Hemisphere winter snow anomalies: ENSO, NAO and the winter of 2009/10. Geophysical research letters 37.

Serquet G, Marty C, Dulex JP, Rebetez M (2011) Seasonal trends and temperature dependence of the snowfall/precipitation-day ratio in Switzerland. Geophys Res Lett 38

Serquet G, Marty C, Rebetez M (2013) Monthly trends and the corresponding altitudinal shift in the snowfall/precipitation day ratio. Theor Appl Climatol 114:437–444

Steger C, Kotlarski S, Jonas T, Schär C (2013) Alpine snow cover in a changing climate: a regional climate model perspective. Clim Dyn 41:735–754

Steiger R (2010) The impact of climate change on ski season length and snowmaking requirements in Tyrol, Austria. Climate research (Open Access for articles 4 years old and older) 43:251.

Tafani M, Cohas A, Bonenfant C, Gaillard J-M, Allainé D (2013) Decreasing litter size of marmots over time: a life history response to climate change? Ecology 94:580–586

Team RC (2015) R: A Language and Environment for Statistical Computing (R Foundation for Statistical Computing, Vienna, 2012). URL: http:// www.R-project. org.

Valt M, Cianfarra P (2010) Recent snow cover variability in the Italian alps. Cold Reg Sci Technol 64:146–157

Vitasse Y, Rebetez M, Filippa G, Cremonese E, Klein G, Rixen C (2016) Hearing'alpine plants growing after snowmelt: ultrasonic snow sensors provide long-term series of alpine plant phenology. Int J Biometeorol:1–13

Wielke L-M, Haimberger L, Hantel M (2004) Snow cover duration in Switzerland compared to Austria. Meteorol Z 13:13–17

Wipf S, Stoeckli V, Bebi P (2009) Winter climate change in alpine tundra: plant responses to changes in snow depth and snowmelt timing. Clim Chang 94:105–121

Xu Y, Ramanathan V, Washington W (2015) Observed high-altitude warming and snow cover retreat over Tibet and the Himalayas enhanced by black carbon aerosols. Atmos Chem Phys Discuss 15:19079–19109

Zierl B, Bugmann H (2005) Global change impacts on hydrological processes in alpine catchments. Water Resour Res 41
Acknowledgments
This work was supported by the Swiss National Science Foundation (grant number 200021-152954). We are grateful to MeteoSwiss for providing the snow data, to Stephan Bader and Gergely Rigo for their help concerning the snow stations' metadata, to Christophe Randin for his help with data analysis and to William Doehler for his editorial improvements of the manuscript.
About this article
Cite this article
Klein, G., Vitasse, Y., Rixen, C. et al. Shorter snow cover duration since 1970 in the Swiss Alps due to earlier snowmelt more than to later snow onset. Climatic Change 139, 637–649 (2016). https://doi.org/10.1007/s10584-016-1806-y
Received:

Accepted:

Published:

Issue Date:
Keywords
Snow Cover

Snow Depth

Sunshine Duration

Snow Season

Early Snowmelt