Abstract
City planners have an opportunity to act as agents of change to build resilience within their cities to respond to climate change. This article builds on urban climate governance research and organizational change theory to focus on how city planners' partnerships with boundary organizations influence adaptation planning. At the root of effective urban climate governance is the integration of science and policy. Boundary organizations offer a governance approach that disseminates knowledge, builds capacity, and engages more participants in the adaptation planning process. However, little is known about how these partnerships foster adaptation at the local scale. Using a case study in Metro Vancouver, this study investigated how boundary organizations can better influence municipal adaptation action. The results of this study demonstrated that boundary organizations were perceived as more influential when they were credible, legitimate, and salient as well as when they provided action-oriented support. Ultimately, this paper contributes to the literature by illustrating how boundary organizations operate at the sub-regional scale to foster adaptation and proposing tangible practices to improve the effectiveness of partnerships.
Access options
Buy single article
Instant access to the full article PDF.
US$ 39.95
Tax calculation will be finalised during checkout.
Subscribe to journal
Immediate online access to all issues from 2019. Subscription will auto renew annually.
US$ 119
Tax calculation will be finalised during checkout.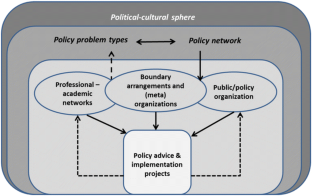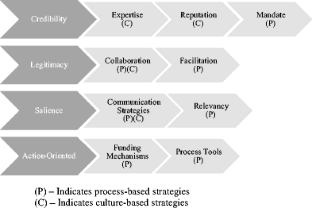 References
Aylett A (2014). Progress and challenges in the urban governance of climate change: results of a global survey. Cambridge, MA

Al-Haddad S, Kotnour T (2015) Integrating the organizational change literature: a model for successful change. J Organ Chang Manag 28(2):234–262

Anguelovski I, Carmin JA (2011) Something borrowed, everything new: innovation and institutionalization in urban climate governance. Curr Opin Environ Sustain 3(3):169–175

Archer D, Almansi F, DiGregorio M, Roberts D, Sharma D, Syam D (2014) Moving towards inclusive urban adaptation: approaches to integrating community-based adaptation to climate change at city and national scale. Clim Dev 6(4):345–356

Bauer A, Steurer R (2014) Multi-level governance of climate change adaptation through regional partnerships in Canada and England. Geoforum 51:121–129

Battilana J, Casciaro T (2012) Change agents, networks, and institutions: a contingency theory of organisational change. Acad Manag J 55(2):381–398

Berrang-Ford L, Ford JD, Paterson J (2011) Are we adapting to climate change? Glob Environ Chang 21(1):25–33

Biagini B, Bierbaum R, Stults M, Dobardzic S, McNeeley SM (2014) A typology of adaptation actions: a global look at climate adaptation actions financed through the Global Environment Facility. Glob Environ Chang 25:97–108

Burch S (2010) Transforming barriers into enablers of action on climate change: insights from three municipal case studies in British Columbia, Canada. Glob Environ Chang 20(2):287–297

Busch T (2011) Organizational adaptation to disruptions in the natural environment: the case of climate change. Scand J Manag 27(4):389–404

Carter JG, Cavan G, Connelly A, Guy S, Handley J, Kazmierczak A (2015) Climate change and the city: building capacity for urban adaptation. Prog Plan 95:1–66

Cash DW, Clark WC, Alcock F, Dickson NM, Eckley N, Guston DH, Jaeger J, Mitchell RB (2003) Knowledge systems for sustainable development. Proc Natl Acad Sci 100(14):8086–8091

Cashmore M, Wejs A (2014) Constructing legitimacy for climate change planning: a study of local government in Denmark. Glob Environ Chang 24:203–212

Charmaz K (2006) Constructing grounded theory. Sage, Thousand Oaks

Chevalier JM, Buckles DJ (2013) Participatory action research: theory and methods for engaged inquiry. Routledge, Abingdon

Corfee-Morlot J, Cochran I, Hallegatte S, Teasdale PJ (2011) Multilevel risk governance and urban adaptation policy. Clim Chang 104:169–197

Creswell J (2014) Research design: qualitative, quantitative, and mixed methods approaches. Sage, Thousand Oaks

Dilling L, Lemos MC (2011) Creating usable science: opportunities and constraints for climate knowledge use and their implications for science policy. Glob Environ Chang 21(2):680–689

Fleming L, Mingo S, Chen D (2007) Collaborative brokerage, generative creativity, and creative success. Adm Sci Q 52:443–475

Groot AME, Bosch PR, Buijs S, Jacobs CMJ, Moors EJ (2014) Integration in urban climate adaptation: lessons from Rotterdam on integration between scientific disciplines and integration between scientific and stakeholder knowledge. Build Environ 83:177–188

Guston DH (1999) Stabilizing the boundary between US politics and science: the role of the office of technology transfer as a boundary organization. Soc Stud Sci 29(1):87–111

Guston DH (2000) Between politics and science: assuring the integrity and productivity of research. Cambridge University Press, Cambridge

Guston D (2001) Boundary organizations in environmental policy and science: an introduction. Sci Technol Hum Values 26(4):399–408

Guston DH, Clark WC, Keating T, Cash DW, Moser SC, Miller C (2000) Report of the workshop on boundary organizations in environmental policy and science. Harvard University, Boston

Hallegatte S, Corfee-Morlot J (2011) Understanding climate change impacts, vulnerability and adaptation at city scale: an introduction. Clim Chang 104(1):1–12

Hanger S, Pfenninger S, Dreyfus M, Patt A (2013) Knowledge and information needs of adaptation policymakers: a European study. Reg Environ Chang 13:91–101

Hanna K, Seasons M, Dale A, and Filion P. (2014). Planning for climate change. Plan Canada 27–35

Harman BP, Taylor BM, Lane MB (2014) Urban partnerships and climate adaptation: challenges and opportunities. Curr Opin Environ Sustain 12:74–79

Hegger D, Dieperink C (2014) Toward successful joint knowledge production for climate change adaptation: lessons from six regional projects in the Netherlands. Ecol Soc 19(2)

Hooghe L, Marks G (2003) Unravelling the central state, but how: types of multi-level governance. Am Polit Sci Rev 97(2):233–243

Hoppe R, Wesselink A, Cairns R (2013) Lost in the problem: the role of boundary organizations in the social status of climate change knowledge. Wiley Interdiscip Rev Clim Chang 4(4):283–300

Hoppe R, Wesselink A (2014) Comparing the role of boundary organizations in the governance of climate change in three EU member states. Environ Sci Pol 44:73–85

Jasanoff S (2004) States of knowledge: the co-production of science and social order. Routledge, London

Krackhardt D (1999) The ties that torture: Simmelian tie analysis in organizations. In Andrews SB and Knoke D (eds) Research in the sociology of organizations, 16: 183–210

Lemos MC, Morehouse B (2005) The co-production of science and policy in integrated climate assessments. Glob Environ Chang 15:57–68

Lemos MC, Kirchhoff CJ, Ramprasad V (2012) Narrowing the climate information usabilty gap. Nat Clim Chang 2:789–794

Lemos MC, Kirchhoff CJ, Kalafatis SE, Scavia D, Rood RB (2014) Moving climate information off the shelf: boundary chains and the role of RISAs as adaptive organizations. Weather Clim Soc 6:273–285

Ministry of Forests Lands and Natural Resource Operations. (2012). Cost of adaptation - sea dikes and alternative strategies. Victoria: Ministry of Forests Lands and Natural Resource Operations

Ministry of Environment (no date) Adaptation to Climate Change in B.C. Available at: http://www2.gov.bc.ca/gov/topic.page?id=84F71F26BC98428FBF8B2C1EFBE772DC. Accessed 10 Sept 2015

Moser SC, Ekstrom JA (2010) A framework to diagnose barriers to climate change adaptation. Proc Natl Acad Sci U S A 107(51):22026–22031

Nicholls RJ, Hanson S, Herweijer C, Patmorel N, Hallegatte S, Corfee-Morlot J, Château J, and Muir-Wood R (2008) Ranking port cities with high exposure and vulnerability to climate extremes: Exposure estimates. OECD iLibrary

Obstfeld D (2005) Social networks, the tertius iungens and orientation involvement in innovation. Adm Sci Q 50:100–130

Ostrom E (1990) Governing the commons: the evolution of institutions for collective action. Cambridge University Press, Cambridge

Ostrom E (2000) Collective actions and the evolution of norms. J Econ Perspect 14(3):137–158

Ostrom E, Dietz T, Dolsak N, Stern PC, Stonich S, Weber E. (eds). (2002) The drama of the commons. National Pacific Climate Impacts Consortium. (2012). Plan2Adapt Tool. Available at: plan2adapt.com. Accessed 10 Sept 2015)

Parker J, Crona B (2012) On being all things to all people: boundary organizations and the contemporary research university. Soc Stud Sci 42(2):262–289

Reid H, Huq S (2014) Mainstreaming community-based adaptation into national and local planning. Clim Dev 6(4):291–292

Richardson GRA (2010) Adapting to climate change: an introduction for canadian municipalities. Natural Resources Canada, Ottawa

Richardson GRA, Otero J (2012) Land use planning tools for local adaptation to climate change. Government of Canada, Ottawa

Rose DC (2014) Five ways to enhance the impact of climate science. Nat Clim Chang 4(7):522–524

Rosenzweig C, Solecki W, Hammer SA, Mehrotra S (2010) Cities lead the way in climate-change action. Nature 467:909–911

Ruef M (2002) Strong ties, weak ties and islands: structural and cultural predictors of organizational innovation. Ind Corp Chang 11:427–449

Sarewitz D, Pielke R (2007) The neglected heart of science policy: reconciling supply of and demand for science. Environ Sci Pol 10:5–16

Statistics Canada (2012) Greater Vancouver, British Columbia (Code 5915) and Greater Vancouver, British Columbia (Code 5915) (table). Census Profile. 2011 Census. Statistics Canada Catalogue no. 98-316-XWE Ottawa. Released October 24, 2012. Available at: http://www12.statcan.gc.ca/census-recensement/2011/dppd/prof/index.cfm?Lang=E. Accessed 10 Sept 2015

Statistics Canada (2014) Population and dwelling counts, for Canada and census subdivisions (municipalities) with 5,000-plus population, 2011 and 2006 censuses. Available at: http://www12.statcan.gc.ca/censusrecensement/2011/dp-pd/hlt-fst/pd-pl/Table-Tableau.cfm?LANG=Eng&T=307&SR=1&S=10&O=D. Accessed 10 Sept 2015

Stern PC (2005) Deliberative methods for understanding environmental systems. Bioscience 55(11):976

Tribbia J, Moser SC (2008) More than information: what coastal managers need to plan for climate change. Environ Sci Pol 11:315–328

Yin Y (2001) Designing an integrated approach for evaluating adaptation options to reduce climate change vulnerability in the Georgia Basin. Available at: http://adaptation.nrcan.gc.ca/projdb/pdf/80_e.pdf. Accessed 10 Sept 2015
Acknowledgments
This paper was prepared with the financial support of the International Development Research Centre and Social Sciences and Humanities Research Council funded project, Coastal Cities at Risk (CCaR): Building Adaptive Capacity for Managing Climate Change in Coastal Megacities. We would like to thank Brent Doberstein, Deborah Harford, Sarah Burch, Sarah Brown, and Ian Rowlands for thoughtful comments during the research and writing process, and Philip R. Berke for his insightful comments on an earlier version of this paper presented at the Association of Collegiate Schools of Planning conference in Texas, USA. We would also like to thank three anonymous reviewers for their thoughtful critique of the manuscript.
Electronic supplementary material
Below is the link to the electronic supplementary material.
About this article
Cite this article
Graham, A., Mitchell, C.L. The role of boundary organizations in climate change adaptation from the perspective of municipal practitioners. Climatic Change 139, 381–395 (2016). https://doi.org/10.1007/s10584-016-1799-6
Received:

Accepted:

Published:

Issue Date:
Keywords
Climate Change Adaptation

Adaptation Planning

Participatory Action Research

Climate Adaptation

Boundary Organization