Abstract
Inter-annual climatic variability over a large portion of sub-Saharan Africa is under the influence of the El Niño-Southern Oscillation (ENSO). Extreme variability in climate is a threat to rural livelihoods in sub-Saharan Africa, yet the role of ENSO in the balance between supply and demand of net primary productivity (NPP) over this region is unclear. Here, we analyze the impact of ENSO on this balance in a spatially explicit framework using gridded population data from the WorldPop project, satellite-derived data on NPP supply, and statistical data from the United Nations. Our analyses demonstrate that between 2000 and 2013 fluctuations in the supply of NPP associated with moderate ENSO events average ± 2.8 g C m−2 yr.−1 across sub-Saharan drylands. The greatest sensitivity is in arid Southern Africa where a + 1 °C change in the Niño-3.4 sea surface temperature index is associated with a mean change in NPP supply of −6.6 g C m−2 yr.−1. Concurrently, the population-driven trend in NPP demand averages 3.5 g C m−2 yr.−1 over the entire region with densely populated urban areas exhibiting the highest mean demand for NPP. Our findings highlight the importance of accounting for the role ENSO plays in modulating the balance between supply and demand of NPP in sub-Saharan drylands. An important implication of these findings is that increase in NPP demand for socio-economic metabolism must be taken into account within the context of climate-modulated supply.
Access options
Buy single article
Instant access to the full article PDF.
USD 39.95
Price excludes VAT (USA)
Tax calculation will be finalised during checkout.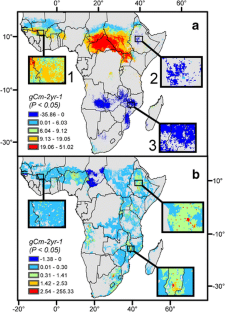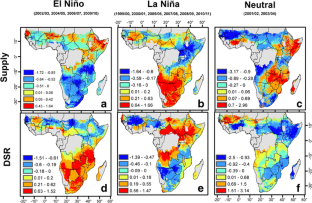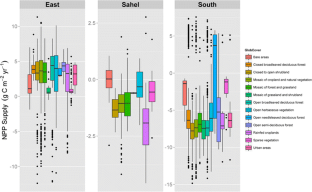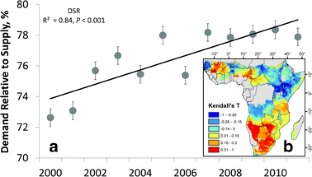 References
Abdi AM, Seaquist J, Tenenbaum DE, Eklundh L, Ardo J (2014) The supply and demand of net primary production in the Sahel. Environ Res Lett 9:094003

Abdissa F, Degefa T (2011) Urbanization and changing livelihoods: the case of farmers' displacement in the expansion of Addis Ababa. In: Teller C (ed) The demographic transition and development in Africa: the unique case of Ethiopia. Springer Netherlands, Dordrecht, pp. 215–235

Adugna A, Hailemariam A (2011) Rural–urban linkages in ethiopia: insuring rural livelihoods and development of urban centers. In: Teller C (ed) The demographic transition and development in Africa. Springer, Netherlands, pp. 167–186

Ahlström A, Raupach MR, Schurgers G, Smith B, Arneth A, Jung M, Reichstein M, Canadell JG, Friedlingstein P, Jain AK, Kato E, Poulter B, Sitch S, Stocker BD, Viovy N, Wang YP, Wiltshire A, Zaehle S, Zeng N (2015) The dominant role of semi-arid ecosystems in the trend and variability of the land CO2 sink. Science 348:895–899

Andela N, van der Werf GR (2014) Recent trends in African fires driven by cropland expansion and el Nino to La Nina transition. Nat Clim Chang 4:791–795

Bailis R, Drigo R, Ghilardi A, Masera O (2015) The carbon footprint of traditional woodfuels. Nat Clim Chang 5:266–272

Barrett CB (2010) Measuring food insecurity. Science 327:825–828

Barrett CB, Upton JB (2013) Food security and sociopolitical stability in sub-Saharan Africa. Food security and sociopolitical stability. Oxford University Press, New York

Battisti DS, Naylor RL (2009) Historical warnings of future food insecurity with unprecedented seasonal heat. Science 323:240–244

Bekunda M, Sanginga N, Woomer PL (2010) Restoring soil fertility in sub-Sahara Africa. In Donald LS (ed.) Advances in agronomy. Academic Press, pp. 183–236

Bolognesi M, Vrieling A, Rembold F, Gadain H (2015) Rapid mapping and impact estimation of illegal charcoal production in southern Somalia based on WorldView-1 imagery. Energy Sustain Dev 25:40–49

Cai W, Santoso A, Wang G, Yeh S-W, An S-I, Cobb KM, Collins M, Guilyardi E, Jin F-F, Kug J-S, Lengaigne M, McPhaden MJ, Takahashi K, Timmermann A, Vecchi G, Watanabe M, Wu L (2015) ENSO and greenhouse warming. Nat Clim Chang 5:849–859

Campbell MM, Casterline J, Castillo F, Graves A, Hall TL, May JF, Perlman D, Potts M, Speidel JJ, Walsh J, Wehner MF, Zulu EM (2014) Population and climate change: who will the grand convergence leave behind? The Lancet Global Health 2:e253–e254

Cane MA, Eshel G, Buckland RW (1994) Forecasting Zimbabwean maize yield using eastern equatorial Pacific Sea surface temperature. Nature 370:204–205

Cheung Y-W, de Haan J, Qian X, Yu S (2012) China's outward direct investment in Africa. Rev Int Econ 20:201–220

Eozenou PH-V, Madani D, Swinkels R (2013) Poverty, malnutrition and vulnerability in Mali. World Bank Policy Research Working Paper No. 6561. The World Bank, Washington, DC

FAO (2011) Review of the availability and quality of official data from African commission on agricultural statistics member countries. Food and agriculture Organization of the United Nations, Addis Ababa, Ethiopia

FAO (2013) CountrySTAT Mali. Statistics Division, Food and Agriculture Organization of the United Nations Rome, Italy

FAOSTAT (2015) FAO statistical databases. Food and agriculture Organization of the United Nations, Rome, Italy

Fetzel T, Niedertscheider M, Haberl H, Krausmann F, Erb K-H (2016) Patterns and changes of land use and land-use efficiency in Africa 1980–2005: an analysis based on the human appropriation of net primary production framework. Reg Environ Change 16:1507–1520

FEWSNET (2016) Southern Africa: illustrating the extent and severity of the 2015–16 drought. Famine Early Warning Systems Network/USAID

Giannini A, Biasutti M, Held IM, Sobel AH (2008) A global perspective on African climate. Clim Chang 90:359–383

Greve P, Orlowsky B, Mueller B, Sheffield J, Reichstein M, Seneviratne SI (2014) Global assessment of trends in wetting and drying over land. Nat Geosci 7:716–721

IPCC (2014) Climate Change 2014: Impacts, Adaptation, and Vulnerability. Part B: Regional Aspects. Contribution of Working Group II to the Fifth Assessment Report of the Intergovernmental Panel on Climate Change. Cambridge, United Kingdom and New York, NY, USA

Itannam F, Olsson M (2004) Land degradation in Addis Ababa due to industrial and urban development. Ethiopian J Dev Res 26:77–100

Knox J, Hess T, Daccache A, Wheeler T (2012) Climate change impacts on crop productivity in Africa and South Asia. Environ Res Lett 7:034032

Korecha D, Barnston AG (2007) Predictability of June–September rainfall in Ethiopia. Mon Weather Rev 135:628–650

Korecha D, Sorteberg A (2013) Validation of operational seasonal rainfall forecast in Ethiopia. Water Resour Res 49:7681–7697

Linard C, Gilbert M, Snow RW, Noor AM, Tatem AJ (2012) Population distribution, settlement patterns and accessibility across Africa in 2010. PLoS One 7:e31743

Mann HB (1945) Nonparametric tests against trend. Econometrica: Journal of the Econometric Society:245–259

Maxwell D, Fitzpatrick M (2012) The 2011 Somalia famine: context, causes, and complications. Global Food Security 1:5–12

Moller LC (2012) The Ethiopian urban migration study 2008: the characteristics, motives and outcomes to immigrants to Addis Ababa. The World Bank, Washington, DC

Monteith JL (1972) Solar radiation and productivity in tropical ecosystems. J Appl Ecol 9:747–766

Nicholson SE (2011) Dryland climatology. Cambridge University Press

Philippon N, Martiny N, Camberlin P, Hoffman MT, Gond V (2014) Timing and patterns of the ENSO signal in Africa over the last 30 Years: insights from normalized difference vegetation index data. J Clim 27:2509–2532

Pires M (2003) The spatial polarization of woodfuel supply and demand in Senegal. African Geographical Review 22:29–47

Reda DT, Engida AN, Asfaw DH, Hamdi R (2015) Analysis of precipitation based on ensembles of regional climate model simulations and observational databases over Ethiopia for the period 1989–2008. Int J Climatol 35:948–971

Robertson B, Pinstrup-Andersen P (2010) Global land acquisition: neo-colonialism or development opportunity? Food Sec 2:271–283

Running SW (2012) A measurable planetary boundary for the biosphere. Science 337:1458–1459

Seaquist JW, Johansson EL, Nicholas KA (2014) Architecture of the global land acquisition system: applying the tools of network science to identify key vulnerabilities. Environ Res Lett 9:114006

Sissoko K, van Keulen H, Verhagen J, Tekken V, Battaglini A (2011) Agriculture, livelihoods and climate change in the west African Sahel. Reg Environ Chang 11:119–125

Stige LC, Stave J, Chan K-S, Ciannelli L, Pettorelli N, Glantz M, Herren HR, Stenseth NC (2006) The effect of climate variation on agro-pastoral production in Africa. Proc Natl Acad Sci U S A 103:3049–3053

van Vuuren DP, Edmonds J, Kainuma M, Riahi K, Thomson A, Hibbard K, Hurtt GC, Kram T, Krey V, Lamarque J-F, Masui T, Meinshausen M, Nakicenovic N, Smith SJ, Rose SK (2011) The representative concentration pathways: an overview. Clim Chang 109:5–31

Wilcox R (2012) Chapter 10 - robust regression. Introduction to robust estimation and hypothesis testing, Third edn. Academic Press, Boston, pp. 471–532

Wolde-Georgis T (ed) (2002) The impact of cold events on Ethiopia. United Nations University Press, New York, NY

Yengoh G, Armah F (2015) Effects of large-scale acquisition on food insecurity in Sierra Leone. Sustainability 7:9505

You L, Ringler C, Wood-Sichra U, Robertson R, Wood S, Zhu T, Nelson G, Guo Z, Sun Y (2011) What is the irrigation potential for Africa? A combined biophysical and socioeconomic approach. Food Policy 36:770–782

Zetland D, Möller-Gulland J (2013) The political economy of land and water grabs. In: Allan JA, Keulertz M, Sojamo S, Warner J (eds) Handbook of land and water grabs in Africa: foreign direct investment and food and water security. Routledge, New York, NY

Zhao M, Running S, Heinsch FA, Nemani R (2011) MODIS-derived terrestrial primary production. In: Ramachandran B, Justice CO, Abrams MJ (eds) Land remote sensing and global environmental change. Springer, New York, pp. 635–660

Zulu LC (2010) The forbidden fuel: charcoal, urban woodfuel demand and supply dynamics, community forest management and woodfuel policy in Malawi. Energ Policy 38:3717–3730
Acknowledgments
We thank Dan Metcalfe, Lina Eklund, A.J. (Han) Dolman, and Katharina Waha for their insight and comments during early stages of the manuscript. We also thank the programming assistance provided by the volunteers at the Stack Overflow and Cross Validated online communities. Funding for this project was provided by the Swedish National Space Board (contract no. 100/11 to J.A.). A.M.A. received support from the Royal Physiographic Society in Lund and the Lund University Center for Studies of Carbon Cycle and Climate Interactions (LUCCI). C.C.U. was supported by NSF grant OCE-1203892.
Electronic supplementary material
About this article
Cite this article
Abdi, A.M., Vrieling, A., Yengoh, G.T. et al. The El Niño – La Niña cycle and recent trends in supply and demand of net primary productivity in African drylands. Climatic Change 138, 111–125 (2016). https://doi.org/10.1007/s10584-016-1730-1
Received:

Accepted:

Published:

Issue Date:

DOI: https://doi.org/10.1007/s10584-016-1730-1
Keywords
Sub-Saharan Africa

Drylands

El Niño-southern oscillation

Net primary productivity

Climate variability