Abstract
Accelerated sea-level rise will be one of the most significant effects of global warming. Global mean sea level has risen more than 0.2 m since 1880 and continues rising at above 4 mm yr.−1. Here we allocate responsibility to countries for global sea-level rise commitment (SLRC) over the period 1850 to 2100 and weigh that against their exposure to inundation from sea-level rise. We bridge two lines of climate-related research by combining assessment of countries' greenhouse gas emissions with predictions of the multi-millennial sea level response to global warming. Under the Intergovernmental Panel on Climate Change's business-as-usual scenario our findings show that the five most responsible countries for global SLRC are also the most exposed to absolute land loss. This is mostly due to their own emissions, which we call intrinsic risk. We also assess extrinsic risk, defined as a country's land exposed to inundation due to all other countries' emissions. We show that for 6 m of global SLRC, the two non-island countries with the highest extrinsic risk are predicted to lose 27 % and 15 % of their own land, yet contributed less than 1.1 % each to the emissions driving SLRC. We anticipate that our findings will directly inform policy discussions in international climate negotiations by identifying the relative degree of country responsibility and risk associated with sea-level rise.
Access options
Buy single article
Instant access to the full article PDF.
US$ 39.95
Tax calculation will be finalised during checkout.
Subscribe to journal
Immediate online access to all issues from 2019. Subscription will auto renew annually.
US$ 119
Tax calculation will be finalised during checkout.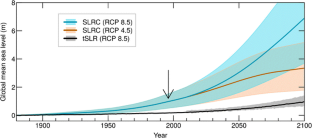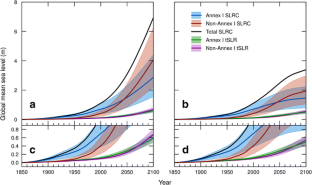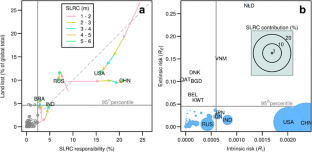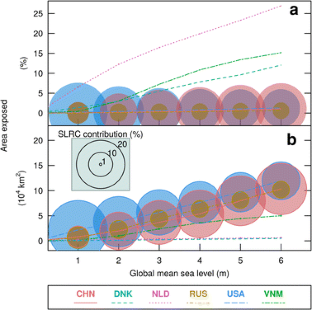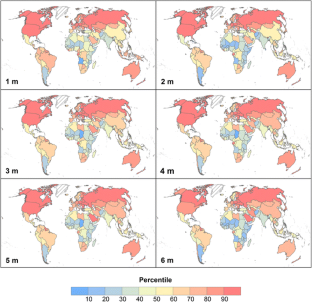 References
Adger WN, Paavola J, Huq S, Mace MJ (2006) Fairness in adaptation to climate change. MIT Press, Cambridge

Albert S, Leon JX, Grinham AR, Church JA, Gibbes BR, Woodroffe CD (2016) Interactions between sea-level rise and wave exposure on reef island dynamics in the Solomon Islands. Environ Res Lett 11:054011

Amante C, Eakins BW (2009) ETOPO1 1 arc-minute global relief model: procedures, data sources and analysis. NOAA technical memorandum NESDIS NGDC-24. Natl Geophys Data Cent NOAA. doi:10.7289/V5C8276M

Andres RJ, Gregg JS, Losey L, Marland G, Boden TA (2011) Monthly, global emissions of carbon dioxide from fossil fuel consumption. Tellus Ser B Chem Phys Meteorol 63:309–327

Archer D, Brovkin V (2008) The millennial atmospheric lifetime of anthropogenic CO2. Clim Chang 90:283–297

Cazenave A, Cozannet GL (2014) Sea level rise and its coastal impacts. Earth's Future 2:15–34

Church JA, White NJ (2011) Sea-level rise from the late 19th to the early twenty-first century. Surv Geophys 32:585–602

Davis SJ, Socolow RH (2014) Commitment accounting of CO2 emissions. Environ Res Lett 9:084018

DeConto RM, Pollard D (2016) Contribution of Antarctica to past and future sea-level rise. Nature 531:591–597

den Elzen MJ, Olivier JJ, Höhne N, Janssens-Maenhout G (2013) Countries' contributions to climate change: effect of accounting for all greenhouse gases, recent trends, basic needs and technological progress. Clim Chang 121:397–412

Dutton A, Lambeck K (2012) Ice volume and sea level during the last interglacial. Science 337:216–219

Dutton A, Carlson AE, Long AJ, Milne GA, Clark PU, DeConto R, Horton BP, Rahmstorf S, Raymo ME (2015) Sea-level rise due to polar ice-sheet mass loss during past warm periods. Science 349:153

Farr TG, Rosen PA, Caro E, Crippen R, Duren R, Hensley S, Kobrick M, Paller M, Rodriguez E, Roth L, Seal D, Shaffer S, Shimada J, Umland J, Werner M, Oskin M, Burbank D, Alsdorf D (2007) The shuttle radar topography mission. Rev Geophys 45:RG2004

Gerland P, Raftery AE, Ševčíková H, Li N, Gu D, Spoorenberg T, Alkema L, Fosdick BK, Chunn J, Lalic N, Bay G, Buettner T, Heilig GK, Wilmoth J (2014) World population stabilization unlikely this century. Science 346:234–237

Gesch DB (2009) Analysis of lidar elevation data for improved identification and delineation of lands vulnerable to sea-level rise. J Coast Res 53:49–58

Gillett NP, Arora VK, Matthews D, Allen MR (2013) Constraining the ratio of global warming to cumulative CO2 emissions using CMIP5 simulations. J Clim 26:6844–6858

Hansen J, Sato M, Hearty P, Ruedy R, Kelley M, Masson-Delmotte V, Russell G, Tselioudis G, Cao J, Rignot E, Velicogna I, Tormey B, Donovan B, Kandiano E, von Schuckmann K, Kharecha P, Legrande AN, Bauer M, Lo KW (2016) Ice melt, sea level rise and superstorms: evidence from paleoclimate data, climate modeling, and modern observations that 2 °C global warming could be dangerous. Atmos Chem Phys 16:3761–3812

Hauer ME, Evans JM, Mishra DR (2016) Millions projected to be at risk from sea-level rise in the continental United States. Nat Clim Chang. doi:10.1038/NCLIMATE2961. Advance online publication

Hay CC, Morrow E, Kopp RE, Mitrovica JX (2015) Probabilistic reanalysis of twentieth-century sea-level rise. Nature 517:481–484

Hohne N, Blum H, Fuglestvedt J, Skeie R, Kurosawa A, Hu G, Lowe J, Gohar L, Matthews B, Nioac de Salles A, Ellermann C (2011) Contributions of individual countries' emissions to climate change and their uncertainty. Clim Chang 106:359–391

IPCC (2013) Climate change 2013: the physical science basis. Contribution of working group I to the fifth assessment report of the intergovernmental panel on climate change. Cambridge University Press, Cambridge

Jarvis A, Reuter HI, Nelson A, Guevara E (2008) Hole-filled SRTM for the globe Version 4, available from the CGIAR-CSI SRTM 90 m Database (http://srtm.csi.cgiar.org)

Jevrejeva S, Moore JC, Grinsted A, Woodworth PL (2008) Recent global sea level acceleration started over 200 years ago? Geophys Res Lett 35:L08715

Jevrejeva S, Grinsted A, Moore JC (2009) Anthropogenic forcing dominates sea level rise since 1850. Geophys Res Lett 36:L20706

Jevrejeva S, Moore JC, Grinsted A (2012) Sea level projections to AD2500 with a new generation of climate change scenarios. Glob Planet Chang 80–81:14–20

Kander A, Jiborn M, Moran DD, Wiedmann TO (2015) National greenhouse-gas accounting for effective climate policy on international trade. Nat Clim Chang 5:431–435

Kelso NV, Patterson T (2010) Introducing natural earth data - naturalearthdata.com. Geographia Technica 5:82–89

Kopp RE, Horton RM, Little CM, Mitrovica JX, Oppenheimer M, Rasmussen DJ, Strauss BH, Tebaldi C (2014) Probabilistic 21st and 22nd century sea-level projections at a global network of tide-gauge sites. Earth's Future 2:383–406

Levermann A, Clark PU, Marzeion B, Milne GA, Pollard D, Radic V, Robinson A (2013) The multimillennial sea-level commitment of global warming. Proc Natl Acad Sci 110:13745–13750

Marzeion B, Levermann A (2014) Loss of cultural world heritage and currently inhabited places to sea-level rise. Environ Res Lett 9:034001

Matthews HD (2014) A growing commitment to future CO2 emissions. Environ Res Lett 9:111001

Matthews HD, Graham TL, Keverian S, Lamontagne C, Seto D, Smith TJ (2014) National contributions to observed global warming. Environ Res Lett 9:014010

Meinshausen M, Smith SJ, Calvin K, Daniel JS, Kainuma MLT, Lamarque JF, Matsumoto K, Montzka SA, Raper SCB, Riahi K, Thomson A, Velders GJM, van Vuuren DPP (2011) The RCP greenhouse gas concentrations and their extensions from 1765 to 2300. Clim Chang 109:213–241

Mitrovica JX, Gomez N, Clark PU (2009) The sea-level fingerprint of West Antarctic collapse. Science 323:753

Muhs DR, Pandolfi JM, Simmons KR, Schumann RR (2012) Sea-level history of past interglacial periods from uranium-series dating of corals, Curaçao, leeward Antilles islands. Quat Res 78:157–169

Neumann B, Vafeidis AT, Zimmermann J, Nicholls RJ (2015) Future coastal population growth and exposure to sea-level rise and coastal flooding - a global assessment. PLoS One 10:e0118571

NOAA (2012) Detailed methodology for mapping sea-level rise inundation. NOAA Coastal Services Center. URL: https://coast.noaa.gov/slr/assets/pdfs/Inundation_Methods.pdf

Peltier W (2004) Global glacial isostasy and the surface of the ice-age earth: the ICE-5G (VM2) model and GRACE. Annu Rev Earth Planet Sci 32:111–149

Raftery AE, Li N, Ševčíková H, Gerland P, Heilig GK (2012) Bayesian probabilistic population projections for all countries. Proc Natl Acad Sci 109:13915–13921

Raymo ME, Mitrovica JX (2012) Collapse of polar ice sheets during the stage 11 interglacial. Nature 483:453–456

Stammer D, Cazenave A, Ponte RM, Tamisiea ME (2013) Causes for contemporary regional sea level changes. Ann Rev Mar Sci 5:21–46

Strauss BH (2013) Rapid accumulation of committed sea-level rise from global warming. Proc Natl Acad Sci. 110:13699–13700

Strauss BH, Ziemlinski R, Weiss JL, Overpeck JT (2012) Tidally adjusted estimates of topographic vulnerability to sea level rise and flooding for the contiguous United States. Environ Res Lett 7:014033

Strauss BH, Kulp S, Levermann A (2015a) Carbon choices determine US cities committed to futures below sea level. Proc Natl Acad Sci 112:13508–13513

Strauss BH, Kulp S, Levermann A (2015b) Mapping choices: carbon, climate, and rising seas, our global legacy. Climate Central Research Report, Princeton, pp 1–38

Taylor L, Rezai A, Foley DK (2015) An integrated approach to climate change, income distribution, employment, and economic growth. Ecol Econ. doi:10.1016/j.ecolecon.2015.05.015

Tschakert P (2015) 1.5 °C or 2 °C: a conduit's view from the science-policy interface at COP20 in Lima, Peru. Clim Chang Res 2:3

United Nations (2015) World population prospects: The 2015 revision, key findings and advance tables. Department of Economic and Social Affairs, Population Division. Working Paper No. ESA/P/WP.241

van Vuuren D, Edmonds J, Kainuma M, Riahi K, Thomson A, Hibbard K, Hurtt G, Kram T, Krey V, Lamarque J-F, Masui T, Meinshausen M, Nakicenovic N, Smith S, Rose S (2011) The representative concentration pathways: an overview. Clim Chang 109:5–31

Vermeer M, Rahmstorf S (2009) Global sea level linked to global temperature. Proc Natl Acad Sci 106:21527–21532

Wang J, Gao W, Xu S, Yu L (2012) Evaluation of the combined risk of sea level rise, land subsidence, and storm surges on the coastal areas of Shanghai, China. Clim Chang 115:537–558

Ward DS, Mahowald NM (2014) Contributions of developed and developing countries to global climate forcing and surface temperature change. Environ Res Lett 9:074008

Wei T, Yang S, Moore JC, Shi P, Cui X, Duan Q, Xu B, Dai Y, Yuan W, Wei X, Yang Z, Wen T, Teng F, Gao Y, Chou J, Yan X, Wei Z, Guo Y, Jiang Y, Gao X, Wang K, Zheng X, Ren F, Lv S, Yu Y, Liu B, Luo Y, Li W, Ji D, Feng J, Wu Q, Cheng H, He J, Fu C, Ye D, Xu G, Dong W (2012) Developed and developing world responsibilities for historical climate change and CO2 mitigation. Proc Natl Acad Sci 109:12911–12915

Wessel P, Smith WH (1996) A global, self-consistent, hierarchical, high-resolution shoreline database. J Geophys Res Solid Earth (1978–2012) 101:8741–8743

Yi S, Sun W, Heki K, Qian A (2015) An increase in the rate of global mean sea level rise since 2010. Geophys Res Lett 42:3998–4006
Acknowledgments
This material is based upon country-level GHG emissions research conducted by Ward and Mahowald (2014). We thank Dr. Ward for sharing the emissions data for countries and for feedback on an earlier version of the manuscript.
Ethics declarations
Conflict of interest
The authors declare that they have no conflict of interest.
Electronic supplementary material
Country contributions (meters, percent, and per capita) and land exposure (km2, country percentage, and global percentage) for each one-meter increment of global SLRC under scenario RCP 8.5. Intrinsic and extrinsic risk indices for 6 m of global SLRC are also included (HTM 1299 kb)
Country contributions (meters, percent, and per capita) and land exposure for each one-meter increment of global SLRC under scenario RCP 4.5. Exposure assessments for 1 to 3 m of SLRC would be the same as in Online Resource 2. Intrinsic and extrinsic risk indices for 3 m of global SLRC are also included (HTM 573 kb)
About this article
Cite this article
Hardy, R.D., Nuse, B.L. Global sea-level rise: weighing country responsibility and risk. Climatic Change 137, 333–345 (2016). https://doi.org/10.1007/s10584-016-1703-4
Received:

Accepted:

Published:

Issue Date:
Keywords
Representative Concentration Pathway

Country Group

Glacial Isostatic Adjustment

Small Island Develop States

Intrinsic Risk