Abstract
An annually resolved and absolutely dated ring-width chronology spanning 657 yrs. is constructed with Whitebark pine (Pinus bungeana Zucc.) samples from the southern Taihang Mountains, Eastern China. On the basis of a significant correlation between the tree-ring width index and observed instrumental data, precipitation in current May is reconstructed for the region since AD 1510, with predictor variables accounting for 37.9 % of the variance in precipitation data. In agreement with other drought reconstructions, notable dry spells occur in the 1630s–1650s, 1680s–1700s, and 1770s–1800s, whereas wet periods prevail in the 1530s–1570s, 1840s–1870s, and 1950s-present. Wavelet analysis reveals clear 2–8, 20–40, and 80–130 yrs cycles at the 95 % confidence level for the reconstructed series over the past 500 yrs, suggesting possible linkages with the El Niño-Southern Oscillation (ENSO) and the Pacific Decadal Oscillation (PDO). Correlation analysis between the tree-ring series, ENSO, and PDO index further demonstrates that precipitation is negatively correlated with PDO and ENSO in the long term.
This is a preview of subscription content, log in to check access.
Access options
Buy single article
Instant access to the full article PDF.
US$ 39.95
Price includes VAT for USA
Subscribe to journal
Immediate online access to all issues from 2019. Subscription will auto renew annually.
US$ 199
This is the net price. Taxes to be calculated in checkout.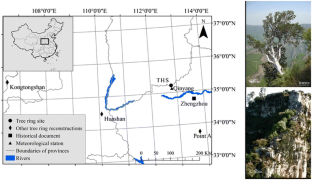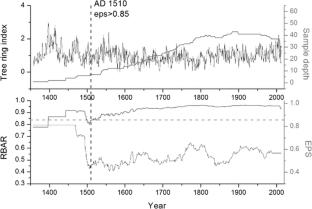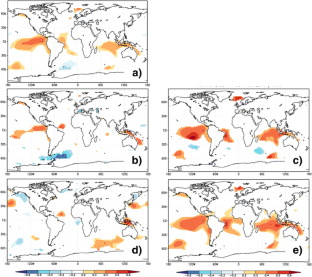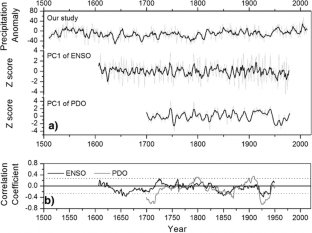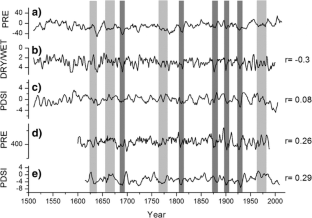 References
Biondi F, Waikul K (2004) DENDROCLIM2002: A C++ program for statistical calibration of climate signals in tree-ring chronologies. Comput Geosci 30:303–311

Biondi F, Gershunov A, Cayan DR (2001) North Pacific decadal climate variability since 1661. J Clim 14:5–10

Bräker OU (2002) Measuring and data processing in tree-ring research-a methodological introduction. Dendrochronologia 20:203–216

Chan JCL, Zhou W (2005) PDO, ENSO and the early summer monsoon rainfall over south China. Geophys Res Lett 32:L08810

CMA (1981) Yearly charts of dryness/wetness in China for the last 500-year period charts of dryness/wetness in China for the last 500-year period. Cartographic Publishing House, Beijing

Cook ER, Meko DM, Stahle DW, Cleaveland MK (1999) Drought reconstructions for the continental United States. J Clim 12:1145–1162

Cook, E.R., et al (2009) Tree ring 500 year ENSO index reconstructions. IGBP pages/world data center for paleoclimatology data contribution series # 2009–105. NOAA/NCDC Paleoclimatology Program, Boulder CO, USA

Cook ER, Anchukaitis KJ, Buckley BM, D'Arrigo RD, Jacoby GC, Wright WE (2010) Asian monsoon failure and megadrought during the last millennium. Science 328:486–489

D'Arrigo R, Wilson R (2006) On the Asian expression of the PDO. Int J Climatol 26:1607–1617

D'Arrigo R, Villalba R, Wiles G (2001) Tree-ring estimates of Pacific decadal climate variability. Clim Dyn 18:219–224

D'Arrigo R, Cook ER, Wilson RJ, et al. (2005) On the variability of ENSO over the past six centuries. Geophys Res Lett 32:L03711

Ding YH, Chan JCL (2005) The East Asian summer monsoon: an overview. Meteorog Atmos Phys 89:117–142

Ding YH, Wang Z, Sun Y (2008) Inter-decadal variation of the summer precipitation in East China and its association with decreasing Asian summer monsoon. Part I: Observed evidences. Int J Climatol 228:1139–1161

Fang K, Frank D, Gou X, Liu C, Zhou F, Li J, Li Y (2003) Precipitation over the past four centuries in the Dieshan Mountains as inferred from tree rings: An introduction to an HHT-based method. Glob Planet Chang 107:109–118

Fang K, Gou X, Chen F, Liu C, Davi N, Li J, Zhao Z, Li Y (2012) Tree-ring based reconstruction of drought variability (1615–2009) in the Kongtong Mountain area, northern China. Glob Planet Chang 80-81:190–197

Fang K, Chen F, Sen AK, Davi N, Huang W, Li J, Seppä H (2014) Hydroclimate variations in central and monsoonal Asia over the past 700 Years. PLoS One 9:e102751

Fritts HC (1976) Tree Rings and Climate. Academic Press, London

Ge QS, Zheng JY, Hao ZX, Zhang PY, Wang WC (2005) Reconstruction of historical climate in China- High-Resolution precipitation data from Qing Dynasty archives. BAMS:671–679

Gou X, Deng Y, Chen F, Yang M, Gao L, Nesje A, Fang K (2014) Precipitation variations and possible forcing factors on the Northeastern Tibetan Plateau during the last millennium. Quat Res 81:508–512

Grissino-Mayer HD (2001) Evaluating crossdating accuracy: A manual and tutorial for the computer program cofecha. Tree-Ring Res 57:205–221

Hao ZX, Zheng JY, Ge QH (2008) Analysis of precipitation cycles in the middle and lower reaches of the Yellow River. J Geogr Sci 18:1–10

Holmes RL (1983) Computer-assisted quality control in tree-ring dating and measurement. Tree-Ring Bull 43:69–95

Hughes MK, Wu XD, Shao XM, Garfin GM (1994) A preliminary reconstruction of rainfall in North-Central China since ad 1600 from Tree-Ring Density and Width. Quat Res 42:88–99

Li J, Zeng Q (2002) A unified monsoon index. Geophys Res Lett 29:L115

Li J, Xie S-P, Cook ER, Huang G, D'Arrigo R, Liu F, Ma J, Zheng X-T (2011) Interdecadal modulation of El Niño amplitude during the past millennium. Nat Clim Chang 1:114–118

Li M-Y, Wang L, Fan Z-x, Shen C-C (2015) Tree-ring density inferred late summer temperature variability over the past three centuries in the Gaoligong Mountains, southeastern Tibetan Plateau. Palaeogeogr Palaeoclimatol Paleoecol 422:57–64

Liang EY, Shao XM, Kong ZC, Lin JX (2003) The extreme drought in the 1920s and its effect on tree growth deduced from tree ring analysis: A case study in north China. Ann For Sci 60:145–152

Liang EY, Liu X, Yuan Y, Qin N, Fang X, Huang L, Zhu H, Wang L, Shao X (2006) The 1920s drought recorded by tree rings and historical documents in the semi-arid areas of Northern China. Clim Chang 79:403–432

Liang EY, Eckstein D, Shao XM (2009) Seasonal cambial activity of relict Chinese Pine at the Northern limit of Its natural distribution in North China - Exploratory Results. IAWA J 30:371–378

Liu H, Shao X, Huang L (2002) Reconstruction of early-summer drought indices in mid-north region of China after 1500 using tree ring chronologies (in Chinese). Quat Sci 22:220–229

Liu X, Shao X, Zhao L, Qin D, Chen T, Ren J (2007) Dendroclimatic temperature record derived from tree-ring width and stable carbon isotope chronologies in the middle qilian mountains, China. Arct Antarct Alp Res 39:651–657

Liu Y, An Z, Linderholm HW, Chen D, Song H, Cai Q, Sun J, Tian H (2009a) Annual temperatures during the last 2485 years in the Eastern Tibetan plateau inferred from tree rings. Sci China Earth Sci 52:348–359

Liu Y, Linderholm HW, Song H, Cai Q, Tian Q, Sun J, Chen D, Simelton E, Seftigen K, Tian H, Wang R, Bao G, An Z (2009b) Temperature variations recorded in Pinus tabulaeformis tree rings from the southern and northern slopes of the central Qinling Mountains, central China. Boreas 38:285–291

MacDonald GM, Case RA (2005) Variations in the Pacific Decadal Oscillation over the past millennium. Geophys Res Lett 32:L08703

Melvin TM, Briffa KR (2008) A "signal-free"approach to dendroclimatic standardisation. Dendrochronologia 26:71–86

Michaelsen J (1987) Cross-validation in statistical climate forecast models. J Clim Appl Meteorol 26:1589–1600

Minobe S (1997) A 50-70 year climatic oscillation over the North Pacific and North America. Geophys Res Lett 24:683–686

Osborn T, Briffa K, Jones P (1997) Adjusting variance for samplesize in tree-ring chronologies and other regional mean timeseries. Dendrochronologia 15:89–99

Pei L, Yang Z-W, Yang H (2015) Multidecadal variability of dry/wet patterns in eastern China and their relationship with the Pacific Decadal Oscillation in the last 413 years. Chin Sci Bull 60:97–108

Qian C, Zhou T (2014) Multidecadal Variability of North China Aridity and Its Relationship to PDO during 1900–2010. J Clim 27:1210–1222

Shao X, Huang L, Liu H, Liang E, Fang X, Wang L (2005) Reconstruction of precipitation variation from tree rings in recent 1000 years in Delingha, Qinghai. Sci China Earth Sci 48:939–949

Shao X, Xu Y, Yin Z-Y, Zhu H, Wang S (2010) Climatic implications of a 3585-year tree-ring width chronology from the northeastern Qinghai-Tibetan Plateau. Quat Sci Rev 29:2111–2122

Shen C, Wang W-C, Gong W, Hao Z (2006) A Pacific decadal oscillation record since 1470 AD reconstructed from proxy data of summer rainfall over eastern China. Geophys Res Lett 33:L03702

Shen C, Wang W-C, Hao Z, Gong W (2007) Exceptional drought events over eastern China during the last five centuries. Clim Chang 85:453–471

Shi J, Cook ER, Lu H, Li J, Wright WE, Li S (2010) Tree-ring based winter temperature reconstruction for the lower reaches of the Yangtze River in southeast China. Clim Res 41:169–175

Shi J, Lu H, Li J, Shi S, Wu S, Hou X, Li L (2015) Tree-ring based February-April precipitation reconstruction for the lower reaches of the Yangtze River, southeastern China. Glob Planet Chang. doi:10.1016/j.gloplacha.2015.05.006

Smith TM, Reynolds RW, Peterson TC, Lawrimore J (2008) Improvements to NOAA's historical merged land-ocean surface temperature Analysis (1880-2006). J Clim 21:2283–2296

Song H, Liu Y, Li Q, Ma Y, Zhang Y (2014) Tree-ring based May-July temperature reconstruction since AD 1630 on the Western Loess Plateau, China. PLoS One 9:e93504

Tan L, An Z, Huh C-A, Cai Y, Shen C-C, Shiau L-J, Yan L, Cheng H, Edwards RL (2014) Cyclic precipitation variation on the western Loess Plateau of China during the past four centuries. Sci Rep 4. doi:10.1038/srep06381

Torrence C, Compo G (1998) A practical guide to wavelet analysis. B Am Meteorol Soc 79:61–78

Wang L, Chen W (2014) The East Asian winter monsoon: re-amplification in the mid-2000s. Chin Sci Bull 59:430–436

Wang B, Wu R, Fu X (2000) Pacific–East Asian Teleconnection: How Does ENSO Affect East Asian Climate? J Clim 13:1517–1536

Wigley TML, Briffa KR, Jones PD (1984) On the average value of correlated time series, with applications in dendroclimatology and hydrometeorology. J Clim Appl Meteorol 23:201–213

Wilson R, Cook E, D'Arrigo R, et al. (2010) Reconstructing ENSO: the influence of method, proxy data, climate forcing and teleconnections. J Quat Sci 25:62–78

Wu R, Hu Z-Z, Kirtman BP (2003) Evolution of ENSO-Related Rainfall Anomalies in East Asia. J Clim 16:3742–3758

Yang B, Qin C, Wang J, He M, Melvin TM, Osborn TJ, Briffa KR (2014) A 3,500-year tree-ring record of annual precipitation on the northeastern Tibetan Plateau. PNAS 111:2903–2908

Yu L, Furevik T, Otterå OH, et al. (2015) Modulation of the Pacific Decadal Oscillation on the summer precipitation over East China: a comparison of observations to 600-years control run of Bergen Climate Model. Clim Dyn 44:475–494

Zhang D-E (2004) A compendium of Chinese meteorological records of the past 3000 years. Jiangsu Education Press. (In Chinese), Nanjing

Zhang Q-B, Cheng G, Yao T, Kang X, Huang J (2003) A 2,326-year tree-ring record of climate variability on the northeastern Qinghai-Tibetan Plateau. Geophys Res Lett 30:1739

Zhang Y, Chen FH, Gou XH, Jin LY, Tian QH, Wang YS, Peng JF (2007) The temporal and spatial distributioin of seasonal dry-wet changes over the Northwestern China: Based on PDSI. Acta Geograph Sin 62(11):1142–1152 (in Chinese)

Zhang Y, Shao XM, Yin ZY, Liang EY, Tian QH, Xu Y (2011a) Characteristics of extreme droughts inferred from tree-ring data in the Qilian Mountains, 1700-2005. Clim Res 50:141–159

Zhang Y, Tian Q, Gou X, Chen F, Leavitt SW, Wang Y (2011b) Annual precipitation reconstruction since AD 775 based on tree rings from the Qilian Mountains, northwestern China. Int J Climatol 31:371–381

Zhang Y, Shao X, Yin Z-Y, Wang Y (2014) Millennial minimum temperature variations in the Qilian Mountains, China: evidence from tree rings. Clim Past 10:1763–1778

Zhou L, Huang R (2003) Research on the characteristics of interdecadal variability of summer climate in China and its possible cause(in Chinese). Clim Environ Res 8:274–290

Zhu HF, Zheng YH, Shao XM, Liu XH, Xu Y, Liang EY (2008) Millennial temperature reconstruction based on tree-ring widths of Qilian juniper from Wulan, Qinghai Province, China. Chin Sci Bull 53:3914–3920

Zhu Y, Wang H, Zhou W, et al. (2011) Recent changes in the summer precipitation pattern in East China and the background circulation. Clim Dyn 36:1463–1473
Acknowledgments
This research was supported by the National Basic Research Program of China '973' (No. 2012CB956201), the Basic Research Project of the Ministry of Science and Technology (No. 2011FY120300), and the National Science Foundation of China (No. 41001058), LCS Open Funds for Young Scholars (2015). Particular thanks are due to three anonymous reviewers for their critical and valuable comments on the early manuscript.
Additional information
This article is part of a Special Issue on "Decadal Scale Drought in Arid Regions" edited by Zong-Liang Yang and Zhuguo Ma.
Electronic supplementary material
About this article
Cite this article
Zhang, Y., Tian, Q., Guillet, S. et al. 500-yr. precipitation variability in Southern Taihang Mountains, China, and its linkages to ENSO and PDO. Climatic Change 144, 419–432 (2017). https://doi.org/10.1007/s10584-016-1695-0
Received:

Accepted:

Published:

Issue Date:
Keywords
Pacific Decadal Oscillation

East Asian Winter Monsoon

Pacific Decadal Oscillation Index

Express Population Signal

Precipitation Reconstruction