Abstract
Both statistical and dynamical downscaling methods are well established techniques to bridge the gap between the coarse information produced by global circulation models and the regional-to-local scales required by the climate change Impacts, Adaptation, and Vulnerability (IAV) communities. A number of studies have analyzed the relative merits of each technique by inter-comparing their performance in reproducing the observed climate, as given by a number of climatic indices (e.g. mean values, percentiles, spells). However, in this paper we stress that fair comparisons should be based on indices that are not affected by the calibration towards the observed climate used for some of the methods. We focus on precipitation (over continental Spain) and consider the output of eight Regional Climate Models (RCMs) from the EURO-CORDEX initiative at 0.44∘ resolution and five Statistical Downscaling Methods (SDMs) —analog resampling, weather typing and generalized linear models— trained using the Spain044 observational gridded dataset on exactly the same RCM grid. The performance of these models is inter-compared in terms of several standard indices —mean precipitation, 90th percentile on wet days, maximum precipitation amount and maximum number of consecutive dry days— taking into account the parameters involved in the SDM training phase. It is shown, that not only the directly affected indices should be carefully analyzed, but also those indirectly influenced (e.g. percentile-based indices for precipitation) which are more difficult to identify. We also analyze how simple transformations (e.g. linear scaling) could be applied to the outputs of the uncalibrated methods in order to put SDMs and RCMs on equal footing, and thus perform a fairer comparison.
This is a preview of subscription content, log in to check access.
Access options
Buy single article
Instant access to the full article PDF.
US$ 39.95
Price includes VAT for USA
Subscribe to journal
Immediate online access to all issues from 2019. Subscription will auto renew annually.
US$ 199
This is the net price. Taxes to be calculated in checkout.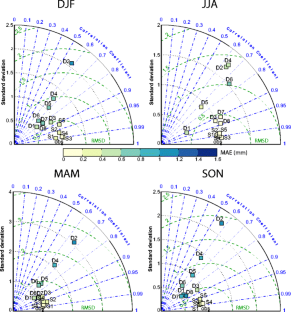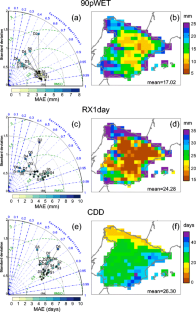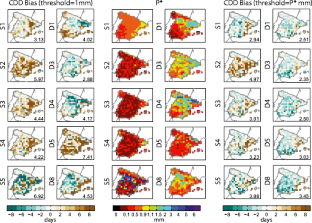 References
Ayar PV, Vrac M, Bastin S, Carreau J, Déqué M, Gallardo C (2015) Intercomparison of statistical and dynamical downscaling models under the EURO- and MED-CORDEX initiative framework: present climate evaluations. Clim Dyn 46 (3-4):1301–1329. doi:10.1007/s00382-015-2647-5

Bärring L, Holt T, Linderson M, Radziejewski M, Moriondo M, Palutikof JP (2006) Defining dry/wet spells for point observations, observed area averages, and regional climate model gridboxes in Europe. Clim Res 31(1):35–49. doi:10.3354/cr031035

Benestad RE, Nychka D, Mearns LO (2011) Specification of wet-day daily rainfall quantiles from the mean value. Tellus A 64

Benestad RE, Nychka D, Mearns LO (2012) Spatially and temporally consistent prediction of heavy precipitation from mean values. Nat Clim Chang 2(7):544–547. doi:10.1038/NCLIMATE1497

Brands S, Gutiérrez J, Herrera S, Cofiño A (2012) On the use of reanalysis data for downscaling. J Clim 25:2517–2526

Casanueva A, Kotlarski S, Herrera S, Fernández J, Gutiérrez J, Boberg B, Colette A, Christensen OB, Goergen K, Jacob D, Keuler K, Nikulin G, Teichmann C, Vautard R (2015) Daily precipitation statistics in a EURO-CORDEX RCM ensemble: added value of raw and bias-corrected high-resolution simulations. Climat Dyn:1–19. doi:10.1007/s00382-015-2865-x

Christensen OB, Drews M, Christensen J, Dethloff K, Ketelsen K, Hebestadt I, Rinke A (2007) The HIRHAM Regional Climate Model. Version 5 (beta). Denmark. DanishMeteorological Institute. Technical Report, Danish Climate Centre, Danish Meteorological Institute

Collins M, Booth BBB, Harris GR, Murphy JM, Sexton DMH, Webb MJ (2006) Towards quantifying uncertainty in transient climate change. Clim Dyn 27 (2-3):127–147

Dee DP, Uppala SM, Simmons AJ, Berrisford P, Poli P, Kobayashi S, Andrae U, Balmaseda MA, Balsamo G, Bauer P, Bechtold P, Beljaars ACM, van de Berg L, Bidlot J, Bormann N, Delsol C, Dragani R, Fuentes M, Geer AJ, Haimberger L, Healy SB, Hersbach H, Hólm EV, Isaksen L, Kållberg P, Köhler M, Matricardi M, McNally AP, Monge-Sanz BM, Morcrette J, Park B, Peubey C, De Rosnay P, Tavolato C, Thépaut JN, Vitart F (2011) The ERA-interim reanalysis: configuration and performance of the data assimilation system. Quart J R Meteorol Soc 137:553–597

Déqué M (2007) Frequency of precipitation and temperature extremes over France in an anthropogenic scenario: Model results and statistical correction according to observed values. Glob Planet Chang 57(12):16–26. doi:10.1016/j.gloplacha.2006.11.030

Déqué M, Jones RG, Wild M, Giorgi F, Christensen JH, Hassell DC, Vidale PL, Rockel B, Jacob D, Kjellstróm E, Castro Md, Kucharski F, Hurk BVD (2005) Global high resolution versus limited area model climate change projections over Europe: quantifying confidence level from PRUDENCE results. Clim Dyn 25(6):653–670. doi:10.1007/s00382-005-0052-1

Ehret U, Zehe E, Wulfmeyer V, Warrach-Sagi K, Liebert J (2012) HESS Opinions "Should we apply bias correction to global and regional climate model data?". Hydrol Earth Syst Sci 16(9):3391–3404. doi:10.5194/hess-16-3391-2012

Estrada F, Guerrero VM, Gay-García C, Martínez-López B (2013) A cautionary note on automated statistical downscaling methods for climate change. Clim Chang 120(1-2):263–276. doi:10.1007/s10584-013-0791-7

Feser F, Rockel B, von Storch H, Winterfeldt J, Zahn M (2011) Regional climate models add value to global model data: a review and selected examples. Bull Am Meteorol Soc 92(9):1181–1192

Giorgi F (2006) Regional climate modeling: Status and perspectives. J Phys IV Proc 139(1):101–118. doi:10.1051/jp4:2006139008

Goodess C (2005) Statistical and regional dynamical downscaling of extremes for European regions. STARDEX Final Management Report Available at http://www.cru.uea.ac.uk/cru/research/stardex

Gutiérrez J, San-Martín D, Brands S, Manzanas R, Herrera S (2013) Reassessing statistical downscaling techniques for their robust application under climate change conditions. J Clim 26:171–188

Haylock M, Cawley G, Harpham C, Wilby R, Goodess C (2006) Downscaling heavy precipitation over the United Kingdom: a comparison of dynamical and statistical methods and their future scenarios. Int J Climatol 26(10):1397–1415

Haylock MR, Hofstra N, Klein Tank AMG, Klok EJ, Jones PD, New M (2008) A European daily high-resolution gridded data set of surface temperature and precipitation for 1950-2006. J Geophys Res-Atmos 113 (D20). doi:10.1029/2008JD010201

Herrera S, Gutiérrez J, Ancell R, Pons M, Frías M, Fernández J (2012) Development and analysis of a 50 year high resolution daily gridded precipitation dataset over Spain (Spain02). International Journal of Climatology 10.1002/joc.2256

Herrera S, Fernández J, Gutiérrez J (2015) Update of the Spain02 gridded observational dataset for EURO-CORDEX evaluation: Assessing the effect of the interpolation methodology. Int J Climatol. doi:10.1002/joc.4391

Hertig E, Paxian A, Vogt G, Seubert S, Paeth H, Jacobeit J (2012) Statistical and dynamical downscaling assessments of precipitation extremes in the mediterranean area. Meteorol Zeitsch 21(1):61–77. doi:10.1127/0941-2948/2012/0271

Jacob D, Petersen J, Eggert B, Alias A, Christensen OB, Bouwer L, Braun A, Colette A, Déqué M, Georgievski G, Georgopoulou E, Gobiet A, Menut L, Nikulin G, Haensler A, Hempelmann N, Jones C, Keuler K, Kovats S, Króner N, Kotlarski S, Kriegsmann A, Martin E, Van Meijgaard E, Moseley C, Pfeifer S, Preuschmann S, Radermacher C, Radtke K, Rechid D, Rounsevell M, Samuelsson P, Somot S, Soussana JF, Teichmann C, Valentini R, Vautard R, Weber B, Yiou P (2014) EURO-CORDEX: new high-resolution climate change projections for European impact research. Reg Environ Chang 14(2):563–578. doi:10.1007/s10113-013-0499-2

Kidson J, Thompson C (1998) A comparison of statistical and model-based downscaling techniques for estimating local climate variations. J Clim 11(4):735–753

Kotlarski S, Keuler K, Christensen O, Colette A, Déqué M, Gobiet A, Goergen K, Jacob D, Lúthi D, van Meijgaard E, Nikulin G, Schár C, Teichmann C, Vautard R, Warrach-Sagi K, Wulfmeyer V (2014) Regional climate modeling on European scales: a joint standard evaluation of the EURO-CORDEX RCM ensemble. Geosci Model Develop Discuss 7:217–293

Luo Q, Wen L, McGregor JL, Timbal B (2013) A comparison of downscaling techniques in the projection of local climate change and wheat yields. Clim Chang 120 (1-2):249–261. doi:10.1007/s10584-013-0802-8

Maraun D, Wetterhall F, Ireson AM, Chandler RE, Kendon EJ, Widmann M, Brienen S, Rust HW, Sauter T, Themessl M, Venema VKC, Chun KP, Goodess CM, Jones RG, Onof C, Vrac M, Thiele-Eich I (2010) Precipitation downscaling under climate change: Recent developments to bridge the gap between dynamical models and the end user. Rev Geophys 48(3):RG3003. doi:10.1029/2009RG000314

McCullagh P, Nelder JA (1989) Generalized linear models Monographs on Statistics and Applied Probability. Chapman & Hall, London

Meijgaard EV, Ulft LHV, Lenderink G, Roode SRD, Wipfler EL, Boers R, Timmermans RMA (2012) Refinement and Application of a Regional Atmospheric Model for Climate Scenario Calculations of Western Europe. Programme Office Climate changes Spatial Planning

Murphy J (1999) An evaluation of statistical and dynamical techniques for downscaling local climate. J Clim 12(8):2256–2284

Orlowsky B, Seneviratne SI (2012) Global changes in extreme events: regional and seasonal dimension. Clim Chang 110(3-4):669–696. doi:10.1007/s10584-011-0122-9

Pizzigalli C, Palatella L, Zampieri M, Lionello P, Miglietta M, Paradisi P (2012) Dynamical and statistical downscaling of precipitation and temperature in a Mediterranean area. Ital J Agron 7(1):2. doi:10.4081/ija.2012.e2

Radu R, Déqué M, Somot S (2008) Spectral nudging in a spectral regional climate model. Tellus A 60(5). doi:10.3402/tellusa.v60i5.15501

Rockel B, Will A, Hense A (2008) The Regional Climate Model COSMO-CLM (CCLM). Meteorol Zeitsch 17(4):347–348. doi:10.1127/0941-2948/2008/0309

Samuelsson P, Jones CG, Willén U, Ullerstig A, Gollvik S, Hansson U, Jansson C, Kjellstrm E, Nikulin G, Wyser K (2011) The Rossby Centre Regional Climate model RCA3: model description and performance. Tellus A 63(1). doi:10.3402/tellusa.v63i1.15770

San-Martín D, Manzanas R, Brands S, Herrera S, Gutiérrez J (2016) Reassessing model uncertainty for regional projections of precipitation with an ensemble of statistical downscaling methods. J Clim. submitted

Schmidli J, Goodess C, Frei C, Haylock M, Hundecha Y, Ribalaygua J, Schmith T (2007) Statistical and dynamical downscaling of precipitation: An evaluation and comparison of scenarios for the European Alps. J Geophys Res 112(10.1029)

Sillman J, Roeckner R (2008) Indices for extreme events in projections of anthropogenic climate change. Clim Chang 86:83–104. doi:10.1007/s10584-007-9308-6

Skamarock W, Klemp J, Dudhia J, Gill D, Barker D, Duda M, Wang W, Powers J (2008) A description of the Advanced Research WRF Version 3. Technical Report., NCAR

Von Storch H, Zorita E, Cubasch U (1993) Downscaling of global climate change estimates to regional scales: An application to Iberian rainfall in wintertime. J Clim 6(6):1161–1171. doi:10.1175/1520-0442(1993)0061161:DOGCCE2.0.CO;2

Tareghian R, Rasmussen PF (2013) Statistical Downscaling of precipitation using quantile regression. J Hydrol 487:122–135. doi:10.1016/j.jhydrol.2013.02.029

Taylor KE (2001) Summarizing multiple aspects of model performace in a single diagram. J Geophys Res 106(D7):7183–7192

Teutschbein C, Seibert J (2012) Bias correction of regional climate model simulations for hydrological climate-change impact studies: Review and evaluation of different methods. J Hydrol 456–457:12–29

Teutschbein C, Seibert J (2013) Is bias correction of regional climate model (RCM) simulations possible for non-stationary conditions?. Hydrol Earth Syst Sci 17 (12):5061–5077. doi:10.5194/hess-17-5061-2013

Tryhorn L, DeGaetano A (2011) A comparison of techniques for downscaling extreme precipitation over the Northeastern United States. Int J Climatol 31 (13):1975–1989. doi:10.1002/joc.2208

Turco M, Quintana-Segui P, Llasat MC, Herrera S, Gutiérrez JM (2011) Testing MOS precipitation downscaling for ENSEMBLES regional climate models over Spain. J Geophys Res-Atmos 116:14

Wilby RL, Wigley TML (1997) Downscaling general circulation model output: a review of methods and limitations. Progress Phys Geogr 21(4):530–548. doi:10.1177/030913339702100403
Acknowledgments
We acknowledge the World Climate Research Programme's Working Group on Regional Climate, and the Working Group on Coupled Modelling, former coordinating body of CORDEX and responsible panel for CMIP5. We also thank the climate modeling groups (listed in Table 1 of this paper) for producing and making available their model output. We also acknowledge the Earth System Grid Federation infrastructure and AEMET and University of Cantabria for the Spain02 dataset (available at http://www.meteo.unican.es/en/datasets/spain02). All the statistical downscaling experiments have been computed using the MeteoLab software (http://www.meteo.unican.es/software/meteolab), which is an open-source Matlab toolbox for statistical downscaling. This work has been partially supported by CORWES (CGL2010-22158-C02) and EXTREMBLES (CGL2010-21869) projects funded by the Spanish R&D programme. AC thanks the Spanish Ministry of Economy and Competitiveness for the funding provided within the FPI programme (BES-2011-047612 and EEBB-I-13-06354), JMG acknowledges the support from the SPECS project (FP7-ENV-2012-308378) and JF is grateful to the EUPORIAS project (FP7-ENV-2012-308291). We also thank three anonymous referees for their useful comments that helped to improve the original manuscript.
About this article
Cite this article
Casanueva, A., Herrera, S., Fernández, J. et al. Towards a fair comparison of statistical and dynamical downscaling in the framework of the EURO-CORDEX initiative. Climatic Change 137, 411–426 (2016). https://doi.org/10.1007/s10584-016-1683-4
Received:

Accepted:

Published:

Issue Date:
Keywords
Regional Climate Models

Statistical downscaling

EURO-CORDEX

Precipitation indices