Abstract
The Australian coastal zone encompasses tropical, sub- and extra-tropical climates and accommodates about 80 % of Australia's population. Sea level extremes and their physical impacts in the coastal zone arise from a complex set of atmospheric, oceanic and terrestrial processes that interact on a range of spatial and temporal scales and will be modified by a changing climate, including sea level rise. This review details significant progress over recent years in understanding the causes of past and projections of future changes in sea level and coastal extremes, yet a number of research questions, knowledge gaps and challenges remain. These include efforts to improve knowledge on past sea level extremes, integrate a wider range of processes in projections of future changes to sea level extremes, and focus efforts on understanding long-term coastline response from the combination of contributing factors.
Access options
Buy single article
Instant access to the full article PDF.
US$ 39.95
Tax calculation will be finalised during checkout.
Subscribe to journal
Immediate online access to all issues from 2019. Subscription will auto renew annually.
US$ 119
Tax calculation will be finalised during checkout.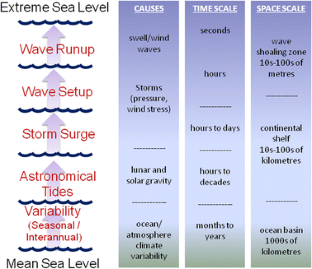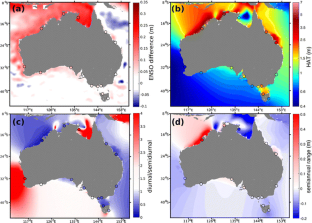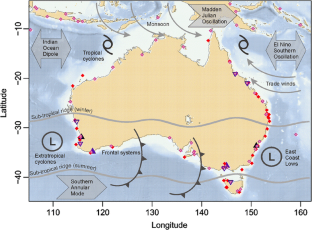 References
Bosserelle C, Pattiaratchi C, Haigh I (2012) Inter-annual variability and longer-term changes in the wave climate of Western Australia between 1970 and 2009. Ocean Dyn 62:63–76. doi:10.1007/s10236-011-0487-3

Bruun P (1962) Sea-level rise as a cause of coastal erosion. J Waterw Harb Coast Eng Div Am Soc Civ Eng 88:117–130

Church JA, Hunter JR, McInnes KL, White NJ (2006) Sea-level rise around the Australian coastline and the changing frequency of extreme sea-level events. Aust Meteorol Mag 55:253–260

Church JA, Clark PU, Cazenave A, Gregory JM, Jevrejeva S, Levermann A, Merrifield MA, Milne GA, Nerem RS, Nunn PD, Payne AJ, Pfeffer WT, Stammer D, Unnikrishnan AS et al (2013) Sea Level Change. In: Stocker TF (ed) Climate Change 2013: The Physical Science Basis Contribution of Working Group I to the Fifth Assessment Report of the Intergovernmental Panel on Climate Change. Cambridge University Press, Cambridge

Colberg F, McInnes KL (2012) The impact of future changes in weather patterns on extreme sea levels over southern Australia. J Geophys Res Oceans 117, C08001. doi:10.1029/2012jc007919

Cooper JAG, Pilkey OH (2004) Sea-level rise and shoreline retreat: time to abandon the Bruun Rule. Glob Planet Chang 43:157–171

Cowell P, Roy P, Jones R (1995) Simulation of large-scale coastal change using a morphological behaviour model. Mar Geol 126:45–61

CSIRO, BoM (2015) Climate change in Australia information for Australia's Natural Resource Management Regions, CSIRO and Bureau of Meteorology. 222 pp

Department of Climate Change (2009) Climate change risks to Australia's coast. A first pass national assessment. Report published by the Australian Government's Department of Climate Change

Dowdy AJ, Mills GA, Timbal B, Wang Y (2014) Fewer large waves projected for eastern Australia due to decreasing storminess. Nat Clim Chang 4:283–286. doi:10.1038/nclimate2142

Eliot M (2012) Sea level variability influencing coastal flooding in the Swan River region, Western Australia. Cont Shelf Res 33:14–28. doi:10.1016/j.csr.2011.08.012

Eliot M, Pattiaratchi C (2010) Remote forcing of water levels by tropical cyclones in southwest Australia. Cont Shelf Res 30:1549–1561

Fan Y, Lin S-J, Griffies SM, Hemer MA (2014) Simulated global swell and wind-sea climate and their responses to anthropogenic climate change at the end of the twenty-first century. J Clim 27:3516–3536

Feng M, Meyers G (2003) Interannual variability in the tropical Indian Ocean: a two-year time-scale of Indian Ocean Dipole. Deep-Sea Res II Top Stud Oceanogr 50:2263–2284. doi:10.1016/S0967-0645(03)00056-0

Forbes A, Church J (1983) Circulation in the Gulf of Carpentaria. II. Residual currents and mean sea level. Mar Freshw Res 34:11–22

Gallop SL, Young IR, Ranasinghe R, Durrant TH, Haigh ID (2014) The large-scale influence of the Great Barrier Reef matrix on wave attenuation. Coral Reefs 33:1167–1178

Goodwin ID (2005) A mid-shelf, mean wave direction climatology for southeastern Australia, and its relationship to the El Niño—Southern Oscillation since 1878 AD. Int J Climatol 25:1715–1729

Goodwin I, Van Ommen T, Curran M, and Mayewski P (2004) Mid latitude winter climate variability in the South Indian and southwest Pacific regions since 1300 AD. Clim Dyn 22:783–794

Green D, Alexander L, McInnes KL, Church J, Nicholls N, White N (2010) An assessment of climate change impacts and adaptation for the Torres Strait Islands. Clim Chang 102:405–433. doi:10.1007/s10584-009-9756-2

Haigh I, Eliot M, Pattiaratchi C (2010) Historic changes in storm surges around southwestern Australia, 15th Physics of Estuaries and Coastal Seas Conference, Columbo

Haigh I, Wijeratne EMS, MacPherson L, Pattiaratchi C, Mason M, Crompton R, George S (2014a) Estimating present day extreme water level exceedance probabilities around the coastline of Australia: tides, extra-tropical storm surges and mean sea level. Clim Dyn 42:121–138. doi:10.1007/s00382-012-1652-1

Haigh I, MacPherson L, Mason M, Wijeratne EMS, Pattiaratchi C, Crompton R, George S (2014b) Estimating present day extreme water level exceedance probabilities around the coastline of Australia: tropical cyclone-induced storm surges. Clim Dyn 42:139–147. doi:10.1007/s00382-012-1653-0

Hall JD, Matthews AJ, Karoly DJ (2001) The modulation of tropical cyclone activity in the Australian region by the Madden-Julian Oscillation. Mon Weather Rev 129:2970–2982

Harley M, Turner I, Short A, Ranasinghe R (2011) A reevaluation of coastal embayment rotation: the dominance of cross-shore versus alongshore sediment transport processes, Collaroy-Narrabeen Beach, southeast Australia. J Geophys Res Earth Surf 2003–2012:116

Hemer MA (2010) Historical trends in Southern Ocean storminess: Long-term variability of extreme wave heights at Cape Sorell. Tasman Geophys Res Lett 37

Hemer MA, Trenham CE (2015) Evaluation of a CMIP5 derived dynamical global wind wave climate model ensemble. Ocean Modelling submitted

Hemer MA, Church JA, Hunter JR (2010) Variability and trends in the directional wave climate of the Southern Hemisphere. Int J Climatol 30:475–491

Hemer MA, Katzfey J, Trenham CE (2013a) Global dynamical projections of surface ocean wave climate for a future high greenhouse gas emission scenario. Ocean Model 70:221–245

Hemer MA, McInnes KL, Ranasinghe R (2013b) Projections of climate change-driven variations in the offshore wave climate off south eastern Australia. Int J Climatol 33:1615–1632. doi:10.1002/joc.3537

Hemer MA, Fan Y, Mori N, Semedo A, Wang XL (2013c) Projected changes in wave climate from a multi-model ensemble. Nat Clim. Change advance online publication. http://www.nature.com/nclimate/journal/vaop/ncurrent/abs/nclimate1791.html#supplementary-information

Hemer MA, Zieger S, Durrant T, O'Grady J, Hoeke RK, McInnes KL and Rosebrock U (2016) revised assessment of Australia's national wave energy resource (in prep)

Hoeke RK, McInnes KL, Kruger JC, McNaught RJ, Hunter JR, Smithers SG (2013) Widespread inundation of Pacific islands triggered by distant-source wind-waves. Glob Planet Chang 108:128–138. doi:10.1016/j.gloplacha.2013.06.006

Hunter J (2012) A simple technique for estimating an allowance for uncertain sea-level rise. Clim Chang 113:239–252. doi:10.1007/s10584-011-0332-1

Hunter JR, Church JA, White NJ, Zhang X (2013) Towards a global regionally varying allowance for sea-level rise. Ocean Eng 1–11. doi:10.1016/j.oceaneng.2012.12.041i

Izaguirre C, Méndez FJ, MenéndezM, Losada IJ (2011) Global extreme wave height variability based on satellite data. Geophys Res Lett 38. doi:10.1029/2011gl047302

Kent DM, Kirono DGC, Timbal B, Chiew FHS (2013) Representation of the Australian sub-tropical ridge in the CMIP3 models. Int J Climatol 33:48–57. doi:10.1002/joc.3406

Kinsela M, Taylor D, Treloar D, Dent J, Garber S, Mortlock T, Goodwin I (2014) NSW coastal ocean wave model: investigating spatial and temporal variability in coastal wave climates. NSW Coastal Conference, Ulladulla, NSW

Kuleshov Y, Qi L, Fawcett R, Jones D (2008) On tropical cyclone activity in the Southern Hemisphere: trends and the ENSO connection. Geophys Res Lett 35

Leonard M, Metcalfe A, Lambert M (2008) Frequency analysis of rainfall and streamflow extremes accounting for seasonal and climatic partitions. J Hydrol 348:135–147. doi:10.1016/j.jhydrol.2007.09.045

Leonard M, Westra S, Phatak A, Lambert M, van den Hurk B, McInnes K, Risbey J, Schuster S, Jakob D, Stafford-Smith M (2014) A compound event framework for understanding extreme impacts. Wiley Interdiscip Rev Clim Chang 5:113–128

McInnes KL, Hubbert GD (2001) The impact of eastern Australian cut-off lows on coastal sea levels. Meteorol Appl 8:229–243. doi:10.1017/s1350482701002110

McInnes KL, Hubbert GD (2003) A numerical modelling study of storm surges in Bass Strait. Aust Meteorol Mag 52:143–156

McInnes KL, O'Grady JG, Hemer MA, Macadam I, Abbs DJ, White CJ, Corney SP, Grose MR, Holz GK, Gaynor SM, Bindoff NL (2012a) Climate Futures for Tasmania: Extreme tide and sea-level events. Antarct Clim Ecosyst CRC pp 40

McInnes KL, Lipkin F, O'Grady JG, Inman M (2012b) Modelling and mapping of coastal inundation under future sea level. A report for Sydney Coastal Councils Group, pp 62

McInnes KL, Macadam I, Hubbert G, O'Grady J (2013) An assessment of current and future vulnerability to coastal inundation due to sea-level extremes in Victoria, southeast Australia. Int J Climatol 33:33–47. doi:10.1002/joc.3405

McInnes KL, Church JA, Monselesan D, Hunter JR, O'Grady JG, Haigh ID, Zhang X (2015) Sea-level rise projections for australia: information for impact and adaptation planning. Aust Meteorol Oceanogr J submitted

Menéndez M, Woodworth PL (2010) Changes in extreme high water levels based on a quasi-global tide-gauge data set. J Geophys Res Oceans 115, C10011. doi:10.1029/2009jc005997

Nott J, Green C, Townsend I, Callaghan J (2013) The world record storm surge and the most intense southern hemisphere tropical cyclone: new evidence and modeling. Bull Am Meteorol Soc 95:757–765. doi:10.1175/bams-d-12-00233.1

O'Grady JG, McInnes KL, Colberg F, Hemer MA, Babanin AV (2015) Longshore wind, waves and currents: climate and climate projections at Ninety Mile Beach, southeastern Australia. Int J Climatol. doi:10.1002/joc.4268

Oliver ECJ, Thompson KR (2011) Sea level and circulation variability of the Gulf of Carpentaria: influence of the Madden-Julian Oscillation and the adjacent deep ocean. J Geophys Res Oceans 116, C02019. doi:10.1029/2010jc006596

Pattiaratchi CB, Eliot M (2008) Sea level variability in southwest Australia: from hours to decades. Proceedings of the 31st ASCE international conference on coastal engineering, Hamburg

Pattiaratchi C, Wijeratne E (2014) Observations of meteorological tsunamis along the south-west Australian coast. Nat Hazards 74:281–303

Ranasinghe R, Stive MJ (2009) Rising seas and retreating coastlines. Clim Chang 97:465–468

Ranasinghe R, McLoughlin R, Short A, Symonds G (2004) The Southern Oscillation Index, wave climate, and beach rotation. Mar Geol 204:273–287

Ranasinghe R, Callaghan D, Stive MJ (2012) Estimating coastal recession due to sea level rise: beyond the Bruun rule. Clim Chang 110:561–574

Ranasinghe R, Duong TM, Uhlenbrook S, Roelvink D, Stive M (2013) Climate-change impact assessment for inlet-interrupted coastlines. Nat Clim Chang 3:83–87, http://www.nature.com/nclimate/journal/v3/n1/abs/nclimate1664.html#supplementary-information

Seneviratne S, Nicholls N, Easterling D, Goodess C, Kanae S, Kossin J, Luo Y, Marengo J, McInnes K, Rahimi M, Reichstein M, Sorteberg A, Vera C, Zhang X (2012) Changes in climate extremes and their impacts on the natural physical environment. In: 'Managing the risks of extreme events and disasters to advance climate change adaptation' A Special Report of Working Groups I and II of the Intergovernmental Panel on Climate Change (IPCC). Cambridge University Press, Cambridge, UK, pp 109–230

Shand TD, Carley JT, You ZJ, Cox RJ (2011) Long-term trends in NSW coastal wave climate and derivation of extreme design storms, NSW Coastal Conference Tweed Heads

Stive MJF, Wang ZB, Lakhan C (2003) Morphodynamic modeling of tidal basins and coastal inlets. In: V. C. Lakhan (ed) Advances in Coastal Modeling. Elsevier, Amsterdam, p 367–392

Tregoning P, Lambeck K, Ramillien G (2008) GRACE estimates of sea surface height anomalies in the Gulf of Carpentaria, Australia. Earth Planet Sci Lett 271:241–244

Verlaan M, De Kleermaeker S, Buckman L (2015) GLOSSIS: global storm surge forecasting and information system, Australasian Coasts and Ports Conference. Auckland, New Zealand

Wainwright D, Ranasinghe R, Callaghan D, Woodroffe C, Jongejan R, Dougherty A, Rogers K, Cowell P (2015) Moving from deterministic towards probabilistic coastal hazard and risk assessment: development of a modelling framework and application to Narrabeen Beach, New South Wales, Australia. Coast Eng 96:92–99

Wang XL, Swail VR, Zwiers FW (2006) Climatology and changes of extratropical cyclone activity: comparison of ERA-40 with NCEP-NCAR reanalysis for 1958–2001. J Clim 19:3145–3166

Westra S, Leonard M, Zheng F (2015) Joint probability modelling in estuarine regions engineers Australia

White NJ, Haigh ID, Church JA, Keon T, Watson CS, Pritchard T, Watson PJ, Burgette RJ, Eliot M, McInnes KL, You B, Zhang X, Tregoning P (2014) Australian sea levels—trends, regional variability and influencing factors. Earth Sci Rev 136:155–174

Wong P-P, Losada IJ, Gattuso JP, Hinkel J, Khattabi A, McInnes KL, Saito Y, Sallenger A (2014) Coastal systems and low-lying areas, climate change 2014: impacts, adaptation, and vulnerability. Part a: global and sectoral aspects. Contribution of Working Group II to the Fifth Assessment Report of the Intergovernmental Panel on Climate Change Cambridge University Press, Cambridge, United Kingdom (in press)

Woodham R, Brassington GB, Robertson R, Alves O (2013) Propagation characteristics of coastally trapped waves on the Australian Continental Shelf. J Geophys Res Oceans 118:4461–4473. doi:10.1002/jgrc.20317

Woodroffe C, Cowell P, Callaghan D, Ranasinghe R, Jongejan R, Wainwright D, Barry S, Rogers K, Dougherty A (2012) Approaches to risk assessment on Australian coasts: a model framework for assessing risk and adaptation to climate change on Australian coasts, National Climate Change Adaptation Research Facility, Gold Coast, 205 pp

Young IR, Zieger S, Babanin AV (2011) Global trends in wind speed and wave height. Science 332:451–455. doi:10.1126/science.1197219

Zhang X, Church JA, Platten SM, Monselesan D (2013) Projection of subtropical gyre circulation and associated sea level changes in the Pacific based on CMIP3 climate models. Clim Dyn. doi:10.1007/s00382-013-1902-x

Zheng F, Westra S, Sisson SA (2013) Quantifying the dependence between extreme rainfall and storm surge in the coastal zone. J Hydrol 505:172–187

Zheng F, Leonard M, Westra S (2015) Application of the design variable method to estimate coastal flood risk. J Flood Risk Manage (in press)
Acknowledgments
The lead author, MH and RH acknowledge the Australian Climate Change Science Program for funding this research. RR is supported by the AXA Research fund. This paper was a result of collaboration through the 'Trends and Extremes' working group as part of the Australian Water and Energy Exchanges Initiative (OzEWEX).
Additional information
This article is part of a Special Issue on "The effect of historical and future climate changes on natural hazards in Australia" edited by Seth Westra, Chris White and Anthony Kiem.
About this article
Cite this article
McInnes, K.L., White, C.J., Haigh, I.D. et al. Natural hazards in Australia: sea level and coastal extremes. Climatic Change 139, 69–83 (2016). https://doi.org/10.1007/s10584-016-1647-8
Received:

Accepted:

Published:

Issue Date:
Keywords
Wave Height

Couple Model Intercomparison Project Phase

Southern Annular Mode

Western Australia

Wave Climate