Abstract
Climate change communication research has mainly focused on how to communicate climate change effectively to the public. By contrast, how such information is then spread through interpersonal social networks has been neglected, despite being an essential component of cultural change. Using a Facebook-like format, we examined what types of climate change messages 'survive' when passed between individuals via communication network chains. We found that statements centred on conventional climate change topics (e.g., its impact on the natural world and human health) survived longer in communication chains than those with less conventional topics (e.g., its impact on societal competence, development, or communality). Moreover, statements about gains from mitigation (gain-frames) survived more than those about costs of non-mitigation (loss-frames) in initial communications, but loss-framed information survived more later in communication chains. In light of research showing that climate change messages focused on society and/or gain frames can motivate action, this research highlights a challenge by showing that these messages are less likely to be spread throughout society.
Access options
Buy single article
Instant access to the full article PDF.
USD 39.95
Price excludes VAT (USA)
Tax calculation will be finalised during checkout.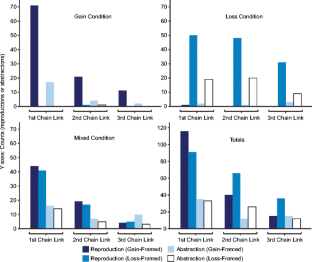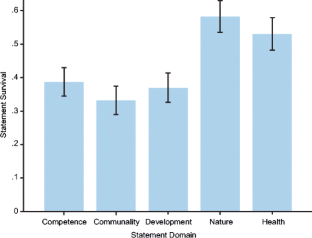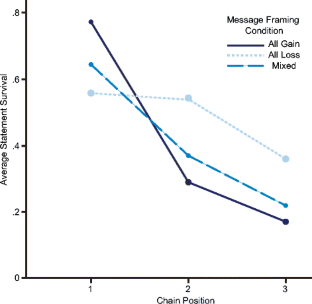 Notes
We also attempted to manipulate perceptions of social consensus about the reality of climate change. Half of the sample (randomly assigned) read that "74 % of participants in a pilot study agreed with the statement 'Climate change is occurring and humans are largely causing it'". However, this manipulation had no effect over participants' perceptions of either their Facebook friends' or the general public's belief in climate change (ps > .1). Initial analyses included consensus as an additional 2-level between subjects factor, but it produced no significant main or interaction effects and its exclusion made no difference to the reported results, so is not reported.

These sample sizes (71 and 70) do not match the final sample size (69) due to participant exclusions.

This is a common procedure used to stratify survey samples while holding sample sizes constant (Geraci et al. 2012).
References
Auer MR, Zhang Y, Lee P (2014) The potential of microblogs for the study of public perceptions of climate change. Wiley Interdiscip Rev Clim Chang 5:291–296. doi:10.1002/wcc.273

Bain PG, Hornsey MJ, Bongiorno R, Jeffries C (2012) Promoting pro-environmental action in climate change deniers. Nat Clim Chang 2:600–603. doi:10.1038/nclimate1532

Bain PG, Hornsey MJ, Bongiorno R, Kashima Y, Crimston D (2013) Collective futures: How projections about the future of society are related to actions and attitudes supporting social change. Pers Soc Psychol B 39(4):523–539. doi:10.1177/0146167213478200

Bain PG et al. (2015) How the co-benefits of addressing climate change can motivate action across the world. Nature Climate Change. doi:10.1038/nclimate2814

Bangerter A (2000) Transformation between scientific and social representations of conception: The method of serial reproduction. Brit J Soc Psychol 39(4):521–535. doi:10.1348/014466600164615

Bartlett FC (1932) Remembering: A study in experimental and social psychology. Cambridge University Press, Cambridge

Bender L, Burns SZ, & Guggenhem D, (2006) An Inconvenient Truth [Motion picture]. United States: Paramount Pictures.

Berger J, Milkman KL (2012) What Makes Online Content Viral? J Marketing Res 49(2):192–205. doi:10.1509/jmr.10.0353

Bickerstaff K, Walker G (2001) Public understandings of air pollution: The 'localisation' of environmental risk. Global Environ Chang 11:133–145. doi:10.1016/S0959-3780(00)00063-7

Choi S (2014) The Two-Step Flow of Communication in Twitter-Based Public Forums. Soc Sci Comput Rev. doi:10.1177/0894439314556599

Cialdini RB, Reno RR, Kallgren CA (1990) A focus theory of normative conduct: Recycling the concept of norms to reduce littering in public places. J Pers Soc Psychol 58(6):1015–1026. doi:10.4135/9781446249222.n41

Clark AE, Kashima Y (2007) Stereotypes help people connect with others in the community: A situated functional analysis of the stereotype consistency bias in communication. J Pers Soc Psychol 93(6):1028–1039. doi:10.1037/0022-3514.93.6.1028

Cohen GL (2003) Party Over Policy: The Dominating Impact of Group Influence on Political Beliefs. J Pers Soc Psychol 85(5):808–822

Costello A et al. (2009) Managing the health effects of climate change. Lancet 373:1693–1733

Cuddy AJC, Fiske ST, Glick P (2008) Warmth and competence as universal dimensions of social perception: The stereotype content model and the BIAS map. Adv Exp Soc Psychol 40:61–149. doi:10.1016/S0065-2601(07)00002-0

Fabian N (2015) Support low-carbon investment. Nature 519:27–29

Facebook (2014) Facebook Reports Second Quarter 2014 Results, http://files.shareholder.com/downloads/AMDA-NJ5DZ/3469777077x0x770574/0559fb66-5557-4ced-ba22-c0a1579e7c31/FB_News_2014_7_23_Financial_Releases.pdf. Accessed 6 October 2015

Feinberg M, Willer R (2010) Apocalypse soon? Dire messages reduce belief in global warming by contradicting just-world beliefs. Psychol Sci 22(1):34–38. doi:10.1177/0956797610391911

Feygina I, Jost JT, Goldsmith RE (2010) System justification, the denial of global warming, and the possibility of "system- sanctioned change". Pers Soc Psychol B 36(3):326–338. doi:10.1177/0146167209351435

Fiske ST, Cuddy AJC, Glick P (2007) Universal dimensions of social cognition: Warmth, then competence. Trends Cogn Sci 11(2):77–83. doi:10.1016/j.tics.2006.11.005

Flannery T (2005) The weather makers: The history and future impact of climate change. Text Publishing, Melbourne

Geraci D, Humphrey C, Jacobs J (2012) Data Basics: An Introductory Text http://3stages.org/class/2012/pdf/data_basics_2012.pdf. Accessed 20 October 2015

Gifford R, Comeau LA (2011) Message framing influences perceived climate change competence, engagement, and behavioral intentions. Global Environ Chang 21:1301–1307. doi:10.1016/j.gloenvcha.2011.06.004

Graesser A (1981) Prose Comprehension Beyond the Word. Springer, New York

Hampton K, Sessions Goulet L, Marlow C, Rainie L (2012) Why most Facebook users get more than they give: the effect of Facebook 'power users' on everybody else. Pew Research Center's Internet & American Life Project, http://pewinternet.org/Reports/2012/Facebook-users.aspx. Accessed 6 October 2015

Hulme M (2008) The conquering of climate: Discourses of fear and their dissolution. Geogr J 174(1):5–16. doi:10.1111/j.1475-4959.2008.00266.x

Kahan DM, Braman D, Gastil J, Slovic P, Mertz CK (2007) Culture and identity-protective cognition: Explaining the white-male effect in risk perception. J Empir Leg Stud 4(3):465–505. doi:10.1111/j.1740-1461.2007.00097.x

Kahneman D, Tversky A (1979) Prospect theory: An analysis of decision under risk. Econometrica 47(2):263–292; Journal of the Econometric Society 263–291. doi:10.2307/1914185

Kashima Y (2000) Maintaining cultural stereotypes in the serial reproduction of narratives. Pers Soc Psychol B 26(5):594–604. doi:10.1177/0146167200267007

Kashima Y (2008) A social psychology of cultural dynamics: How cultures are formed, maintained, and transformed. Soc Personal Psychol Compass 2:107–120. doi:10.1111/j.1751-9004.2007.00063.x

Kashima Y (2014) Meaning, grounding, and the construction of social reality. Asian J Soc Psychol 17(2):81–95. doi:10.1111/ajsp.12051

Kashima Y, Lyons A, Clark A (2013a) The maintenance of cultural stereotypes in the conversational retelling of narratives. Asian J Soc Psychol 16:60–70. doi:10.1111/ajsp.12004

Kashima Y, Wilson S, Lusher D, Pearson LJ, Pearson C (2013b) The acquisition of perceived descriptive norms as social category learning in social networks. Soc Networks 35:711–719. doi:10.1016/j.socnet.2013.06.002

Katz E (1957) The two-step flow of communication: an up-to-date report on an hypothesis. Public Opin Quart 21:61–78. doi:10.1086/266687

Leiserowitz AA (2005) American risk perceptions: Is climate change dangerous? Risk Anal 25(6):1433–1442. doi:10.1111/j.1540-6261.2005.00690.x

Lorenzoni I, Nicholson-Cole SA, Whitmarsh L (2007) Barriers perceived to engaging with climate change among the UK public and their policy implications. Global Environ Chang 17:445–459. doi:10.1016/j.gloenvcha.2007.01.004

Lyons A, Kashima Y (2001) The reproduction of culture: Communication processes tend to maintain cultural stereotypes. Soc Cognition 19(3):372–394. doi:10.1521/soco.19.3.372.21470

Lyons A, Kashima Y (2003) How Are Stereotypes Maintained Through Communication?: The Influence of Stereotype Sharedness. J Pers Soc Psychol 85(6):989–1005. doi:10.1037/0022-3514.85.6.989

Lyons A, Kashima Y (2006) Maintaining stereotypes in communication: Investigating memory biases and coherence-seeking in storytelling. Asian J Soc Psychol 9:59–71. doi:10.1111/j.1367-2223.2006.00184.x

MacQueen KM, McLellan E, Kay K, Milstein B (1998) Codebook development for team-based qualitative analysis. Field Method 10:31–36. doi:10.1177/1525822X980100020301

Mann ME (2012) The hockey stick and the climate wars. Columbia University Press, New York

Morton TA, Rabinovich A, Marshall D, Bretschneider P (2011) The future that may (or may not) come: How framing changes responses to uncertainty in climate change communications. Global Environ Chang 21(1):103–109. doi:10.1016/j.gloenvcha.2010.09.013

Moser SC (2010) Communicating climate change: history, challenges, process and future directions. Wiley Interdiscip Rev Clim Chang 1(1):31–53. doi:10.1002/wcc.11

Moser SC, Dilling L (2011) Communicating climate change: closing the science-action gap. In: Norgaard R, Schlosberg D, Dryzek J (eds) Oxford Handbook of Climate Change and Society. Oxford University Press, Oxford, pp. 161–174

Nisbet MC (2009) Communicating climate change: Why frames matter for public engagement. Environment: Science and Policy for Sustainable Development 51(2):12–23. doi:10.3200/ENVT.51.2.12-23

Nisbet MC, Kotcher JE (2009) A two-step flow of influence? Opinion-leader campaigns on climate change. Sci Commun 30(3):328–354. doi:10.1177/1075547008328797

Norgaard KM (2006) "People want to protect themselves a little bit": Emotions, denial and social movement non-participation. Sociol Inq 76(3):372–396. doi:10.1111/j.1475-682X.2006.00160.x

O'Neill S, Nicholson-Cole S (2009) "Fear won't do it: Promoting positive engagement with climate change through visual and iconic representations. Sci Commun 36:355–379. doi:10.1177/1075547008329201

O'Neill S, Williams HP, Kurz T, Wiersma B, Boykoff M (2015) Dominant frames evident in legacy and social media coverage of the IPCC Fifth Assessment Report. Nat Clim Chang 5:380–385. doi:10.1038/NCLIMATE2535

Page MC, Braver SL, Mackinnon DP (2003) Levine's Guide to SPSS for Analysis of Variance, 2nd edn. Lawrence Erlbaum Associates, Mahwah

Pearce W, Holmberg K, Hellsten I, Nerlich B (2014) Climate change on Twitter: Topics, communities and conversations about the 2013 IPCC Working Group 1 report. PLoS One 9(4):e94785. doi:10.1371/journal.pone.0094785

Poortinga W, Pidgeon N (2003) Public perceptions of risk, science and governance. Centre for Environmental Risk, University of East Anglia, http://psych.cf.ac.uk/understandingrisk/docs/survey_2002.pdf Accessed 13 October 2015.

Postmes T, Spears R, Sakhel K, De Groot D (2001) Social influence in computer-mediated communication: the effects of anonymity on group behavior. Pers Soc Psychol B 27(10):1243–1254. doi:10.1177/01461672012710001

Scannell L, Gifford R (2013) Personally relevant climate change: The role of place attachment and local versus global message framing in engagement. Environ Behav 45(1):60–85. doi:10.1177/0013916511421196

Schäfer MS (2012) Online communication on climate change and climate politics: a literature review. Wiley Interdiscip Rev Clim Chang 3(6):527–543. doi:10.1002/wcc.191

Segerberg A, Bennett WL (2011) Social media and the organization of collective action: Using Twitter to explore the ecologies of two climate change protests. Commun Rev 14(3):197–215. doi:10.1080/10714421.2011.597250

Spence A, Pidgeon N (2010) Framing and communicating climate change: The effects of distance and outcome frame manipulations. Global Environ Chang 20:656–667. doi:10.1016/j.gloenvcha.2010.07.002

Tang G, Lee FLF (2013) Facebook use and political participation: The impact of exposure to shared political information, connections with public political actors, and network structural heterogeneity. Soc Sci Comput Rev 31(6):763–773. doi:10.1177/0894439313490625

Thurston GD (2013) Mitigation policy: Health co-benefits. Nat Clim Chang 3:863–864

UNEP (2011) Towards a green economy: Pathways to sustainable development and poverty eradication - A synthesis for policy makers. United Nations Environmental Programme. http://www.unep.org/greeneconomy/Portals/88/documents/ger/GER_synthesis_en.pdf Accessed 13 October 2015

Whitmarsh L, O'Neill S, Lorenzoni I (2011) Engaging the public with climate change: Communication and behaviour change. Earthscan, London

Williams HTP, McMurray JM, Kurz T, Lambert FH (2015) Network analysis reveals open forums and echo chambers in social media discussions of climate change. Global Environ Chang 32:126–138. doi:10.1016/j.gloenvcha.2015.03.006

Wilson RE, Gosling SD, Graham LT (2012) A review of Facebook research in the social sciences. Perspect Psychol Sci 7(3):203–220. doi:10.1177/1745691612442904

Zhang W, Johnson TJ, Seltzer T, Bichard SL (2010) The revolution will be networked: The influence of social networking sites on political attitudes and behavior. Soc Sci Comput Rev 28(1):75–92. doi:10.1177/0894439309335162
Acknowledgments
This research was supported by grants from the Australian Research Council to Y. Kashima (DP130102229), and to P. Bain (DP0984678). We would like to thank Elise Margetts and Mischel Luong for their assistance in coding, Paul Dudgeon for his advice on statistical methodology, Rijk Mercuur for his advice on environmental psychology literature, and our anonymous reviewers for their insights and suggestions.
Additional information
Paul Connor and Emily Harris are co-first authors on this paper.
About this article
Cite this article
Connor, P., Harris, E., Guy, S. et al. Interpersonal communication about climate change: how messages change when communicated through simulated online social networks. Climatic Change 136, 463–476 (2016). https://doi.org/10.1007/s10584-016-1643-z
Received:

Accepted:

Published:

Issue Date:

DOI: https://doi.org/10.1007/s10584-016-1643-z
Keywords