Abstract
Involuntary human migration is among the social outcomes of greatest concern in the current era of global climate change. Responding to this concern, a growing number of studies have investigated the consequences of short to medium-term climate variability for human migration using demographic and econometric approaches. These studies have provided important insights, but at the same time have been significantly limited by lack of expertise in the use of climate data, access to cross-national data on migration, and attention to model specification. To address these limitations, we link data on internal and international migration over a 6-year period from 9812 origin households in Kenya, Uganda, Nigeria, Burkina Faso and Senegal to high-resolution gridded climate data from both station and satellite sources. Analyses of these data using several plausible specifications reveal that climate variability has country-specific effects on migration: Migration tends to increase with temperature anomalies in Uganda, tends to decrease with temperature anomalies in Kenya and Burkina Faso, and shows no consistent relationship with temperature in Nigeria and Senegal. Consistent with previous studies, precipitation shows weak and inconsistent relationships with migration across countries. These results challenge generalizing narratives that foresee a consistent migratory response to climate change across the globe.
Access options
Buy single article
Instant access to the full article PDF.
USD 39.95
Price excludes VAT (USA)
Tax calculation will be finalised during checkout.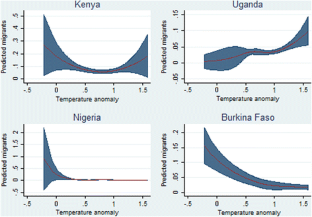 Notes
To address the small number of spatial units in Burkina Faso we conducted a simulation in which one unit was removed at a time from Specification A. In these 10 simulations, the raw temperature coefficient remained highly significant in all cases and increased or decreased by a maximum of 11 %. The precipitation coefficient remained non-significant in all cases.

These models are estimated as Poisson rather than negative binomial because the POSTRCSPLINE package in Stata is available only for the former (Buis 2009).

Thus relative to Specification A this model has three additional terms: temperature squared, precipitation squared and temperature times precipitation.
References
Auffhammer M, Hsiang S, Schlenker W, Sobel A (2013) Using weather data and climate model output in economic analyses of climate change. Rev Environ Econ Policy 7:181–198

Black R, Bennett S, Thomas S, Beddington J (2011) Climate change: migration as adaptation. Nature 478:447–449

Blaikie P, Brookfield H (1987) Land degradation and society. Methuen, London

Bohra-Mishra P, Oppenheimer M, Hsiang S (2014) Nonlinear permanent migration response to climatic variations but minimal response to disasters. Proc Natl Acad Sci U S A 111:9780–9785

Bowles S (1970) Migration as investment: empirical tests of the human investment approach to geographical mobility. Rev Econ Stat 52:356–362

Buis M (2009). POSTRCSPLINE: Stata module containing post-estimation commands for models using a restricted cubic spline http://ideas.repec.org/c/boc/bocode/s456928.html

Cameron A, Trivedi P (2013) Regression analysis of count data. Cambridge University Press, Cambridge

Deressa T, Hassan R, Ringler C, Alemu T, Yesuf M (2009) Determinants of farmers' choice of adaptation methods to climate change in the Nile Basin of Ethiopia. Glob Environ Chang 19:248–255

Gray C, Bilsborrow R (2013) Environmental influences on human migration in rural Ecuador. Demography 50:1217–1241

Gray C, Mueller V (2012a) Drought and population mobility in rural Ethiopia. World Dev 40:134–145

Gray C, Mueller V (2012b) Natural disasters and population mobility in Bangladesh. Proc Natl Acad Sci U S A 109:6000–6005

Houghton J, Callander B, Varney S (1992) Climate change 1992: the supplementary report to the IPCC scientific assessment. Cambridge University Press, Cambridge, UK

Hunter L, Luna J, Norton R (2015) Environmental dimensions of migration. Annu Rev Sociol 41:377–397

Hunter L, Murray S, Riosmena F (2013) Rainfall patterns and U.S. migration from rural Mexico. Int Migr Rev 47:874–909

IPCC (2014) Climate change 2014: impacts, adaptation, and vulnerability. Part A: global and sectoral aspects. Contribution of working group II to the fifth assessment report of the intergovernmental panel on climate change, eds field CB, et al. Cambridge Univ Press, New York

Marchiori L, Maystadt J, Schumacher I (2012) The impact of weather anomalies on migration in sub-Saharan Africa. J Environ Econ Manage 63:355–374

Massey D, Arango J, Hugo G, Kouaouci A, Pellegrino A, Taylor J (1993) Theories of international migration: a review and appraisal. Popul Dev Review 19:431–466

Massey D, Espinosa K (1997) What's driving Mexico-US migration? A theoretical, empirical, and policy analysis. Am J Sociol 102:939–999

Mueller V, Gray C, Kosec K (2014) Heat stress increases long-term human migration in rural Pakistan. Nat Clim Chang 4:182–185

Müller C, Cramer W, Hare W, Lotze-Campen H (2011) Climate change risks for African agriculture. Proc Natl Acad Sci U S A 108:4313–4315

Myers N (2002) Environmental refugees: a growing phenomenon of the 21st century. Philos Trans R Soc Lond Ser B Biol Sci 357:609–613

Obokata R, Veronis L, McLeman R (2014) Empirical research on international environmental migration: a systematic review. Popul Environ 36:111–135

O'Loughlin J et al. (2012) Climate variability and conflict risk in East Africa, 1990–2009. Proc Natl Acad Sci U S A 109:18344–18349

Plaza S, Navarrete M, Ratha D (2011) Migration and remittances household surveys in Sub-Saharan Africa: methodological aspects and main findings. World Bank, Washington, DC

Rienecker M et al. (2011) MERRA: NASA's modern-era retrospective analysis for research and applications. J Clim 24:3624–3648

Seo S, Mendelsohn R, Dinar A, Hassan R, Kurukulasuriya P (2009) A Ricardian analysis of the distribution of climate change impacts on agriculture across agro-ecological zones in Africa. Environ Resour Econ 43:313–332

Sjaastad L (1962) The costs and returns of human migration. J Polit Eco 70:80–93

Smith J, Thomas D (2003) Remembrances of things past: test–retest reliability of retrospective migration histories. J R Stat Soc Ser A Stat Soc 166:23–49

Stark O, Bloom D (1985) The new economics of labor migration. Am Econ Rev 75:173–178

Taylor J, Rozelle S, De Brauw A (2003) Migration and incomes in source communities: a new economics of migration perspective from China. Econ Dev Cult Change 52:75–101

UEACRU (University of East Anglia Climatic Research Unit), Jones P, Harris I (2013) CRU TS3.21: Climatic Research Unit (CRU) Time-Series (TS) Version 3.21 of High Resolution Gridded Data of Month-by-month Variation in Climate (Jan. 1901- Dec. 2012). doi:10.5285/D0E1585D-3417-485F-87AE-4FCECF10A992.

VanWey L (2005) Land ownership as a determinant of international and internal migration in Mexico and internal migration in Thailand. Int Mig Rev 39:141–172

Zhang Q, Kornich H, Holmgren K (2013) How well do reanalyses represent the southern African precipitation? Clim Dyn 40:951–962
Acknowledgments
The authors are grateful for assistance and constructive comments from M. Gutmann and A. Henley. The participation of C.G. was supported by the National Institutes of Health (R00HD061752).
Electronic supplementary material
About this article
Cite this article
Gray, C., Wise, E. Country-specific effects of climate variability on human migration. Climatic Change 135, 555–568 (2016). https://doi.org/10.1007/s10584-015-1592-y
Received:

Accepted:

Published:

Issue Date:

DOI: https://doi.org/10.1007/s10584-015-1592-y
Keywords
Nigeria

Temperature Anomaly

International Migration

Land Surface Temperature

Climatic Research Unit