Abstract
Personal experience can influence our attitudes and actions concerning climate change. This paper examines the experience-perception link in relation to tropical cyclones using a distinctly revealed preference approach, mitigating biases of prior research in this area. Specifically, we study how people alter their internet searches related to climate change in response to tropical cyclones. Using data for the United States 2006–2012, results suggest that searches related to climate change increase with a lag in the months following an event. This finding indicates that the people are connecting tropical cyclones to the broader narrative of climate change in the aftermath of an event and there may be a window of opportunity for building public support for policy action.
Access options
Buy single article
Instant access to the full article PDF.
USD 39.95
Price excludes VAT (USA)
Tax calculation will be finalised during checkout.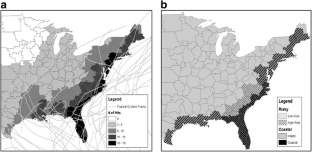 Notes
We acknowledge the debate regarding projections for intensity and frequency of tropical cyclones due to climate change and refrain from taking a particular stance.

We encourage interested readers to visit Google Trends at www.google.com/trends to explore the data visualization platform.

While both query share and absolute search volume are meaningful, we would expect results to be similar for each given that absolute search volume increases over time. Unfortunately, absolute search volume is unavailable. Query share, however, provides additional benefits of controlling for relative importance and prioritization of searches for each geographic region.

"Tropical cyclone" does not register a non-zero GSI over our sample timespan when compared to "hurricane".
References
Akerlof K, Maibach EW, Fitzgerald D, Cedeno AY, Neuman A (2013) Do people 'personally experience' global warming, and if so how, and does it matter? Global Environmental Change 23:81–91

Bakkensen LA, Mendelsohn R (2015) Risk and Adaptation: Evidence from Global Hurricane Damages and Fatalities. University of Arizona Working Paper

Beatty TKM, Shimshack JP, Volpe RJ (2015) Disaster preparedness and disaster response: Evidence from bottled water sales before and after tropical cyclones. University of Virginia working paper

Choi H, Varian H (2012) Predicting the Present with Google Trends. Economic Record 88:2–9

DellaVigna S, Kaplan E (2007) The Fox News Effect: Media Bias and Voting. The Quarterly Journal of Economics 122:1187–1234

Druckman JN (2015) Eliminating the local warming effect. Nature Climate Change 5:176–177

Egan PJ, Mullin M (2012) Turning Personal Experience into Political Attitudes: The Effect of Local Weather on Americans' Perceptions about Global Warming. The Journal of Politics 74:796–809

Ginsberg J, Mohebbi MH, Patel RS, Brammer L, Smolinski MS, Brilliant L (2009) Detecting influenza epidemics using search engine query data. Nature 457:1012–1014

Hamilton LC, Stampone MD (2013) Blowin' in the Wind: Short-Term Weather and Belief in Anthropogenic Climate Change. Weather, Climate, and Society 5:112–119

Herrnstadt E, Muehlegger E (2014) Weather, salience of climate change and congressional voting. Journal of Environmental Economics and Management 68:435–448

Howe PD, Boudet H, Leiserowitz A, Maibach EW (2014) Mapping the shadow of experience of extreme weather events. Climatic Change 127:381–389

Hsiang SM, Narita D (2012) Adaptation to cyclone risk: Evidence from the global cross-section. Climate Change Economics 3(02):1–28

Hsiang SM (2010) Temperatures and cyclones strongly associated with economic production in the Caribbean and Central America. Proceedings of the National Academy of Sciences 107(35):15367–15372

Jacobsen GD (2011) The Al Gore Effect: An Inconvenient Truth and Voluntary Carbon Offsets. Journal of Environmental Economics and Management 61:67–78

Kahn ME, Kotchen MJ (2011) Business cycle effects on concern about climate change: The chilling effect of recession. Climate Change Economics 2:257–273

Kirilenko AP, Molodtsova T, Stepchenkova SO (2015) People as sensors: Mass media and local temperature influence climate change discussion on Twitter. Global Environmental Change 30:92–100. doi:10.1016/j.gloenvcha.2014.11.003

Knutson TR et al. (2010) Tropical cyclones and climate change. Nature Geoscience 3:157–163

Lang C (2014) Do Weather Fluctuations Cause People to Seek Information about Climate Change? Climatic Change 125:291–303

Li Y, Johnson EJ, Zaval L (2011) Local Warming: Daily Temperature Change Influences Belief in Global Warming. Psychological Science 22:454–459

Mendelsohn R, Emanuel K, Chonabayashi S, Bakkensen L (2012) The impact of climate change on global tropical cyclone damage. Nature Climate Change 2:205–209

Peduzzi P et al. (2012) Global trends in tropical cyclone risk. Nature Climate Change 2:289–294

Podsakoff PM, MacKenzie SB, Lee JY, Podsakoff NP (2003) Common method biases in behavioral research: A critical review of the literature and recommended remedies. Journal of Applied Psychology 88:879–903

Rappaport EN (2014) Fatalities in the United States from Atlantic Tropical Cyclones: New Data and Interpretation. Bulletin of the American Meteorological Society 95:341–346

Sherman-Morris K, Senkbeil J, Carver R (2011) Who's Googling What? What Internet Searches Reveal about Hurricane Information Seeking. Bulletin of the American Meteorological Society 92:975–985

Spence A, Poortinga W, Butler C, Pidgeon NF (2011) Perceptions of climate change and willingness to save energy related to flood experience. Nature Climate Change 1:46–49

Stephens-Davidowitz S (2013) The effects of racial animus on a black presidential candidate: using Google search data to find what surveys miss. Harvard University Working Paper

Stewart S (2014) National Hurricane Center Annual Summary. at <https://gdx.ncrnet.us/ncrgdx/share/713AEE22-CA85-423B-BCFF-571A6C90BD9B/data/tcr/summary_atlc_2012.pdf>

Stocker TF et al (2013) Climate change 2013: The physical science basis. Intergovernmental Panel on Climate Change, Working Group I Contribution to the IPCC Fifth Assessment Report (AR5) (Cambridge Univ Press, New York). at <http://www.climatechange2013.org/images/report/WG1AR5_Frontmatter_FINAL.pdf>

Strobl E (2011) The economic growth impact of hurricanes: evidence from US coastal counties. Review of Economics and Statistics 93:575–589

Villarini G, Vecchi GA (2012) Twenty-first-century projections of north Atlantic tropical storms from CMIP5 models. Nat Clim Chang 2:604–607

Weber EU (2006) Experience-based and description-based perceptions of long-term risk: why global warming does not scare us (yet). Clim Chang 77:103–120

Zaval L, Keenan EA, Johnson EJ, Weber EU (2014) How warm days increase belief in global warming. Nat Clim Chang 4:143–147
Acknowledgements
Carrie Gill is thanked for excellent research assistance. Laura Bakkensen and three anonymous referees are thanked for useful comments. This paper is a contribution of the Rhode Island Agricultural Experiment Station (#5431).
Author contributions
Lang conceived of the research. Ryder performed analyses. Lang and Ryder co-wrote paper.
About this article
Cite this article
Lang, C., Ryder, J.D. The effect of tropical cyclones on climate change engagement. Climatic Change 135, 625–638 (2016). https://doi.org/10.1007/s10584-015-1590-0
Received:

Accepted:

Published:

Issue Date:

DOI: https://doi.org/10.1007/s10584-015-1590-0
Keywords