Abstract
This paper examines whether experience of extreme weather events—such as excessive heat, droughts, flooding, and hurricanes—increases an individual's level concern about climate change. We bring together micro-level geospatial data on extreme weather events from NOAA's Storm Events Database with public opinion data from multiple years of the Cooperative Congressional Election Study to study this question. We find evidence of a modest, but discernible positive relationship between experiencing extreme weather activity and expressions of concern about climate change. However, the effect only materializes for recent extreme weather activity; activity that occurred over longer periods of time does not affect public opinion. These results are generally robust to various measurement strategies and model specifications. Our findings contribute to the public opinion literature on the importance of local environmental conditions on attitude formation.
This is a preview of subscription content, log in to check access.
Access options
Buy single article
Instant access to the full article PDF.
US$ 39.95
Price includes VAT for USA
Subscribe to journal
Immediate online access to all issues from 2019. Subscription will auto renew annually.
US$ 199
This is the net price. Taxes to be calculated in checkout.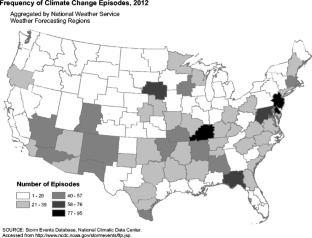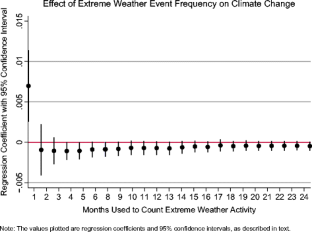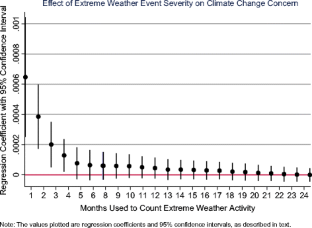 Notes
1.

2.

We include any episode for which is there is at least one associated climate-related event.

3.

Many event types, such as tornados, floods, hail, lightning, and thunderstorm wind, also provide latitude and longitude formation, making more precise geolocation possible, but these comprise only about half of the total events each year.

4.

YouGov generates nationally-representative samples using a matched random sample methodology. Specifically, YouGov develops a target population from general population studies, from which it draws a random set of respondents to create a target sample. Using a matching algorithm, the firm selects potential respondents from its pool of opt-in participants that match the target sample. All of the regression models we estimate below use the survey weights provided by YouGov. A recent multi-mode study comparing results of the 2010 CCES with a random digit dialing telephone survey and a random sample mail survey found that the 2010 CCES produces estimates similar to those for the other modes (Ansolabehere and Schaffner 2014). More information on the YouGov sampling methodology is available from Vavreck and Rivers (2008).

5.

We use the data from the 2006-2012 CCES Cumulative File.

6.

Because 19,533 individuals in the 2010 were re-interviewed in 2012 as part of a panel study, these individuals appear twice in the pooled sample. Since we are interested in the effect of storm events on perceptions, and these individuals experienced different frequencies of events prior to and after 2010, we did not exclude these individuals from the pooled, cross-sectional analysis.

7.

The CCES surveys include the county of residence for each respondent. Because WFOs are coterminous with counties, we can use GIS software to match each respondent to their respective WFO.

8.

In this analysis, a month is 30 days.

9.

We assigned episodes that lasted less than one day a value of 0.5.
References
Akerlof K, Maibach EW, Fitzgerald D, Cedeno AY, Neuman A (2013) Do people "personally experience" global warming, and if so how, and does it matter? Glob Environ Chang 23(1):81–91

Ansolabehere S, Schaffner BF (2014) Does survey mode still matter? Findings from a 2010 multi-mode comparison. Polit Anal, mpt025

Borick CP, Rabe BG (2010) A reason to believe: examining the factors that determine individual views on global warming. Soc Sci Q 91(3):777–800

Borick C, Rabe B (2012) Continued rebound in American belief in climate change: Spring 2012 nsapocc findings. Technical report, Brookings Institution

Borick CP, Rabe BG (2014) Weather or not? Examining the impact of meteorological conditions on public opinion regarding global warming. Weather Clim Soc 6(3):413–424

Brooks J, Oxley D, Vedlitz A, Zahran S, Lindsey C (2014) Abnormal daily temperature and concern about climate change across the united states. Rev Policy Res 31(3):199–217

Brulle RJ, Carmichael J, Jenkins JC (2012) Shifting public opinion on climate change: an empirical assessment of factors influencing concern over climate change in the us, 2002–2010. Clim Chang 114(2):169–188

Capstick SB, Pidgeon NF (2014) Public perception of cold weather events as evidence for and against climate change. Clim Chang 122(4):695–708

Deryugina T (2013) How do people upyear? The effects of local weather fluctuations on beliefs about global warming. Clim Chang 118(2):397–416

Egan PJ, Mullin M (2012) Turning personal experience into political attitudes: the effect of local weather on Americans' perceptions about global warming. J Polit 74 (3):796–809

Hamilton LC, Keim BD (2009) Regional variation in perceptions about climate change. Int J Climatol 29(15):2348–2352

Howe PD, Leiserowitz A (2013) Who remembers a hot summer or a cold winter? The asymmetric effect of beliefs about global warming on perceptions of local climate conditions in the us. Glob Environ Chang 23(6):1488–1500

Howe PD, Boudet H, Leiserowitz A, Maibach EW (2014) Mapping the shadow of experience of extreme weather events. Clim Chang 127(2):381–389

IPCC (2013) Climate change 2013: the physical science basis contribution of working group I to fifth assessment report of the intergovernmental panel on climate change. Chapter summary for policymakers. Cambridge University Press

Konisky DM, Milyo J, Richardson LE Jr (2008) Environmental policy attitudes: issues, geographical scale, and political trust. Soc Sci Q 89(5):1066–1085

Lang C (2014) Do weather fluctuations cause people to seek information about climate change? Clim Chang 125:291–303

Leiserowitz A, Maibach E, Roser-Renouf C, Smith N (2010) Climate change in the american mind: Americans' global warming beliefs and attitudes in June. Technical report, Yale University and George Mason University

Leiserowitz A, Maibach E, Roser-Renouf C, Hmielowski JD (2012) Climate change in the American mind: Americans' global warming beliefs and attitudes in March 2012. Technical report, Yale University and George Mason University

Li Y, Johnson EJ, Zaval L (2011) Local warming daily temperature change influences belief in global warming. Psychol Sci 22(4):454–459

Marquart-Pyatt ST, McCright AM, Dietz T, Dunlap RE (2014) Politics eclipses climate extremes for climate change perceptions. Glob Environ Chang 29:246–257

Marx SM, Weber EU, Orlove BS, Leiserowitz A, Krantz DH, Roncoli C, Phillips J (2007) Communication and mental processes: experiential and analytic processing of uncertain climate information. Glob Environ Chang 17(1):47–58

McCright AM, Dunlap RE (2011) Cool dudes: the denial of climate change among conservative white males in the united states. Glob Environ Chang 21(4):1163–1172

NWS (2007) Storm data preparation. National Weather Service Instruction 10-1605; Department of Commerce, National Oceanic & Atmospheric Administration. National Weather Service (NWS), Silver Spring

Reser JP, Bradley GL, Ellul MC (2014) Encountering climate change: seeing is more than 'believing'. Wiley Interdisciplinary Reviews: Climate Change

Rudman LA, McLean MC, Bunzl M (2013) When truth is personally inconvenient, attitudes change the impact of extreme weather on implicit support for green politicians and explicit climate-change beliefs. Psychol Sci 24(11):2290–2296

Scruggs L, Benegal S (2012) Declining public concern about climate change: can we blame the great recession? Glob Environ Chang 22(2):505–515

Spence A, Poortinga W, Butler C, Pidgeon NF (2011) Perceptions of climate change and willingness to save energy related to flood experience. Nat Clim Chang 1 (1):46–49

Vavreck L, Rivers D (2008) The 2006 cooperative congressional election study. J Elections Public Opin Parties 18(4):355–366
Electronic supplementary material
Below is the link to the electronic supplementary material.
About this article
Cite this article
Konisky, D.M., Hughes, L. & Kaylor, C.H. Extreme weather events and climate change concern. Climatic Change 134, 533–547 (2016). https://doi.org/10.1007/s10584-015-1555-3
Received:

Accepted:

Published:

Issue Date:
Keywords
Climate Change

Weather Event

Extreme Weather Event

Supplementary Appendix

Climate Change Concern