Abstract
Semi-arid forests at the limit of their existence close to the Gobi Desert in Inner Asia might be vulnerable to warming-induced drought stress. Yet, not much is known about the impact of global-change-type droughts on these forests. Here, we show that warming-related tree mortality is recently taking place in high-elevation semi-arid Qinghai spruce (Picea crassifolia Kom.) forests of the north-eastern margin of the Tibetan Plateau (Qilian Mountains). Tree-ring samples were collected from 24 Qinghai spruce forest plots (20 m × 20 m) at three elevations (2600, 2700, 2800 m) along eight elevation transects on north-facing slopes. Three lines of evidence suggest that these forests are increasingly at risk of increased tree mortality as a consequence of global warming, (i) a strong precipitation and air humidity dependence of radial growth, (ii) increasing frequency of missing tree rings, and (iii) a rising tree mortality rate in recent decades. The recent drought episode on the north-eastern Tibetan Plateau may represent a precursor of future global-change-type drought events in large parts of Inner Asia. Warming-related tree mortality of the semi-arid forests may be interpreted as early-warning signs for the densely populated artificial oases surrounding the Gobi Desert, which largely depend on river run-off from the mountain forests on the edge of the Tibetan Plateau.
Access options
Buy single article
Instant access to the full article PDF.
USD 39.95
Price excludes VAT (USA)
Tax calculation will be finalised during checkout.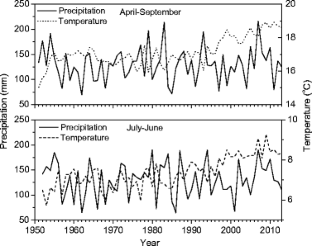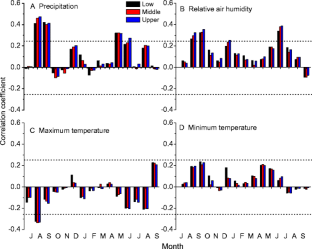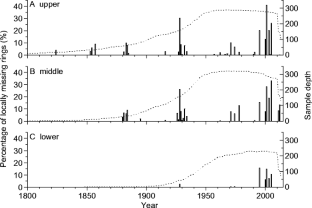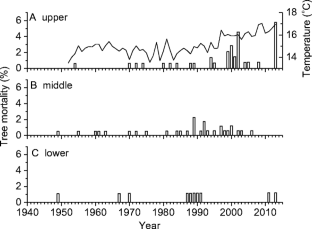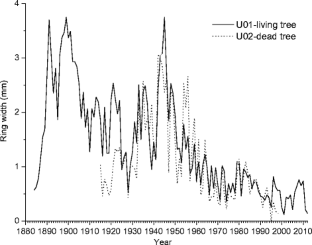 References
Adams HD, Guardiola-Claramonte M, Barron-Gafford GA, Villegas JC, Breshears DD, Zou CB, Troch PA, Huxman TE (2009) Temperature sensitivity of drought-induced tree mortality portends increased regional die-off under global-change-type drought. Proc Natl Acad Sci U S A 106:7063–7066

Allen CD, Makalady AK, Chenchouni H, et al. (2010) A global overview of drought and heat-induced tree mortality reveals emerging climate change risks for forests. For Ecol Manag 259:660–684

Anderegg WRL, Kane J, Anderegg LDL (2012) Consequences of widespread tree mortality triggered by drought and temperature stress. Nat Clim Chang 3:30–36

Atkin OK, Tjoelker MG (2003) Thermal acclimation and the dynamic response of plant respiration to temperature. Trends Plant Sci 8:343–351

Barber VA, Juday GP, Finney BP (2000) Reduced growth of Alaskan white spruce in the twentieth century from temperature-induced drought stress. Science 405:668–673

Barbeta A, Ogaya R, Pñuelas J (2013) Dampening effects of long-term experimental drought on growth and mortality rates of a Holm oak forest. Glob Chang Biol 19:3133–3144

Bigler CJ, Gricar J, Bugmann H, Cufar K (2004) Growth patterns as indicators of impending tree death in silver fir. For Ecol Manag 199:183–190

Biondi F, Waikul K (2004) DENDROCLIM2002: a C11program for statistical calibration of climate signals in tree-ring chronologies. Comput Geosci 30:303–311

Bräuning A (2001) Climate history of the Tibetan Plateau during the last 1000 years derived from a network of juniper chronologies. Dendrochronologia 19:127–137

Breshears DD, Cobb NS, Rich PM, et al. (2005) Regional vegetation die-off in response to global-change-type drought. Proc Natl Acad Sci U S A 102:15144–15148

Briffa KR, Melvin TM, Osborn TJ, Hantemirov RM, Kirdyanov AV, Mazepa V, Shiyatov SG, Esper J (2013) Reassessing the evidence for tree-growth and inferred temperature change during the Common Era in Yamalia, northwest Siberia. Quat Sci Rev 72:83–107

Büntgen, U. Martinez-Peña F, Aldea Mallo J, Rigling A, Fischer EM, Camarero JJ, Hayes MJ, Fatton V, Egli S (2013) Causes and consequences of a recent decline in continental Iberian forest growth. Glob Planet Chang 107:177–185.

Carnicer J, Coll M, Ninyerola M, Pons X, Sánchez G, Peñuelas J (2011) Widespread crown condition decline, food web disruption, and amplified tree mortality with increased climate change-type drought. Proc Natl Acad Sci U S A 108:1474–1478

Choat B, Jansen S, Brodribb TJ, et al. (2012) Global convergence in the vulnerability of forestes to drought. Nature 491:752–756

Ciais P, Reichstein M, Viovy N, et al. (2005) Europe-wide reduction in primary productivity caused by the heat and drought in 2003. Nature 437:529–533

Cook E (1985) A Time Series Analysis Approach to Tree Ring Standardization. PhD thesis. University of Arizona, Tucson

Dai A (2013) Increasing drought under global warming in observations and models. Nat Clim Chang 3:52–58

Dulamsuren C, Hauck M, Leuschner C (2010) Recent drought stress leads to growth reductions in Larix sibirica in the western Khentey, Mongolia. Glob Chang Biol 16:3024–3035

Dulamsuren C, Wommelsdorf T, Zhao F, Xue Y, Zhumadilov BZ, Leuschner C, Hauck M (2013) Increased summer temperatures reduce the growth and regeneration of Larix sibirica in southern boreal forests of eastern Kazakhstan. Ecosystems 16:1536–1549

Esper J, Cook ER, Schweingruber FH (2002) Low-frequency signals in long tree-ring chronologies and the reconstruction of past temperature variability. Science 295:2250–2253

Gou X, Chen F, Yang M, Peng J, Qiang W, Chen T (2004) Analysis of the tree-ring width chronology of Qilian Mountains at different elevation. Acta Ecol Sin 24:172–176(in Chinese with English abstract)

Haurwitz MW, Brier GW (1981) A critique of the superposed epoch analysis method: its application to solar-weather relations. Mon Weather Rev 109:2074–2079

Hogg EH, Brandt JP, Michaelian M (2008) Impacts of a regional drought on the productivity, dieback, and biomass of western Canadian aspen forests. Can J For Res 38:1373–1384

Holmes RL (1983) Computer-assisted quality control in tree-ring dating and measurement. Tree-Ring Bull 43:69–78

Ji F, Wu Z, Huang J, Chassignet EP (2014) Evolution of land surface air temperature trend. Nat Clim Chang 4:1–5

Kang S, Su X, Tong L, Zhang J, Zhang L, Davies WJ (2008) A warning from an ancient oasis: intensive human activities are leading to potential ecological and social catastrophe. Int J Sustain Dev World Ecol 15:440–447

Law BE (2014) Regional analysis of drought and heat impacts on forests: current and future science directions. Glob Change Biol. doi:10.1111/gcb.12651

Li JB, Cook ER, D'Arrigo R, Chen F, Gou X (2009) Moisture variability across China and Mongolia: 1951–2005. Clim Dyn 32:1173–1186

Liang EY, Liu X, Yuan Y, Qin N, Fang X, Huang L, Zhu H, Wang L, Shao X (2006) The 1920s drought recorded by tree rings and historical documents in the semi-arid and arid areas of northern China. Clim Chang 79:403–432

Liang EY, Liu B, Zhu LP, Yin Z-Y (2011) A short note on linkage of climatic records between a river valley and the upper timberline in the sygera mountains, southeastern Tibetan Plateau. Glob Planet Chang 77:97–102

Liang EY, Dawadi B, Pederson N, Eckstein D (2014) Is the growth of birch at the upper timberline in the Himalayas limited by moisture or by temperature? Ecology 95:2453–2465

Linares JC, Camarero JJ, Carreira JA (2009) Interacting effects of changes in climate and forest cover on mortality and growth of the southernmost European fir forests. Glob Ecol Biogeogr 18:485–497

Liu H, Piao S (2013) Drought threatened semi-arid ecosystems in the Inner Asia. Agric For Meteorol 178-179:1–2

Liu X, Qin D, Shao X, Chen T, Ren J (2005) Tree-ring record of temperature variations in recent 1000 years in middle Qilian Mountains. Sci China D 48:521–529

Liu Y, An Z, Ma H, Cai Q, Liu Z, Kutzbach JE, Shi J, Song H, Sun J, Yi L, et al. (2006) Precipitation variation in the northeastern Tibetan Plateau recorded by the tree rings since 850 AD and its relevance to the northern hemisphere temperature. Sci China D 49:408–420

Liu H, Williams AP, Allen CD, Guo D, Wu X, Anenkhonov OA, Liang EY, Sandanov DV, Yin Y, Qi Z, Badmaeva NK (2013) Rapid warming accelerates tree growth decline in semi-arid forests of Inner Asia. Glob Chang Biol 19:2500–2510

McDowell NG, Beerling DJ, Breshears DD, Fisher RA, Raffa KF, Stitt M (2011) The interdependence of mechanisms underlying climate-driven vegetation mortality. Trends Ecol Evol 26:523–532

Niu Y, Liu X, Zhang H, Ge S (2006) The water balance of Picea crassifolia forests in Qilian Mountains based on spatial data structure. Remote Sens Technol Appl 21:344–348(in Chinese with English abstract)

Niu S, Luo Y, Li D, Cao S, Xia J, Li J, Smith M (2014) Plant growth and mortality under climate extremes-an overview. Environ Exp Bot 98:13–19

PAGES 2k Consortium (2013) Continental-scale temperature variability during the past two millennia. Nat Geosci 6:339–346

Pederson N, Hessl AE, Nachin B, Anchukaitis KJ, Di Cosmo N (2014) Pluvials, droughts, the Mongol Empire, and modern Mongolia. Proc Natl Acad Sci U S A 111:4375–4379

Peng C, Ma Z, Lei X (2011) A drought-induced pervasive increase in tree mortality across Canada's boreal forests. Nat Clim Chang 1:467–471

Peñuelas J, Canadell JG, Ogaya R (2011) Increased water-use efficiency during the 20th century did not translate into enhanced tree growth. Glob Ecol Biogeogr 20:597–608

Phillips OL, Aragao L, Lewis SL, et al. (2009) Drought sensitivity of the amazon rainforest. Science 323:1344–1347

Piao SL, Ciais P, Friedlingstein P, et al. (2008) Net carbon dioxide losses of northern ecosystems in response to autumn warming. Nature 451:49–52

Ponce Campos GE, Moran MS, et al. (2013) Ecosystem resilience despite large-scale altered hydroclimatic conditions. Nature 494:349–353

Poulter B, Pedersen N, Liu H, et al. (2013) Recent trends in inner Asian forest dynamics to temperature and precipitation indicate high sensitivity to climate change. Agric For Meteorol 178–179:31–45

Rotenberg E, Yakir D (2010) Contribution of semi-arid forests to the climate system. Science 327:451–454

Sarris D, Christodoulakis D, Körner C (2010) Impact of recent climatic change on growth of low elevation eastern Mediterranean forest trees. Clim Chang 106:203–223

Schulze ED, Lange OL, Kappen L, Buschbom U, Evenari M (1973) Stomatal responses to changes in temperature at increasing water stress. Planta 110:29–42

Shao X, Huang L, Liu H, Liang EY, Fang X, Wang L (2005) Reconstruction of precipitation variation from tree rings in recent 1,000 years in delingha, Qinghai. Sci China D 48:939–949

St. George S, Ault TR, MCA T (2013) The rarity of absent growth rings in northern hemisphere forests outside the American southwest. Geophys Res Lett 40:3727–3731

Van Mantgem PJ, Stephenson NL, Byrne JC, et al. (2009) Widespread increase of tree mortality rates in the western United States. Science 323:521524

Vicente-Serrano SM, Gouveia C, Camarero JJ, et al. (2012) Response of vegetation to drought time-scales across global land biomes. Proc Natl Acad Sci U S A 110:52–57

Vila B, Vennetier M, Ripert C, Chandioux O, Liang EY, Guibal F, Torre F (2008) Has global change induced divergent trends in radial growth of Pinus sylvestris and Pinus halepensis at their bioclimatic limit? The example of the Sainte-Baume forest (south-east France). Ann For Sci 65:709

Wagner B, Liang EY, Li X, Dulamsuren C, Leuschner C, Hauck M (2015) Carbon pools of semi-arid Picea crassifolia forests in the Qilian mountains (north-eastern Tibetan Plateau). For Ecol Manag 343:136–143

Wang H, Zhou X, Wan C, Fu H, Zhang F, Ren J (2008) Eco-environmental degradation in the northeastern margin of the Qinghai–Tibetan plateau and comprehensive ecological protection planning. Environ Geol 55:1135–1147

Wang NL, Zhang SB, He JQ, Pu JC, Wu XB, Jiang X (2009) Tracing the major source area of the mountainous runoff generation of the heihe river in northwest China using stable isotope technique. Chin Sci Bull 54:2751–2757

Wang NL, He JQ, Pu JC, Jiang X, Jing ZF (2010) Variations in equilibrium line altitude of the qiyi glacier, Qilian mountain, over the past 50 years. Chin Sci Bull 55:3810–3817

Williams AP, Allen CD, Macalady AK, et al. (2013) Temperature as a potent driver of regional forest-drought stress and tree mortality. Nat Clim Chang 3:292–297

Wilmking M, Juday GP, Barber VA, Zald HSJ (2004) Recent climate warming forces contrasting growth responses of white spruce at treeline in Alaska through temperature thresholds. Glob Chang Biol 10:1724–1736

Wu X, Liu H, Wang Y, Deng M (2013) Prolonged limitation of tree growth due to warmer spring in semi-arid mountain forests of tianshan, northwest China. Environ Res Lett 8:024016

Yang B, Qin C, Wang J, He M, Melvin TM, Osborn TJ, Briffa KR (2014) A 3,500-year tree-ring record of annual precipitation on the northeastern Tibetan plateau. Proc Natl Acad Sci U S A 111:2903–2908

Zhang Q, Cheng G, Yao T, Kang X,. Huang J. 2003. A 2,326-year tree-ring record of climate variability on the northeastern Qinghai-Tibetan plateau. Geophys Res Lett 30:1739–1741.

Zhang X, Lei Y, Pang Y, Liu X, Wang J (2014) Tree mortality in response to climate change induced drought across Beijing, China. Clim Chang 124:179–190

Zhao M, Running SW (2010) Drought-induced reduction in global terrestrial net primary production from 2000 through 2009. Science 329:940–943

Zhao J, Hartmann H, Trumbore S, Ziegler W, Zhang Y (2013) High temperature causes negative whole-plant carbon balance under mild drought. New Phytol 200:330–339

Zhu H, Zheng Y, Shao X, Liu X, Xu Y, Liang E (2008) Millennial temperature reconstruction based on tree-ring widths of Qilian juniper from wulan, Qinghai province, China. Chin Sci Bull 53:3914–3920
Acknowledgments
Funding was provided by DFG project (Ha 3152/12-1) in the scope of Priority Program 1372 "Tibetan Plateau: Formation – Climate – Ecosystems" and the National Natural Science Foundation of China (41171161).
Electronic supplementary material
About this article
Cite this article
Liang, E., Leuschner, C., Dulamsuren, C. et al. Global warming-related tree growth decline and mortality on the north-eastern Tibetan plateau. Climatic Change 134, 163–176 (2016). https://doi.org/10.1007/s10584-015-1531-y
Received:

Accepted:

Published:

Issue Date:

DOI: https://doi.org/10.1007/s10584-015-1531-y
Keywords
Tibetan Plateau

Tree Mortality

Qilian Mountain

Basal Area Increment

Gobi Desert