Abstract
There are over 580 million people in sub-Saharan Africa without access to electricity. The region has significant untapped hydropower potential that could contribute to improving domestic access to electricity and countries' economic development, as well as helping to meet the Sustainable Development Goals. Changes in climate affect hydropower generation through alterations to river flow regimes. Hence it is the energy source most likely to be affected by climate change because the amount of electricity generated is directly related to water quantity and its timing. However, climate change impacts are rarely explicitly considered when planning new hydropower projects in the region. This may be because current fluvial discharge series in sub-Saharan Africa display high levels of natural variability and it is only after the 2050s that climate-driven changes in river flows emerge from these. Planning horizons of hydropower projects are usually around 30 years, so the natural variability of the existing hydrological regime is within the variability of climate change projections and hence it is unlikely to be considered. Another reason is that over the past 15 years China has become a significant financer of infrastructure in the region. China only meets the environmental regulations of the country in which the hydropower scheme is being constructed. Most sub-Saharan African countries do not have regulations that include climate change in the planning of such projects. This paper concludes by suggesting a framework via which climate change can be incorporated in future hydropower schemes at a river basin scale.
This is a preview of subscription content, log in to check access.
Access options
Buy single article
Instant access to the full article PDF.
US$ 39.95
Price includes VAT for USA
Subscribe to journal
Immediate online access to all issues from 2019. Subscription will auto renew annually.
US$ 199
This is the net price. Taxes to be calculated in checkout.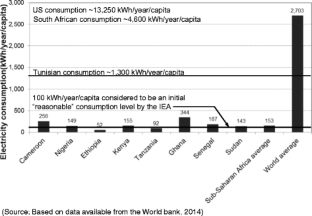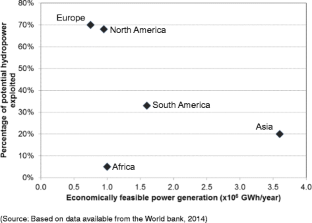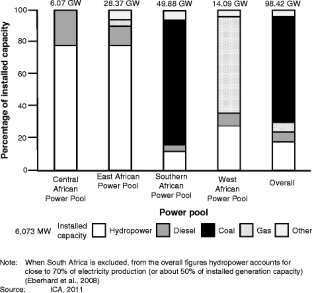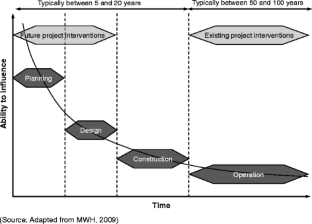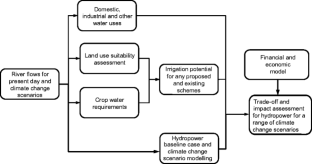 Notes
1.

An average American would consume 100 kWh in about 3 days (Moss and Gleave 2014)

2.

These are pieces of infrastructure that usually can be maintained for a significantly greater number of years (i.e., 50 to 100 years) than most other capital assets

3.

Natural systems that fluctuate within an unchanging envelope of variability

4.

Integrated Water Resources Management (IWRM) is a process which promotes the coordinated development and management of water, land and related resources in order to maximise economic and social welfare in an equitable manner without compromising the sustainability of vital ecosystems (GWP 2014)

5.

Robustness is the ability to withstand external shocks in spite of uncertainty (Lempert and Groves 2010)
References
Adeaga O (2007) Constraints and prospects of hydrological science practices in sub-Saharan Africa, in International Association of Hydrological Sciences, HW3009 4841–4847, Workshop on loss of knowledge

Bates BC, Kundzewicz ZW, Wu S, Palutikof JP (2008) Climate change and water. Technical paper of the intergovernmental panel on climate change. (IPCC) Secretariat, Geneva, p 210

Bazilian M, Pielke R (2013) Making energy access meaningful, Issues in science and technology, Volume XXIX, Issue 4, Summer 2013

Beilfuss R (2012) A risky climate for southern African Hydro: assessing hydrological risks and consequences for Zambezi River basin dams. International Rivers. Available at: http://www.internationalrivers.org/files/attached-files/zambezi_climate_report_final.pdf. Accessed 23 Dec 2014

Beilfuss R, dos Santos D (2001) Patterns of hydrological change in the Zambezi delta. Technical report working paper 2. Program for the Sustainable Management of Cahora Bassa Dam and the Lower Zambezi Valley, International Crane Foundation, Wisconsin

Bond P, Allen F, Amisi B, Brunner K, Castel-Branco R, Dorsey M, Ernsting A, Gambirazzio G, Hathway T, Nel A, Nham W, Sharife K (2012) From The CDM in Africa cannot deliver the money and why the carbon trading gamble and clean development mechanism won't save the planet from climate change and how African civil society is resisting!

Bräutigam D (2010) China, Africa and the international aid architecture, working papers series No. 107. African Development Bank, Tunis

Cameron A, Wei L (2013) An environmental impact assessment for hydropower development in China. Vermont J Environ Law Available at [WWW] http://www.lead-journal.org/content/13050.pdf. Accessed 12 Jan 2015

Chen H, Swain A (2014) The grand Ethiopian renaissance Dam: evaluating its sustainability standard and geopolitical significance. Energy Dev Front 3(1):11–19

Cole MA, Elliott RJR, Strobl E (2013) Climate change, hydro-dependency and the African dam boom, University of Birmingham, Department of Economics Discussion Paper 14–03

Conway D, Persechino A, Ardoin-Bardin S, Hamandawana H, Dieulin C, Mahe G (2008) Rainfall and water resources variability in sub-Saharan Africa during the 20th century. J Hydrometeorol

Dinku T, Block P, Sharoff J, Hailemariam K, Osgood D, del Corral J, Cousin R, Thomson M (2014) Bridging critical gaps in climate services and applications in Africa. Earth Perspec 2014:1–15

Eberhard A, Foster V, Briceño-Garmendia C, Ouedraogo F, Camos D, Shkaratan M (2008) Africa infrastructure: country diagnostic: underpowered: the state of the power sector in sub-Saharan Africa. World Bank, Washington, Available at: [WWW] http://www.eu-africa-infrastructure-tf.net/attachments/library/aicd-background-paper-6-power-sect-summary-en.pdf. Accessed 1 Oct 2014

Economics of Climate Adaptation (ECA) (2009) Shaping climate-resilient development: a report of the economics of climate adaptation working group, A report of the economics of climate adaptation working group: A framework for decision-making

FitzGibbon J, Mensah K (2012) Climate change as a wicked problem: an evaluation of the institutional context for rural water management in Ghana, SAGE Open, pp 1–14

Footitt A, Hedger MM, Kristensen P, Leipprand A, Dworak T, Wilby R, Huntington J, van Minnen J, Swart R (2007) Climate change and water adaptation issues. European Environment Agency (EEA) Technical report No 2/2007. ISSN 1725-2237, ISBN 978-92-9167-917-1. Copenhagen: EEA

Giordano T (2012) Adaptive planning for climate resilient long-lived infrastructures. Util Policy 23:80–89

Global Water Partnership (GWP) (2014) Global Water Partnership – What is IWRM? Available at [WWW] http://www.gwp.org/The-Challenge/What-is-IWRM/. Accessed 5 Dec 2014

Golumbeanu R, Barnes D (2013) Connection charges and electricity access in sub-Saharan Africa, policy research working paper 6511. World Bank, Washington

Government of Ghana (2014) Bui and the tale of three hydro dams [WWW] http://www.ghana.gov.gh/index.php/2012-02-08-08-32-47/features/4537-bui-and-the-tale-of-three-hydro-dams. Accessed 26 Dec 2014

Grijsen J (2014) Understanding the impact of climate change on hydropower: the case of Cameroon -. Climate risk assessment for hydropower generation in Cameroon. Africa Energy Practice, Africa Energy Unit (AFTEG), World Bank, Washington

Groves DG, Lempert RJ (2007) A new analytic method for finding policy-relevant scenarios. Glob Environ Chang 17:73–85

Groves DG, Lempert RJ (2010) Identifying and evaluating robust adaptive policy responses to climate change for water management agencies in the American west. Technol Forecast Soc Chang 77:960–974

Hammond M (2013) The Grand Ethiopian Renaissance Dam and the Blue Nile: Implications for trans-boundary water governance, Global Water Forum Discussion paper 1307, February 2013 Available at: http://www.globalwaterforum.org/wp-content/uploads/2013/02/The-Grand-Ethiopian-Renaissance-Dam-and-the-Blue-Nile-Implications-for-transboundary-water-governance-GWF-1307.pdf. Accessed 26 Aug 2014

Hamududu B, Killingtveit A (2012) Assessing climate change impacts on global hydropower. Energies 5:305–322. doi:10.3390/en5020305

Harrison GP, Whittington HW (2001) Impact of climatic change on hydropower investment. in Proceedings of the 4th International Conference on Hydropower Development (Hydropower'01), pp. 19–22

Harrison G, Whittington HW, Wallace R (2003) Climate change impacts on financial risk in hydropower projects. IEEE Trans Power Syst 18(4):1324–1330

He X (2013) Integrating climate change factors within China's Environmental Impact Assessment legislation: new challenges and developments, 9/1 Law. Environ Dev J 50, [WWW] Available at http://www.lead-journal.org/content/13050.pdf. Accessed 12 Jan 2015

Hydropower and dams (2009) World hydropower atlas

Iimi A (2007) Estimating global climate change impacts on hydropower projects: applications in India, Sri Lanka and Vietnam. World Bank Policy Research Working Paper No. 4344, Washington

Infrastructure Consortium for Africa (ICA) (2011) Regional power status in African power pools report

Intergovernmental Panel on Climate Change (IPCC) (2014) Fifth Assessment report climate change 2014: impacts, adaptation and vulnerability, Geneva, [WWW] Available at: http://www.ipcc.ch/report/ar5/wg2/. Accessed 6 Jan 2015

International Rivers (2012) The new great walls: a guide to China's overseas dam industry, Second Edition, November 2012 [WWW] http://www.internationalrivers.org/files/attached-files/intlrivers_newgreatwalls_2012_0.pdf. Accessed 26 Dec 2014

International Rivers (2014) Bui Dam, Ghana [WWW] Available at: http://www.internationalrivers.org/resources/bui-dam-ghana-3608. Accessed 17 Sept 2014

International Energy Agency (IEA) (2011) Energy for all: financing access for the poor

International Panel of Experts Grand Renaissance Dam (2013) International Panel of Experts on the Grand Renaissance Dam: final report, Addis Ababa, Ethiopia 31 May 2013 [WWW] Available at: http://www.internationalrivers.org/files/attached-files/international_panel_of_experts_for_ethiopian_renaissance_dam-_final_report_1.pdf. Accessed 22 Aug 2014

International Renewable Energy Agency (IRENA) (2013) Southern African power pool: planning and prospects for renewable energy [WWW] Available at: http://www.irena.org/DocumentDownloads/Publications/SAPP.pdf. Accessed 22 Aug 2014

International Research Institute for Climate and Society (IRI) (2006) A global gap analysis for the implementation of the global climate observing system programme in Africa. International Research Institute for Climate and Society, Palisades, [WWW] Available at: http://iri.columbia.edu/docs/publications/GapAnalysis.pdf. Accessed 23 Dec 2014

Jeuland M, Whittington D (2013) Water resources planning under climate change: a "real options" application to investment planning in the Blue Nile, Environment for Development, Discussion Paper Series, March 2013, [WWW] Available at: http://www.rff.org/rff/documents/EfD-DP-13-05.pdf. Accessed 26 Dec 2014

Kim U, Kaluarachchi JJ, Smakhtin VU (2008) Climate change impacts on hydrology and water resources of the Upper Blue Nile River Basin. International Water Management Institute (IWMI), IWMI Research Report 126, Ethiopia, p 27

Kling H, Stanzel P, Preishuber M (2014) Impact modelling of water resources development and climate scenarios on Zambezi River discharge. J Hydrol: Reg Stud 1:17–43, Available at: http://www.sciencedirect.com/science/article/pii/S2214581814000032. Accessed 17 Sept 2014

Kumar A, Schei T, Ahenkorah A, Caceres Rodriguez R, Devernay J-M, Freitas M, Hall D, Killingtveit Å, Liu Z (2011) 'Hydropower', In Edenhofer O, Pichs-Madruga R, Sokona Y, Seyboth K, Matschoss P, Kadner S, Zwickel T, Eickemeier P, Hansen G, Schlömer S, von Stechow C (eds) IPCC Special report on renewable energy sources and climate change mitigation. Cambridge University Press

Lumbroso D, Hurford A, Winpenny J, Wade S (2014) Harnessing hydropower: literature review, Evidence on Demand, UK doi: 10.12774/eod_cr.august2014.lumbrosoetal1

Marks D (2010) China's climate change policy process: Improved but still weak and fragmented. J Contemp China 19(67):971–986

McCornick P, Smakhtin V, Bharati L, Johnston R, McCartney M, Sugden F, Clement F, McIntyre B (2013) Tackling change: future-proofing water, agriculture, and food security in an era of climate uncertainty. Colombo, Sri Lanka: International Water Management Institute (IWMI). 36 doi: 10.5337/2013.21

Milly P, Betancourt J, Falkenmark M, Hirsch R, Zbigniew W (2008) Climate change – Stationarity is dead: whither water management? Science 319:573–574

Moss T, Gleave M (2014) Benefits and costs of the energy targets for the post-2015 development agenda

Mullan F, Frehywot S, Omaswa F, Buch E, Chen C, Greysen SR, Neusy AJ (2011) Medical schools in sub-Saharan Africa. Lancet 377(9771):1113–1121

MWH (2009) Water and climate change: assessment of climate change impacts on multi-purpose water infrastructure, World Bank

Němec J, Schaake J (1982) Sensitivity of water resource systems to climate variation. Hydrol Sci J 27(3):327–343

Pittock J (2010) Viewpoint – Better management of hydropower in an era of climate change. Water Altern 3(2):444–452

Pottinger L (2009) Africa: the wrong climate for big dams, World Rivers Review

Pöyry (2011) China and renewable energy in Africa: opportunities for Norway? Available at: http://www.iaea.org/inis/collection/NCLCollectionStore/_Public/43/103/43103515.pdf. Accessed 24 Dec 2014

Rydgren R, Graham P, Basson M, Wisaeus D (2007) Addressing climate-driven increased hydrological variability in environmental assessments for hydropower projects: a scoping study. World bank, Washington, Available at: http://www-wds.worldbank.org/external/default/WDSContentServer/WDSP/IB/2012/07/31/000333037_20120731015331/Rendered/PDF/715290WP0Box370077B00PUBLIC00IHV0Final.pdf. Accessed 14 Aug 2014

Sackitey F (2012) Powering up Ghana: a Ghana-China collaboration to fill the growing need for electricity, CHINAFRICA, Vol 4. Available at: http://www.chinafrica.cn/english/africa_report/txt/2011-12/31/content_418063.htm. Accessed 18 Sept 2014

Schaeffer R, Szklo AS, Pereira de Lucena AF, Soares B, Borba MC, Nogueira LPP, Fleming FP, Troccoli A, Harrison M, Boulahya MS (2012) Energy sector vulnerability to climate change: a review. Energy 38:1–12. doi:10.1016/j.energy.2011.11.056

Spalding-Fecher R, Chapman A, Yamba F, Walimwipi H, Kling H, Tembo B, Nyambe I, Cuamba B (2014) The vulnerability of hydropower production in the Zambezi River Basin to the impacts of climate change and irrigation development. Mitig Adapt Strateg Glob Chang. doi:10.1007/s11027-014-9619-7

Veilleux J (2013) The human security dimensions of dam development: the grand Ethiopian Renaissance Dam, Global Dialogue Volume 15, Number 2, Summer/Autumn 2013, Water: Cooperation or Conflict?

World Bank (2014) Electric power consumption (kWh per capita) for 2011 [WWW] http://data.worldbank.org/indicator/EG.USE.ELEC.KH.PC. Accessed 23 Dec 2014

World Bank (2009) Powering up: costing power infrastructure spending needs in sub-Saharan Africa, summary. World Bank, Washington
About this article
Cite this article
Lumbroso, D.M., Woolhouse, G. & Jones, L. A review of the consideration of climate change in the planning of hydropower schemes in sub-Saharan Africa. Climatic Change 133, 621–633 (2015). https://doi.org/10.1007/s10584-015-1492-1
Received:

Accepted:

Published:

Issue Date:
Keywords
Climate Change Scenario

Instal Capacity

International Energy Agency

International Energy Agency

Hydropower Project