Access options
Buy single article
Instant access to the full article PDF.
USD 39.95
Price includes VAT (USA)
Tax calculation will be finalised during checkout.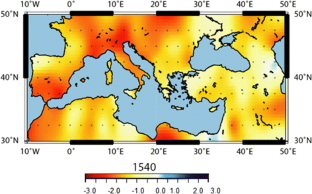 References
Brázdil R, Dobrovolný P, Trnka M, Kotyza O, Řezníčková L, Valášek H, Zahradníček P, Štěpánek P (2013) Droughts in the Czech lands, 1090–2012 AD. Clim Past 9:1985–2002

Brázdil R, Trnka M, Mikšovský J, Řezníčková L, Dobrovolný P (2014) Spring-summer droughts in the Czech Land in 1805–2012 and their forcings. Int J Climatol. doi:10.1002/joc.4065

Büntgen U, Brázdil R, Frank D, Esper J (2010) Three centuries of Slovakian drought dynamics. Clim Dyn 35(2):315–329. doi:10.1007/s00382-009-0563-2

Büntgen U, Brázdil R, Dobrovolný P, Trnka M, Kyncl T (2011a) Five centuries of Southern Moravian drought variations revealed from living and historic tree rings. Theor Appl Climatol 105(1–2):167–180. doi:10.1007/s00704-010-0373-9

Büntgen U, Brázdil R, Heussner KU, Hoffmann J, Kontic R, Kyncl T, Pfister C, Chromá K, Tegel W (2011b) Combined dendro-documentary evidence of central European hydroclimatic springtime extremes over the last millennium. Quat Sci Rev 30:3947–3959

Dobrovolný P, Moberg A, Brázdil R, Pfister C, Glaser R, Wilson R, van Engelen A, Limanówka D, Kiss A, Halíčková M, Macková J, Riemann D, Luterbacher J, Böhm R (2010) Monthly, seasonal and annual temperature reconstructions for central Europe derived from documentary evidence and instrumental records since AD1500. Clim Chang 101:69–107

Dobrovolný P, Rybníček M, Kolář T, Brázdil, R., Trnka, M., Büntgen, U. (2014) A tree-ring perspective on the frequency and intensity of hydroclimate spring-summer extremes in the Czech Republic and the last 1250 years. Manuscript

Dobrovolný P, Brázdil R, Trnka M, Kotyza O, Valášek H (2015) Precipitation reconstruction for the Czech Lands, AD 1501–2010. Int J of Climatol. doi:10.1002/joc.3957

Frank D, Büntgen U, Böhm R, Maugeri M, Esper J (2007) Warmer early instrumental measurements versus colder reconstructed temperatures: shooting at a moving target. Quat Sci Rev 26:3298–3310

Bundesanstalt für Gewässerkunde (2006) Niedrigwasserperiode 2003 in Deutschland. Ursachen – Wirkungen – Folgen. Mitteilungen 27, Koblenz

Glaser R, Riemann D, Schönbein J, Barriendos M, Brazdil R, Bertoli C, Camuffo D, Deutsch M, Dobrovolny P, van Engelen A, Enzi S, Halickova C, König S, König O, Limanowka D, Mackova J, Sghedoni M, Martin B, Himmelsbach I (2010) The variability of European floods since AD 1500 Climatic Change 101: 235–256.

IPCC SMP-1 (2014) IPCC Fifth Assessment Report. Climatic Change 2014. Approved Summary for Policymakers.

Jolly WM, Dobbertin M, Zimmermann ME, Reichstein M (2005) Divergent vegetation growth responses to the 2003 heat wave in the Swiss Alps. Geophys Res Lett 32:L18409. doi:10.1029/2005GL023252

Lloyd-Hughes B (2013) The impracticality of a universal drought definition. Theor Appl Climatol. doi:10.1007/s00704-013-1025-7

Müller B, Seneviratne SI (2012) Hot days induced by precipitation deficits at the global scale. Proc Natl Acad Sci U S A 109(31):12398–12403. doi:10.1073/pnas.1204330109

Nicault A, Alleaume Brewer S, Carrer M, Nola P, Guiot J (2008) Mediterranean drought fluctuation during the last 500 years based on tree-ring data. Clim Dyn 31:227–245. doi:10.1007/s00382-007-0349-3

Pfister C, (1999) Wetternachhersage. 500 Jahre Klimavariationen und Naturkatastrophen 1496–1995. Bern.

Rohr C (2007) Extreme Naturereignisse im Ostalpenraum. Naturerfahrung im Spätmittelalter und am Beginn der Neuzeit. Köln (Böhlau). 640 + 16 pp.

Seneviratne SI, Corti T, Davin EL, Hirschi M, Jaeger EB, Lehner I, Orlowsky B, Teuling AJ (2010) Investigating soil moisture-climate interactions in a changing climate: a review. Earth Sci Rev 99(3–4):125–161. doi:10.1016/j.earscirev.2010.02.004

Seneviratne SI, Nicholls D, Easterling CM, Goodess S, Kanae J, Kossin Y, Luo J, Marengo K, McInnes M, Rahimi M, Reichstein A, Sorteberg, Vera C, Zhang X (2012) Changes in climate extremes and their impacts on the natural physical environment, in: Managing the Risks of Extreme Events and Disasters to Advance Climate Change Adaptation [Field CB, V Barros, TF Stocker, D Qin, DJ Dokken, KL Ebi, MD Mastrandrea, KJ Mach, GK Plattner, SK Allen, M Tignor and P.M. Midgley (eds.)]. A Special Report of Working Groups I and II of the Intergovernmental Panel on Climate Change, 109–230

Wetter O, Pfister C (2013) An underestimated record breaking event – why summer 1540 was likely warmer than 2003. Clim Past 9:41–59

Wetter O, Pfister C, Werner JP, Zorita E, Wagner S, Seneviratne SI, Herget J, Grünewald U, Luterbacher J, Alcoforado MJ, Barriendos M, Bieber U, Brázdil R, Burmeister KH, Camenisch C, Contino A, Dobrovolný P, Glaser R, Himmelsbach I, Kiss A, Kotyza O, Labbé T, Limanówka D, Litzenburger L, Nordli Ø, Pribyl K, Retsö D, Riemann D, Rohr C, Siegfried W, Söderberg J, Spring JL (2014) The year-long unprecedented European heat and drought of 1540 – a worst case. Clim Chang. doi:10.1007/s10584-014-1184-2
Acknowledgments
due to Victoria Slonosky for style corrections and to the Oeschger Centre for Climatic Change Research at the University of Bern for providing a workplace and logistic support.
About this article
Cite this article
Pfister, C., Wetter, O., Brázdil, R. et al. Tree-rings and people – different views on the 1540 Megadrought. Reply to Büntgen et al. 2015. Climatic Change 131, 191–198 (2015). https://doi.org/10.1007/s10584-015-1429-8
Received:

Accepted:

Published:

Issue Date:
Keywords
Standardize Precipitation Index

Tree Ring Width

Extreme Heat

Standardize Precipitation Evapotranspiration Index

Vosges Mountain