Abstract
Wetter et al. (2014; hereinafter W14) conclude that western Europe experienced significantly higher temperatures in AD 1540 compared to all other years in the instrumental record, including the summer heat waves of 2003 and 2010 (Schär et al. 2004; Barriopedro et al. 2011). Based on 300+ first-hand documentary weather reports, the authors argue that large parts of Europe were hit by an unprecedented, 11-month-long, 'Megadrought' in 1540 exceeding all recorded and reconstructed levels, and falling outside the probability range of state-of-the-art palaeoclimate model simulations. Despite compiling, transforming and interpreting an exceptional pool of documentary evidence, W14 neglected to systematically analyse the existing collection of European tree ring-based climate reconstructions. An independent comparison of their findings from societal entries against natural proxy archives, however, would have been beneficial. For example, Pauling et al. (2006), already identified low precipitation amounts in 1540 derived mainly from tree-ring analyses, a study not cited in W14. In this reply we look into some of the tree-ring data available back to 1540 and before, and demonstrate that W14's conclusion regarding the inability of natural proxy archives to record climate extremes is not defensible.
Access options
Buy single article
Instant access to the full article PDF.
US$ 39.95
Tax calculation will be finalised during checkout.
Subscribe to journal
Immediate online access to all issues from 2019. Subscription will auto renew annually.
US$ 119
Tax calculation will be finalised during checkout.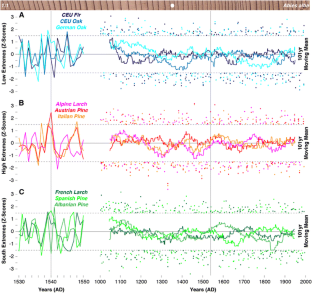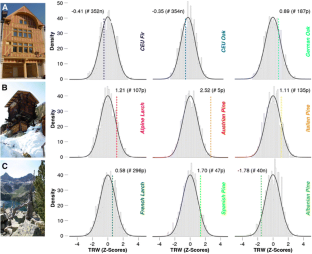 References
Barriopedro D, Fischer EM, Luterbacher J, Trigo RM, García-Herrera R (2011) The hot summer of 2010: redrawing the temperature record map of Europe. Science 332:220–224

Battipaglia G, Frank DC, Büntgen U, Dobrovolny P, Brazdil R, Pfister C, Esper J (2010) Five centuries of Central European temperature extremes reconstructed from tree-ring density and documentary evidence. Glob Planet Chang 72:182–191

Bréda N, Huc R, Granier A, Dreyer E (2006) Temperate forest trees and stands under severe drought: a review of ecophysiological responses, adaptation processes and long-term consequences. Ann For Sci 63:625–644

Breshears DD, Cobb NS, Rich PM, Price KP, Allen CD, Balice RG, Romme WH, Kastens JH, Floyd ML, Belnap J, Anderson JJ, Myers OB, Meyer CW (2005) Regional vegetation die-off in response to global-change-type drought. Proc Natl Acad Sci U S A 102(42):15144–15148

Büntgen U, Esper J, Frank DC, Nicolussi K, Schmidhalter M (2005) A 1052-year tree-ring proxy for Alpine summer temperatures. Clim Dyn 25:141–153

Büntgen U, Frank D, Carrer M, Urbinati C, Esper J (2009) Improving alpine summer temperature reconstructions by increasing sample size. In: Kaczka R, Malik I, Owczarek P, Gärtner H, Helle G, Heinrich I (eds) TRACE - Tree Rings in Archaeology, Climatology and Ecology, Vol. 7. GFZ Potsdam, Scientific Technical Report STR 09/03, Potsdam, pp 226

Büntgen U, Frank D, Trouet V, Esper J (2010a) Diverse climate sensitivity of Mediterranean tree-ring width and density. Trees 24:261–273

Büntgen U, Trouet V, Frank D, Leuschner HH, Friedrichs D, Luterbacher J, Esper J (2010b) Tree-ring indicators of German summer drought over the last millennium. Quat Sci Rev 29:1005–1016

Büntgen U, Brázdil R, Heussner KU, Hoffmann J, Kontic R, Kyncl T, Pfister C, Chromá K, Tegel W (2011a) Combined dendro-documentary evidence of central European hydroclimatic springtime extremes over the last millennium. Quat Sci Rev 30:3947–3959

Büntgen U, Tegel W, Nicolussi K, McCormick M, Frank D, Trouet V, Kaplan J, Herzig F, Heussner U, Wanner H, Luterbacher J, Esper J (2011b) 2500 years of European climate variability and human susceptibility. Science 331:578–582

Büntgen U, Frank D, Neuenschwander T, Esper J (2012) Fading temperature sensitivity of Alpine tree growth at its Mediterranean margin and associated effects on large-scale climate reconstructions. Clim Chang 114:651–666

Büntgen U, Tegel W, Kaplan JO, Schaub M, Hagedorn F, Bürgi M, Brázdil R, Helle G, Carrer M, Heussner KU, Hofmann J, Kontic R, Kyncl T, Kyncl J, Camarero JJ, Tinner W, Esper J, Liebhold A (2014) Placing unprecedented recent fir growth in a European-wide and Holocene-long context. Front Ecol Environ 12:100–106

Choat B, Jansen S, Brodribb TJ et al (2012) Global convergence in the vulnerability of forests to drought. Nature 491:752–755

Corona C, Guiot J, Edouard JL, Chalié F, Büntgen U, Nola P, Urbinati C (2010) Millennium-long summer temperature variations in the European Alps as reconstructed from tree rings. Clim Past 6:379–400

Frank DC, Büntgen U, Böhm R, Maugeri M, Esper J (2007) Warmer early instrumental measurements versus colder reconstructed temperatures: Shooting at a moving target. Quat Sci Rev 26:3298–3310

Hegerl G, Hanlon H, Beierkuhnlein C (2011) Elusive extremes. Nat Geol Sci 4:142–143

Hsiang SM, Burke M, Miguel E (2013) Quantifying the influence of climate on human conflict. Science 341:1235367

Jones PD, Briffa KR, Osborn TJ et al (2009) High-resolution palaeoclimatology of the last millennium: a review of current status and future prospects. The Holocene 19(1):3–49

Kirtman B, Power SB, Adedoyin JA et al (2013) Near-term climate change: Projections and predictability. In: Stocker TF, Qin D, Plattner G-K et al (eds) Climate change 2013: the physical science basis. Contribution of Working Group I to the Fifth Assessment Report of the Intergovernmental Panel on Climate Change. Cambridge University Press, Cambridge

Kress A, Hangartner S, Bugmann H, Büntgen U, Frank DC, Leuenberger M, Siegwolf RTW, Saurer M (2014) Swiss tree-rings reveal warm and wet summers during medieval times. Geophys Res Lett. doi:10.1002/2013GL059081

Masson-Delmotte V, Schulz M, Abe-Ouchi A et al (2013) Information from Paleoclimate Archives. In: Stocker TF, Qin D, Plattner G-K et al (eds) Climate Change 2013: The Physical Science Basis. Contribution of Working Group I to the Fifth Assessment Report of the Intergovernmental Panel on Climate Change. Cambridge University Press, Cambridge

McCormick M, Büntgen U, Cane MA, Cook ER, Harper K, Huybers P, Litt T, Manning SW, Mayewski PA, More AFM, Nicolussi K, Tegel T (2012) Climate change during and after the Roman Empire: reconstructing the past from scientific and historical evidence. J Interdiscip Hist 43(2):169–220

Milly PCD, Betancourt J, Falkenmark M, Hirsch RM, Kundzewicz ZW, Lettenmaier DP, Stouffer RJ (2008) Stationarity is dead: wither water management. Science 319:573–574

Overpeck JT (2013) The challenge of hot drought. Nature 503:350–351

Pauling A, Luterbacher J, Casty C, Wanner H (2006) Five hundred years of gridded high-resolution precipitation reconstructions over Europe and the connection to large-scale circulation. Clim Dyn 26:387–405

Rennenberg H, Loreto F, Polle A, Brilli F, Fares S, Beniwal R, Gessler A (2006) Physiological responses of forest trees to heat and drought. Plant Biol 8:556–571

Schär C, Vidale PL, Lüthi D, Frei C, Häberli C, Liniger MA, Appenzeller C (2004) The role of increasing temperature variability in European summer heatwaves. Nature 427:332–336

Seim A, Büntgen U, Fonti P, Haska H, Herzig F, Tegel W, Trouet V, Treydte K (2012) The paleoclimatic potential of a millennium-long tree-ring width chronology from Albania. Clim Res 51:217–228

Tegel W, Vanmoerkerke J, Büntgen U (2010) Updating historical tree-ring records for climate reconstruction. Quat Sci Rev 29:1957–1959

Trenberth KE, Dai A, van der Schrier G, Jones PD, Barichivich J, Briffa KR, Sheffield J (2014) Global warming and changes in drought. Nat Clim Chang 4:17–22

Wetter O, Pfister C (2013) An underestimated record breaking event – why summer 1540 was likely warmer than 2003. Clim Past 9:41–56

Wetter O, Pfister C, Werner JP et al (2014) The year-long unprecedented European heat and drought of 1540—a worst case. Clim Chang 125:349–363

Woodhouse CA, Meko DM, MacDonald GM, Stahle DW, Cook ER (2010) A 1,200-year perspective of 21st century drought in southwestern North America. Proc Natl Acad Sci U S A 107(50):21283–21288
Acknowledgments
Edward R. Cook, Director of the LDEO Tree-Ring Laboratory at Columbia University, USA kindly commented on an earlier manuscript version. UB and MH were supported by the Czech project 'Building up a multidisciplinary scientific team focused on drought' (No. CZ.1.07/2.3.00/20.0248).
About this article
Cite this article
Büntgen, U., Tegel, W., Carrer, M. et al. Commentary to Wetter et al. (2014): Limited tree-ring evidence for a 1540 European 'Megadrought'. Climatic Change 131, 183–190 (2015). https://doi.org/10.1007/s10584-015-1423-1
Received:

Accepted:

Published:

Issue Date:
Keywords
Heat Wave

Tree Ring

Maximum Latewood

Maximum Latewood Density

Prolonged Drought Stress