Abstract
The focus of this study is to investigate the risk of aridification in the semiarid lands of Northeast Brazil, using a variety of observational information and climate change projections for the future, by means of aridity indices. We use the Budyko and United Nations aridity indices to assess the extent of areas with semi-arid and arid conditions in the present, and for the future out to 2100. Climate projections are derived from the downscaling of the HadCM3 model for the A1B scenario using the Eta regional model with horizontal resolution of 40 km. Consistent with global climate model projections from IPCC AR5, regional climate change projections suggest an increase in dryness in the region, with rainfall reductions, temperature increases and water deficits and longer dry spells, leading to drought and arid conditions expected to prevail by the second half of the 21th century. The area with arid conditions is projected to grow to cover areas currently with dry sub humid conditions, and become larger by 2100. This increase in aridity, combined with land degradation may increase the risk of desertification.
Access options
Buy single article
Instant access to the full article PDF.
US$ 39.95
Tax calculation will be finalised during checkout.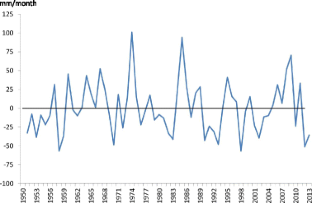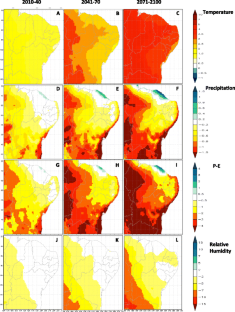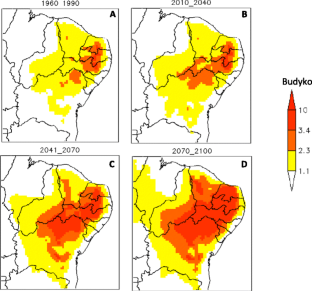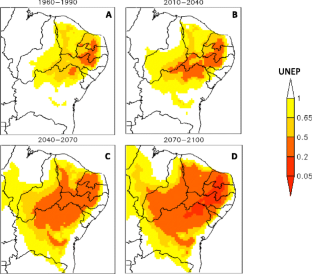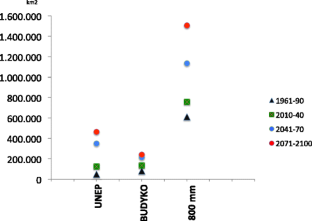 References
Aceituno P et al (2012) The 1877–1878 El Nino episode: associated impacts in South America. Clim Chang 92:389–416. doi:10.1007/s10584-008-9470-5

Alvalá RCS, RMSP Vieira, VC Carvalho, EMK Mello (2006) A vegetation map of the Northeast Brazil region for use in meteorological modeling. Proceedings of 8t6h ICSHMO, Foz do Iguaçu, Brazil, April 24–28, 2006, INPE, p. 843–849

Alvares CA, J L Stape, P C Sentelhas, J L de M Goncalves, and G Sparovek (2014) Koppen's climate classification map for Brazil, Meteorologische Zeitschrift, Vol. 22, No. 6, 711–728 (published online January 2014)

Araujo J (1982) Barragens no Nordeste do Brasil: Experiencia do DNOCS em Barragens na Regiao Semi-Arida. Departamento Nacional de Obras contra as Secas, Ministerio do Interior, 158 pp

Beserra E (2011) Projeções de Aridez no Nordeste do Brasil para o Século XXI em um Cenário de Aquecimento Global. São José dos Campos. Dissertação (Mestrado em Meteorologia) - Instituto Nacional de Pesquisas Espaciais

Brasil-Ministério da Integração Nacional – MIN. Nova delimitação da região semiárida do Brasil. Portaria n° 89, pulicada no DOU em 17 de março de 2005

Budyko M (1958) The heat balance of the earth's surface, Eds. Nina A. Stepanova, US Department of Commerce, Washington, D.D., 259 p

Chou SC et al (2012) Downscaling of South America present climate driven by 4-member HadCM3 runs. Clim Dyn. doi:10.1007/s00382-011-1002-8

Dai A (2012) Increasing drought under global warming in observations and models. Nat Clim Chang 3:52–58

Hastenrath S (1990) Prediction of Northeast Brazil rainfall anomalies. J Clim 3:893–904

Hastenrath S (2001) Interannual and longer-term variability of upper air circulation in the Northeast Brazil-Tropical Atlantic sector. J Geophys Res 105(7327–7335):2001

IPCC SREX (2012) Managing the risks of extreme events and disasters to advance climate change adaptation. In: Field CB, Barros V, Stocker TF, Qin D, Dokken DJ, Ebi KL (eds) A special report of working groups I and II of the intergovernmental panel on climate change. Cambridge University Press, Cambridge, p 582

Kirtmann B, Power SB, Adedoyin JA, Boer GJ, Bojariu R, Camilloni I, Doblas-Reyes FJ, Fiore AM, Kimoto M, Meehl GA, Prather M, Sarr A, Schär C, Sutton R, van Oldenborgh GJ, Vecchi G, Wang HJ (2013) Near-term climate change: projections and predictability. In: Stocker TF, Qin D, Plattner G-K, Tignor M, Allen SK, Boschung J, Nauels A, Xia Y, Bex V, Midgley PM (eds) Climate change 2013: the physical science basis. contribution of working group I to the fifth assessment report of the intergovernmental panel on climate change. Cambridge University Press, Cambridge

Magalhaes A, and Coauthors (1988) The effects of climate variations on agriculture in Northeast Brazil. In: Parry M, Carter T, Konijn N (eds) The Impact of Climate Variations on Agriculture. vol 2. assessments in semi-arid regions, Kluwer Academic Publishers, Amsterdam, pp 277–304

Magrin G, Marengo J, Boulanger JP, Buckeridge MS, Castellanos E, Poveda G, Scarano FR, Vicuña S (2014) Chapter 27. Central and South Americs, in IPCC AR5, WG2 Report (In press)

Marengo JA et al (2009) Future change of temperature and precipitation extremes in South America as derived from the PRECIS regional climate modeling system. Int J Climatol 29:2241–2255

Marengo JA et al (2012) Development of regional future climate change scenarios in South America using the Eta CPTEC/HadCM3 climate change projections: climatology and regional analyses for the Amazon, São Francisco and the Paraná River Basins. Clim Dyn 38:1829–1848

Marengo JA et al (2013) Two contrasting seasonal extremes in tropical South America in 2012: Flood in Amazonia and drought in Northeast Brazil. J Clim. doi:10.1175/JCLI-D-12-00642.1

Moura AD, Shukla J (1981) On the dynamics of the droughts in Northeast Brazil: observations, theory and numerical experiments with a general circulation model. J Atmospher Sci 38:2653–2673

Nobre P et al (2006) Seasonal-todecadal predictability and prediction of South American climate. J Clim 19:5988–6004. doi:10.1175/JCLI3946.1

Prudhomme C et al (2013) Hydrological droughts in the 21st century, hotspots and uncertainties from a global multimodel ensemble experiment. Proc Natl Acad Sci. doi:10.1073/pnas.1222473110

Ropelewski CF, Halpert MS (1987) Global and regional scale precipitation patterns associated with the El-Nino Southern Oscillation. Mon Weather Rev 115:1606–1626

Sillmann J et al (2013) Climate extremes indices in the CMIP5 multimodel ensemble: part 2. future climate projections. J Geophys Res Atmosphere 118:2473–2493. doi:10.1002/jgrd.50188

UNEP (1997) World Atlas of desertification. Edited by Middleton L, Thomas D (eds), Second edition. Arnold, London 1997, 182 pp

Uvo CRB et al (1998) The relationship between tropical Pacific and Atlantic SST and Northeast Brazil monthly precipitation. J Clim 11:551–562

Xavier TMBS (2001) Tempo de Chuva – In Estudos Climáticos e de Previsão para o Ceará e Nordeste Setentrional, Chapters 36, 6, 11. ABC Editora, Fortaleza-Ceará, 2001, 478 p
Acknowledgments
This study was supported in part by the National Institute of Science and Technology for Climate Change (INCT-CC), the FAPESP-Assessment of Impacts and Vulnerability to Climate Change in Brazil and strategies for Adaptation options project (Ref. 2008/58161-1). The author was supported by the Brazilian National Council for Scientific and Technological Development (CNPq), the Rede-CLIMA, the National Institute of Science and Technology for Climate Change (INCT-CC) under CNPq grant 573797/2008-0 and FAPESP Grants 2008/57719-9, 2008/58161-1, 2011/51843-2), and 2013/50538-7.
About this article
Cite this article
Marengo, J.A., Bernasconi, M. Regional differences in aridity/drought conditions over Northeast Brazil: present state and future projections. Climatic Change 129, 103–115 (2015). https://doi.org/10.1007/s10584-014-1310-1
Received:

Accepted:

Published:

Issue Date:
Keywords
Semiarid Region

United Nations Environment Programme

Climate Change Projection

Aridity Index

Arid Condition