Abstract
This paper presents a method for identifying a representative subset of global climate models (GCMs) for use in large-scale climate impact research. Based on objective criteria (GCM performance in reproducing the seasonal cycle of temperature and precipitation, and a subset ability to represent future inter-GCM variability), two candidate subsets are selected from a reference set of 16 GCMs. An additional subset based on subjective expert judgement is also analysed. The representativeness of the three subsets is validated (with respect to the reference set) and compared for future changes in temperature, precipitation and Palmer drought index Z (direct validation), and occurrence of the European corn borer and snow-cover characteristics implemented in the CLIMSAVE Integrated Assessment Platform (indirect validation).
The direct validation indicates that one of the objective-based subsets (ECHAM5/MPI-OM, CSIRO-Mk3.0, HadGEM1, GFDL-CM2.1 and IPSL-CM4 models) provides the best choice for the Europe-wide climate change impact study. Its performance is balanced between regions, seasons and validation statistics. However, the expert-judgement-based subset achieved slightly better results in the indirect validation. The differences between the subsets and the reference set are generally much lower for the impact indices compared to their mean (across all GCMs in the subset) changes due to projected climate change. The ranking of the candidate subsets differs between regions, climatic characteristics and seasons, demonstrating that the subset suitability for a specific impact study depends on the target region and the roles of individual seasons and/or climatic variables on the processes being studied.
Access options
Buy single article
Instant access to the full article PDF.
US$ 39.95
Tax calculation will be finalised during checkout.
Subscribe to journal
Immediate online access to all issues from 2019. Subscription will auto renew annually.
US$ 119
Tax calculation will be finalised during checkout.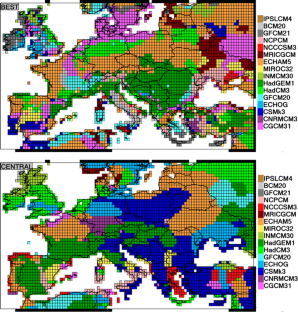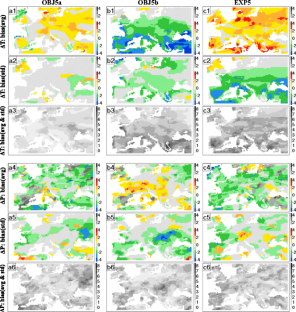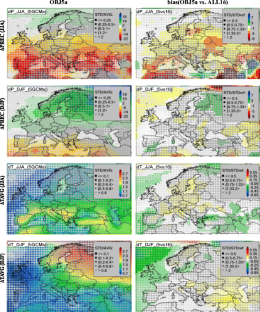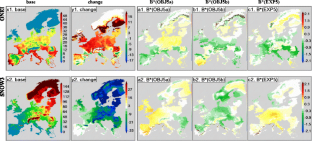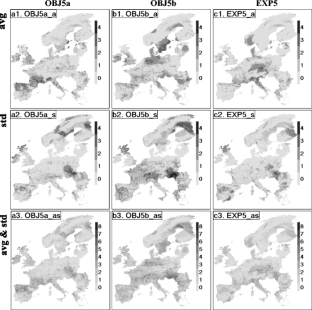 References
Bishop CH, Abramowitz G (2012) Climate model dependence and the replicate Earth paradigm. Climate Dynam 41:885–900

Dubrovsky M, Nemesova I, Kalvova J (2005) Uncertainties in climate change scenarios for the Czech Republic. Clim Res 29:139–156

Dubrovsky M, Svoboda MD, Trnka M, Hayes MJ, Wilhite DA, Zalud Z, Hlavinka P (2009) Application of relative drought indices in assessing climate-change impacts on drought conditions in Czechia. Theor Appl Climatol 96:155–171

Evans JP, Ji F, Lee C, Smith P, Argüeso D, Fita L (2014) Design of a regional climate modelling projection ensemble experiment – NARCliM. Geosci Model Dev 7:621–629

Fronzek S, Carter TR, Jylhä K (2012) Representing two centuries of past and future climate for assessing risks to biodiversity in Europe. Glob Ecol Biogeogr 21:19–35

Gleckler PJ, Taylor KE, Doutriaux C (2008) Performance metrics for climate models. J Geophys Res 113(D6):D06104. doi:10.1029/2007JD008972

Harrison PA, Holman IP, Cojocaru G, Kok K, Kontogianni A, Metzger MJ, Gramberger M (2013) Combining qualitative and quantitative understanding for exploring cross-sectoral climate change impacts, adaptation and vulnerability in Europe. Reg Environ Chang 13:761–780

Harrison PA, Holman IP, Berry PM (2014) Assessing cross-sectoral climate change impacts, vulnerability and adaptation: an introduction to the CLIMSAVE project. Clim Chang (this issue)

Harvey LDD, Gregory J, Hoffert M, Jain A et al (1997) An introduction to simple climate models used in the IPCC Second Assessment Report. IPCC Tech paper 2, Intergovernmental Panel on Climate Change, Geneva

Hoddle MS (2003) The potential adventive geographic range of glassy-winged sharpshooter, Homalodisca coagulata and the grape pathogen Xylella fastidiosa: implications for California and other grape growing regions of the world. Crop Prot 23:691–699

Holman IP, Allen DM, Cuthbert MO, Goderniaux P (2012) Towards best practice for assessing the impacts of climate change on groundwater. Hydrogeol J 20:1–4

Holman IP, Harrison PA, Metzger MJ (2014) Cross-sectoral impacts of climate and socio-economic change in Scotland: implications for adaptation policy. Reg Environ Chang. doi:10.1007/s10113-014-0679-8

Hulme M, Wigley TML, Barrow EM, Raper SCB, Centella A, Smith S, Chipanshi AC (2000) Using a climate scenario generator for vulnerability and adaptation assessments: MAGICC and SCENGEN Version 2.4 Workbook. Climatic Research Unit, Norwich, UK

Iglesias A, Quiroga S, Schlickenrieder J (2010) Climate change and agricultural adaptation: assessing management uncertainty for four crop types in Spain. Clim Res 44:83–94

IPCC (2007) The Fourth Assessment Report of the Intergovernmental Panel on Climate Change. Available at http://www.ipcc.ch/report/ar4/. Accessed November 2014

IPCC (2013) The Fifth Assessment Report of the Intergovernmental Panel on Climate Change. Available at http://www.ipcc.ch/report/ar5/wg1/. Accessed November 2014

Meehl GA, Covey C, Delworth T, Latif M, McAvaney B, Mitchell JFB, Stouffer RJ, Taylor KE (2007) The WCRP CMIP3 multimodel dataset: a new era in climate change research. Bull Am Meteorol Soc 88:1383–1394

Mitchell TD (2003) Pattern scaling: an examination of the accuracy of the technique for describing future climates. Clim Chang 60:217–242

Mitchell TD, Jones PD (2005) An improved method of constructing a database of monthly climate observations and associated high-resolution grids. Int J Climatol 25:693–712

New M, Lister D, Hulme M, Makin I (2002) A high-resolution data set of surface climate over global land areas. Clim Res 21:1–25

Rietveld MR (1978) A new method for estimating the regression coefficients in the formula relating solar radiation to sunshine. Agric Meteorol 19:243–252

Santer BD, Wigley TML, Schlesinger ME, Mitchell JFB (1990) Developing climate scenarios from equilibrium GCM results. Report no. 47, Max Planck Institute für Meteorologie, Hamburg, Germany

Semenov M, Stratonovitch P (2010) Use of multi-model ensembles from global climate models for assessment of climate change impacts. Clim Res 41:1–14

Taylor KE, Stouffer RJ, Meehl GA (2012) An overview of CMIP5 and the experiment design. Bull Am Meteorol Soc 93:485–498

Trnka M, Dubrovský M, Žalud Z (2004) Climate change impacts and adaptation strategies in spring barley production in the Czech Republic. Clim Chang 64:227–255

Wells N, Goddard S, Hayes MJ (2004) A self-calibrating Palmer Drought Severity Index. J Clim 17:2335–2351
Acknowledgements
The experiments were made within the framework of CLIMSAVE FP7 EU project (no. 244031), WG4VALUE project (no. LD12029, funded by Ministry of Education, Youth and Sports of the Czech Republic), the OPVK project (no. CZ.1.07/2.3.00/20.0248) and KONTAKT II project (no. LH11010). The authors acknowledge the free access to GCM outputs (obtained from the IPCC's Data Distribution Centre; http://www.ipcc-data.org/gcm/monthly/SRES_AR4/index.html) and the gridded observational climatological data [CRU TS 2.1 (Mitchell and Jones 2005) and CRU CL 2.0 (New et al. 2002); http://www.cru.uea.ac.uk/cru/data/hrg/]. MAGICC climate model (version 5.3) was obtained from http://www.cgd.ucar.edu/cas/wigley/magicc/. We also thank to two anonymous reviewers, whose comments helped to significantly improve this paper.
Additional information
This article is part of a special issue on "Regional Integrated Assessment of Cross-sectoral Climate Change Impacts, Adaptation, and Vulnerability" with guest editors Paula A. Harrison and Pam M. Berry.
Electronic supplementary material
Below is the link to the electronic supplementary material.
About this article
Cite this article
Dubrovsky, M., Trnka, M., Holman, I.P. et al. Developing a reduced-form ensemble of climate change scenarios for Europe and its application to selected impact indicators. Climatic Change 128, 169–186 (2015). https://doi.org/10.1007/s10584-014-1297-7
Received:

Accepted:

Published:

Issue Date:
Keywords
Climate Change Scenario

Palmer Drought Severity Index

Global Solar Radiation

European Corn Borer

Impact Index