Abstract
China faces significant challenges in reconciling food security goals with the objective of becoming a low-carbon economy. Agriculture accounts for approximately 11 % of China's national greenhouse gas (GHG) emissions with cereal production representing a large proportion (about 32 %) of agricultural emissions. Minimizing emissions per unit of product is a policy objective and we estimated the GHG intensities (GHGI) of rice, wheat and maize production in China from 1985 to 2010. Results show significant variations of GHGIs among Chinese provinces and regions. Relative to wheat and maize, GHGI of rice production is much higher owing to CH4 emissions, and is more closely related to yield levels. In general, the south and central has been the most carbon intensive region in rice production while the GHGI of wheat production is highest in north and northwest provinces. The southwest has been characterized by the highest maize GHGI but the lowest rice GHGI. Compared to the baseline scenario, a 2 % annual reduction in N inputs, combined with improved water management in rice paddies, would mitigate 17 % of total GHG emissions from cereal production in 2020 while sustaining the required yield increase to ensure food security. Better management practices will entail additional gains in soil organic carbon further decreasing GHGI. To realize the full mitigation potential while maximizing agriculture development, the design of appropriate policies should accommodate local conditions.
This is a preview of subscription content, log in to check access.
Access options
Buy single article
Instant access to the full article PDF.
US$ 39.95
Price includes VAT for USA
Subscribe to journal
Immediate online access to all issues from 2019. Subscription will auto renew annually.
US$ 199
This is the net price. Taxes to be calculated in checkout.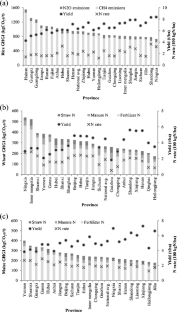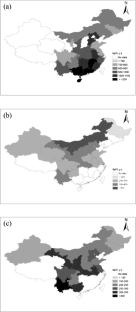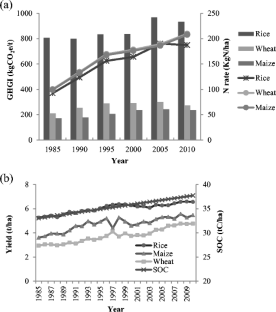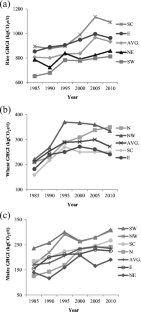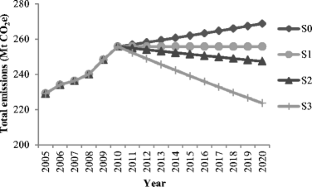 References
Akiyama H, Yan XY, Yagi K (2010) Evaluation of effectiveness of enhanced-efficiency fertilizers as mitigation options for N2O and NO emissions from agricultural soils: meta-analysis. Glob Chang Biol 16:1837–1846

Bonesmo H, Skjelvåg AO, Janzen HH, Klakegg O, Tveito OE (2012) Greenhouse gas emission intensities and economic efficiency in crop production: a systems analysis of 95 farms. Agric Syst 110:142–151

Chen XP, Cui ZL, Vitousek PM et al (2011) Integrated soil-crop system management for food security. Proc Natl Acad Sci 108:6399–6404

Cui ZL, Zhang FS, Chen XP et al (2008) On-farm evaluation of an in-season nitrogen management strategy based on soil Nmin test. Field Crop Res 105:48–55

Cui ZL, Chen XP, Zhang FS (2010) Current nitrogen management status and measures to improve the intensive wheat–maize system in China. Ambio 39:376–384

Fan MS, Shen JB, Yuan LX et al (2011) Improving crop productivity and resource use efficiency to ensure food security and environmental quality in China. J Exp Bot 63(1):13–24

Gao B, Ju XT, Zhang Q, Christie P, Zhang FS (2011) New estimates of direct N2O emissions from Chinese croplands from 1980 to 2007 using localized emission factors. Biogeosci Discuss 8:6971–7006

Godfray HCJ, Garnett T (2014) Food security and sustainable intensification. Phil Trans R Soc B Biol Sci 369(1639):20120273

Guo JH, Liu XJ, Zhang Y et al (2010) Significant acidification in major Chinese. Croplands Sci 327:1008–1010

He J, Li HW, Wang QJ et al (2010) The adoption of conservation tillage in China. Ann N Y Acad Sci 1195:E96–E106

Heffer P (2009) Assessment of fertilizer use by crop at the global level. International Fertilizer Industry Association

Huang T, Gao B, Christie P, Ju XT (2013) Net global warming potential and greenhouse gas intensity in a double-cropping cereal rotation as affected by nitrogen and straw management. Biogeosciences 10:897–7911

IPCC (2006) IPCC guidelines for national greenhouse gas inventories IPCC/IGES. Hayama, Japan

Ju XT, Christie P (2011) Calculation of theoretical nitrogen rate for simple nitrogen recommendations in intensive cropping systems: a case study on the North China plain. Field Crop Res 124:450–458

Ju XT, Xing GX, Chen XP et al (2009) Reducing environmental risk by improving N management in intensive Chinese agricultural systems. Proc Natl Acad Sci 106:3041–3046

Ma YC, Kong XW, Yang B et al (2013) Net global warming potential and greenhouse gas intensity of annual rice-wheat rotations with integrated soil–crop system management. Agric Ecosyst Environ 164:209–219

Maharjan B, Venterea RT, Rosen C (2014) Fertilizer and irrigation management effects on nitrous oxide emissions and nitrate leaching[J]. Agron J 106(2):703–714

Ministry of Agriculture (MOA) (1986–2013) China rural statistical yearbook. China Agricultural Press, Beijing

MOA (2001–2011) China livestock yearbook. China Agricultural Press, Beijing

MOA (2005) Notice on the issuance of "Interim management measures of subsidy funds for fertilizer recommendation pilots

MOA (2009) Conservation Tillage Construction Plan 2009–2015

National Coordination Committee on Climate Change (NCCC) (2012) Second national communication on climate change of the PRC. China Planning Press, Beijing

National Development and Reform Commission (NDRC) of China (2001) China agricultural products cost-benefit yearbooks. China Statistics Press, Beijing

Norse D (2012) Low carbon agriculture: objectives and policy pathways. Environ Develop 1:25–39

Pan GX, Smith P, Pan W (2009) The role of soil organic matter in maintaining the productivity and yield stability of cereals in China. Agric Ecosyst Environ 129:344–348

Pan GX, Xu X, Smith P, Pan W, Lal R (2010) An increase in topsoil SOC stock of China's croplands between 1985 and 2006 revealed by soil monitoring. Agric Ecosyst Environ 136:133–138

Shang Q, Yang X, Gao C, Wu P et al (2011) Net annual global warming potential and greenhouse gas intensity in Chinese double rice-cropping systems: a 3-year field measurement in long-term fertilizer experiments. Glob Chang Biol 17:2196–2210

Sun W, Huang Y, Zhang W, Yu Y (2010) Carbon sequestration and its potential in agricultural soils of China. Glob Biogeochem Cycles 24(3):GB3001

Tubiello FN, Salvatore M, Rossi S, Ferrara A (2012) Analysis of global emissions, carbon intensity and efficiency of food production. EAI research papers

Tubiello FN, Salvatore M, Cóndor RD et al. (2014) Agriculture, Forestry and Other Land Use Emissions by Sources and Removals by Sinks, 1990–2011 Analysis. FAO Working Paper Series ESS/14- 02

Venterea RT, Maharjan B, Dolan MS (2011) Fertilizer source and tillage effects on yield-scaled nitrous oxide emissions in a corn cropping system. J Environ Qual 40:1521–1531

Wang W, Koslowski F, Nayak DR et al (2014) Greenhouse gas mitigation in Chinese agriculture: distinguishing technical and economic potentials. Glob Environ Chang 26:53–62

World Bank (2013) World Bank Data http://data.worldbank.org/, accessed June 2013

Wreford AD, Moran D, Adger N (2010) Climate Change and Agriculture: Impacts, Adaptation and Mitigation. OECD Publishing

Xu Y, Chen W, Shen Q (2007) Soil organic carbon and nitrogen pools impacted by long-term tillage and fertilization practices. Commun Soil Sci Plant Anal 38:347–357

Yan XY, Cai ZC, Wang SW, Smith P (2011) Direct measurement of soil organic carbon content change in the croplands of China. Glob Chang Biol 17:1487–1496

Yu YQ, Huang Y, Zhang W (2012) Modeling soil organic carbon change in croplands of China, 1980–2009. Glob Planet Chang 82–83:115–128

Yu YQ, Huang Y, Zhang W (2013) Projected changes in soil organic carbon stocks of China's croplands under different agricultural managements: 2011–2050. Agric Ecosyst Environ 178:109–120

Zhang W, Yu YQ, Sun WJ, Huang Y (2007) Simulation of soil organic carbon dynamics in Chinese rice paddies from 1980 to 2000. Pedosphere 17:1–10

Zhang W, Yu Y, Huang Y, Li T, Wang P (2011a) Modeling methane emissions from irrigated rice cultivation in China from 1960 to 2050. Glob Chang Biol 17:3511–3523

Zhang FS, Cui ZL, Fan MS et al (2011b) Integrated soil-crop system management: reducing environmental risk while increasing crop productivity and improving nutrient use efficiency in China. J Environ Qual 40:1–7

Zhang FS, Cui ZL, Chen XP et al. (2012) Integrated Nutrient Management for Food Security and Environmental Quality in China. In: Sparks, DL (ed) Advances in Agronomy 116, pp 1–40

Zhang WF, Dou ZX, He P et al (2013) New technologies reduce greenhouse gas emissions from nitrogenous fertilizer in China. Proc Natl Acad Sci 110:8375–8380
Acknowledgments
This study is funded by the Chinese Ministry of Science and Technology (2013BAD11B03), the Climate Economics Chair of Paris-Dauphine University and the Agricultural Science and Technology Innovation Program of CAAS. D.M. acknowledges support from the SmartSOIL EU FP7 project (grant number 289694).
Electronic supplementary material
Below is the link to the electronic supplementary material.
About this article
Cite this article
Wang, W., Guo, L., Li, Y. et al. Greenhouse gas intensity of three main crops and implications for low-carbon agriculture in China. Climatic Change 128, 57–70 (2015). https://doi.org/10.1007/s10584-014-1289-7
Received:

Accepted:

Published:

Issue Date:
Keywords
Soil Organic Carbon

Rice Paddy

Soil Organic Carbon Content

Cereal Production

Maize Production