Abstract
A comment by Buhaug et al. attributes disagreement between our recent analyses and their review articles to biased decisions in our meta-analysis and a difference of opinion regarding statistical approaches. The claim is false. Buhaug et al.'s alteration of our meta-analysis misrepresents findings in the literature, makes statistical errors, misclassifies multiple studies, makes coding errors, and suppresses the display of results that are consistent with our original analysis. We correct these mistakes and obtain findings in line with our original results, even when we use the study selection criteria proposed by Buhaug et al. We conclude that there is no evidence in the data supporting the claims raised in Buhaug et al.
Access options
Buy single article
Instant access to the full article PDF.
USD 39.95
Price includes VAT (USA)
Tax calculation will be finalised during checkout.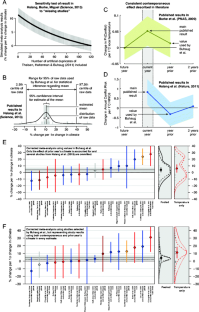 References
Buhaug H (2010) Climate not to blame for African civil wars. Proceedings of the National Academy of Sciences, 107(38):16477–16482

Buhaug H et al (2014) One effect to rule them all? A comment on climate and conflict. Clim Chang. doi:10.1007/s10584-014-1266-1

Burke M, Miguel E, Satyanath S, Dykema J, Lobell D (2009) Warming increases risk of civil war in Africa. Proc Natl Acad Sci U S A 106:20670–20674. doi:10.1073/pnas.0907998106

Bushman BJ, Wang MC, Anderson CA (2005) Is the curve relating temperature to aggression linear or curvilinear? A response to Bell (2005) and to Cohn and Rotton (2005). J Pers Soc Psychol 89:74–77

Calderone M, Maystadt JF, You L (2013) Local Warming and Violent Conflict in North and South Sudan. IFPRI discussion paper

Caruso R, Petrarca I, Ricciuti R (2014) Climate Change, Rice Crops and Violence. Evidence from Indonesia. Working paper

Cohn EG, Rotton J (1997) Assault as a function of time and temperature: a moderator-variable time-series analysis. J Pers Soc Psychol 72(6):1322

Couttenier M, Soubeyran R (2013) Drought and civil war in Sub-Saharan Africa. Econ J. doi:10.1111/ecoj.12042

Fetzer T (2014) Can workfare programs moderate violence? Evidence from India. Working paper

Field CB et al (2014) Climate Change 2014: Impacts, Adaptation, and Vulnerability. Contribution of Working Group II to the Fifth Assessment Report of the Intergovernmental Panel on Climate Change

Gelman A, Carlin JB, Stern HS, Rubin DB (2004) Bayesian data analysis. Chapman& Hall/CRC, Boca Raton

Greene W (2003) Econometric analysis. Upper Saddle River, Prentice Hall

Harari M, La Ferrara E (2013) Conflict, climate and cells: a disaggregated analysis. Centre for Economic Policy Research, London

Hsiang SM, Burke M (2014) Climate, conflict, and social stability: what does the evidence say? Clim Chang 123:39–55. doi:10.1007/s10584-013-0868-3

Hsiang SM, Meng KC, Cane MA (2011) Civil conflicts are associated with the global climate. Nature 476(7361):438–441

Hsiang SM, Burke M, Miguel E (2013a) Quantifying the influence of climate on human conflict. Science 341. doi:10.1126/science.1235367

Hsiang SM, Burke M, Miguel E (2013b) Reconciling Temperature-conflict Results in Kenya. CEGA working paper

Iyer L, Topalova PB (2014) Poverty and Crime: Evidence from Rainfall and Trade Shocks in India. Harvard Business School BGIE Unit Working Paper 14-067

Kim NK (2014) Revisiting economic shocks and coups. J Confl Resolut. doi:10.1177/0022002713520531

Maystadt J-F, Ecker O (2014) Extreme weather and civil war: does drought fuel conflict in Somalia through livestock price shocks? Am J Agric Econ

Neyman J (1937) Outline of a theory of statistical estimation based on the classical theory of probability. Philos Trans R Soc Lond Ser A Math Phys Eng Sci 236(767):333–380

O'Loughlin J, Witmer FD, Linke AM, Laing A, Gettelman A, Dudhia J (2012) Climate variability and conflict risk in East Africa, 1990–2009. Proc Natl Acad Sci U S A 109:18344–18349. doi:10.1073/pnas.1205130109

Ralston LR (2013) Essays on conflict, cooperation and economic development. Diss. Massachusetts Institute of Technology

Theisen OM, Holtermann H, Buhaug H (2011) Climate wars?: Assessing the claim that drought breeds conflict. Int Secur 36(3):79–106

Wetherley E (2014) Typhoons and Temperature Impact Crime Rates: Evidence from the Philippines
About this article
Cite this article
Hsiang, S.M., Burke, M. & Miguel, E. Reconciling climate-conflict meta-analyses: reply to Buhaug et al.. Climatic Change 127, 399–405 (2014). https://doi.org/10.1007/s10584-014-1276-z
Received:

Accepted:

Published:

Issue Date:
Keywords
Standardize Precipitation Index

Palmer Drought Severity Index

Civil Conflict

Intergroup Conflict

Contemporaneous Effect