Abstract
There is a growing focus on the economics of adaptation as policy moves from theory to practice. However, the techniques commonly used in economic appraisal have limitations in coping with climate change uncertainty. While decision making under uncertainty has gained prominence, economic appraisal of adaptation still uses approaches such as deterministic cost-benefit analysis. Against this background, this paper provides a critical review and assessment of existing economic decision support tools (cost-benefit analysis and cost-effectiveness analysis) an uncertainty framework (iterative risk management) and alternative tools that more fully incorporate uncertainty (real options analysis, robust decision making and portfolio analysis). The paper summarises each method, provides examples, and assesses their strengths and weaknesses for adaptation. The tools are then compared to identify key differences, and to identify when these approaches might be appropriate for specific applications in adaptation decision making.
Access options
Buy single article
Instant access to the full article PDF.
USD 39.95
Price includes VAT (USA)
Tax calculation will be finalised during checkout.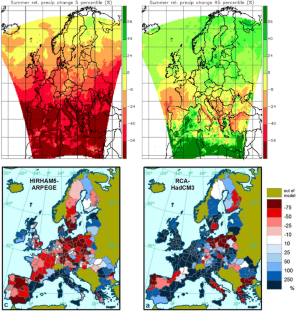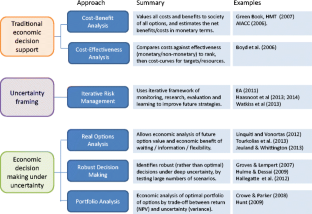 Notes
1.

There are many different definitions of uncertainty. We use the definition from UK Government economic appraisal (HMT, 2007), where uncertainty involves a large number of possible outcomes and it is impossible to attach probabilities, as differentiated from risk, defined as the likelihood, measured by the probability, that a particular event will occur.
References
Aerts, J.C.J.H., Botzen, W., van der Veen, A., Krywkow, J. & Werners, S. (2008) Dealing with uncertainty in flood management through diversification. Ecology and Society, 13, 41

Agrawala S, Bosello F, Carraro C, deCian E, Lanzi E (2011) Adapting to Climate Change: Costs, Benefits, and Modelling Approaches. Int Rev Environ and ResEcon 5:245–284

AIACC (2006) Estimating and Comparing Costs and Benefits of Adaptation Projects: Case Studies in South Africa and Gambia. Report on Assessments of Impacts and Adaptations to Climate Change

Anda J, Golub A, Strukova E (2009) Economics of climate change under uncertainty: Benefits of flexibility. Energy Policy 37(4):1345–1355

Boyd, R Wade, S. and Walton, H (2006) Climate Change Impacts and Adaptation: Cross-Regional Research Project(E). Report to the Department for Environment, Food and Rural Affairs, London, UK

Blyth W, Bradley R, Bunn D, Clarke C, Wilson T, Yang M (2007) Investment risks under uncertain climate change policy. Energy Policy 35(11):5766–5773

CCC (2008) Building a low-carbon economy–the UK's contribution to tackling climate change. Committee on Climate Change, Published by the Stationary Office, London, UK

Christensen, O.B, et al. (2011) European and Global Climate Change Projections: Outputs, Scenarios and Uncertainty. In. ClimateCost. ISBN 978-91-86125-35-6

Crowe KA, Parker WH (2008) Using portfolio theory to guide reforestation and restoration under climate change scenarios. Clim Chang 89:355–370

Dessai S, Hulme M (2007) Assessing the robustness of adaptation decisions to climate change uncertainties: A case study on water resources management in the East of England. Glob Environ Chang 17:59–72

Downing T (2012) Views of the frontiers in climate change adaptation economics. WIREs ClimChange 3:161–170

Dixit, A.K., Pindyck, R.S., (1994) Investment under Uncertainty. Princeton University Press, Princeton,NJ

Dyszynski, J. and Takama, T. (2010) "Robust decision making for sustainable and scalable drought index based micro-insurance in Ethiopia Reducnig weather related disaster risk with rural agro-insurance: In. Micro-insurance: An innovative tool. Published by the Global Risk Forum, GRF, Davos

EA (2011) TE2100 Strategic Outline Programme. Published by Environment Agency, Bristol, UK

Eckhause, J. and J.Herold (2013) Using real options to determine optimal funding strategies for CO2 capture, transport and storage projects in the EU. Energy Policy

Feyen L, Watkiss P (2011) The impacts and economic costs of river floods in Europe. In. ClimateCost. ISBN 978-91-86125-35-6

Fuss S, Johansson DJA, Szolgayova J, Obersteiner M (2009) Impact of climate policy uncertainty on the adoption of electricity generating technologies. Energy Policy 37(2):733–743

Gersonius B, Ashley R, Pathirana A, Zevenbergen C (2013) Climate change uncertainty: building flexibility into water and flood risk infrastructure. Clim Chang 116(2):411–423

Groves DG, Lempert RJ (2007) A new analytic method for finding policy-relevant scenarios. Glob Environ Chang 17:73–85

Groves, D.G. Fischbach, J.R. Bloom, E., Knopman, D. Keefe, R. (2013) Adapting to a Changing Colorado River. Making Future Water Deliveries More Reliable Through Robust Management Strategies. Published by the RAND Corporation: ISBN/EAN:9780833081797

Groves DG, Sharon C (2013) Planning tool to support planning the future of Coastal Louisiana. Journal of Coastal Research: Special Issue 67 - Louisiana′s 2012 Coastal Master Plan Technical Analysis:147–161.2013

Hallegatte S (2009) Strategies to adapt to an uncertain climate change. Glob Environ Chang 19(2):240–247

Hallegatte, S., Shah, A., Lempert, R., Brown, C. and Gill, S. (2012). Investment Decision Making Under Deep Uncertainty: Application to Climate Change. Policy Research Working Paper 6193. Published by the World Bank Washington DC

Haasnoot M, Kwakkel JH, Walker WE, Maat JT (2013) Dynamic Adaptive Policy Pathways: A Method for Crafting Robust Decisions for a Deeply Uncertain World. Glob Environ Chang 23(2):485–498

HMT (2007) Green Book. Appraisal and Evaluation in Central Government Treasury Guidance. Her Majesty's Treasury.  Published by the Stationary Office, London, UK

HMT (2009) Accounting for the Effects of Climate Change. Supplementary Guidance. Her Majesty's Treasury.  Published by the Stationary Office, London, UK

Hunt, A. (2009) Economic Aspects of Climate Change Impacts and Adaptation in the UK. PhD Thesis. University of Bath

IPCC (2012): Managing the Risks of Extreme Events and Disasters to Advance Climate Change Adaptation. A Special Report of the Intergovernmental Panel on Climate Change [Field, CB et al (eds)] Cambridge University Press, Cambridge, UK and New York, NY USA, 582 pp

IPCC (2013) Summary for Policymakers In: Climate Change 2013: The Physical Science Basis. Contribution of Working Group I to the Fifth Assessment Report of the Intergovernmental Panel on Climate Change [Stock, TF et al (eds).]. Cambridge University Press, Cambridge, UK and New York, NY, USA

Jeuland, M and Whittington, D (2013). Water Resources Planning under Climate Change: A "Real Options" Application to Investment Planning in the Blue Nile. Environment-for-Development. Discussion Paper Series, EfD DP 13–05

Kontogianni, A., C.H. Tourkolias, D. Damigos and M. Skourtos (2013). Assessing sea-level-rise costs and adaptation benefits under uncertainty in Greece. Environmental Science & Policy 27:61–78

Lempert RJ, Groves DG (2010) Identifying and evaluating robust adaptive policy responses to climate change for water management agencies in the American west. Technological Forecasting & Social Change 77:960–974

Lempert, R.J. Kalra, N.Peyraud, S. Mao, Z. Sinh-Bach-Tan, S. Cira, D. and Lotsch, A. (2013) Ensuring Robust Flood Risk Management in Ho Chi Minh City. Policy Research Working Paper WPS6465. Published by the World Bank, Washington DC, USA

Linquiti, P. and N. Vonortas (2012). The value of flexibility in adapting to climate change: a real options analysis of investments in coastal defense. Climate Change Economics 03(02):1250008

Markowitz HM (1952) Portfolio selection. J Financ 7:77–91

McDonald R, Siegel D (1986) The value of waiting to invest. Q J Econ 101:707–723

Matalas, N.C. and Fiering, M.B. (1977) Water Resource Systems Planning. In: Climate, climatic change and the water supply. National Academy of Sciences, Washington

Martínez Ceseña EA, Mutale J, Rivas-Dávalos F (2013) Real options theory applied to electricity generation projects: A review. Renew Sust Energ Rev 19:573–581

Merton, R., (1973) The theory of rational option pricing. Journal of Economic Management Science 4,141–183

Mishan, E.1988 Cost-Benefit Analysis: An Informal Introduction (4th edition), London: Unwin-Hyman

Murphy, J.M. et al. (2009), UK Climate Projections Science Report: Climate change projections. Met Office Hadley Centre, Exeter

Pearce, D.W. and C.A. Nash, (1981) The Social Appraisal of Projects: A Text in Cost-Benefit Analysis, Macmillan, London

Reeder, T and Ranger, N (2011) "How do you adapt in an uncertain world? Lessons from the Thames Estuary 2100 project." World Resources Report, Washington

Rosenzweig, C., et al. (2013) Assessing agricultural risks of climate change in the 21st century in a global gridded crop model intercomparison. PNAS (ISI-MIP Special Feature). doi:10.1073/pnas/1222463110

Reuter, W.H., J. Szolgayová, S. Fuss and M. Obersteiner (2012) Renewable energy investment: Policy and market impacts. Applied Energy 97

Scandizzo P.L. (2011) Climate Change Adaptation and Real Option Evaluation. CEIS Working Paper 232

Tompkins EL; Adger WN (2004) Does Adaptive Management of Natural Resources Enhance Resilience to Climate Change? Ecology and Society, 9

UNFCCC (2009) Potential costs and benefits of adaptation options: A review of existing literature. UNFCCC Technical Paper F CDCeCce/mTPb/e2r0 20090/29

Watkiss, P. et al. (2013) Climate Resilience Strategy: Agriculture. Report to the Global Green Growth Institute/Federal Republic of Ethiopia

World Bank (2009) Evaluating Adaptation via Economic Analysis. Guidance Note 7, Annex 12.

Zhu L, Fan Y (2011) A real options-based CCS investment evaluation model: Case study of China's power generation sector. Appl Energy 88(12):4320–4333
Acknowledgments
The funding for this work was provided by the EC FWP7 funded MEDIATION and IMPACT2C projects.
Additional information
This article is part of a Special Issue on "Uncertainty and Climate Change Adaptation" with Guest Editors Tiago Capela Lourenço, Ana Rovisco, Suraje Dessai, Richard Moss and Arthur Petersen
About this article
Cite this article
Watkiss, P., Hunt, A., Blyth, W. et al. The use of new economic decision support tools for adaptation assessment: A review of methods and applications, towards guidance on applicability. Climatic Change 132, 401–416 (2015). https://doi.org/10.1007/s10584-014-1250-9
Received:

Accepted:

Published:

Issue Date:
Keywords
Climate Policy

Risk Preference

Efficiency Frontier

Robust Decision Make

Flood Risk Management