Abstract
Though many climate literacy efforts attempt to communicate climate change as a risk, these strategies may be ineffective because among adults, worldview rather than scientific understanding largely drives climate change risk perceptions. Further, increased science literacy may polarize worldview-driven perceptions, making some climate literacy efforts ineffective among skeptics. Because worldviews are still forming in the teenage years, adolescents may represent a more receptive audience. This study examined how worldview and climate change knowledge related to acceptance of anthropogenic global warming (AGW) and in turn, climate change risk perception among middle school students in North Carolina, USA (n = 387). We found respondents with individualistic worldviews were 16.1 percentage points less likely to accept AGW than communitarian respondents at median knowledge levels, mirroring findings in similar studies among adults. The interaction between knowledge and worldview, however, was opposite from previous studies among adults, because increased climate change knowledge was positively related to acceptance of AGW among both groups, and had a stronger positive relationship among individualists. Though individualists were 24.1 percentage points less likely to accept AGW than communitarians at low levels (bottom decile) of climate change knowledge, there was no statistical difference in acceptance levels between individualists and communitarians at high levels of knowledge (top decile). Non-White and females also demonstrated higher levels of AGW acceptance and climate change risk perception, respectively. Thus, education efforts specific to climate change may counteract divisions based on worldviews among adolescents.
Access options
Buy single article
Instant access to the full article PDF.
USD 39.95
Price excludes VAT (USA)
Tax calculation will be finalised during checkout.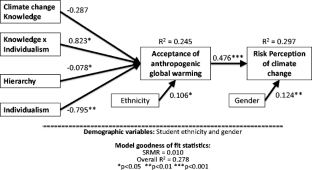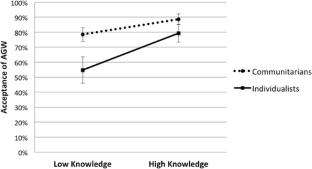 References
107th Congress (2002) No Child Left Behind (NCLB) Act., Pub. L. No. Stat. 1425

Alhakami AS, Slovic P (1994) A psychological study of the inverse relationship between perceived risk and perceived benefit. Risk Anal 14(6):1085–1096, Retrieved from http://www.ncbi.nlm.nih.gov

Bain PG, Hornsey MJ, Bongiorno R, Jeffries C (2012) Promoting pro-environmental action in climate change deniers. Nat Clim Chang 2(8):600–603. doi:10.1038/NCLIMATE1532

Betz NE, Weber EU (2002) A Domain-specific risk-attitude scale: measuring risk perceptions and risk behaviors, 290(August), 263–290

Buhr SM (2011) Navigating climate science in the classroom. Workshop on climate change education in formal settings. Bolder, CO

Cook MD, Evans WN (2000) Families or schools? Explaining the convergence in white and black academic performance. J Labor Econ 18(4):729–754

Desimone LM, Le Floch KC (2004) Are we asking the right questions? using cognitive interviews to improve surveys in education research. Educ Eval Policy Anal 26(1):1–22. doi:10.3102/01623737026001001

Dunlap RE, Van Liere KD, Mertig AG, Jones RE (2000) Measuring Endorsement of the new ecological paradigm: A Revised NEP Scale. J Soc Issues 56(3):425–442

Egan PJ, Mullin M (2012) Turning personal experience into political attitudes: the effect of local weather on americans' perceptions about global warming. J Politics 74(03):796–809. doi:10.1017/S0022381612000448

Feldpausch-Parker AM, O'Byrne M, Endres D, Peterson TR (2013) The Adventures of carbon bond: using a melodramatic game to explain CCS as a mitigation strategy for climate change. Sci Technol 3(1):21–29

Finucane ML, Slovic P, Mertz CK, Flynn J, Satterfield TA (2000) Gender, race, and perceived risk: the "white male" effect. Health Risk Soc 2(2):159–172. doi:10.1080/713670162

Fleischer A (2013) From theory to practice: how Mass Audubon is incorporating strategic framing about climate change. J Museum Educ 38(3):273–278

Garson D (2008) Path Analysis, 1–21

Gliem JA, Gliem RR (2003) Calculating, interpreting, and reporting cronbach's alpha reliability coefficient for likert-type scales. In Midwest Research to Practice Conference in Adult, Continuing, and Community Education (pp. 82–88)

Hamilton LC (2011) Education, politics and opinions about climate change evidence for interaction effects. Clim Chang 104(2):231–242. doi:10.1007/s10584-010-9957-8

Hancock GR, Mueller RO (2006) Structural equation modeling: a second course. (G. R. Hancock & R. O. Mueller, Eds.). Information Age Publishing

Hollweg KS, Taylor J, Bybee RW, Marcinkowski TJ, McBeth WC, Zoido P (2011) Developing a framework for assessing environmental literacy. Environmental education. NAAEE, Washington, DC, Retrieved from http://www.naaee.net

Hungerford HR, Volk T (1990) Changing learner behavior through environmental education. J Environ Educ 21(3):8–21

Jacques PJ, Dunlap RE, Freeman M (2008) The organisation of denial: conservative think tanks and environmental scepticism. Environ Politics 17(3):349–385. doi:10.1080/09644010802055576

Johnson R (2012) Climate change education in K-12: Teacher preparation, understanding, needs and concerns. Retrieved from http://sites.nationalacademies.org/DBASSE/BOSE/DBASSE_080125#.UfghzWSgn8E

Kahan DM (2012) Cultural cognition as a conception of the cultural theory of risk. In S. Roeser, R. Hillerbrand, P. Sandin, & M. Peterson (Eds.), Handbook of Risk Theory: Epistemology, Decision Theory, Ethics, and Social Implications of Risk. Springer

Kahan DM, Peters E, Wittlin M, Slovic P, Ouellette LL, Braman D, Mandel G (2012) The polarizing impact of science literacy and numeracy on perceived climate change risks. Nat Clim Chang 2(6):1–4, Retrieved from http://www.nature.com/doifinder/10.1038/nclimate1547

Kleinosky LR, Yarnal B, Fisher A (2006) Vulnerability of Hampton Roads, Virginia to Storm-Surge Flooding and Sea-Level Rise. Nat Hazards 40(1):43–70. doi:10.1007/s11069-006-0004-z

Leiserowitz A (2012) Weather, Climate, and (Especially) Society. Weather Climate Soc 4(2):87–89. doi:10.1175/WCAS-D-12-00025.1

Leiserowitz A, Smith N, Marlon J (2011) American teens' knowledge of climate change. New Haven, CT. Retrieved from http://environment.yale.edu/uploads/american-teens-knowledge-of-climate-change.pdf

Luntz F (2003) The environment: a cleaner, safer, healthier America. Straight Talk. Luntz Research Companies

Mayer F, Adair S, Pfaff A (2013) Americans Think the Climate Is Changing and Support Some Actions., Retrieved from http://www.nicholas.duke.edu/instituteold/climate/policydesign/americans-think-climate-is-changing

McBeth B, Hungerford H, Marcinkowski T, Volk T, Cifranick K (2011) National environmental literacy assessment, phase two: measuring the effectiveness of North American environmental education programs with respect to the parameters of environmental literacy. Final report. Retrieved from http://www.naaee.net/sites/default/files/programs/research/NELA_Phase_II_Report.pdf

McCright AM (2010) The effects of gender on climate change knowledge and concern in the American public. Popul Environ 32(1):66–87. doi:10.1007/s11111-010-0113-1

Mccright AM, Dunlap RE (2003) Defeating Kyoto: the conservative movement's impact on u.s. climate change policy. Soc Probl 50(3):348–373

McCright AM, Dunlap RE (2011) The politicization of climate change and polarization in the American Public's views of global warming, 2001–2010. Sociol Q 52(2):155–194. doi:10.1111/j.1533-8525.2011.01198.x

Michener WK, Blood ER, Bildstein KL, Brinson MM, Gradner LR (1997) Climate change, hurricanes and tropical storms, and rising sea level in coastal wetlands. Ecol Appl 7(3):770–801

O'Connor RE, Bord RJ, Fisher A (1999) Risk Perceptions, General Environmental Beliefs, and Willingness to Address Climate Change. Risk Anal 19(3):461–471

Pratto F, Sidanius J, Stallworth LM, Malle BF (1994) Social dominance orientation: A personality variable predicting social and political attitudes. J Pers Soc Psychol 67(4):741–763. doi:10.1037/0022-3514.67.4.741

Schultz PW, Zelezny LC (1999) Values as predictors of environmental attitudes: evidence for consistency across 14 countires. J Environ Psychol 19(3):255–265

Singelis TM, Triandis HC, Bhawuk DPS, Gelfand MJ (1995) Horizontal and vertical dimensions of individualism and collectivism: a theoretical and measurement refinement. Cross-Cult Res 29(3):240–275. doi:10.1177/106939719502900302

Sjöberg L (1999) Risk perception by the public and by experts : a Dilemma in risk management 1. Res Human Ecol 6(2):1–9

Slimak MW, Dietz T (2006) Personal values, beliefs, and ecological risk perception. Risk Anal 26(6):1689–1705. doi:10.1111/j.1539-6924.2006.00832.x

Slovic P, Weber EU (2002) Perception of risk posed by extreme events. in risk management strategies in an uncertain world. Palisades, NY

Smith N, Leiserowitz A (2012) The rise of global warming skepticism: exploring affective image associations in the United States over time. Risk Anal 32(6):1021–1032. doi:10.1111/j.1539-6924.2012.01801.x

Stern PC (2000) Toward a Coherent Theory of Environmentally Significant Behavior. J Soc Issues 56(3):407–424

Tobler C, Visschers VHM, Siegrist M (2012) Consumers' knowledge about climate change. Clim Chang 114(2):189–209. doi:10.1007/s10584-011-0393-1

UCS (2007) Smoke, mirrors & hot air: how exxonmobile uses big tobacco's tactics to manufacture uncertainty on climate science. Cambraige

US GCRP (2009) Climate literacy: the essential principles of climate science. Retrieved from http://downloads.globalchange.gov/Literacy/climate_literacy_highres_english.pdf

Vollerberg WAM, Iedema J, Raaijmakers QAW (2001) Intergenerational transmission and the formation of cultural orientations in adolescence and young adulthood. J Marriage Fam 63(4):1185–1198

Wibeck V (2013) Enhancing learning, communication and public engagement about climate change – some lessons from recent literature. Environ Educ Res, (September), 1–25. doi:10.1080/13504622.2013.812720

Younger M, Morrow-Almeida HR, Vindigni SM, Dannenberg AL (2008) The built environment, climate change, and health: opportunities for co-benefits. Am J Prev Med 35(5):517–526. doi:10.1016/j.amepre.2008.08.017

Zia A, Todd AM (2010) Evaluating the effects of ideology on public understanding of climate change science: How to improve communication across ideological divides? Public Underst Sci 19(6):743–761. doi:10.1177/0963662509357871
Acknowledgments
We would like to thank North Carolina Sea Grant for providing the funding for this study (Project # 2012-R/12-HCE-5). Additionally, we would like to thank Renee Strnad of North Carolina State University and Laurell Malone of North Carolina Central University for project feedback and guidance and Angela Mertig of Middle Tennessee State University for guidance in scale development and evaluation.
Electronic supplementary material
Below is the link to the electronic supplementary material.
About this article
Cite this article
Stevenson, K.T., Peterson, M.N., Bondell, H.D. et al. Overcoming skepticism with education: interacting influences of worldview and climate change knowledge on perceived climate change risk among adolescents. Climatic Change 126, 293–304 (2014). https://doi.org/10.1007/s10584-014-1228-7
Received:

Accepted:

Published:

Issue Date:

DOI: https://doi.org/10.1007/s10584-014-1228-7
Keywords
Climate Change

Risk Perception

Middle School Student

Standardize Root Mean Square Residual

Climate Change Concern