Abstract
Ensuring active participation of stakeholders in scientific projects faces many challenges. These range from adequately selecting stakeholders, overcoming stakeholder fatigue, and dealing with the limited time available for stakeholder engagement, to interacting with, and integrating, the research itself. At the same time, stakeholder participation is seen as a key component in developing research results that are conclusive to political and societal decision-making, and conducive to practical application. This article puts forward the Stakeholder Integrated Research (STIR) approach, designed to address these challenges by proving a structured method for stakeholder engagement in research. An assessment of the stakeholder engagement process within the CLIMSAVE project, including evaluations by participating stakeholders, is used to illustrate the STIR approach, highlighting its value for improving stakeholder involvement within two case studies of a highly complex climate change adaptation project. In comparison to other approaches, STIR directly addresses major stakeholder engagement challenges and simultaneously covers new ground to provide an encompassing and structured approach for integrating stakeholder engagement in research. Further attention needs to be given to involving stakeholder in project set-up and over the course of multiple years, as well as to improving stakeholder-science data translation.
Access options
Buy single article
Instant access to the full article PDF.
US$ 39.95
Tax calculation will be finalised during checkout.
Subscribe to journal
Immediate online access to all issues from 2019. Subscription will auto renew annually.
US$ 119
Tax calculation will be finalised during checkout.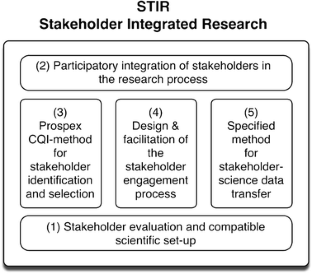 Notes
1.

"Climate change integrated methodology for cross-sectoral adaptation and vulnerability in Europe", CLIMSAVE was a multinational research project funded under the European Union 7th Framework Programme.

2.
References
Alcamo J (2008) The SAS approach: combining qualitative and quantitative knowledge in environmental scenarios. In: Alcamo J (ed) Environmental futures: the practice of environmental scenario analysis. Elsevier, Amsterdam, pp 123–150

Alcamo J, Henrichs T (2008) Towards guidelines for environmental scenario analysis. In: Alcamo J (ed) Environmental futures: the practice of environmental scenario analysis. Elsevier, Amsterdam, pp 13–35

Chambers S (2003) Deliberative democratic theory. Annu Rev Sci 6:307–326

Cohen J (1997) Procedure and substance in deliberative democracy. In: Bohman J, Rehg W (eds) Deliberative democracy: essays on reason and politics. MIT Press, Cambridge, pp 406–437

Gramberger M (2001) Citizens as partners: OECD handbook on information, consultation and public participation in policy-making, governance. OECD, Paris

Gramberger M (2008) The Prospex-CQI method for stakeholder identification and selection. Manuscript.

Haasnoot M, Middelkoop H (2012) A history of futures: a review of scenario use in water policy studies in the Netherlands. Environ Sci Policy 19–20:108–120

Harrison PA, Holman IP, Cojocaru G, Kok K, Kotnogianni A, Metzger MJ, Gramberger M (2013) Combining qualitative and quantitative understanding for exploring cross-sectoral climate change impacts, adaptation and vulnerability in Europe. Regional Environmental Change 13:761–780

Harrison PA, Holman IP, Berry PM (submitted for this issue) Assessing cross-sectoral climate change impacts, vulnerability and adaptation: an introduction to the CLIMSAVE project. Climatic Change

Henrichs T, Zurek M, Eickhout B, Kok K, Raudsepp-Hearne C, Ribeiro T, Van Vuuren D, Volkery A (2010) Scenario development and analysis for forward-looking ecosystem assessments. In: Ash N, Blanco H, Brown C, Garcia K, Henrichs T, Lucas N, Raudsepp-Hearne C, Simpson RD, Scholes R, Tomich TP, Vira B (eds) Zurek M (ed) Ecosystems and human well-being: a manual for assessment practitioners. Island, Washington, DC, pp 151–220

Hirsch Hadorn G, Biber-Klemm S, Grossenbacher-Mansuy W, Joye D, Pohl C, Wiesmann U, Zemp E, Hoffmann-Riem H (2008) Handbook of transdisciplinary research. Springer, Dordrecht, The Netherlands

Holman IP, Harrison PA, Metzger MJ (2014) Cross-sectoral impacts of climate and socio-economic change in Scotland: implications for adaptation policy. Reg Environ Change. doi:10.1007/s10113-014-0679-8

Hoppe R (2011) Institutional constraints and practical problems in deliberative and participatory policy making. Policy Polit 39:163–186

Jolibert C, Wesselink A (2012) Research impacts and impact in research in biodiversity conservation: the influence of stakeholder engagement. Environ Sci Policy 22:100–111

Kasemir B, Schibli D, Stoll S, Jaeger CC (2000) Involving the public in climate and energy decisions. Environ 42:32–42

Kok K, Patel M, Rothman DS, Quaranta G (2006) Multi-scale narratives from an IA perspective: part II, participatory local scenario development. Futures 38:285–311

Kok K, Van Vliet M, Bärlund I, Dubel A, Sendzimir J (2011) Combining participative backcasting and explorative scenario development: experiences from the SCENES project. Technol Forecast Soc Chang 78:835–851

Kok K, Bärlund I, Flörke M, Holman I, Gramberger M, Sendzimir J, Stuch B, Zellmer K (2014) European participatory scenario development: strengthening the link between stories and models. Clim Chang. doi:10.1007/s10584-014-1143-y

Lebel L, Thongbai P, Kok K (2006) Sub-global scenarios. In: Capistrano D, Samper CK, Lee MJ, Rauseppe-Hearne C (eds) Ecosystems and human well-being (vol 4): multiscale assessments. Findings of the Sub-global Assessments Working Group of the Millennium Ecosystem Assessment. Island, Washington, DC, pp 229–259

Lemos MC, Morehouse BJ (2005) The co-production of science and policy in integrated climate assessments. Glob Environ Chang 15:57–68

Lövbrand E (2011) Co-producing European climate science and policy: a cautionary note on the making of useful knowledge. Sci Public Policy 38:225–236

Phillipson J, Lowe P, Proctor A, Ruto E (2012) Stakeholder engagement and knowledge exchange in environmental research. J Environ Manag 95:56–65

Priess JA, Hauck J (2014) Integrative scenario development. Ecol Soc 19:12

Rounsevell MDA, Metzger MJ (2010) Developing qualitative scenario storylines for environmental change assessment. Wiley Interdisciplin Rev: Clim Chang 1:606–619

UK NEA (2011) The United Kingdom national ecosystem assessment: technical report. UNEP-WCMC, Cambridge, UK

Van Notten PWF, Rotmans J, Van Asselt MBA, Rothman DS (2003) An updated scenario typology. Futures 35:423–443

Vervoort J, Thorton PK, Kristjansson P, Foerch W, Ericksen PJ, Kok K, Ingram JS, Herrero M, Palazzo A, Helfgott AES, Wilkinson A, Havlik P, Mason-D'Croz D, Jost C (2014) Challenges to scenario-guided adaptive action on food security under climate change. Glob Environ Change. 10.1016/j.gloenvcha.2014.03.001

Walz A, Lardelli C, Behrendt H, Grêt-Regamey A, Lundström C, Kytzia S, Bebi P (2007) Participatory scenario analysis for integrated regional modelling. Landsc Urban Plan 81:114–131

Wesselink A, Paavola J (2011) Rationales for public participation in environmental policy and governance: practitioners' perspectives. Environ Plan A 43:2688–2704
Acknowledgments
The authors would like to express their thanks to the participating stakeholders for their active and continued engagement.
Additional information
This article is part of a Special Issue on "Regional Integrated Assessment of Cross-sectoral Climate Change Impacts, Adaptation, and Vulnerability" with Guest Editors Paula A. Harrison and Pam M. Berry.
Electronic supplementary material
Below is the link to the electronic supplementary material.
About this article
Cite this article
Gramberger, M., Zellmer, K., Kok, K. et al. Stakeholder integrated research (STIR): a new approach tested in climate change adaptation research. Climatic Change 128, 201–214 (2015). https://doi.org/10.1007/s10584-014-1225-x
Received:

Accepted:

Published:

Issue Date:
Keywords
Climate Change Adaptation

Adaptation Option

Stakeholder Engagement

Engagement Process

Workshop Series