Abstract
West-central Uganda, a biodiversity hotspot on the eastern edge of central equatorial Africa (CEA), is a region coping with balancing food security needs of a rapidly growing human population dependent on subsistence agriculture with the conservation of critically endangered species. Documenting and understanding rainfall trends is thus of critical importance in west-central Uganda, but sparse information exists on rainfall trends in CEA during the past several decades. The recently created African Rainfall Climatology version 2 (ARC2) dataset has been shown to perform satisfactorily at identifying rainfall days and estimating seasonal rainfall totals in west-central Uganda. Therefore, we use ARC2 data to assess rainfall trends in west-central Uganda and other parts of equatorial Africa from 1983–2012. The core variables examined were three-month rainfall variables for west-central Uganda, and annual rainfall variables and seasonal rainfall totals for a transect that extended from northwestern Democratic Republic of the Congo to southern Somalia. Significant decreases in rainfall in west-central Uganda occurred for multiple three-month periods centered on boreal summer, and rainfall associated with the two growing seasons decreased by 20 % from 1983–2012. The drying trend in west-central Uganda extended westward into the Congo rainforest. Rainfall in CEA was significantly correlated with the Atlantic Multidecadal Oscillation (AMO) at the annual scale and during boreal summer and autumn. Two other possible causes of the decreasing rainfall in CEA besides North Atlantic Ocean sea-surface temperatures (e.g., AMO), are the warming of the Indian Ocean and increasing concentrations of carbonaceous aerosols over tropical Africa from biomass burning.
Access options
Buy single article
Instant access to the full article PDF.
USD 39.95
Price excludes VAT (USA)
Tax calculation will be finalised during checkout.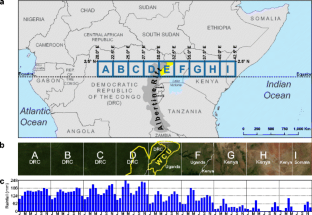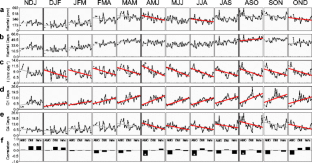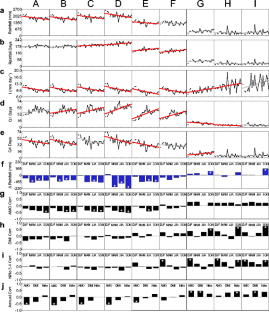 References
Balas N, Nicholson SE, Klotter D (2007) The relationship of rainfall variability in West Central Africa to sea-surface temperature fluctuations. Int J Clim 27:1335–1349

Behera SK, Luo J-J, Masson S, Delecluse P, Gualdi S, Navarra A, Yamagata T (2005) Paramount impact of the Indian Ocean Dipole on the East African short rains: a CGCM study. J Clim 18:4514–4530

Black E, Slingo J, Sperber KR (2003) An observational study of the relationship between excessively strong short rains in coastal East Africa and Indian Ocean SST. Mon Weather Rev 131:74–94

Brooks T, Balmford A, Burgess N, Fjeldsa J, Hansen LA, Moore J, Rahbek C, Williams P (2001) Toward a blueprint for conservation in Africa. Bioscience 51:613–624

Cai W, Zheng X-T, Weller E, Collins M, Cowan T, Lengaigne M, Yu W, Yamagata T (2013) Projected response of the Indian Ocean Dipole to greenhouse warming. Nat Geosci 6:999–1007

Cordeiro NJ, Burgess ND, Dovie DB, Kaplin BA, Plumptre AJ, Marrs R (2007) Conservation in areas of high population density in sub-Saharan Africa. Biol Cons 134:155–163

Diem JE. Hartter J. Ryan SJ. Palace MW (2014) Validation of satellite rainfall products for western Uganda. J Hydrometeor

Fisher B, Christopher T (2007) Poverty and biodiversity: measuring the overlap of human poverty and the biodiversity hotspots. Ecol Econ 62:93–101

Hartter J, Stampone MD, Ryan SJ, Kirner K, Chapman CA, Goldman A (2012) Patterns and perceptions of climate change in a biodiversity conservation hotspot. PLoS One 7:e32408

Helsel DR, Hirsch RM (2002) Statistical methods in water resources. In Hydrologic analysis and interpretation. U.S. Geological Survey, Washington, pp 1–510

Herrmann SM, Mohr KI (2011) A continental-scale classification of rainfall seasonality regimes in Africa based on gridded precipitation and land surface temperature products. J Appl Meteorol Climatol 50:2504–2513

Hoerling M, Hurrell J, Eischeid J, Phillips A (2006) Detection and attribution of twentieth-century northern and southern African rainfall change. J Clim 19:3989–4008

Jackson B, Nicholson SE, Klotter D (2009) Mesoscale convective systems over western equatorial Africa and their relationship to large-scale circulation. Mon Weather Rev 137:1272–1294

Kawase H. Takemura T. Nozawa T (2011) Impact of carbonaceous aerosols on precipitation in tropical Africa during the austral summer in the twentieth century. J Geophys Res 116:D18116

Kizza M, Rodhe A, Xu C-Y, Ntale HK, Halldin S (2009) Temporal rainfall variability in the Lake Victoria Basin in East Africa during the twentieth century. Theor Appl Climatol 98:119–135

Knight JR, Allan RJ, Folland CK, Vellinga M, Mann ME (2005) A signature of persistent natural thermohaline circulation cycles in observed climate. Geophys Res Lett 32, L20708

Knight JR, Folland CK, Scaife AA (2006) Climate impacts of the Atlantic Multidecadal Oscillation. Geophys Res Lett 33, L17706

Liebmann B, Bladé I, Kiladis GN, Leila MVC, Senay GB, Allured D, Leroux S, Funk C (2012) Seasonality of African precipitation from 1996 to 2009. J Clim 25:4304–4322

Mohino E, Janicot S, Bader J (2011) Sahel rainfall and decadal to multi-decadal sea surface temperature variability. Clim Dyn 37:419–440

Nicholson SE, Grist JP (2003) The seasonal evolution of the atmospheric circulation over West Africa and Equatorial Africa. J Clim 16:1013–1030

Nicholson SE, Kim J (1997) The relationship of the El Niño-Southern Oscillation to African rainfall. Int J Clim 17:117–135

Nober FJ, Graf H-F, Rosenfeld D (2003) Sensitivity of the global circulation to the suppression of precipitation by anthropogenic aerosols. Glob Planet Change 37:57–80

Novella NS, Thiaw WM (2013) African rainfall climatology version 2 for famine early warning systems. J Appl Meteorol Climatol 52:588–606

Paeth H, Fichter J (2006) Greenhouse-gas versus aerosol forcing and African climate response. Clim Dyn 26:35–54

Plumptre AJ, Davenport TRB, Behangana M, Kityo R, Eilu G, Ssegawa P, Ewango C, Meirte D, Kahindo C, Herremans M, Peterhans JK, Pilgrim JD, Wilson M, Languy M, Moyer D (2007) The biodiversity of the Albertine Rift. Biol Conserv 134:178–194

Population Reference Bureau (2013) World population data sheet. http://www.prb.org/Publications/Datasheets/2013/2013-world-population-data-sheet/data-sheet.aspx

Roberts G, Wooster MJ, Lagoudakis E (2009) Annual and diurnal African biomass burning temporal dynamics. Biogeosciences 6:849–866

Rosenfeld D, Lohmann U, Raga GB, O'Dowd CD, Kulmala M, Fuzzi S, Reissell A, Andreae MO (2008) Flood or drought: how do aerosols affect precipitation? Science 321:1309–1313

Saji NH, Goswami BN, Vinayachandran PN, Yamagata T (1999) A dipole mode in the tropical Indian Ocean. Nature 401:360–363

Shongwe ME, van Oldenborgh GJ, van den Hurk B, van Aalst M (2011) Projected changes in mean and extreme precipitation in Africa under global warming Part II: East Africa. J Clim 24:3718–3733

Stier P, Feichter J, Kinne S, Kloster S, Vignati E, Wilson J, Ganzeveld L, Tegen I, Werner M, Balkanski Y, Schulz M, Boucher O, Minikin A, Petzold A (2005) The aerosol-climate model ECHAM5-HAM. Atmos Chem Phys 5:1125–1156

Ting M, Kushnir Y, Seager R, Li C (2011) Robust features of Atlantic multi‐decadal variability and its climate impacts. Geophys Res Lett 38, L17705

Todd MC, Washington R (2004) Climate variability in central equatorial Africa: influence from the Atlantic sector. Geophys Res Lett 31, L23202

Tosca MG, Randerson JT, Zender CS (2013) Global impact of smoke aerosols from landscape fires on climate and the Hadley circulation. Atmos Chem Phys 13:5227–5241

Trenberth KE (1997) The definition of El Niño. Bull Am Meteorol Soc 78:2771–2777

Trenberth KE, Jones PD et al (2007) Observations: surface and atmospheric climate change. In: Solomon S et al (eds) Climate change 2007: the physical science basis. Cambridge University Press, Cambridge, pp 235–336

Vecchi GA, Soden BJ (2007) Global warming and the weakening of the tropical circulation. J Clim 20:4316–4340

Washington R, James R, Pearce H, Pokam WM, Moufouma-Okia W (2013) Congo Basin rainfall climatology: can we believe the climate models? Phil Trans R Soc B 368:20120296

Williams AP, Funk C (2011) A westward extension of the warm pool leads to a westward extension of the Walker circulation, drying eastern Africa. Clim Dyn 37:2417–2435

Zhang R, Delworth TL (2006) Impact of Atlantic multidecadal oscillations on India/Sahel rainfall and Atlantic hurricanes. Geophys Res Lett 33, L17712
Acknowledgments
This research was supported by a National Science Foundation Coupled Natural-Human Systems Exploratory grant (NSF-EX: 1114977). We are grateful to the three anonymous reviewers for their comments that greatly improved the article.
About this article
Cite this article
Diem, J.E., Ryan, S.J., Hartter, J. et al. Satellite-based rainfall data reveal a recent drying trend in central equatorial Africa. Climatic Change 126, 263–272 (2014). https://doi.org/10.1007/s10584-014-1217-x
Received:

Accepted:

Published:

Issue Date:

DOI: https://doi.org/10.1007/s10584-014-1217-x
Keywords