Abstract
Previous research has identified public perceptions of the scientific consensus on climate change as an important gateway belief. Yet, little research to date has examined how to effectively communicate the scientific consensus on climate change. In this study, we conducted an online experiment using a national quota sample to compare three approaches to communicating the scientific consensus, namely: (a) descriptive text, (b) a pie chart and (c) metaphorical representations. Results indicate that while all three approaches can significantly increase public understanding of the degree of scientific consensus, the pie chart and simple text have superior recall and are most effective across political party lines. We conclude that the scientific consensus on climate change is most effectively communicated as a short, simple message that is easy to comprehend and remember. Representing the consensus visually in the form of a pie chart appears to be particularly useful.
Access options
Buy single article
Instant access to the full article PDF.
USD 39.95
Price includes VAT (USA)
Tax calculation will be finalised during checkout.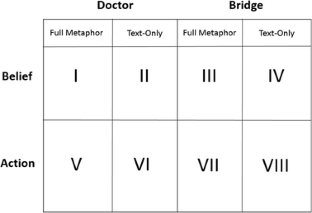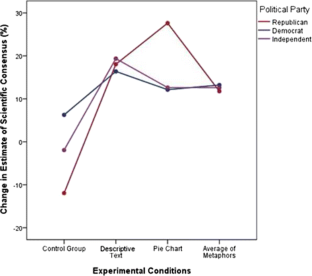 References
Aklin M, Urpelainen J (2014) Perceptions of scientific dissent undermine public support for environmental policy. Environ Sci & Policy 38:173–177

Anderegg WRL, Prall JW, Harold J, Schneider SH (2010) Expert credibility in climate change. Proc Natl Acad Sci U S A 107:12107–1209

Bolsen T, Leeper TJ, Shapiro MA (2013) Doing what others Do: norms, science, and collective action on global warming. Am Polit Res 42:65–89

Bonate P (2000) Analysis of Pretest-Posttest Designs. Chapman & Hall/CRC.

Consensus Project (2013) http://theconsensusproject.com/. Accessed 10 January 2014

Cook J et al (2013) Quantifying the consensus on anthropogenic global warming in the scientific literature. Environ Res Lett 8:024024

Ding D, Maibach EW, Zhao X, Roser-Renouf C, Leiserowitz A (2011) Support for climate policy and societal action are linked to perceptions about scientific agreement. Nature Clim Chang 1:462–465

Doran PT, Zimmerman MK (2009) Examining the scientific consensus on climate change. EOS Trans Am Geophys Union 90:21–22

Guy S, Kashima Y, Walker I, O'Neill S (2013) Comparing the atmosphere to a bathtub: effectiveness of analogy for reasoning about accumulation. Clim Chang 121:579–594

Hollands JG, Spence I (1999) Judging proportions with graphs: the summation model. Appl Cogn Psychol 12:173–190

IPCC (2013) Climate change 2013: the physical science basis. Contribution of working group I to the fifth assessment report of the intergovernmental panel on climate change. Cambridge University Press, Cambridge

Kahan DM, Jenkins‐Smith H, Braman D (2011) Cultural cognition of scientific consensus. J Risk Res 14:147–174

Kahan DM, Peters E, Wittlin M, Slovic P, Ouellette LL, Braman D, Mandel G (2012) The polarizing impact of science literacy and numeracy on perceived climate change risks. Nature Clim Chang 2:732–735

Lakoff G (1993) The contemporary theory of metaphor. In: Ortony A (ed) Metaphor and thought, 2nd edn. Cambridge University Press, Cambridge, pp 203–251

Lakoff G, Johnson M (1980) Metaphors We live by. University of Chicago Press, Chicago

Leiserowitz A, Maibach E, Roser-Renouf C, Feinberg G, Rosenthal S, Marlon J (2014) Climate Change in the American Mind: American's Global Warming Beliefs and Attitudes in November 2013. Yale Project on Climate Change Communication, New Haven, CT. http://environment.yale.edu/climate-communication/files/Climate-Beliefs-November-2013.pdf

Lewandowsky S, Gignac GE, Vaughan S (2013) The pivotal role of perceived scientific consensus in acceptance of science. Nature Clim Chang 3:399–404

Lipkus IM, Hollands JG (1999) The visual communication of risk. J Natl Cancer Inst Monogr 25:149–163

McCright AM, Dunlap RE, Chenyang X (2013) Perceived scientific agreement and support for government action on climate change in the USA. Clim Chang 119:511–518

Mio J (1997) Metaphor and politics. Met Symb 12:113–133

Moser SC, Dilling L (2011) Communicating climate change: closing the science-action gap. In: Dryzek JS, Norgaard RB, Schlosberg D (eds) The oxford handbook of climate change and society. Oxford University Press, Oxford, pp 161–174

National Research Council (2011) America's climate choices. The National Academies Press, Washington, DC

Oreskes N (2004) Beyond the ivory tower: the scientific consensus on climate change. Science 306:1686

Podsakoff PM, MacKenzie SB, Lee Y-J, Podsakoff NP (2003) Common method biases in behavioral research: a critical review of the literature and recommended remedies. J Appl Psychol 8:879–903

Russill C (2011) Temporal metaphor in abrupt climate change communication: an initial effort at clarification. In: Filho WL (ed) The economic, social and political elements of climate change. Climate Change Management. Springer, Heidelberg, pp 113–132

Sopory P, Price-Dillard J (2002) The persuasive effects of metaphor: a meta-analysis. Human Commun Res 28:382–419

Spence I, Lewandowsky S (1999) Displaying proportions and percentages. Appl Cogn Psychol 5:61–77

Sturgis P, Allum N (2004) Science in society: re-evaluating the deficit model of public attitudes. Public Underst Sci 13:55–74

Tverksy B (2001) Spatial schemas in depiction. In: Gattis M (ed) Spatial schemas and abstract thought. MIT Press, Cambridge, pp 79–111

World Public Opinion Poll (2009) Public attitudes toward climate change: Findings from a multi-country poll. http://www.worldpublicopinion.org/pipa/pdf/dec09
Acknowledgments
This research was funded by the American Association for the Advancement of Science (AAAS) and the Rockefeller Family Fund (RFF) as well as by Lawrence Linden, Robert Litterman and Henry Paulson.
Author contributions
All authors contributed to the conceptualization of the study and research questions. S.L.V., A.A.L., and G.D.F. designed and conducted the survey. S.L.V performed the data analysis and wrote the first draft of the manuscript. A.A.L., G.D.F., and E.W.M wrote, commented on and revised parts of the manuscript.
Competing financial interests
The authors declare no competing financial interests.
Electronic supplementary material
Below is the link to the electronic supplementary material.
About this article
Cite this article
van der Linden, S.L., Leiserowitz, A.A., Feinberg, G.D. et al. How to communicate the scientific consensus on climate change: plain facts, pie charts or metaphors?. Climatic Change 126, 255–262 (2014). https://doi.org/10.1007/s10584-014-1190-4
Received:

Accepted:

Published:

Issue Date:
Keywords
Metaphor

Descriptive Text

Climate Scientist

Scientific Consensus

Public Opinion Poll