Abstract
We analyse the observed climate-driven changes in summer wildfires and their future evolution in a typical Mediterranean environment (NE Spain). By analysing observed climate and fire data from 1970 to 2007, we estimate the response of fire number (NF) and burned area (BA) to climate trends, disentangling the drivers responsible for long-term and interannual changes by means of a parsimonious Multi Linear Regression model (MLR). In the last forty years, the observed NF trend was negative. Here we show that, if improvements in fire management were not taken into account, the warming climate forcing alone would have led to a positive trend in NF. On the other hand, for BA, higher fuel flammability is counterbalanced by the indirect climate effects on fuel structure (i.e. less favourable conditions for fine-fuel availability and fuel connectivity), leading to a slightly negative trend. Driving the fire model with A1B climate change scenarios based on a set of Regional Climate Models from the ENSEMBLES project indicates that increasing temperatures promote a positive trend in NF if no further improvements in fire management are introduced.
Access options
Buy single article
Instant access to the full article PDF.
USD 39.95
Price includes VAT (USA)
Tax calculation will be finalised during checkout.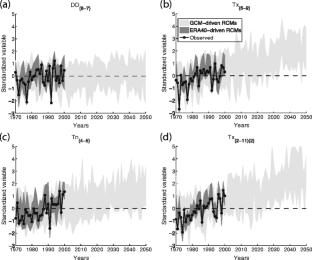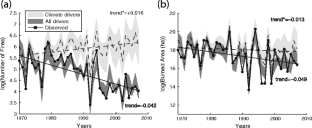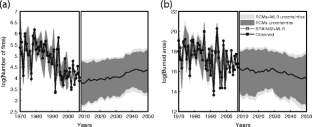 References
Amatulli G, Camia A, San-Miguel-Ayanz J (2013) Estimating future burned areas under changing climate in the EU-Mediterranean countries. Sci Total Environ 450–451(0):209–222

Batllori E, Parisien MA, Krawchuk MA, Moritz MA (2013) Climate change-induced shifts in fire for Mediterranean ecosystems. Glob Ecol Biogeogr 22(10):1118–1129

Bedia J, Herrera S, Martín D, Koutsias N, Gutiérrez J (2013) Robust projections of Fire Weather Index in the Mediterranean using statistical downscaling. Clim Chang 120(1–2):229–247

Bedia J, Herrera S, Gutiérrez JM (2014a) Assessing the predictability of fire occurrence and area burned across phytoclimatic regions in Spain. Nat Hazards Earth Syst Sci 14(1):53–66

Bedia J, Herrera S, Camia A, Moreno JM, Gutiérrez JM (2014b) Forest fire danger projections in the Mediterranean using ENSEMBLES regional climate change scenarios. Clim Chang 122(1–2):185–199

Bradstock R, Penman T, Boer M, Price O, Clarke H (2014) Divergent responses of fire to recent warming and drying across south-eastern Australia. Glob Chang Biol. doi:10.1111/gcb.12449

Ganteaume A, Camia A, Jappiot M, San-Miguel-Ayanz J, Long-Fournel M, Lampin C (2013) A review of the main driving factors of forest fire ignition over Europe. Environ Manag 51(3):651–62

Giorgi F (2006) Climate change hot–spots. Geophys Res Lett 33(8):1–4

Herrera S, Fita L, Fernández J, Gutiérrez JM (2010) Evaluation of the mean and extreme precipitation regimes from the ENSEMBLES regional climate multimodel simulations over Spain. J Geophys Res 115:1–13

Herrera S, Gutiérrez JM, Ancell R, Pons MR, MD Frías, Fernández J (2012) Development and analysis of a 50-year high-resolution daily gridded precipitation dataset over Spain (Spain02). Int J Climatol 32(1):74–85

Hessl AE (2011) Pathways for climate change effects on fire: Models, data, and uncertainties. Prog Phys Geogr 35(3):393–407

Koutsias N, Xanthopoulos G, Founda D, Xystrakis F, Nioti F, Pleniou M, Mallinis G, Arianoutsou M (2012) On the relationships between forest fires and weather conditions in Greece from long-term national observations (1894–2010). Int J Wildland Fire 22:493–507

Krawchuk MA, Moritz MA, Parisien MA, Van Dorn J, Hayhoe K (2009) Global pyrogeography: the current and future distribution of wildfire. PLoS ONE 4 (4)

van der Linden P (2009). In: Mitchell J (ed) ENSEMBLES: Climate Change and its Impacts: Summary of research and results from the ENSEMBLES project. Met Office Hadley Centre, FitzRoy Road, Exeter EX1 3PB, UK

Llasat MC (2009) High magnitude storms and floods. In: Woodward J (ed), Oxford University Press, pp 513–540

Lobell DB, Cahill KN, Field CB (2007) Historical effects of temperature and precipitation on California crop yields. Clim Chang 81(2):187–203

Lobell DB, Schlenker W, Costa-Roberts J (2011) Climate trends and global crop production since 1980. Science 333(6042):616–620

Migliavacca M, Dosio A, Camia A, Hobourg R, Houston-Durrant T, Kaiser JW, Khabarov N, Krasovskii AA, Marcolla B, San Miguel-Ayanz J, Ward DS, Cescatti A (2013) Modeling biomass burning and related carbon emissions during the 21st century in Europe. J Geophys Res Atmos: Biogeosci 118(4):1732–1747

Moreira F, Viedma O, Arianoutsou M, Curt T, Koutsias N, Rigolot E, Barbati A, Corona P, Vaz P, Xanthopoulos G, Mouillot F, Bilgili E (2011) Landscape wildfire interactions in southern Europe: implications for landscape management. J Environ Manag 92(10):2389–2402

Moreno MV, Conedera M, Chuvieco E, Pezzatti GB (2014) Fire regime changes and major driving forces in Spain from 1968 to 2010. Environ Sci Policy 37(0):11–22

Moritz MA, Parisien MA, Batllori E, Krawchuk MA, Van Dorn J, Ganz D J, Hayhoe K (2012) Climate change and disruptions to global fire activity. Ecosphere 3(6):1–22

Pausas JG (2004) Changes in fire and climate in the Eastern Iberian Peninsula (Mediterranean Basin). Clim Chang 63(3):337–350

Pausas JG, Ribeiro E (2013) The global fire productivity relationship. Glob Ecol Biogeogr 22(6):728–736

Pereira M, Trigo R, Dacamara C, Pereira J, Leite S (2005) Synoptic patterns associated with large summer forest fires in Portugal. Agric For Meteorol 129(1–2):11–25

San-Miguel-Ayanz J, Moreno JM, Camia A (2013) Analysis of large fires in European Mediterranean landscapes: lessons learned and perspectives. For Ecol Manag 294:11–22

Turco M, Llasat MC (2011) Trends in indices of daily precipitation extremes in Catalonia (NE Spain), 1951–2003. Nat Hazards Earth Syst Sci 11(12):3213–3226

Turco M, Marcos R, Quintana-Seguí P, Llasat MC (2012) Testing instrumental and downscaled reanalysis time series for temperature trends in NE of Spain in the last century. Reg Environ Chang: 1–13

Turco M, Llasat MC, von Hardenberg J, Provenzale A (2013a) Impact of climate variability on summer fires in a Mediterranean environment (northeastern Iberian Peninsula). Clim Chang 116:665–678

Turco M, Llasat MC, Tudela A, Castro X, Provenzale A (2013b) Brief communication Decreasing fires in a Mediterranean region (1970–2010, NE Spain). Nat Hazards Earth Syst Sci 13(3):649–652

Turco M, Sanna A, Herrera S, Llasat MC, Gutiérrez JM (2013c) Large biases and inconsistent climate change signals in ENSEMBLES regional projections. Clim Chang 120(4):859–869

Westerling A, Bryant B (2008) Climate change and wildfire in California. Clim Chang 87(1):231–249

WMO (2009) Guidelines on analysis of extremes in a changing climate in support of informed decisions for adaptation. Tech. Rep. WCDMP No. 72 ÂWMO/TD-No. 1500, WMO
Acknowledgements
The authors thank AEMET and UC for the data provided for this work (Spain02 gridded precipitation data set) and the Forest Fire Prevention Service of "Generalitat de Catalunya" (SPIF) for the fire data. For the RCM data used in this study, we acknowledge the ENSEMBLES project, funded by the European Commission's 6th Framework Programme through contract GOCE-CT-2003-505539. Special thanks to Xavier Castro, Antoni Tudela and Esteve Canyameras from SPIF for the helpful discussions on the matter. This work was partially supported by the esTcena (Exp. 200800050084078) Spanish project, from Plan Nacional de I+D+i 2008–2011 and by the Italian project of Interest "NextData" of the Italian Ministry for Education, University and Research.
About this article
Cite this article
Turco, M., Llasat, MC., von Hardenberg, J. et al. Climate change impacts on wildfires in a Mediterranean environment. Climatic Change 125, 369–380 (2014). https://doi.org/10.1007/s10584-014-1183-3
Received:

Accepted:

Published:

Issue Date:
Keywords
Climate change

Regional impact scenarios

Forest fires

Mediterranean ecosystems