Abstract
Inter-annual variability and trends of annual/seasonal precipitation totals in Ghana are analyzed considering different gridded observational (gauge- and/or satellite-based) and reanalysis products. A quality-controlled dataset formed by fourteen gauges from the Ghana Meteorological Agency (GMet) is used as reference for the period 1961–2010. Firstly, a good agreement is found between GMet and all the observational products in terms of variability, with better results for the gauge-based products—correlations in the range of 0.7–1.0 and nearly null biases—than for the satellite-gauge merged and satellite-derived products. In contrast, reanalyses exhibit a very poor performance, with correlations below 0.4 and large biases in most of the cases. Secondly, a Mann-Kendall trend analysis is carried out. In most cases, GMet data reveal the existence of predominant decreasing (increasing) trends for the first (second) half of the period of study, 1961–1985 (1986–2010). Again, observational products are shown to reproduce well the observed trends—with worst results for purely satellite-derived data—whereas reanalyses lead in general to unrealistic stronger than observed trends, with contradictory results (opposite signs for different reanalyses) in some cases. Similar inconsistencies are also found when analyzing trends of extreme precipitation indicators. Therefore, this study provides a warning concerning the use of reanalysis data as pseudo-observations in Ghana.
This is a preview of subscription content, log in to check access.
Access options
Buy single article
Instant access to the full article PDF.
US$ 39.95
Price includes VAT for USA
Subscribe to journal
Immediate online access to all issues from 2019. Subscription will auto renew annually.
US$ 199
This is the net price. Taxes to be calculated in checkout.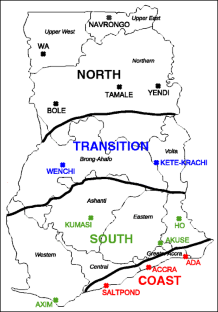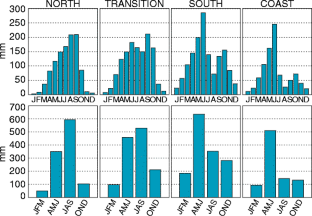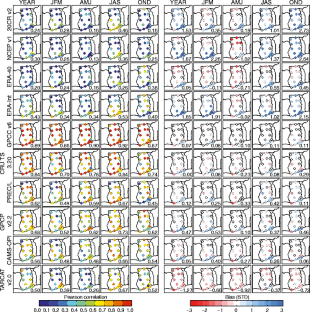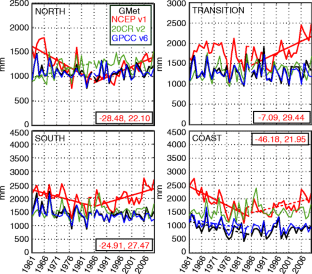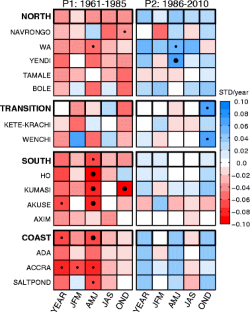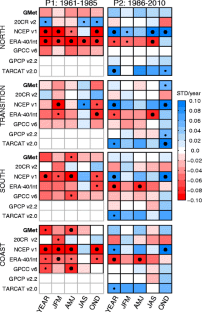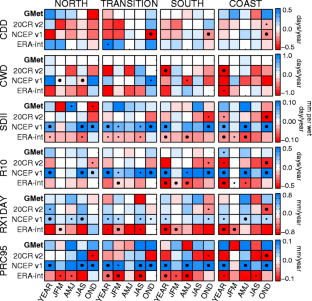 References
Acheampong PK (1982) Rainfall anomaly along the coast of Ghana: its nature and causes. Phys Geogr 64(3-4):199–211

Becker A, Finger P, Meyer-Christoffer A, Rudolf B, Schamm K, Schneider U, Ziese M (2013) A description of the global land-surface precipitation data products of the Global Precipitation Climatology Centre with sample applications including centennial (trend) analysis from 1901–present. Earth Syst Sci Data 5(1):71–99

Burn DH, Hag Elnur MA (2002) Detection of hydrologic trends and variability. J Hydrol 255(14):107–122

Chen M, Xie P, Janowiak JE, Arkin PA (2002) Global land precipitation: A 50-yr monthly analysis based on Gauge Observations. J Hydrometeorol 03(03):249–266

Compo GP, Whitaker JS, Sardeshmukh PD, Matsui N, Allan RJ, Yin X, Gleason BE, Vose RS, Rutledge G, Bessemoulin P, Brönnimann S, Brunet M, Crouthamel RI, Grant AN, Groisman PY, Jones PD, Kruk MC, Kruger AC, Marshall GJ, Maugeri M, Mok HY, Nordli O, Ross TF, Trigo RM, Wang XL, Woodruff SD, Worley SJ (2011) The twentieth century reanalysis project. Q J R Meteorol Soc 137(654):1–28

Cooper PJM, Dimes J, Rao KPC, Shapiro B, Shiferaw B, Twomlow S (2008) Coping better with current climatic variability in the rain-fedfarming systems of sub-Saharan Africa: an essential first step in adapting to future climate change?Agric Ecosyst Environ 126:24–35

Dee DP, Uppala SM, Simmons AJ, Berrisford P, Poli P, Kobayashi S, Andrae U, Balmaseda MA, Balsamo G, Bauer P, Bechtold P, Beljaars ACM, van de Berg L, Bidlot J, Bormann N, Delsol C, Dragani R, Fuentes M, Geer AJ, Haimberger L, Healy SB, Hersbach H, Hlm EV, Isaksen L, Kllberg P, Khler M, Matricardi M, McNally AP, Monge-Sanz BM, Morcrette JJ, Park BK, Peubey C, de Rosnay P, Tavolato C, Thpaut JN, Vitart F (2011) The ERA-Interim reanalysis: configuration and performance of the data assimilation system. Q J R Meteorol Soc 137(656):553–597

Djomou ZY, Monkam D, Lenouo A (2009) Spatial variability of rainfall regions in West Africa during the 20th century. Atmos Sci Lett 10(1):9–13

Harris I, Jones PD, Osborn TJ, Lister DH (2013) Updated high-resolution grids of monthly climatic observations the CRU TS3.10 Dataset. Int J Climatol

Haylock MR, Peterson TC, Alves LM, Ambrizzi T, Anunciao YMT, Baez J, Barros VR, Berlato M A, Bidegain M, Coronel G, Corradi V, García V J, Grimm AM, Karoly D, Marengo JA, Marino MB, Moncunill DF, Nechet D, Quintana J, Rebello E, Rusticucci M, Santos JL, Trebejo I, Vincent LA (2006) Trends in total and extreme south american rainfall in 1960–2000 and links with sea surface temperature. J Clim 19(8):1490–1512

Huffman GJ, Adler RF, Chang A, Ferraro R, Gruber A, McNab A, Rudolf B, Schneider U (1997) The Global Precipitation Climatology Project (GPCP) Combined precipitation dataset. Bull Am Meteorol Soc 78(1):5–20

Janowiak JE (1999) CAMS-OPI: a global satellite-rain gauge merged product for real-time precipitation monitoring applications. J Clim 12(11):3335–3342

Jury MR (2013) A return to wet conditions over Africa: 1995–2010. Theor Appl Climatol 111(3-4):471–481

Kalnay E, Kanamitsu M, Kistler R, Collins W, Deaven D, Gandin L, Iredell M, Saha S, White G, Woollen J, Zhu Y, Leetmaa A, Reynolds R, Chelliah M, Ebisuzaki W, Higgins W, Janowiak J, Mo KC, Ropelewski C, Wang J, Jenne R, Joseph D (1996) The NCEP/NCAR 40-year reanalysis project. Bull Am Meteorol Soc 77(3):437–470

Kunstmann H, Jung G (2005) Impact of regional climate change on water availability in the Volta basin of West Africa. In: Regional hydrological impact of climate variability and change, vol 295. IAHS Scientific Assembly, IAHS, 7, pp 1–11

Lacombe G, McCartney M, Forkuor G (2012) Drying climate in Ghana over the period 1960-2005: evidence from the resampling-based Mann-Kendall test at local and regional levels. Hydrol Sci J 57(8):1594–1609

Maidment R, Grimes D, Tarnavsky E, Allan R, Stringer M, Hewison T, Roebelling R (2013) Development of the 30-year TAMSAT african rainfall time series and climatology (TARCAT) dataset Part II: constructing a temporally homogeneous rainfall dataset. Submitted to J Appl Meteorol Climatol and Climatology(8 May 2013)

Nicholson SE, Some B, Kone B (2000) An analysis of recent rainfall conditions in West Africa, including the rainy seasons of the 1997 el Niño and the 1998 la Niña years. J Clim 13(14):2628–2640

Novella NS, Thiaw W M (2013) African rainfall climatology version 2 for famine early warning systems. J Appl Meteorol Climatol 52(03):588–606

Obot NI, Chendo MAC, Udo SO, Ewona IO (2010) Evaluation of rainfall trends in Nigeria for 30 years (1978-2007). Int J Phys Sci 5(14):2217–2222

Ofori-Sarpong E (2001) Impact of climate change on agriculture and farmers coping strategies in the upper East region of Ghana. West Afr J Appl Ecol 2

Owusu K, Waylen PR (2009) Trends in spatio-temporal variability in annual rainfall in Ghana (1951-2000). Weather 64(5):115–120

Owusu K, Waylen PR (2013) The changing rainy season climatology of mid-Ghana. Theor Appl Climatol 112(3-4):419–430

Paeth H, Born K, Podzun R, Jacob D (2005) Regional dynamical downscaling over West Africa: model evaluation and comparison of wet and dry years. Meteorol Z 14(3):349–367

Partal T, Kahya E (2006) Trend analysis in Turkish precipitation data. Hydrol Process 20(9):2011–2026

Sillman J, Roeckner R (2008) Indices for extreme events in projections of anthropogenic climate change. Clim Chang 86:83–104

Sultan B, Janicot S (2003) The West African Monsoon dynamics. Part II: preonset and onset of the summer monsoon. J Clim 16(21):3407–3427

Tarnavsky E, Grimes D, Maidment R, Stringer M, Chadwick R, Allan R (2013) Development of the 30-year TAMSAT african rainfall time series and climatology (TARCAT) dataset Part I: improved calibration and operational validation. Submitted to J Appl Meteorol Climatol (8 May 2013)

Uppala SM, Kllberg PW, Simmons AJ, Andrae U, Bechtold VDC, Fiorino M, Gibson JK, Haseler J, Hernandez A, Kelly GA, Li X, Onogi K, Saarinen S, Sokka N, Allan RP, Andersson E, Arpe K, Balmaseda MA, Beljaars ACM, Berg LVD, Bidlot J, Bormann N, Caires S, Chevallier F, Dethof A, Dragosavac M, Fisher M, Fuentes M, Hagemann S, Hlm E, Hoskins BJ, Isaksen L, Janssen PAEM, Jenne R, Mcnally AP, Mahfouf JF, Morcrette JJ, Rayner NA, Saunders RW, Simon P, Sterl A, Trenberth KE, Untch A, Vasiljevic D, Viterbo P, Woollen J (2005) The ERA-40 re-analysis. Q J R Meteorol Soc 131(612):2961–3012

van Belle G, Hughes JP (1984) Nonparametric Tests for Trend in Water Quality. Water Resour Res 20(1):127–136

Wang B, Ding Q, Jhun JG (2006) Trends in Seoul (1778–2004) summer precipitation. Geophys Res Lett 33(15)

Wilks DS (2011) Chapter 3 - empirical distributions and exploratory data analysis. In: Statistical methods in the atmospheric sciences, international geophysics, vol 100. Academic, pp 23–70

Xie P, Arkin PA (1997) Global precipitation: a 17-year monthly analysis based on gauge observations, satellite estimates, and numerical model outputs. Bull Am Meteorol Soc 78(11):2539–2558

Zhang X, Harvey KD, Hogg WD, Yuzyk TR (2001) Trends in Canadian streamflow. Water Resour Res 37(4):987–998
Acknowledgements
This study was supported by the EU project QWeCI (Quantifying Weather and Climate Impacts on health in developing countries), funded by the European Commission Seventh Framework Research Programme under the grant agreement 243964. Additionally, the authors are very thankful to GMet (especially to Mr. Charles Yorke) for providing the gauge data. L. K. Amekudzi is also grateful to the Abdus Salam International Centre for Theoretical Physics (ICTP) for granting a sixty-six days research fellow visit including the use of its facilities. Finally, the authors want to thank the three anonymous reviewers for their detailed comments which have greatly helped to improve the manuscript.
About this article
Cite this article
Manzanas, R., Amekudzi, L.K., Preko, K. et al. Precipitation variability and trends in Ghana: An intercomparison of observational and reanalysis products. Climatic Change 124, 805–819 (2014). https://doi.org/10.1007/s10584-014-1100-9
Received:

Accepted:

Published:

Issue Date:
Keywords
Rainfall Regime

Reanalysis Product

Gridded Product

Observational Product

Rain Gauge Observation