Abstract
One of the reasons for deadlock in global climate policy is countries' disagreement on how to share the mitigation burden. Normative theory suggests various fairness criteria for structuring burden sharing, most prominently, historical responsibility for emissions, economic capacity, and vulnerability to climate change. Governments have taken up these criteria in their rhetoric at UNFCCC negotiations. I examine whether normative criteria influence individual burden sharing preferences. This bottom-up perspective is important for two reasons. First, it is unknown if governments' fairness rhetoric matches citizens' actual preferences. Second, international climate agreements directly affect individuals through domestic policy measures (e.g. energy taxes), and therefore require domestic public support for successful implementation. I conducted two laboratory experiments where participants have to agree on how to share climate change mitigation costs in an ultimatum game. Treatment conditions include differences between proposer and responder in capacity, vulnerability (experiment 1), and historical emissions (experiment 2). Historical emissions are endogenously determined in a prior game. Capacity inequality strongly affects burden sharing, with richer players ending up paying more, and poorer players less. Vulnerability differences reduce the influence of fairness, leading to suggested cost distributions more unfavorable to vulnerable players. However, vulnerable responders still reject many "unfair" offers. Differences in historical responsibility result in cost distributions strongly correlated with players' relative contributions to climate change. The results suggest that more nuanced consideration of fairness criteria in burden sharing could make ambitious climate agreements more acceptable for reluctant countries and their citizens.
Access options
Buy single article
Instant access to the full article PDF.
US$ 39.95
Tax calculation will be finalised during checkout.
Subscribe to journal
Immediate online access to all issues from 2019. Subscription will auto renew annually.
US$ 119
Tax calculation will be finalised during checkout.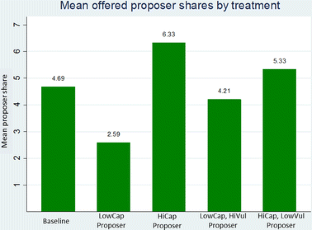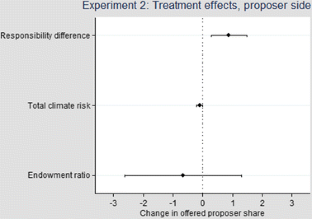 Notes
1.

This is a variation of the ultimatum game. In its simplest form the proposer suggests how to split an amount of money between him and the responder. If the responder accepts, money is paid out accordingly, if she rejects, none of them receive any money.

2.

Public goods games are often used for studying diverse aspects of global climate governance in the lab (Milinski et al. 2008; Sturm and Weimann 2006). However, I consider the ultimatum game setting more useful in my case, as offers and acceptance/rejection in a one-shot game should more directly reflect basic underlying preferences.

3.

In the existing treatment conditions, this strategy always implies a higher expected payoff for the proposer than if he makes an offer the responder should rationally reject.

4.

Controlling for participant characteristics and preferences (measured in the post-experiment questionnaire) could increase estimates' efficiency, as those variables might influence the offer. Omitting them does however not bias the estimates, since all independent variables depend on choices of both proposer and responder and are therefore unlikely to correlate with personal characteristics of the proposer.
References
Adger N, Nicholson-Cole S (2011) Ethical dimensions of adapting to climate change-imposed risks. In: Arnold D (ed) The ethics of global climate change. Cambridge University Press, Cambridge, pp 255–272

Adger N, Paavola J, Huq S, Mace MJ (2006) Fairness in adaptation to climate change. MIT Press, Cambridge

Arnold D (2011) The ethics of global climate change. Cambridge University Press, Cambridge

Baer P (2013) The greenhouse development rights framework for global burden sharing: reflection on principles and prospects. Wiley Interdiscip Rev Clim Chang 4(1):61–71

Baer P, Harte J, Haya B, Herzog AV, Holdren J, Hultman NE, Kammen DM, Norgaard RB, Raymond L (2000) Equity and greenhouse gas responsibility. Science 289(5488):2287

Baer P, Athanasiou T, Kartha S, Kemp-Benedict E (2009) The greenhouse development rights framework. Heinrich Böll Foundation, Christian Aid, EcoEquity and the Stockholm Environment Institute, Berlin

Barrett S (2013) Climate treaties and approaching catastrophes. J Environ Econ Manag 66(2):235–250

Barrett S, Dannenberg A (2012) Climate negotiations under scientific uncertainty. Proc Natl Acad Sci U S A 109(43):17372–17376

Brekke KA, Konow J, Nyborg K (2012) Cooperation is relative: framing and endowment effects on public goods. Working Paper, University of Oslo

Caney S (2005) Cosmopolitan justice, responsibility, and global climate change. Leiden J Int'l Law 18(4):747–775

Caney S (2010) Climate change and the duties of the advantaged. Crit Rev Int Soc Polit Philos 13(1):203–228

Cappelen AW, Soerensen E, Tungodden B (2010) Responsibility for what? Fairness and individual responsibility. Eur Econ Rev 54(3):429–441

Cappelen AW, Moene KO, Soerensen E, Tungodden B (2013) Needs versus entitlements - an international fairness experiment. J Eur Econ Assoc 11(3):574–598

Carlson JC (2009) Reflections on a problem of climate justice: climate change and the rights of states in a minimalist international legal order. Transl Law Contemp Probl 18:45–67

Elzen M, Lucas P (2005) The FAIR model: a tool to analyse environmental and costs implications of regimes of future commitments. Environ Model Assess 10(2):115–134

Fuessler J, Herren M, Guyer M, Rogelj J, Knutti R (2012) Emission pathways to reach 2° target. Model results and analysis. Infras and ETH Zurich, Zurich

Füssel H-M (2010) How inequitable is the global distribution of responsibility, capability, and vulnerability to climate change: a comprehensive indicator-based assessment. Global Environ Chang 20(4):597–611

Gardiner SM (2006) A perfect moral storm: climate change, intergenerational ethics and the problem of moral corruption. Environ Value 15(3):397–413

Gardiner SM (2010) Climate ethics–essential readings. Oxford University Press, New York

Gosseries A (2004) Historical emissions and free-riding. Ethical Perspect 11(1):36–60

Hayward T (2012) Climate change and ethics. Nat Clim Chang 2(12):843–848

Ikeme J (2003) Equity, environmental justice and sustainability: incomplete approaches in climate change politics. Global Environ Chang 13(3):195–206

International Institute for Sustainable Development (2012a) Earth negotiations bulletin. http://www.iisd.ca/climate/

International Institute for Sustainable Development (2012b) Earth negotiations bulletin–COP18. http://www.iisd.ca/climate/cop18/

Kallbekken S (2014) Observations from the climate negotiations: two major challenges and how to approach them. In: Hovi J, Cherry T, McEvoy D (eds) Toward a new climate agreement. Routledge, London

Klinsky S, Dowlatabadi H, McDaniels T (2012) Comparing public rationales for justice trade-offs in mitigation and adaptation climate policy dilemmas. Global Environ Chang 22(4):862–876

Konow J (2010) Mixed feelings: theories of and evidence on giving. J Public Econ 94(3–4):279–297

Lange A, Löschel A, Vogt C, Ziegler A (2010) On the self-interested use of equity in international climate negotiations. Eur Econ Rev 54(3):359–375

Messner D, Schellnhuber J, Rahmstorf S, Klingenfeld D (2010) The budget approach: a framework for a global transformation toward a low-carbon economy. J Renewable Sustainable Energy 2(3):1003–1014

Meyer LH, Roser D (2010) Climate justice and historical emissions. Crit Rev Int Soc Polit Philos 13(1):229–253

Milinski M, Sommerfeld RD, Krambeck H-J, Reed FA, Marotzke J (2008) The collective-risk social dilemma and the prevention of simulated dangerous climate change. Proc Natl Acad Sci U S A 105(7):2291–2294

Miller D (2008) National responsibility and global justice. Oxford University Press, Oxford

Moellendorf D (2009) Justice and the assignment of the intergenerational costs of climate change. J Soc Philos 40(2):204–224

Neumayer E (2000) In defence of historical accountability for greenhouse gas emissions. Ecol Econ 33(2):185–192

Oosterbeek H, Sloof R, van de Kuilen G (2004) Cultural differences in ultimatum game experiments: evidence from a meta-analysis. Exp Econ 7(2):171–188

Ostrom E, Dietz T, Dolsak N, Stern PC, Susan S, Weber EU (eds) (2002) The drama of the commons. National Academy Press, Washington, DC

Page EA (2008) Distributing the burdens of climate change. Environ Polit 17(4):556–575

Ringius L, Torvanger A, Underdal A (2002) Burden sharing and fairness principles in international climate policy. Int Environ Agreements P 2(1):1–22

Rockstrom J, Steffen W, Noone K, Persson A, Chapin FS, Lambin EF, Lenton TM, Scheffer M, Folke C, Schellnhuber HJ, Nykvist B, de Wit CA, Hughes T, van der Leeuw S, Rodhe H, Sorlin S, Snyder PK, Costanza R, Svedin U, Falkenmark M, Karlberg L, Corell RW, Fabry VJ, Hansen J, Walker B, Liverman D, Richardson K, Crutzen P, Foley JA (2009) A safe operating space for humanity. Nature 461(7263):472–475

Schneider SH (2004) Abrupt non-linear climate change, irreversibility and surprise. Global Environ Chang 14(3):245–258

Shue H (1999) Global environment and international inequality. Int Aff 75(3):531–545

Stalley P (2012) Principled strategy: the role of equity norms in china's climate change diplomacy. Global Environ Polit 13(1):1–8

Stevens C (1994) Interpreting the polluter pays principle in the trade and environment context. Cornell Int Law J 27(3):577–591

Stone RW (2009) Risk in international politics. Glob Environ Polit 9(3):40–60

Sturm B, Weimann J (2006) Experiments in environmental economics and some close relatives. J Econ Surv 20(3):419–457

Tavoni A, Dannenberg A, Kallis G, Löschel A (2011) Inequality, communication, and the avoidance of disastrous climate change in a public goods game. Proc Natl Acad Sci U S A 108(29):11825–11829

Tomz M, Wittenberg J, King G (2003) CLARIFY: software for interpreting and presenting statistical results. Stanford University, Stanford

Victor DG (2011) Global warming gridlock. Creating more effective strategies for protecting the planet. Cambridge University Press, Cambridge

Young OR (2014) Does fairness matter in international environmental governance? In: Hovi J, Cherry T, McEvoy D (eds) Toward a new climate agreement. Routledge, London
Acknowledgments
The research for this article was funded by the ERC Advanced Grant 'Sources of Legitimacy in Global Environmental Governance' (Grant: 295456). I wish to thank three anonymous reviewers, Thomas Bernauer, Jérémy Bouillet, Michel Bourban, Malcolm Fairbrother, Andreas Fischlin, Federica Genovese, Elisabeth Gsottbauer, Aya Kachi, Vally Koubi, Karine Nyborg, Christopher Weber, and Haibin Zhang for helpful comments on earlier versions of the paper. Brilé Anderson provided valuable research assistance, and Stefan Wehrli technical lab support.
Electronic supplementary material
Below is the link to the electronic supplementary material.
About this article
Cite this article
Gampfer, R. Do individuals care about fairness in burden sharing for climate change mitigation? Evidence from a lab experiment. Climatic Change 124, 65–77 (2014). https://doi.org/10.1007/s10584-014-1091-6
Received:

Accepted:

Published:

Issue Date:
Keywords
Ultimatum Game

Climate Risk

Historical Responsibility

Burden Sharing

Fairness Criterion