Abstract
Projected changes to the global climate system have great implications for the incidence of large infrequent fires in many regions. Here we examine the synoptic-scale and local-scale influences on the incidence of extreme fire weather days and consider projections of the large-scale mean climate to explore future fire weather projections. We focus on a case study region with periodic extreme fire dangers; southeast Tasmania, Australia. We compare the performance of a dynamically downscaled regional climate model with Global Climate Model outputs as a tool for examining the local-scale influences while accounting for high regional variability. Many of the worst fires in Tasmania and the southeast Australian region are associated with deep cold fronts and strong prefrontal winds. The downscaled simulations reproduce this synoptic type with greater fidelity than a typical global climate model. The incidence of systems in this category is projected to increase through the century under a high emission scenario, driven mainly by an increase in the temperature of air masses, with little change in the strength of the systems. The regional climate model projected increase in frequency is smaller than for the global climate models used as input, with a large model range and natural variability. We also demonstrate how a blocking Foehn effect and topographic channelling contributed to the extreme conditions during an extreme fire weather day in Tasmania in January 2013. Effects such as these are likely to contribute to high fire danger throughout the century. Regional climate models are useful tools that enable various meteorological drivers of fire danger to be considered in projections of future fire danger.
Access options
Buy single article
Instant access to the full article PDF.
USD 39.95
Price excludes VAT (USA)
Tax calculation will be finalised during checkout.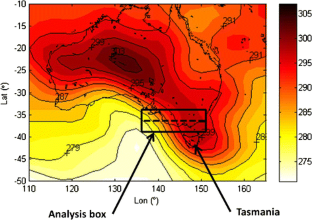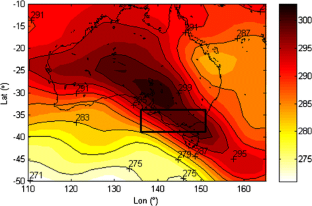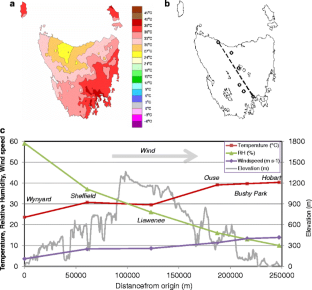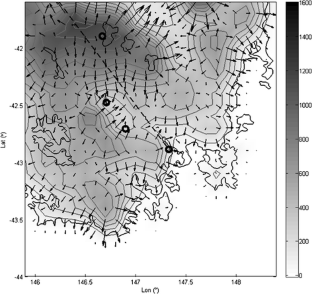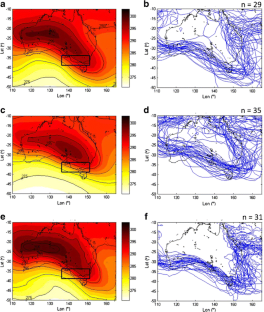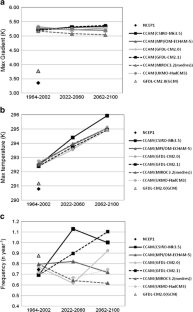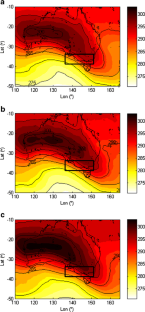 References
Blanchi R, Lucas C, Leonard J, Finkele K (2010) Meteorological conditions and wildfire-related houseloss in Australia. Int J Wildland Fire 19:914–926

Cai W, Cowan T, Raupach M (2009a) Positive Indian Ocean Dipole events precondition southeast Australia bushfires. Geophys Res Lett 36, L19710

Cai W, Sullivan A, Cowan T (2009b) Climate change contributes to more frequent consecutive positive Indian Ocean Dipole events. Geophys Res Lett 36, L23704

Clarke HG, Smith PL, Pitman AJ (2011) Regional signatures of future fire weather over eastern Australia from global climate models. Int J Wildland Fire 20:550–562

Clarke H, Evans JP, Pitman AJ (2013a) Fire weather simulation skill by the Weather Research and Forecasting (WRF) model over south-east Australia from 1985 to 2009. Int J Wildland Fire 22:739–756

Clarke H, Lucas C, Smith P (2013b) Changes in Australian fire weather between 1973 and 2010. Int J Climatol 33:931–944

Corney SP, Grose MR, Bennett JC, White CJ, Katzfey JJ, McGregor JL, Holz GK, Bindoff NL (2013) Performance of downscaled regional climate simulations using a variable-resolution regional climate model: Tasmania as a test case. J Geophys Res Atmos 118:1–15

Fox-Hughes P (2008) A fire danger climatology for Tasmania. Aust Meteorol Mag 57:109–120

Fox-Hughes P, Harris RMB, Lee G, Grose MR and Bindoff NL (2014) Future fire danger climatology for Tasmania, Australia, using a dynamically downscaled regional climate model. International Journal of Wildland Fire. doi:10.1071/WF13126

Grose M, Barnes-Keoghan I, Corney S, White C, Holz G, Bennett J, Gaynor S and Bindoff N (2010) Climate Futures for Tasmania: general climate impacts technical report. Antarctic Climate and Ecoststems CRC, Hobart, Australia

Grose M, Corney S, Katzfey J, Bennett J, Holz G, White C, Bindoff N (2013) A regional response in mean westerly circulation and rainfall to projected climate warming over Tasmania, Australia. Clim Dyn 40:2035–2048

Hasson AEA, Mills GA, Timbal B, Walsh KJE (2008) Assessing the impact of climate change on extreme fire weather in southeast Australia. CAWCR Tech Report 007:86

Hasson AEA, Mills GA, Timbal B, Walsh KJE (2009) Assessing the impact of climate change on extreme fire weather events over southeastern Australia. Clim Res 39:159–172

Hennessy KJ, Lucas C, Nicholls N, Bathols J, Suppiah R, Ricketts J (2005) Climate change impacts on fire-weather in south-east Australia. CSIRO marine and atmospheric research. Bushfire CRC and Bureau of Meteorology, Melbourne

Jones DA, Wang W, Fawcett R (2009) High-quality spatial climate data-sets for Australia. Aust Meteorol Oceanogr J 58:233–248

Kalnay E, Kanamitsu M, Kistler R, Collins W, Deaven D, Gandin L, Iredell M, Saha S, White G, Woollen J, Zhu Y, Leetmaa A, Reynolds R, Chelliah M, Ebisuzaki W, Higgins W, Janowiak J, Mo KC, Ropelewski C, Wang J, Jenne R, Joseph D (1996) The NCEP/NCAR 40-year reanalysis project. Bull Am Meteorol Soc 77:437–471

Lucas C, Hennessy KJ, Mills GA and Bathols J (2007) Bushfire weather in southeast Australia: recent trends and projected climate change impacts. Bushfire CRC, and Bureau of Meteorology Research Centre, Melbourne, Australia

Luke RH, McArthur AG (1978) Bushfires in Australia. Government Publishing Service, Canberra

Matthews S, Nguyen K, McGregor JL (2011) Modelling fuel moisture under climate change. Int J Clim Change Strateg Manag 3:6–15

McArthur AG (1967) Fire behaviour in eucalypt forest. Commonwealth of Australia Timber Bureau Leaflet 107:25 pp

Meehl GA, Covey C, Delworth T, Latif M, McAvaney B, Mitchell JFB, Stouffer RJ, Taylor KE (2007) The WCRP CMIP3 multimodel dataset - A new era in climate change research. Bull Am Meteorol Soc 88:1383–1394

Meyn A, White PS, Buhk C, Jentsch A (2007) Environmental drivers of large, infrequent wildfires: the emerging conceptual model. Prog Phys Geogr 31:287–312

Mills GA (2005) A re-examination of the synoptic and mesoscale meteorology of Ash Wednesday 1983. Aust Meteorol Mag 54:35–55

Nakicenovic N, Alcamo J, Davis G, de Vries B, Fenhann J, Gaffin S, Gregory K, Grübler A, Jung TY, Kram T, La Rovere EL, Michaelis L, Mori S, Morita T, Pepper W, Pitcher H, Price L, Riahi K, Roehrl A, Rogner HH, Sankovski A, Schlesinger P, Shukla P, Smith S, Swart R, van Rooijen S, Victor N and Dadi Z (2000). Special Report on Emissions Scenarios. A Special Report of Working Group III of the Intergovernmental Panel on Climate Change. Cambridge University Press, Cambridge, United Kingdom

Nicholls N, Lucas C (2007) Interannual variations of area burnt in Tasmanian bushfires: relationships with climate and predictability. Int J Wildland Fire 16:540–546

Power S, Delage F, Chung C, Kociuba G and Keay K (2013) Robust twenty-first-century projections of El[thinsp]Nino and related precipitation variability. Nature advance online publication

Randall DA, Wood RA, Bony S, Colman R, Fichefet T, Fyfe J, Kattsov V, Pitman A, Shukla J, Srinivasan J, Stouffer RJ, Sumi A, and Taylor KE (2007) Cilmate Models and Their Evaluation.in Solomon S, Qin D, Manning M, Chen Z, Marquis M, Averyt KB, Tignor M and Miller HL (eds). Climate Change 2007: The Physical Science Basis. Contribution of Working Group I to the Fourth Assessment Report of the Intergovernmental Panel on Climate Change. Cambridge University Press, Cambridge, United Kingdom and New York, NY, USA

Sharples JJ, Mills GA, McRae RHD, Weber RO (2010a) Foehn-like winds and elevated fire danger conditions in Southeastern Australia. J Appl Meteorol Climatol 49:1067–1095

Sharples JJ, McRae RHD, Weber RO (2010b) Wind characteristics over complex terrain with implications for bushfire risk management. Environ Model Softw 25:1099–1120

Whiteman CD (2000) Mountain meteorology fundamentals and applications. Oxford University Press, New York

Williams AAJ, Karoly DJ (1999) Extreme fire weather in Australia and the impact of the El Niño-Southern Oscillation. Aust Meteorol Mag 48:15–22

Williams AAJ, Karoly DJ, Tapper N (2001) The sensitivity of Australian fire danger to climate change. Clim Chang 49:171–191
Acknowledgements
The work was supported by a grant from the National Disaster Resilience Program (NDRP) administered through the Tasmanian State Emergency Service (SES). The work was supported by the Australian government's Cooperative Research Centres Program through the ACE CRC. This work builds upon the Climate Futures for Tasmania project.
Model outputs provided by Stuart Corney, Jack Katzfey and John McGregor, advice from Graham Mills, William Budd and Ben Galton-Fenzi.
About this article
Cite this article
Grose, M.R., Fox-Hughes, P., Harris, R.M.B. et al. Changes to the drivers of fire weather with a warming climate – a case study of southeast Tasmania. Climatic Change 124, 255–269 (2014). https://doi.org/10.1007/s10584-014-1070-y
Received:

Accepted:

Published:

Issue Date:

DOI: https://doi.org/10.1007/s10584-014-1070-y
Keywords