Abstract
The impact of future climate change on the glaciers in the Karakoram and Himalaya (KH) is investigated using CMIP5 multi-model temperature and precipitation projections, and a relationship between glacial accumulation-area ratio and mass balance developed for the region based on the last 30 to 40 years of observational data. We estimate that the current glacial mass balance (year 2000) for the entire KH region is -6.6 ± 1 Gta−1, which decreases about sixfold to -35 ± 2 Gta−1 by the 2080s under the high emission scenario of RCP8.5. However, under the low emission scenario of RCP2.6 the glacial mass loss only doubles to -12 ± 2 Gta−1 by the 2080s. We also find that 10.6 and 27 % of the glaciers could face 'eventual disappearance' by the end of the century under RCP2.6 and RCP8.5 respectively, underscoring the threat to water resources under high emission scenarios.
This is a preview of subscription content,
to check access.
Access this article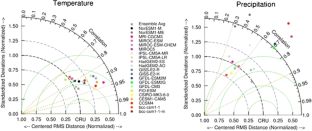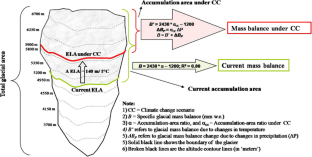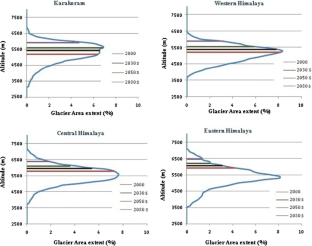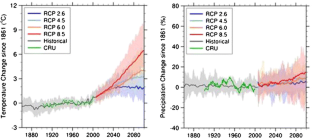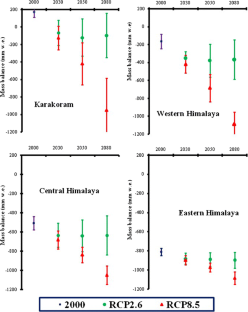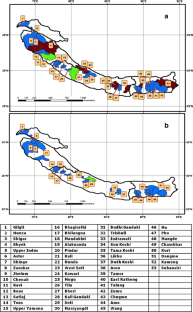 Similar content being viewed by others
References
Bahr DB, Dyurgerov M, Meier MF (2009) Sea-level rise from glaciers and ice caps: a lower bound. Geophys Res Lett 36, L03501

Bajracharya SR, Shrestha B (eds) (2011) The status of glaciers in the Hindu Kush-Himalayan region. International Centre for Integrated Mountain Development, Kathmandu, Nepal, 137p

Benn DI, Owen LA (1998) The role of Indian summer monsoon and the mid-latitude westerlies in Himalayan glaciation: review and speculative discussions. J Geol Soc Lond 155:353–363

Bolch T, Pieczonka T, Benn DI (2011) Multi-decadal mass loss of glaciers in the Everest area (Nepal Himalaya) derived from stereo imagery. Cryosphere 5:349–358

Bolch T, Kulkarni A, Kääb A, Huggel C, Paul F, Cogley JG, Frey H, Kargel JS, Fujita K, Scheel M, Bajracharya S, Stoffel M (2012) The state and fate of Himalayan glaciers. Science 336:310–314

Bookhagen B, Burbank DW (2010) Toward a complete Himalayan hydrological budget: spatiotemporal distribution of snowmelt and rainfall and their impact on river discharge. J Geophys Res 115, F03019

Chaturvedi RK, Joshi J, Jayaraman M, Bala G, Ravindranath NH (2012) Multi-model climate change projections for India under representative concentration pathways. Curr Sci 103:791–802

Cogley JG, Kargel JS, Kaser G, Van DerVeen CJ (2010) Tracking the source of glacier misinformation. Science 327:522

Dyurgerov M, Meier MF, Bahr DB (2009) A new index of glacier area change: a tool for glacier monitoring. J Glaciol 55:710–716

Fujita K, Takeuchi N, Seko K (1998) Glaciological observations of Yala glacier in Langtang valley, Nepal Himalayas, 1994 and 1996. Bull Glaciol Res 16:75–81

Gardelle J, Berthier E, Arnaud Y (2012) Slight mass gain of Karakoram glaciers in the early twenty-first century. Nat Geosci 5:322–325

Ignéczi Á, Nagy B (2013) Determining steady-state accumulation-area ratios of outlet glaciers for application of outlets in climate reconstructions. Quat Int 293:268–274

Immerzeel WW, Beek LPH, Bierkens MFP (2010) Climate change will affect the Asian water towers. Science 328:1382–1385

Immerzeel WW, Beek LPH, Konz M, Shrestha AB, Bierkens MFP (2012) Hydrological response to climate change in a glacierized catchment in the Himalayas. Clim Change 110:721–736

Immerzeel WW, Pellicciotti F, Bierkens MFP (2013) Rising river flows throughout the twenty-first century in two Himalayan glacierized watersheds. Nat Geosci 6:742–745

Jacob T, Wahr J, Pfeffer WT, Swenson S (2012) Recent contributions of glaciers and ice caps to sea level rise. Nature 482:514–518

Kääb A, Berthier E, Nuth C, Gardelle J, Arnaud Y (2012) Contrasting patterns of early twenty-first-century glacier mass change in the Himalayas. Nature 488:495–498

Kripalani RH, Kulkarni A, Sabade SS (2003) Western Himalayan snow cover and Indian monsoon rainfall: a re-examination with INSAT and NCEP/NCAR data. Theor Appl Climatol 74:1–18

Kulkarni AV (1992) Mass balance of Himalayan glaciers using AAR and ELA methods. J Glaciol 38:101–104

Kulkarni AV, Rathore BP, Alex S (2004) Monitoring of glacial mass balance in the baspa basin using accumulation area ratio method. Curr Sci 86:101–106

Kulkarni AV, Rathore BP, Mahajan S, Mathur P (2005) Alarming retreat of Parbati glacier, Beas basin, Himachal Pradesh. Curr Sci 88:1844–1850

Kulkarni AV et al (2007) Glacial retreat in Himalaya using Indian remote sensing satellite data. Curr Sci 92:69–74

Mitchell TD, Jones PD (2005) An improved method of constructing a database of monthly climate observations and associated high resolution grids. Int J Climatol 25, 693–712; doi: 10.1002/joc.1181; http://badc.nerc.ac.uk/browse/badc/cru/data, last updated July 2012

Moss R et al (2010) A new approach to scenario development for the IPCC Fifth Assessment Report. Nature 463:747–756

Ohmura A, Kasser P, Funk M (1992) Climate at the equilibrium line of glaciers. J Glaciol 38:397–411

Owen LA, Benn DI (2005) Equilibrium-line altitudes of the last glacial maximum for the Himalaya and Tibet: An assessment and evaluation of results. Quat Int 138–139:55–78

Pandey P, Kulkarni AV, Venkataraman G (2012) Remote sensing study of snowline altitude at the end of melting season, Chandra-Bhaga basin, Himachal Pradesh, 1980–2007. Geo Int. doi:10.1080/10106049.2012.705336

Radic V, Bliss A, Beedlow AC, Hock R, Miles E, Cogley JG (2013) Regional and global projections of twenty-first century glacier mass changes in response to climate scenarios from global climate models. Clim Dyn 1–22, doi:10.1007/s00382-013-1719-7

Rathore BP, Kulkarni AV, Sherasia NK (2009) Understanding future changes in snow and glacier melt runoff due to global warming in Wangar Gad basin, India. Curr Sci 97:1077–1081

Scherler D, Bookhagen B, Strecker MR (2011) Spatially variable response of Himalayan glaciers to climate change affected by debris cover. Nat Geosci 4:156–159

Taylor KE (2001) Summarizing multiple aspects of model performance in single diagram. J Geophys Res 106:7183–7192

Venkatesh TN, Kulkarni AV, Srinivasan J (2011) Relative effect of slope and equilibrium line altitude on the retreat of Himalayan glaciers. Cryosphere 6:301–311

Wagnon P et al (2007) Four years of mass balance on Chhota Shigri glacier, Himachal Pradesh, India, a new benchmark glacier in the Western Himalaya. J Glaciol 53:603–611
Acknowledgments
RKC thanks the Ministry of Environment and Forests, Government of India, for supporting this study in form of the 'National Environmental Sciences fellowship'. We thank the Department of Science and Technology, Government of India, for supporting Divecha Centre for Climate Change. We acknowledge the World Climate Research Programme's Working Group on Coupled Modeling, which is responsible for CMIP, and we thank the climate modeling groups (listed in the Supplementary Table S1 of this paper) for producing and making available their model outputs. We also thank Dr. G. Cogley and two other anonymous reviewers for providing valuable suggestions.
Competing financial interests statement
The authors declare no competing financial interests.
Additional information
Author Contributions
The concept was developed by A.K, G.B and R.K.C; Y.K. and J.J. contributed to data analysis. RKC and A.K led the paper writing process.
Electronic supplementary material
Below is the link to the electronic supplementary material.
About this article
Cite this article
Chaturvedi, R.K., Kulkarni, A., Karyakarte, Y. et al. Glacial mass balance changes in the Karakoram and Himalaya based on CMIP5 multi-model climate projections. Climatic Change 123, 315–328 (2014). https://doi.org/10.1007/s10584-013-1052-5
Received:

Accepted:

Published:

Issue Date:

DOI: https://doi.org/10.1007/s10584-013-1052-5
Keywords