Abstract
The International Panel on Climate Change (IPCC) has called for a new balance between reducing the risks from climate extremes and transferring them (for example, through insurance) as means for effectively preparing for and managing disaster impacts in a changing climate. This paper elaborates on this balance with an overview of disaster risk financing mechanisms and how they contribute to disaster risk reduction and climate change adaptation in developing countries. We suggest a risk management approach that targets risk reduction and risk financing to different layers of risk, including a layer that represents a possible limit to adaptation. By reviewing traditional post-disaster financial arrangements, such as government compensation, and non-traditional pre-disaster instruments, such as index-based insurance, we show how risk financing can complement and stimulate risk reduction. We discuss the benefits of financial instruments, including the provision of post-disaster finances for recovery and pre-disaster security necessary for climate adaptation and poverty reduction. These benefits come at a cost, and we discuss the risks, challenges, and future prospects of risk financing in developing countries.
Access options
Buy single article
Instant access to the full article PDF.
USD 39.95
Price excludes VAT (USA)
Tax calculation will be finalised during checkout.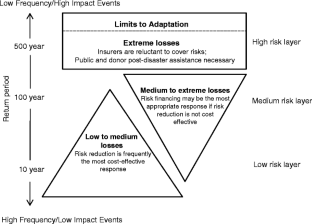 References
Ashraf N, Karlan D, Yin W (2006) Female empowerment: impact of a commitment savings project in the Philippines. Yale University Economic Growth Center, New Haven

Asian Disaster Preparedness Center (2013) Integrating disaster risk management into climate change adaptation. Disaster Risk Management Practitioner's Handbook Series. Bangkok

Barnett BJ, Barrett CB, Skees JR (2008) Poverty traps and index-based risk transfer products. World Dev 36:1766–1785

Becerra O, Cavallo E, Noy I (2012) Foreign aid in the aftermath of large natural disasters. IDB Working Paper Series No. IDB-WP-333. Inter-American Development Bank, Washington, DC

Benson C, Arnold M, de la Fuente A, Mearns R (2012) Financial innovations for social and climate resilience: establishing an evidence base. Framework paper. The World Bank, Washington, DC

Cardenas V, Hochrainer S, Mechler R, Pflug G, Linnerooth-Bayer J (2007) Sovereign financial disaster risk management: the case of Mexico. Environ Hazards 7:40–53

Clarke D, Grenham D (2011) Migration and global environmental change. UK Government's Foresight Project, Migration and Global Environmental Change. http://www.bis.gov.uk/assets/foresight/docs/migration/science-reviews/11-1133-sr14-microinsurance-and-climatic-related-disasters.pdf. Accessed 1 August 2013

Cox D, Fafchamps M (2006) Extended family and kinship networks: economic insights and evolutionary directions. http://www.economics.illinois.edu/docs/seminars/Extended-Family-and-Kinship-Networks-Economics-Insights-and-evolutionary-directions.pdf. Accessed 1 August 2013

Cummins JD (2008) CAT bonds and other risk-linked securities: state of the market and recent developments. Risk Manag Insur Rev 11(1):23–47

Cummins JD, Mahul O (2008) Catastrophe risk financing in developing countries: principles for public intervention—overview. The World Bank, Washington, DC

Cutter SB et al (2012) Managing the risks from climate extremes at the local level. In: Field CB (ed) Managing the risks of extreme events and disasters to advance climate change adaptation. Cambridge University Press, Cambridge, pp 291–338

Davies S (2007) Remittances as insurance for idiosyncratic and covariate shocks in Malawi: the importance of distance and relationship. http://mpra.ub.uni-muenchen.de/4463/. Accessed 1 August 2013

Dow K, Berkhout F, Preston BL, Klein RJT, Midgley G, Shaw R (2013) Limits to adaptation. Nat Clim Chang 3:305–307

ERN-AL (2011) Probabilistic modelling of disaster risk at global level: development of a methodology and implementation of case studies. Phase 1A: Colombia, Mexico, Nepal. Prepared by the Consortium Evaluación de Riesgos Naturales—América Latina. www.preventionweb.net/english/hyogo/gar/2011/en/bgdocs/ERN-AL_2011.pdf. Accessed 1 August 2013

Ernst & Young (2008) Strategic business risk 2008: insurance. EYG No. EG0015. Ernst & Young, London

Gaurav S, Cole S, Tobacman J (2010) A randomized evaluation of the impact of financial literacy on rainfall insurance take-up in Gujarat. Research paper No 1. Microinsurance Innovation Facility, International Labour Office, Geneva

Ghesquiere F, Mahul O (2010) Financial protection of the state against natural disasters. Policy research working paper 5429. World Bank, Washington DC

Global Facility for Disaster Reduction and Recovery (GFDRR) (2009) Post disaster needs assessment. October 2008 Tropical Storm and Floods, Hadramout and Al-Mahara, Republic of Yemen

Global Facility for Disaster Reduction and Recovery (GFDRR) (2013) Post disaster needs assessment. Summary reports. https://www.GFDRR.org/node/118. Accessed 1 August 2013

Grameen Foundation (2008) Frequently asked questions about microfinance. Available at: http://www.grameenfoundation.org/what-we-do/microfinance-basics. Accessed 1 August 2013

Grossi P, Windeler D (2005) Sources, nature, and impact of uncertainties on catastrophe modeling. In: Grossi P, Kunreuther H, Windeler D (eds) Catastrophe modeling: a new approach to managing risk. Springer Science, Boston, pp 101–116

Gurenko E (2004) Introduction. In: Gurenko E (ed) Catastrophe risk and reinsurance: a country risk management perspective. Risk Books, London, pp 3–16

Hazell PBR, Hess U (2010) Drought insurance for agricultural development and food security in dryland areas. Food Secur 2(4):395–405

Hazell P, Anderson J, Balzer N, Hastrup Clemmensen A, Hess U, Rispoli F (2010) Potential for scale and sustainability in weather index insurance for agriculture and rural livelihoods. International Fund for Agricultural Development and World Food Programme, Rome

Hochrainer S (2006) Macroeconomic Risk Management against Natural Disasters. German University Press (DUV), Wiesbaden, Germany

Hochrainer S, Pflug G (2009) Natural disaster risk bearing ability of governments: consequences of kinked utility. J Natl Disaster Sci 31(1):11–21

Hochrainer S, Mechler R, Pflug G (2009) Climate change and financial adaptation in Africa. Investigating the impact of climate change on the robustness of index-based microinsurance in Malawi. Mitig Adapt Strateg Glob Chang 14(3):231–250

Hochrainer-Stigler S, Pflug G (2012) Risk management against extremes in a changing environment: a risk-layer approach using copulas. Environmetrics 23(8):663–673

Hochrainer-Stigler S, Sharma RB, Mechler R (2012) Disaster microinsurance for pro-poor risk management: evidence from South Asia. J Integr Disaster Risk Manag 2(2):1–19

Inter-American Development Bank (2007) Survey finds lower percentage of Mexican migrants sending money home from the United States. Available at: http://www.iadb.org/news-releases/2007-08/english/survey-finds-lower-percentage-of-mexican-migrants-sending-money-home-from-the-un-3985.html. Accessed 1 August 2013

International Fund for Agricultural Development (2010) Remittances gateway. http://www.ifad.org/remittances/pub/gateway_flyer.pdf. Accessed 1 August 2013

IPCC (2012) Summary for policymakers. In: Field CB (ed) Managing the risks of extreme events and disasters to advance climate change adaptation. A special report of working groups I and II of the intergovernmental panel on climate change. Cambridge University Press, Cambridge, pp 1–19

Kull D (2006) Financial services for disaster risk management for the poor. In: Chakrabarti PGD, Bhat MR (eds) Micro-finance and disaster risk reduction. National Institute of Disaster Management in association with Knowledge, World, Delhi, pp 39–64

Kull D, Mechler R, Hochrainer S (2013) Probabilistic cost-benefit analysis of disaster risk management in the context of development assistance. Disasters. doi:10.1111/disa.12002

Lal PN et al (2012) National systems for managing the risks form climate extremes and disasters. In: Field CB (ed) Managing the risks of extreme events and disasters to advance climate change. Cambridge University Press, Cambridge, pp 339–392

Linnerooth-Bayer J, Mechler R, Pflug G (2005) Refocusing disaster aid. Science 309:1044–1046

Linnerooth-Bayer J, Mechler R, Hochrainer-Stigler S (2010) Insurance against losses from natural disasters in developing countries: evidence, gaps and the way forward. IDRiM 1(1):1–14

Mechler R (2005) Cost-benefit analysis of natural disaster risk management in developing countries. Deutsche Gesellschaft für Technische Zusammenarbeit (GTZ), Eschborn

Mechler R (2012) Reviewing the Economic Efficiency of Disaster Risk Management. Review commissioned by Foresight Project: Reducing Risks of Future Disasters. London, Government Office for Science

Mechler R, Hochrainer S, Pflug G, Lotsch A, Williges K (2009) Assessing the financial vulnerability to climate-related natural hazards. Policy research working paper. 5232. World Bank, Washington DC

Michel-Kerjan E, Zelenko I, Cardenas C, Turgel D (2011) Catastrophe financing for governments: learning from the 2009–2012 MultiCat Program inMexico. OECD Working Papers on Finance, Insurance and Private Pensions, No. 9 [doi:10.1787/5kgcjf7wkvhb-en]

Michel-Kerjan E, Hochrainer-Stigler S, Kunreuther H, Linnerooth-Bayer J, Mechler R, Muir-Wood R, Ranger N, Vaziri P, Young M (2013) Catastrophe risk models for evaluating disaster risk reduction investments in developing countries. Risk Anal 33(6):984–999

Mills E (2009) A global review of insurance industry responses to climate change. Geneva Pap 34:323–359

Mills E (2012) The greening of insurance. Science 338:1424

Mitchell T, Van Aalst M (2011) Headlines from the IPCC special report on extreme events. Overseas Development Institute and Red, Cross/Red Crescent Climate Centre

Mohapatra S, Joseph G, Ratha D (2009) Remittances and natural disasters: ex-post response and contribution to ex-ante preparedness. Policy research working paper 4972. World Bank, Washington DC

Murray V et al (2012) Case studies. In: Field CB et al (eds) Managing the risks of extreme events and disasters to advance climate change. Cambridge University Press, Cambridge, pp 487–542

Nguyen T (2013) Insurability of Catastrophe Risks and Government Participation in Insurance Solutions. Geneva, Switzerland: UNISDR

Pacific Catastrophe Risk Assessment and Financing Initiative (PCRAFI) (2013) http://pcrafi.sopac.org/ Accessed 25 September 2013

Patt A, Suarez P, Hess U (2010) How much do smallholder farmers understand and want insurance? Evidence from Africa. Glob Environ Chang 20:153–161

Powers J, Magnoni B, Zimmerman E (2011) Formalizing the informal insurance inherent in migration: exploring the potential links between migration, remittances and microinsurance. Microinsurance innovation facility briefing note 4. Microinsurance innovation facility. International Labour Office, Geneva

Skees J, Collier B (2010) New approaches for index insurance: ENSO Insurance in Peru'. Innovations in rural and agriculture finance, focus 11, brief 18.2020 vision for food, agriculture, and the environment. International Food Policy Research Institute and the World Bank, Washington DC

Suarez P, Linnerooth-Bayer J, Mechler R (2007) The feasibility of risk financing schemes for climate adaptation: the case of Malawi. DEC-Research Group, Infrastructure and Environment Unit. The World Bank, Washington DC

Surminski S (2010) Adapting to the extreme weather impacts of climate change—how can the insurance industry help? Climate Wise. www.climatewise.org.uk. Accessed 1 August 2013

Swiss Re (2012) Microinsurance—risk protection for 4 billion people. SIGMA No 6/2012, Zurich

United Nations Framework Convention on Climate Change (UNFCCC) (2013) Approaches to address loss and damage associated with climate change impacts in developing countries that are particularly vulnerable to the adverse effects of climate change, http://unfccc.int/adaptation/workstreams/loss_and_damage/items/6056.php Accessed 1 August 2013

United Nations Office for Disaster Risk Reduction (UNISDR) (2013) Global assessment report on disaster risk reduction 2013. UNISDR, Geneva

Warner K, Zakieldeen SA (2012) Loss and damage due to climate change: an overview of the UNFCCC negotiations, European Capacity Building Initiative, http://www.eurocapacity.org/downloads/LossandDamage.pdfAccessed 1 August 2013

Wiseman W, Hess U (2007) Reforming humanitarian finance in Ethiopia: a model for integrated risk financing. Working paper. United Nations World Food Programme, Rome

World Bank (2007) The Caribbean catastrophe risk insurance initiative; results of preparation work on the design of a Caribbean catastrophe risk insurance facility. World Bank, Washington DC

World Bank (2012) Migration and remittances fact book. World Bank, Washington DC
Additional information
This article is part of a Special Issue on "Advancing Climate Change Adaptation and Risk Management" edited by Joern Birkmann and Reinhard Mechler
About this article
Cite this article
Linnerooth-Bayer, J., Hochrainer-Stigler, S. Financial instruments for disaster risk management and climate change adaptation. Climatic Change 133, 85–100 (2015). https://doi.org/10.1007/s10584-013-1035-6
Received:

Accepted:

Published:

Issue Date:

DOI: https://doi.org/10.1007/s10584-013-1035-6
Keywords
Disaster Risk

Climate Change Adaptation

Disaster Risk Reduction

Insurance Contract

Disaster Loss