Abstract
This paper conducts an analysis of the financial resource mobilization of the organizations that make up the climate change counter-movement (CCCM) in the United States. Utilizing IRS data, total annual income is compiled for a sample of CCCM organizations (including advocacy organizations, think tanks, and trade associations). These data are coupled with IRS data on philanthropic foundation funding of these CCCM organizations contained in the Foundation Center's data base. This results in a data sample that contains financial information for the time period 2003 to 2010 on the annual income of 91 CCCM organizations funded by 140 different foundations. An examination of these data shows that these 91 CCCM organizations have an annual income of just over $900 million, with an annual average of $64 million in identifiable foundation support. The overwhelming majority of the philanthropic support comes from conservative foundations. Additionally, there is evidence of a trend toward concealing the sources of CCCM funding through the use of donor directed philanthropies.
Access options
Buy single article
Instant access to the full article PDF.
USD 39.95
Price excludes VAT (USA)
Tax calculation will be finalised during checkout.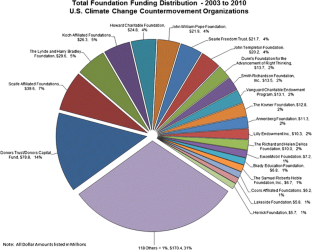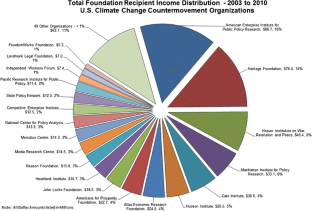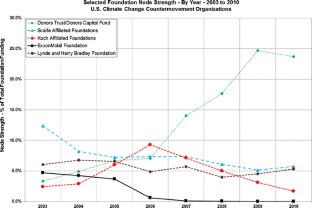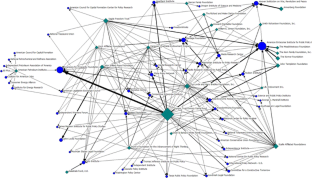 Notes
Pew Research Center Poll - October 2012

For a full explanation of the funding data analysis, see the Methodological Appendix, page 117 in the Supplemental Material.

IRS Category Descriptions:

501(c)(3) Religious, educational, charitable, scientific, or literary organizations; testing for public safety organizations. Also, organizations preventing cruelty to children or animals, or fostering national or international amateur sports competition

501(c)(4) Civic leagues, social welfare organizations, and local associations of employees

501(c)(5) Labor, agriculture, and horticultural organizations

501(c)(6) Business leagues, chambers of commerce, and real estate boards

The detailed data is provided in the Supplemental Material. Table S-6 (pages 39-42) lists grant totals by year made by foundations. Table S-7 (pages 43–44) lists recipient organizations of grants by year. Table S-8 (45–78) lists foundation grants to specific organizations, and Table S-9 (pages 79–112) lists organizations that received grants by foundation.
References
Anheier H, Daly S (2005) Philanthropic foundations; a new global force? In: Anheier J, Glasius M, Kaldor M (eds) Global civil society 2004/5. Sage, Thousand Oaks, pp 158–176

Antonio RJ, Brulle RJ (2011) The unbearable lightness of politics: climate change denial & political polarization. Sociol Q 52:195–202

Austin A (2002) Advancing accumulation and managing its discontents: the U.S. antienvironmental countermovement. Sociol Spectr 22:71–105

Borgatti SP, Everett MG, Freeman LC (2002) UCINET for windows: software for social network analysis. Analytic Technologies, Harvard

Brass D (1992) Power in organizations: a social network perspective. Res Polit Soc 4:295–323

Brulle RJ (2014) The development, structure, and influence of the U.S. national climate change movement. In: Wolinsky Y (ed) Climate change policy and civil society. Congressional Quarterly Press, Washington DC

Colwell MAC (1993) Private foundations and public policy: the political role of philanthropy. Garland Publishing Inc., New York

Cook KS, Whitmeyer JM (1992) Two approaches to social structure: exchange theory and network analysis. Annu Rev Sociol 18:109–27

Dunlap RE, Jacques PJ (2013) Climate change denial books and conservative think tanks: exploring the connection. Am Behav Sci 57

Dunlap RE, McCright AM (2011) Organized climate change denial. In: Dryzek J, Norgaard R, Schlosberg D (eds) The oxford handbook of climate change and society. Oxford University Press, Oxford, pp 144–160

Elsasser S, Dunlap RE (2013) Leading voices in the Denier Choir: conservative columnists' dismissal of global warming and denigration of climate science. Am Behav Sci 57

Fligstein N, McAdam D (2012) A theory of fields. Oxford University Press, New York

Fuchs S (2001) Against essentialism: a theory of culture and society. Harvard University Press, Cambridge

Gale R (1986) Social Movements and the state: the environmental movement, countermovement, and government agencies. Sociol Perspect 29(2)

Gulati R, Gargiulo M (1999) Where do interorganizational networks come from? Am J Sociol 104(5):1439–93

Hoplin M, Robinson R (2008) Funding fathers: the unsung heroes of the conservative movement. Regnery Publishing, Washington DC

International Energy Agency (2012) World energy outlook 2012. International Energy Agency, Paris

Jacques PJ, Dunlap RE, Freeman M (2008) The organization of denial: conservative think tanks and environmental skepticism. Env Polit 17(3):349–385

Jenkins JC (1983) Resource mobilization theory and the study of social movements. Annu Rev Sociol 9:527–53

Knight G, Greenberg J (2011) Talk of the enemy: adversarial framing and climate change discourse. Soc Mov Stud 10(4):323–340

Knoke D (1990) Political networks: the structural perspective. Cambridge University Press

Knoke D, Yang S (2008) Social network analysis. Sage, Los Angeles

Levy D, Egan D (2003) A Neo-Gramscian approach to corporate political strategy: conflict and accommodation in the climate change negotiations. J Manag Stud 40:4

Lo CYH (1982) Countermovements and conservative movements in the contemporary U.S. Annu Rev Sociol 8:107–134

Lounsbury M, Ventresca MJ, Hirsch PM (2003) Social movements, field frames and industry emergence: a cultural-political perspective on U.S. recycling. Soc Econ Rev 1:71–104

McCarthy J, Britt D, Wolfson M (1991) The institutional channeling of social movements in the United States. Res Soc Mov Confl Chang 13:45–76

McCright AM, Dunlap RE (2000) Challenging global warming as a social problem: an analysis of the conservative movement's counter-claims. Soc Probl 47(4):499–522

McCright AM, Dunlap RE (2003) Defeating Kyoto: the conservative movement's impact on U.S. climate change policy. Soc Probl 50(3):348–373

Meyer DS, Staggenbord S (1996) Movements, countermovements, and the structure of political opportunity. Am J Sociol 101(6)

Minkoff D, Agnone J (2010) Consolidating social change: the consequences of foundation funding for developing social movement infrastructures. In: Anheier H, Hammack D (eds) American foundations: roles and contributions. Brookings Press, Washington, pp 347–367

National Intelligence Council (2012) Global trends 2030: alternative worlds. Central Intelligence Agency, Washington

National Research Council (2012) Climate and social stress; implications for security analysis. National Academy of Sciences, Washington

National Research Council (NRC) (2011) America's climate choices. National Academies Press, Washington

National Committee for Responsive Philanthropy (NCRP) (1997) Moving a Public Policy Agenda: The Strategic Philanthropy of Conservative Foundations, Washington DC

Oreskes N, Conway EM (2010) Merchants of doubt. Bloomsbury Press, New York

Snow D (1992) Inside the environmental movement: meeting the leadership challenge. Island Press, Washington

Stefanic J, Delgado R (1996) No mercy: how conservative think tanks and foundations changed America's social agenda. Temple University Press, Philadelphia

Walker JL (1991) Mobilizing interest groups in America: patrons, professions, and social movements. University of Michigan Press, Ann Arbor

World Bank (2012) Turn down the heat: why a 4°C world must be avoided. World Bank, Washington

Ylvisaker N (1987) Foundations and nonprofit organizations. In: Powell WW (ed) The nonprofit sector: a research handbook. Yale University Press, New Haven
Electronic supplementary material
Below is the link to the electronic supplementary material.
About this article
Cite this article
Brulle, R.J. Institutionalizing delay: foundation funding and the creation of U.S. climate change counter-movement organizations. Climatic Change 122, 681–694 (2014). https://doi.org/10.1007/s10584-013-1018-7
Received:

Accepted:

Published:

Issue Date:

DOI: https://doi.org/10.1007/s10584-013-1018-7
Keywords
Carbon Emission

Social Movement

Trade Association

Anthropogenic Climate Change

Resource Mobilization