Abstract
Global warming may result in substantial sea level rise and more intense hurricanes over the next century, leading to more severe coastal flooding. Here, observed climate and sea level trends over the last century (c. 1900s to 2000s) are used to provide insight regarding future coastal inundation trends. The actual impacts of Hurricane Katrina (2005) in New Orleans are compared with the impacts of a similar hypothetical hurricane occurring c. 1900. Estimated regional sea level rise since 1900 of 0.75 m, which contains a dominant land subsidence contribution (0.57 m), serves as a 'prototype' for future climate-change induced sea level rise in other regions. Landform conditions c. 1900 were estimated by changing frictional resistance based on expected additional wetlands at lower sea levels. Surge simulations suggest that flood elevations would have been 15 to 60 % lower c. 1900 than the conditions observed in 2005. This drastic change suggests that significantly more flood damage occurred in 2005 than would have occurred if sea level and climate conditions had been like those c. 1900. We further show that, in New Orleans, sea level rise dominates surge-induced flooding changes, not only by increasing mean sea level, but also by leading to decreased wetland area. Together, these effects enable larger surges. Projecting forward, future global sea level changes of the magnitude examined here are expected to lead to increased flooding in coastal regions, even if the storm climate is unchanged. Such flooding increases in densely populated areas would presumably lead to more widespread destruction.
Access options
Buy single article
Instant access to the full article PDF.
USD 39.95
Price excludes VAT (USA)
Tax calculation will be finalised during checkout.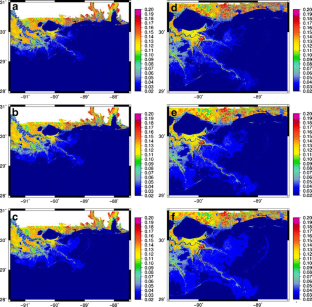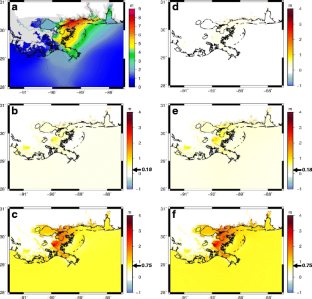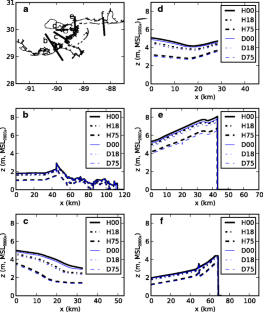 Notes
Peak flood elevation at the levee breach was estimated based on a reported 3.3 m, NAVD88 high water mark elevation at the 17th Street canal entrance (IPET 2008) less an estimated amount of 0.9 m to account for water level drop in the canal due to debris build up at the bridge at the canal entrance (IPET 2008). We neglected the difference between MSL2000s and NAVD88; this difference is 0.011 m, based on National Geodetic Survey (2013) CO-OPS/NGS Elevation Data. PID BJ1342. Note that the ADCIRC simulations herein do not include the impact of debris build up at the bridge, thus the relatively higher simulated value in Table 1 for the 17th Street canal.
Abbreviations
GFDL:

Geophysical Fluid Dynamics Laboratory

IPCC:

Intergovernmental Panel on Climate Change

IPET:

Interagency Performance Evaluation Taskforce

MSL:

Mean sea level

SLR:

Sea level rise

SST:

Sea-surface temperature

USA:

United States of America
References
Ali A (1999) Climate change impacts and adaptation assessment in Bangladesh. Clim Res 12:109–116

Atkinson J, Roberts H, Hagen SC, Zou S, Bacopoulos P, Medeiros S, Weishampel J, Cobell Z (2011) Deriving frictional parameters and performing historical validation for an ADCIRC storm surge model of the Florida Gulf coast. Fla Watershed J 4:22–27

Bunya S, Dietrich JC, Westerink JJ, Ebersole BA, Smith JM, Atkinson JH, Jensen R, Resio DT, Luettich RA, Dawson C, Cardone VJ, Cox AT, Powell MD, Westerink HJ, Roberts HJ (2010) A high-resolution coupled riverine flow, tide, wind, wind wave, and storm surge model for Southern Louisiana and Mississippi. Part I: model development and validation. Mon Weather Rev 138:345–377

Day JW, Boesch DF, Clairain EJ, Kemp GP, Laska SB, Mitsch WJ, Orth K, Mashriqui H, Reed DJ, Shabman L, Simenstad CA, Streever BJ, Twilley RR, Watson CC, Wells JT, Whigham DF (2007) Restoration of the Mississippi Delta: lessons from Hurricanes Katrina and Rita. Science 315:1679–1684

Dixon TH, Amelung F, Ferretti A, Novali F, Rocca F, Dokka R, Sella G, Kim SW, Wdowinski S, Whitman D (2006) Subsidence and flooding in New Orleans. Nature 441:587–588

Elsner JB, Kossin JP, Jagger TH (2008) The increasing intensity of the strongest tropical cyclones. Nature 455:92–95

Emanuel KA (1987) The dependence of Hurricane intensity on climate. Nature 326:483–485

Federal Emergency Management Agency (2009) HAZUS FEMA's methodology for estimating potential losses from disasters

FitzGerald DM, Fenster MS, Argow BA, Buynevich IV (2008) Coastal impacts due to sea-level rise. Annu Rev Earth Planet Sci 36:601–647

Hansen J, Ruedy R, Sato M, Imhoff M, Lawrence W, Easterling D, Peterson T, Karl T (2001) A closer look at United States and global surface temperature change. J Geophys Res-Atmos 106:23947–23963

Interagency Performance Evaluation Taskforce (IPET) (2008) IPET report. U.S. Army Engineer Research and Development Center, Vicksburg

Intergovernmental Panel on Climate Change (2007) Intergovernmental panel on climate change fourth assessment report working group 1 report: the physical science basis

Kleinosky LR, Yarnal B, Fisher A (2007) Vulnerability of Hampton roads, Virginia to storm-surge flooding and sea-level rise. Nat Hazards 40:43–70

Knabb RD, Rhome JR, Brown DP (2006) Tropical cyclone report Hurricane Katrina 23-30 August 2005. In: Center NH (ed) National Hurricane Center, p. 43 pp

Knutson TR, Tuleya RE (1999) Increased hurricane intensities with CO2-induced warming as simulated using the GFDL hurricane prediction system. Clim Dyn 15:503–519

Knutson TR, Tuleya RE (2004) Impact of CO2-induced warming on simulated hurricane intensity and precipitation: Sensitivity to the choice of climate model and convective parameterization. J Clim 17:3477–3495

Knutson TR, Tuleya RE (2008) Tropical cyclones and climate change: revisiting recent studies at GFDL. In: Dias H, Murnane R (eds) Climate extremes and society. Columbia University Press, New York, pp 120–144

Knutson TR, McBride JL, Chan J, Emanuel K, Holland G, Landsea C, Held I, Kossin JP, Srivastava AK, Sugi M (2010) Tropical cyclones and climate change. Nat Geosci 3:157–163

Knutson TR, Sirutis JJ, Vecchi GA, Garner S, Zhao M, Kim H-S, Bender M, Tuleya RE, Held IM, Villarini G (2013) Dynamical downscaling projections of twenty-first-century Atlantic Hurricane Activity: CMIP3 and CMIP5 model-based scenarios. J Clim

Komen GL, Cavaleri L, Donelan M, Hasselmann K, Hasselmann S, Janssen PA (1994) Dynamics and modelling of ocean waves. Cambridge University Press, Cambridge

Lin N, Emanuel K, Oppenheimer M, Vanmarcke E (2012) Physically based assessment of hurricane surge threat under climate change. Nat Clim Change 2:462–467

Loder NM, Irish JL, Cialone MA, Wamsley TV (2009) Sensitivity of hurricane surge to morphological parameters of coastal wetlands. Estuar Coast Shelf Sci 84:625–636

Luettich RA, Westerink JJ (2004) Formulation and numerical implementation of the 2D/3D ADCIRC finite element model version 44.XX

Massey TC, Wamsley TV, Cialone MA (2011) Coastal storm modeling—system integration. Solutions to Coastal Disasters. American Society of Civil Engineers, Anchorage, pp 99–108

Mousavi ME, Irish JL, Frey AE, Olivera F, Edge BL (2011) Global warming and hurricanes: the potential impact of hurricane intensification and sea level rise on coastal flooding. Clim Chang 104:575–597

National Climatic Data Center (2013) Billion dollar weather/climate disasters. National Oceanic and Atmospheric Administration

National Geodetic Survey (2013) CO-OPS/NGS elevation data

National Wetlands Research Center (2004) Land cover classification for the Louisiana GAP analysis. In: Survey USG (ed). U.S. Geological Survey, Lafayette

Powell MD, Murillo S, Dodge P, Uhlhorn E, Gamache J, Cardone V, Cox A, Otero S, Carrasco N, Annane B, St Fleur R (2010) Reconstruction of Hurricane Katrina's wind fields for storm surge and wave hindcasting. Ocean Eng 37:26–36

Rayner NA, Brohan P, Parker DE, Folland CK, Kennedy JJ, Vanicek M, Ansell TJ, Tett SFB (2006) Improved analyses of changes and uncertainties in sea surface temperature measured in situ sice the mid-nineteenth century: the HadSST2 dataset. J Clim 19:446–469

Resio DT, Westerink JJ (2008) Modeling the physics of storm surges. Phys Today 61:33–38

Smith JM (2007) Full-plane STWAVE with bottom friction: II. Model overview. U.S. Army Engineer Research and Development Center, Vicksburg

Smith TM, Reynolds RW (2005) A global merged land-air-sea surface temperature reconstruction based on historical observations (1880–1997). J Clim 18:2021–2036

Smith JM, Cialone MA, Wamsley TV, McAlpin TO (2010) Potential impact of sea level rise on coastal surges in southeast Louisiana. Ocean Eng 37:37–47

Syvitski JPM, Kettner AJ, Overeem I, Hutton EWH, Hannon MT, Brakenridge GR, Day J, Vorosmarty C, Saito Y, Giosan L, Nicholls RJ (2009) Sinking deltas due to human activities. Nat Geosci 2:681–686

Thompson EF, Cardone VJ (1996) Practical modeling of hurricane surface wind fields. J Waterw Port Coast Ocean Div ASCE 122:195–205

Travis J (2005) Hurricane Katrina—scientists' fears come true as hurricane floods New Orleans. Science 309:1656

White NJ, Church JA, Gregory JM (2005) Coastal and global averaged sea level rise for 1950 to 2000. Geophys Res Lett 32, L01601
Acknowledgments
This work was funded by the U.S. Army Corps of Engineers, Virginia Tech, and the National Oceanic and Atmospheric Administration. The authors wish to thank C. Dietrich and colleagues for making FigureGen freely available for graphical display of ADCIRC results.
Electronic supplementary material
Below is the link to the electronic supplementary material.
About this article
Cite this article
Irish, J.L., Sleath, A., Cialone, M.A. et al. Simulations of Hurricane Katrina (2005) under sea level and climate conditions for 1900. Climatic Change 122, 635–649 (2014). https://doi.org/10.1007/s10584-013-1011-1
Received:

Accepted:

Published:

Issue Date:

DOI: https://doi.org/10.1007/s10584-013-1011-1
Keywords
Tropical Cyclone

Geophysical Fluid Dynamics Laboratory

Coastal Flooding

Inundation Extent

Flood Elevation