Abstract
The Yakima River Basin (Basin) in south-central Washington is a prime example of a place where competing water uses, coupled with over-allocation of water resources, have presented water managers with the challenge of meeting current demand, anticipating future demand, and preparing for potential impacts of climate change. We took a decision analysis approach that gathered diverse stakeholders to discuss their concerns pertaining to climate change effects on the Basin and future goals that were collectively important. One main focus was centered on how climate change may influence future salmon populations. Salmon have played a prominent role in the cultures of Basin communities, especially for tribal communities that have social, cultural, spiritual, subsistence, and economic ties to them. Stakeholders identified the need for a better understanding on how the cultural, spiritual, subsistence, and economic aspects of the Confederated Tribes and Bands of the Yakama Nation could be affected by changes in salmon populations. In an attempt to understand the complexities of these potential effects, this paper proposes a conceptual model which 1) identifies cultural values and components and the interactions between those components that could influence tribal well-being, and 2) shows how federal natural resource managers could incorporate intangible tribal cultural components into decision-making processes by understanding important components of tribal well-being. Future work includes defining the parameterization of the cultural components in order for the conceptual model to be incorporated with biophysical resource models for scenario simulations.
Access options
Buy single article
Instant access to the full article PDF.
USD 39.95
Price includes VAT (USA)
Tax calculation will be finalised during checkout.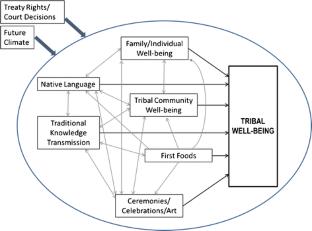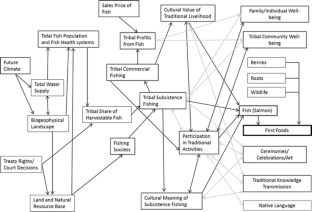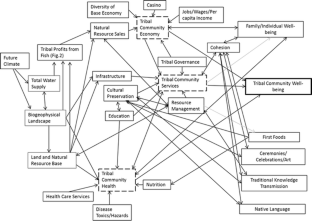 References
Alcamo J, Bennett EM (2003) Ecosystem and human well-being: a framework for assessment. Island Press, Washington, ISBN: 1559634022

Cone J (1995) A common fate: endangered salmon and the people of the Northwest. Oregon State University Press, Corvallis, ISBN 0-87071-391-4

Crane TA (2010) Of models and meanings: cultural resilience in social–ecological systems. Ecol Soc 15:19. http://www.ecologyandsociety.org/vol15/iss4/art19/

CRITFC (1995) The Columbia River Anadromous Fish Restoration Plan of the Nez Perce, Umatilla, Warm Springs, and Yakama Tribes, Volume 1. Columbia River Basin Inter-Tribal Fisheries Commission. http://www.critfc.org/oldsite/text/TRP_text.htm Accessed 15 January 2012

Diener E (2009) Subjective well-being. In: Diener E (ed) The science of well-being: the collected works of Ed Diener: social indicators research series 37. Springer, New York, pp 11–58. doi:10.1007/978-90-481-2350-6_1

Donoghue EM, Thompson SA, Bliss JC (2010) Tribal-federal collaboration in resource management. J Ecol Anthropol 14:22–38

Fischer M (2006) Cultural agents: a community of minds. In: Gleizes M-P, Ricci A (eds) Engineering societies in the agents world VI: lecture notes in computer science. Springer, Berlin, pp 259–274. doi:10.1007/11759683_16

Geertz C (2000) The interpretation of cultures: selected essays. Basic Books, New York, ISBN: 0465097197

Geisler CC, Green R, Usner D, West PC (eds) (1982) Indian SIA: the social impact assessment of rapid resource development on native peoples. University of Michigan, Ann Arbor

Gondolf EW, Wells SR (1986) Empowered native community, modified SIA: the case of Hydaburg, Alaska. Environ Impact Assess Rev 6:373–383. doi:10.1016/0195-9255(86)90030-2

Gunnier M (2008) The history and contemporary role of the Lyle Falls dip net fishery in Yakama economy and culture. Thesis. Central Washington University

Hardiman JM, Mesa MG (2013) The effects of increased stream temperatures on juvenile steelhead growth in the Yakima River Basin based on projected climate change scenarios. Clim Chang (this issue)

Hatten JR, Batt TR, Connolly PJ, Maule AG (2013) Modeling effects of climate change on Yakima River salmonid habitats. Clim Chang (this issue)

Helliwell JF, Putnum RD (2004) The social context of well-being. Phil Trans R Soc Lond B 359:1435–1446. doi:10.1098/rstb.2004.1522

Henson EC (2008) The state of the Native nations: conditions under US policies of self-determination: the Harvard Project on American Indian Economic Development. Oxford University Press, New York, ISBN: 9780195301250

Howitt R (2001) Rethinking resource management: justice, sustainability and indigenous peoples. Routledge, New York, ISBN: 978-0415123334

Hunn ES (1990) Nci'i-Wana. "The Big River": mid-Columbia Indians and their land. University of Washington Press, Seattle, ISBN: 0295968516

Jenni K, Graves D, Hardiman J, Hatten J, Mastin M, Mesa M, Montag JM, Nieman T, Voss F, Maule A (2013) Identifying stakeholder-relevant climate change impacts: a case study in the Yakima River Basin, Washington, USA. Clim Chang (this issue)

Jobes PC (1986) Assessing impacts on reservations: a failure of social impact research. Environ Impact Assess Rev 6:385–394. doi:10.1016/0195-9255(86)90031-4

Kimmerer R (2002) Weaving traditional ecological knowledge into biological education: a call to action. Bioscience 52:432–438. doi:10.1641/0006-3568(2002)052[0432:WTEKIB]2.0.CO

King TF (1998) How the archeologists stole culture: a gap in American environmental impact assessment practice and how to fill it. Environ Impact Assess Rev 18:117–133. doi:10.1016/S0195-9255(97)00064-4

King TF (2000) What should be the "cultural resources" element of EIA? Environ Impact Assess Rev 20:5–30. doi:10.1016/S0195-9255(99)00003-7

Lal P, Alavalapati JRR, Mercer ED (2011) Socio-economic impacts of climate change on rural United States. Mitig Adapt Strateg Glob Chang 16:819–844. doi:10.1007/s11027-011-9295-9

Lockie S (2001) SIA in review: setting the agenda for impact assessment in the 21st century. Impact Assess Proj Apprais 19:277–287. doi:10.3152/147154601781766952

MacKendrick K (2009) Climate change adaptation planning for cultural and natural resource resilience: a look at planning for climate change in two Native Nations in the Pacific Northwest U.S. Thesis, University of Oregon. http://www.tribesandclimatechange.org/docs/tribes_304.pdf Accessed 5 August 2011

Miles RL, Greer L, Kraatz D, Kinnear S (2008) Measuring community well-being: a central Queensland case study. Australas J Reg Stud 4:73–93, http://www.anzrsai.org/system/files/f8/f4/f45/f46/o246/Miles%20et%20al.pdf. Accessed 5 August 2011

MVEIRB (Mackenzie Valley Environmental Impact Review Board) (2007) Socio-economic impact assessment guidelines, 2nd edn. MVEIRB, Yellowknife, Canada. http://www.reviewboard.ca/upload/ref_library/SEIA_Guidelines_Contents_and_Chapter_1.pdf Accessed 15 January 2012

NRC (National Research Council) (1996) Upstream: salmon and society in the Pacific Northwest. National Academy Press, Washington, ISBN: 0309053250

OECD (2011) Compendium of OECD well-being indicators. OECD. http://www.oecd.org/document/28/0,3746,en_2649_201185_47916764_1_1_1_1,00.html. Accessed 5 August 2011

O'Faircheallaigh C (1999) Making social impact assessment count: a negotiation-based approach for indigenous peoples. Soc Nat Resour 12:63–80. doi:10.1080/089419299279894

O'Faircheallaigh C (2009) Effectiveness in social impact assessment: Aboriginal peoples and resource development in Australia. Impact Assess Proj Apprais 27:95–110. doi:10.3152/146155109X438715

Parker PL, King TF (1998) Guidelines for evaluating and documenting traditional cultural properties. National Register Bulletin 38. US Department of the Interior, National Park Service, Washington, DC

Pierotti R (2010) Sustainability of natural populations: lessons from indigenous knowledge. Hum Dimens Wildl 15:274–284. doi:10.1080/10871201003720439

Ross H (1989) Community social impact assessment: a cumulative study in the Turkey Creek area, western Australia. East Kimberly Working Paper No. 27. ISBN 0 86740 355 1

Ruckelshaus MH, Levin P, Johnson JB, Kareiva PM (2002) The Pacific salmon wars: what science brings to the challenge of recovering species. Annu Rev Ecol Syst 33:665–706. doi:10.1146/annurev.ecolsys.33.010802.150504

Scerri A, James P (2010) Accounting for sustainability: combining qualitative and quantitative research in developing 'indicators' of sustainability. Int J Soc Res Methodol 13:41–53. doi:10.1080/13645570902864145

Schuster HH (1975) Yakima Indian traditionalism: a study in continuity and change. Dissertation, University of Washington

Soto-Estrada E, Aguirre-Saldivar R, Noor Islam S (2005) Cultural integrity as a criterion of SEA. In: Schmidt M, João E, Albrecht E (eds) Implementing strategic environmental assessment. Springer, Berlin, pp 409–420. doi:10.1007/3-540-27134-1_28

Taylor J (2006) Indigenous peoples and indicators of well-being: an Australian perspective on UNPFII Global Frameworks. Meeting on indigenous peoples and indicators of well-being March 22–23, 2006. United Nations, Department of Economic and Social Affairs. http://caepr.anu.edu.au/Publications/WP/2006WP33.php. Accessed 5 August 2011

Tsosie R (2007) Indigenous people and environmental justice: the impact of climate change. Univ Colo Law Rev 78:1625–16789

Turner NJ, Boelscher Ignace M, Ignace R (2000) Ecological knowledge and wisdom of Aboriginal peoples in British Columbia. Ecol Appl 10:1275–1287. doi:10.1890/1051-0761(2000)010[1275:TEKAWO]2.0.CO;2

UNESCO (United Nations Educational, Scientific, and Cultural Organization) (2003) Convention for the safeguarding of the intangible cultural heritage, MISC/2003/CLT/CH/14, UNESCO. http://unesdoc.unesco.org/images/0013/001325/132540e.pdf Accessed 15 January 2012

Wilkinson C (2005) Blood struggle: the rise of modern Indian nations. W.W. Norton & Company, New York, ISBN-10: 0393051498

YESAB (Yukon Environmental and Socio-economic Assessment Board) (2006) Guide to socio-economic effects assessments. YESAB. http://www.yesab.ca/publications/documents/SEEAFinal200606.pdf. Accessed 5 August 2011
Acknowledgments
We thank the workshop participants, Lynne Koontz, and Jennifer Thorvaldson for their input and support. Also see Supplemental Materials 1 for those who provided input and guidance in developing the conceptual model. Funding was provided by U.S. Geological Survey, Science Applications and Decision Support Program. Any use of trade, firm, or product names is for descriptive purposes only and does not imply endorsement of the U.S. Government.
Additional information
This article is part of a Special Topic on "Stakeholder Input to Climate Change Research in the Yakima River Basin, WA" edited by Alec Maule and Stephen Waste.
Electronic supplementary material
Below is the link to the electronic supplementary material.
About this article
Cite this article
Montag, J.M., Swan, K., Jenni, K. et al. Climate change and Yakama Nation tribal well-being. Climatic Change 124, 385–398 (2014). https://doi.org/10.1007/s10584-013-1001-3
Received:

Accepted:

Published:

Issue Date:
Keywords
Traditional Ecological Knowledge

Tribal Community

Natural Resource Base

Tribal Member

Columbia River Basin