Abstract
Climate change is likely to increase the frequency and intensity of water-related hazards on human populations. This has generated security concerns and calls for urgent policy action. However, the simplified narrative that links climate change to security via water and violent conflict is wanting. First, it is not confirmed by empirical evidence. Second, it ignores the varied character and implications of hydro-climatic hazards, the multi-faceted nature of conflict and adaptive action, and crucial intricacies of security. Integrating for the first time research and findings from diverse disciplines, we provide a more nuanced picture of the climate-water-security nexus. We consider findings from the transboundary waters, armed conflict, vulnerability, and political ecology literatures and specify the implications and priorities for policy relevant research. Although the social effects of future hydro-climatic change cannot be safely predicted, there is a good understanding of the factors that aggravate risks to social wellbeing. To reduce vulnerability, pertinent democratic and social/civil security institutions should be strengthened where they exist, and promoted where they are still absent.
Access options
Buy single article
Instant access to the full article PDF.
US$ 39.95
Tax calculation will be finalised during checkout.
Subscribe to journal
Immediate online access to all issues from 2019. Subscription will auto renew annually.
US$ 119
Tax calculation will be finalised during checkout.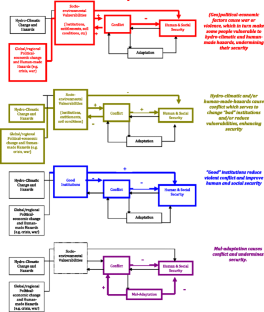 Notes
1.

Cooperation is understood here as positive, collaborative interactions in pursuit of common and individual benefit.
References
Alcamo J, Acosta-Michlik L, Carius A, Eierdanz F, Klein R, Krömker D, Tänzler D (2008) A new approach to quantifying and comparing vulnerability to drought. Reg Environ Chang 8:137–149

Bakker K (2000) Privatising water, producing scarcity: the Yorkshire drought of 1995. Econ Geogr 76(1):4–27

Bakker K (2003) A political ecology of water privatization. Studies in Political Economy. Issue 70. May

Bakker K (2004) An uncooperative commodity: privatizing water in England and Wales. Oxford University Press, Oxford

Ban KM (2007) 'A climate culprit in Darfur' Washington Post, 16 June 2007

Barnett J (2003) Security and climate change. Glob Environ Chang 13:7–17

Barnett J, O'Neill S (2010) Mal-adaptation. Glob Environ Chang 20:211–213

Bergholt D, Lujala P (2012) Climate-related natural disasters, economic growth, and armed civil conflict. J Peace Res 49(1):147–162

Bernauer T, Böhmelt T, Buhaug H, Gleditsch NP, Tribaldos T, Weibust EB, Wischnath G (2012) Supply, Demand, and Restraint: Determinants of Domestic Water Conflict and Cooperation. PRIO, Oslo and ETH, Zurich: Typescript

Bruckner M, Ciccone A (2011) Rain and the democratic window of opportunity. Econometrica 79(3):923–947

Bruggeman A, Charalambous K, Lange MA, Hadjinicolaou P (2011) Climate change and water scarcity in Cyprus, impacts and adaptation. Unpublished project deliverable, CLICO Research Project. European Commission FP7 SSH-CT-2010-244443

Buhaug H (2010) Climate not to blame for African civil wars. PNAS 107(38):16477–16482

Burke MB, Miguel SS, Dykema JA, Lobell DB (2009) Warming increases the risk of civil war in Africa. PNAS 106(49):20670–20674

Castro JE (2004) Urban water and the politics of citizenship: the case of the Mexico City Metropolitan Area during the 1980s and 1990s. Environ Plan A 36(2):327–346

Ciccone A (2011) Economic shocks and civil conflict: a comment. Am Econ Rev Appl Econ 3(4):215–227

Cook C, Bakker K (2012) Water security: debating an emerging paradigm. Glob Environ Chang 22(1):94–102

Crow B, Sultana F (2002) Gender, class, and access to water: three cases in a poor and crowded delta. Soc Nat Resour 15:709–724

D'Alisa G, Kallis G (2012) Why States mal-adapt, CLICO Research project, manuscript in preparation for submission

Dalby S (2009) Security and environmental change. Polity Press, Cambridge

Dalby S (2013) Environmental dimensions of human security. In: Floyd R, Matthew R (eds) Environmental security: approaches and issues. pp 121-138

De Stefano L, Duncan J, Dinar S, Stahl K, Strzepek KM, Wolf AT (2012) Climate change and the institutional resilience of inter- national river basins. J Peace Res 49(1):193–209

Dombrowsky I (2007) Conflict, cooperation and institutions in international water management—An economic analysis. Edward Elgar, Cheltenham

Drieschova A, Fischhendler I, Giordano M (2011) The role of uncertainties in the design of international water treaties: an historical perspective. Clim Chang 105(3–4):387–408

Foresight: Migration and Global Environmental Change (2011) Final project report. The Government Office for Science, London

Giglioli I, Swyngedouw E (2008) Let's drink to the great thirst! Water and the politics of fractured techno-natures in Sicily. Int J Urban Reg Res 32(2):392–414

Gleditsch P (2012) Whither the weather? Climate change and conflict. J Peace Res 49(1):3–9

Gleditsch NP, Furlong K, Hegre H, Lacina B, Owen T (2006) Conflicts over shared rivers: resource scarcity or fuzzy boundaries? Pol Geogr 25(4):361–382

Grove KJ (2010) Insuring "our common future?" Dangerous climate change and the biopolitics of environmental security. Geopolitics 15(3):536–563

Hendrix C, Glaser (2007) Trends and triggers: climate, climate change and civil conflict in Sub-Saharan Africa. Pol Geogr 26:695–715

Johnson L (2011) Climate change and the risk industry: the multiplication of fear and value. In: Peet R, Robbins P, Watts M (eds) Global political ecology. Routledge, London

Johnstone S, Mazo J (2011) Global warming and the Arab Spring. Survival: Glob Pol Strateg 53(2):11–17

Kaika M (2003) Constructing scarcity and sensationalising water politics: 170 days that shook Athens. Antipode 35(5):919–954

Kallis G (2008) Droughts. Annu Rev Environ Resour 33:85–118

Kallis G, Coccossis H (2003) Managing water for Athens: from the hydraulic to the rational growth paradigm. Eur Plan Stud 11(3):245–261

Kallis G, Kiparsky M, Norgaard R (2009) Collaborative governance and adaptive management. Lessons from California's CALFED Water Program. Environ Sci Pol 12(6):631–643

Katz D (2011) Hydro-political hyperbole: examining incentives for overemphasizing the risks of water wars. Glob Environ Pol 11(1):12–35

Koubi V, Bernauer T, Kalbhenn A, Spilker G (2012) Climate variability, economic growth, and civil conflict. J Peace Res 49(1):113–127

Lehner B, Doll P, Alcamo J, Henrichs T, Kaspar F (2006) Estimating the impact of global change on flood and drought risks in Europe: a continental, integrated analysis. Clim Chang 75:273–299

Leichenko R, O'Brien KL (2008) Global environmental change and globalization: double exposures. Oxford University Press, Oxford

Ludwig R, Roson R, Zografos C, Kallis G (2011) Towards an Inter- disciplinary research agenda on climate change, water and security in Southern Europe and Neighboring Countries. Environ Sci Pol 14(7):794–803

Martinez-Alier J (2003) The environmentalism of the poor: a study of ecological conflicts and valuation. Edward Elgar Publishing

McEvoy J, Wilder M (2012) Discourse and desalination: potential impacts of proposed climate change adaptation interventions in the Arizona–Sonora border region. Glob Environ Chang 22(2):353–363

Miguel E, Satyanath S, Sergenti E (2004) Economic shocks and civil conflict: an instrumental variable approach. J Polit Econ 112(4):725–753

Milman A, Arsano J (2012) Hydro-Security Profile: the Baro-Akobo Sub-Basin of the Eastern Nile Gambella National Regional State, Ethiopia, Unpublished project deliverable, CLICO Research Project. European Commission FP7 SSH-CT-2010-244443

Nordås R, Gleditsch NP (2007) Climate change and conflict. Pol Geogr 26(6):627–638

O'Brien KL, Wolf J (2010) A values-based approach to vulnerability and adaptation to climate change. Wiley Interdiscip Rev: Clim Chang 1(2):232–242

Obama B (2009) "U.N. Speech on Climate Change," Reuters, September 22, 2009, http://www.reuters.com/article/idUSTRE58L2PR20090922

Otero I, Kallis G, Aguilar R, Ruiz V (2011) Water scarcity, social power and the production of an elite suburb: the political ecology of water in matadepera, Catalonia. Ecol Econ 70(7):1297–1308

Peet R, Robbins P, Watts M (eds) (2011) Global political ecology. Routledge, London

Peluso N, Lund C (2011) New frontiers of land control: introduction. The J Peasant Stud 38(4):667–681

Sauri, D., (2012) Water, public responsibility and equity: the Barcelona "water war" of the 1990s. In: Barraque B (ed) Urban water conflicts, Paris: UNESCO

Selby J (2003) Water, power and politics in the Middle East. I. B. Tauris, London

Selby J, Hoffman C (2013) Water scarcity, conflict and migration: a comparative analysis and reappraisal. Environ Plann C 30(6):997–1014

Serageldin I (2009) Water wars? J World Pol 26(4):25–31

Slettebak RT (2012) Don't blame the weather! Climate-related natural disasters and civil conflict. J Peace Res 49(1):163–176

Sojamo S, Keulertz M, Warner J, Allan JA (2012) Virtual water hegemony: the role of agribusiness in global water governance. Water Int 37(2):169–182

Song J, Whittington D (2004) Why have some countries on international rivers been successful negotiating treaties? A global perspective. Water Resour Res 40:WO5S06

Swyngedouw E (2007) TechnoNatural revolutions - the scalar politics of Franco's hydro-social dream for Spain 1939–1975. Trans, Inst Br Geogr 32(1):9–28

Theisen OM, Holtermann H, Buhaug H (2011) Climate wars? Assessing the claim that drought breeds conflict. Int Secur 36(3):79–106

Tir J, Stinnett DM (2012) Weathering climate change: can institutions mitigate international water conflict? J Peace Res 49(1):211–225

Toset HPW, Gleditsch NP, Håvard H (2000) Shared rivers and interstate conflict. Pol Geogr 19(8):971–996

Turner MD (2004) Political ecology and the moral dimensions of "resource conflicts": the case of farmer-herder conflicts in the Sahel. Pol Geogr 23:863–889. doi:10.1016/j.polgeo.2004.05.009

UN Security Council (2011) 'Make no mistake', says secretary-general, 'climate change not only exacerbates threats to peace and security', it is a threat to international peace and security. UN, New York, SC/10332

UNDP (United Nations Development Programme) (1994) Human development report. Oxford University Press, New York

Walker G, Whittle R, Medd W, Walker M (2011) Assembling the flood: producing spaces of bad water in the city of Hull. Environ Plann A 43(10):2304–2320

Watts M, Peet R (1996) Liberating political ecology. In: Peet R, Watts M (eds) Liberation ecologies. Routlege, London, pp 3–42

Whittle R, Medd W, Deeming H, Kashefi E, Mort M, Twigger Ross C, Walker G, Watson N (2010) After the rain – learning the lessons from flood recovery in hull. Final project report for "flood, vulnerability and urban resilience: a real-time study of local recovery following the floods of June 2007 in Hul". Lancaster University, Lancaster

WHO (World Health Organization) (1996) WHO Global Consultation on Violence and Health: violence: a public health priority. World Health Organization, Geneva, Document WHO/EHA/SPI.POA.2

Wolf A (2007) Shared waters: conflict and cooperation. Annu Rev Environ Resour 32:241–269

Wolf A (2009) A long term view of water and international security. J Contemp Water Res Educ 142(1):67–75

Woodhouse M, Zeitoun M (2008) Hydro-hegemony and international water law: grappling with the gaps of power and law. Water Pol 10(2):103–119

Zeitoun M, Mirumachi N (2008) Transboundary water interaction I: reconsidering conflict and cooperation. Int Environ Agreements: Pol, Law Econ 8:297–316
Acknowledgments
Research for this article has benefited from the EC-funded FP7 SSH research project CLICO - Climate Change, Hydro-conflict and Human Security (contract number: 244443) and with conversations and exchange of ideas with project partners. We thank Naho Mirumachi for her constructive comments to a previous draft.
Additional information
This article is part of a Special Issue on "Climate and Security: Evidence, Emerging Risks, and a New Agenda" edited by François Gemenne, Neil Adger, Jon Barnett, and Geoff Dabelko.
About this article
Cite this article
Kallis, G., Zografos, C. Hydro-climatic change, conflict and security. Climatic Change 123, 69–82 (2014). https://doi.org/10.1007/s10584-013-0893-2
Received:

Accepted:

Published:

Issue Date:
Keywords
Water Scarcity

Armed Conflict

Human Security

Violent Conflict

Transboundary Water