Abstract
Designing climate-related research so that study results will be useful to natural resource managers is a unique challenge. While decision makers increasingly recognize the need to consider climate change in their resource management plans, and climate scientists recognize the importance of providing locally-relevant climate data and projections, there often remains a gap between management needs and the information that is available or is being collected. We used decision analysis concepts to bring decision-maker and stakeholder perspectives into the applied research planning process. In 2009 we initiated a series of studies on the impacts of climate change in the Yakima River Basin (YRB) with a four-day stakeholder workshop, bringing together managers, stakeholders, and scientists to develop an integrated conceptual model of climate change and climate change impacts in the YRB. The conceptual model development highlighted areas of uncertainty that limit the understanding of the potential impacts of climate change and decision alternatives by those who will be most directly affected by those changes, and pointed to areas where additional study and engagement of stakeholders would be beneficial. The workshop and resulting conceptual model highlighted the importance of numerous different outcomes to stakeholders in the basin, including social and economic outcomes that go beyond the physical and biological outcomes typically reported in climate impacts studies. Subsequent studies addressed several of those areas of uncertainty, including changes in water temperatures, habitat quality, and bioenergetics of salmonid populations.
Access options
Buy single article
Instant access to the full article PDF.
USD 39.95
Price excludes VAT (USA)
Tax calculation will be finalised during checkout.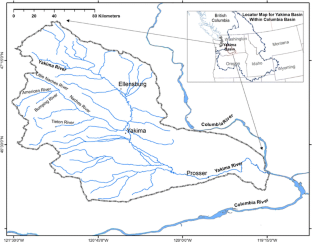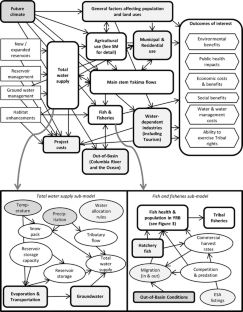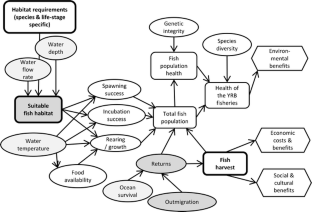 References
Bovee KD, Waddle TJ, Talbert C, Hatten JR, Batt TR (2008) Development and application of a decision support system for water management investigations in the upper Yakima River, Washington. USGS Open File Report 2008–1251. Available on-line at: http://pubs.usgs.gov/of/2008/1251/pdf/OF08-1251_508.pdf

Clemen R (1996) Making hard decisions. Duxbury Press, Belmont

Coleman JL, Taylor IL, Nieman TL, Jenni KE (2006) A workshop investigating the potential for the application of decision analysis principles and processes to geoenvironmental situations: Selenium in West Virginia. USGS Open File Report 2006–1283. Available on-line at: http://pubs.usgs.gov/of/2006/1283/

Graves D, Maule A (2013) Modeling water temperature in the satus and toppenish watersheds of the Yakima River Basin in Washington, USA. Climatic Change (this issue)

Gregory R, Fischhoff B, McDaniels T (2005) Acceptable input: Using decision analysis to guide public policy deliberations. Dec Anal 2(1):4–16

Hardiman JM, Mesa MG (2013) The effects of increased stream temperatures on juvenile steelhead growth in the Yakima River Basin based on projected climate change scenarios. Climatic Change (this issue)

Hatten JR, Batt TR, Connolly PJ, Maule AG (2013) Modeling effects of climate change on Yakima River salmonid habitats. Climatic Change (this issue)

Holzkämper A, Kumar V, Surridge BWJ, Paetzold A, Lerner DN (2012) Bringing diverse knowledge sources together—A meta-model for supporting integrated catchment management. J Environ Manage 96:116–127

Interagency Climate Change Adaptation Task Force (2011) National action plan: Priorities for managing freshwater resources in a changing climate. Available online at: http://www.whitehouse.gov/sites/default/files/microsites/ceq/2011_national_action_plan.pdf

IPCC (Intergovernmental Panel on Climate Change) (2000). Special Report on Emissions Scenarios. Available online at: http://www.ipcc.ch/pdf/special-reports/emissions_scenarios.pdf

Keeney R (2007) Developing objectives and attributes. In: Edwards D, Miles RF Jr, von Winterfeldt D (eds) Advances in decision analysis: From foundations to applications. Cambridge University Press, New York, Chapter 7

Kragt M, Robson B, Macleod C (2013) Modellers' roles in structuring integrative research projects. Environ Modell Softw 39:322–330

Liu Y, Gupta H, Springer E, Wagener T (2008) Linking science with environmental decision making: Experiences from an integrated modeling approach to supporting sustainable water resources management. Environ Modell Softw 23:846–858

Mantua N, Francis RC (2004) Natural climate insurance for Pacific Northwest salmon and salmon fisheries: Finding our way through the entangled bank. Am Fish S S 43:121–134

Marttunen M, Hämäläinen RP (2008) The decision analysis interview approach in the collaborative management of a large regulated water course. Environ Manage 42:1026–1042

Mastin MC (2008) Effects of potential future warming on runoff in the Yakima River basin. U.S. Geological Survey Scientific Investigations Report, Washington, pp 2008–5124

Miles EL, Snover AK, Hamlet AF, Callahan B, Fluharty D (2000) Pacific Northwest regional assessment: The impacts of climate variability and climate change on the water resources of the Columbia River basin. J Am Water Resour As 36(2):399–420

Milly PCD, Betancourt J, Falkenmark M, Hirsch RM, Kundzewicz ZW, Lettenmaier DP, Stouffer RJ (2008) Stationarity is dead: Whither water management? Science 319:573–574

Montag JM, Swan K, Nieman T, Hatten J, Mesa M, Graves D, Voss F, Mastin M, Hardiman J, Maule A (2013) Climate change and Yakama nation tribal well-being. Climatic change (this issue)

Mote PW, Parson EA, Hamlet AF, Keeton WS, Lettenmaier D, Mantua N, Miles EL, Peterson DW, Peterson DL, Slaughter R, Snover AK (2003) Preparing for climatic change: The water, salmon, and forests of the Pacific Northwest. Climatic Change 61:45–88

NOAA (2011) ESA Salmon Listings. Available on-line at: http://www.nwr.noaa.gov/ESA-Salmon-Listings/upload/1-pgr-8-11.pdf)

Pierce DW, Barnett TP, Santer BD, Glecker PJ (2009) Selecting global climate models for regional climate change studies. P Natl A Sci USA 106(21):8441–8446

Polasky S, Carpenter SR, Folke C, Keeler B (2011) Decision-making under great uncertainty: Environmental management in an era of global change. Trends Ecol Evol 26(8):398–404

Reynolds TW, Bostrom A, Read D, Morgan MG (2010) Now what do people know about global climate change: Surveys of educated laypeople. Risk Anal 30(10):1520–1538

Tidwell VC, Passell HD, Conrad SH, Thomas RP (2004) System dynamics modeling for community-based water planning: Application to the Middle Rio Grande. Aquat Sci 66:357–372

USBR (United States Bureau of Reclamation) (2009) Preliminary integrated water resource management plan for the Yakima River basin, Attachment A: Workgroup members. Available on-line at: http://www.ecy.wa.gov/programs/wr/cwp/cr_yak_storage.html

US Census Bureau (2012) State and county QuickFacts. Available on-line at: http://quickfacts.census.gov/qfd/states/53/53077.html

Vano JA, Scott M, Voisin N, Stöckle C, Hamlet AF, Mickelson KEB, McGuire M, Elsner, Lettenmaier DP (2009) Climate change impacts on water management and irrigated agriculture in the Yakima River basin, Washington, USA. In the washington climate change impacts assessment: Evaluating washington's future in a changing climate, climate impacts group, University of Washington, Seattle, Washington.

Voinov A, Bousquet F (2010) Modelling with stakeholders. Environ Modell Softw 25:1268–1281

Voss F, Maule AG (2013) Developing a database-driven system for simulating water temperature in the lower Yakima River main stem, Washington, for various climate scenarios. USGS Open File Report 2013–1010, 20 p.. Available on-line at: http://pubs.usgs.gov/of/2013/1010/.

Washington State Department of Ecology (2009) Final EIS, Yakima River Basin integrated water resource management alternative. Available on-line at: http://www.ecy.wa.gov/pubs/0912009.pdf

Washington State Department of Ecology (2008) Leading the way on climate change: The challenge of our time. Ecology Publication #08-01-008. Available online at: http://www.ecy.wa.gov/climatechange/interimreport.htm

Webster M (2003) Communicating climate change uncertainty to policy-makers and the public. Climatic Change 60(1–2):1–8

Western Governors' Association (2008) Water needs and strategies for a sustainable future: Next steps. Available online at: http://www.westgov.org/component/joomdoc/doc_details/82-water-needs-and-strategies-for-a-sustainable-future-next-steps

Young P, Cech J, Thompson L (2011) Hydropower-related pulsed flow impacts on stream fishes: A brief review, conceptual model, knowledge gaps, and research needs. Rev Fish Biol Fisheries 21:713–731
Acknowledgements
We thank the workshop participants, Lynne Koontz, and Jennifer Thorvaldson for their support, and the reviewers for many helpful suggestions. Funding was provided by U.S. Geological Survey, Science Applications and Decision Support Program. Any use of trade, firm, or product names is for descriptive purposes only and does not imply endorsement of the U.S. Government.
Additional information
This article is part of a Special Topic on "Stakeholder Input to Climate Change Research in the Yakima River Basin, WA" edited by Alec Maule and Stephen Waste.
Electronic supplementary material
Below is the link to the electronic supplementary material.
About this article
Cite this article
Jenni, K., Graves, D., Hardiman, J. et al. Identifying stakeholder-relevant climate change impacts: A case study in the Yakima River Basin, Washington, USA. Climatic Change 124, 371–384 (2014). https://doi.org/10.1007/s10584-013-0806-4
Received:

Accepted:

Published:

Issue Date:

DOI: https://doi.org/10.1007/s10584-013-0806-4
Keywords
Climate Change Impact

Salmon Population

Influence Diagram

Columbia River Basin

Salmonid Population