Abstract
Understanding vulnerability to the impacts of global environmental change and identifying adaptation measures to cope with these impacts require localized investigations that can help find actual and exact answers to the questions about who and what are vulnerable, to what are they vulnerable, how vulnerable are they, what are the causes of their vulnerability, and what responses can lessen their vulnerability. People living in forests are highly dependent on forest goods and services, and are vulnerable to forest changes both socially and economically. In the Congo basin, climate change effects on forest ecosystems are predicted to amplify the existing pressure on food security urging expansion of current agricultural lands at the expense of forest, biodiversity loss and socioeconomic stresses. The paper aimed at exploring vulnerability and adaptation needs to climate change of local communities in the humid forest zone of Cameroon. Field work was conducted in two forest communities in Lekié and in Yokadouma in the Center and Eastern Regions of Cameroon respectively. The assessment was done using a series of approaches including a preparatory phase, fieldwork proper, and validation of the results. Results show that: (a) the adverse effects of climate conditions to which these communities are exposed are already being felt and exerting considerable stress on most of their livelihoods resources; (b) drought, changing seasons, erratic rain patterns, heavy rainfall and strong winds are among the main climate-related disturbances perceived by populations in the project sites; (c) important social, ecological and economic processes over the past decades seemed to have shaped current vulnerability in the sites; (d) Some coping and adaptive strategies used so far are outdated; and specific adaptation needs are identified and suggestions for facilitating their long-term implementations provided.
Access options
Buy single article
Instant access to the full article PDF.
USD 39.95
Price excludes VAT (USA)
Tax calculation will be finalised during checkout.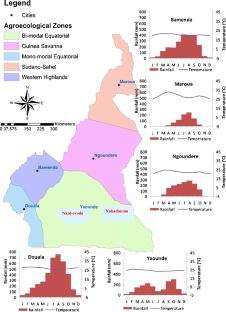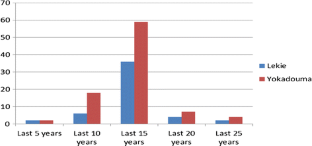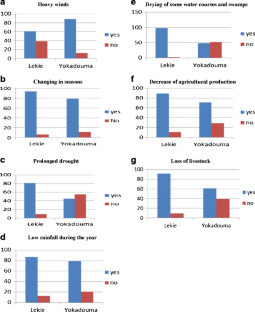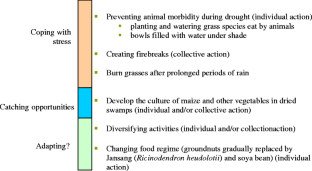 References
Akoa ARJ (2007) Economic analysis of community forest projects in cameroon. MSc dissertation. Georg-August University of Goettingen, Germany

Akponikpè PBI, Johnston P, Agbossou EK (2010) Farmers' perception of climate change and adaptation strategies in Sub-Saharan West-Africa. 2nd International Conference: Climate, Sustainability and Development in Semi-arid Regions August 16–20, 2010, Fortaleza - Ceará, Brazil

Asangwe CK (2006) The Douala coastal lagoon complex, Cameroon: Environmental issues. In: Administering marine spaces: International issues. FIG publication No 36, Copenhagen, Denmark, pp 134–147

Bele MY, Somorin O, Sonwa DJ, Nkem JN, Locatelli B (2011) Forests and climate change adaptation policies in Cameroon. Mitig Adapt Strateg Glob Chang 16:369–385

Betti JL (2004) Contribution à l'élaboration des règles de gestion de la zone communautaire du Parc National de la Lobeke. Rapport consultation WWF-Jengi, Sud-Est Cameroun. 22p

Brown HCP, Nkem JN, Sonwa DJ, Bele Y (2010) Institutional adaptive capacity and climate change response in the Congo Basin forests of Cameroon. Mitig Adapt Strateg Glob Chang 15:263–282

Congo Basin Forest Partnership (CBFP) (2008) Congo basin forests. State of the forests 2008. 425p

Downing TE, Aerts J, Soussan J, Barthelemy O, Bharwani S, Ionescu C, Hinkel J, Klein RJT, Mata LJ, Martin N, Moss S, Purkey D, Ziervogel G (2005) Integrating social vulnerability into water management. SEI Working Paper and Newater Working Paper No. 4. Stockholm Environment Institute, Oxford

First National Communication (NC1) (2005). Cameroon First National Communication submitted to the United Nation Framework Convention on Climate Change

Food and Agriculture Organization of the United Nations (FAO) (2005) Irrigation in Africa in figures AQUASTAT Survey – 2005. FAO Water Reports No

Füssel HM (2007) Vulnerability: a generally applicable conceptual framework for climate change research. Glob Environ Chang 17(2):155–167

German LA, Tiani AM, Daoudi A, Maravanyika TM, Chuma E, Beaulieu N, Lo H, Jum C, Nemarundwe N, Ontita E, Yitamben G, Orindi V (2010) The application of participatory action research to climate change adaptation: A reference guide. 125p

Haddad MB (2005) Ranking the adaptive capacity of nations when socio-political goals are explicit. Glob Environ Chang 15(2005):165–176

Intergovernmental Panel for Climate Change (IPCC) (2007) In: Parry ML, Canziani OF, Palutikof JP, van der Linden PJ, Hanson CE (eds) Climate change 2007: Impacts, adaptations and vulnerability. Contribution of Working Group II to the Third Assessment Report of the Intergovernmental Panel on Climate Change. Cambridge University Press, Cambridge, 1000 p

International Union of Forestry Research Organization (IUFRO) (2010) Adaptation des forêts africaines au changement climatique: vue régionale des consequences du changement climatique sur les forêts et les populations, et des options pour l'adaptation. http://www.iufro.org/download/file/5515/4624/africanpolicy-brief-fr.pdf (Accessed 14 June 2010)

Kasperson RE, Dow K, Archer E, Caceres D, Downing T, Elmqvist T, Eriksen S, Folke C, Han G, Iyengar K, Vogel C, Wilson K, Ziervogel G (2005) Vulnerable peoples and places. In: Hassan R, Scholes R, Ash N (eds) Ecosystems and human wellbeing: Current state and trends. Vol. 1. Island Press, Washington, D.C, pp 143–164

Locatelli B, Markku K, Brockhaus M, Colfer CJP, Murdiyarso D, Santoso H (2008) Facing an uncertain future. How forests and people can adapt to climate change. 100 p

McCarthy JJ, Canziani OF, Leary NA, Dokken DJ, White KS (2001) Climate change 2001: Impacts, adaptation, and vulnerability. Cambridge University Press, Cambridge, UK 1032 pp

Millennium Ecosystem Assessment (MEA) (2005) Ecosystem and human well-being: Our human planet. Summary for policy makers, Island Press

Ministère des Forêts (MINOF) (2008) Programme Sectoriel Forêts-Environnement. Synthese etat des lieux de la recherche, Cameroun

Molua E (2008) Turning up the heat on African agriculture: The impact of climate change on Cameroon's agriculture. AfJARE 2(1). 20 p

Molua EL, Lambi CM (2007) The economic impact of climate change on agriculture in Cameroon. Policy Research Working Paper 4364. The World Bank Development Research Group Sustainable Rural and Urban Development Team. 33 p

Nkem J, Santoso H, Murdiyarso D, Brockhaus M, Kanninen M (2007) Using tropical forest ecosystem goods and services for planning climate change adaptation with implications for food security and poverty reduction. J Semi-Arid Trop Agric Res 4(1):1–23

Nkem J, Kalame FB, Idinoba M, Somorin OA, Ndoye O, Awono A (2010) Shaping forest safety nets with markets: adaptation to climate change under changing roles of tropical forests in Congo Basin. Environ Sci Policy 13:498–508

Nzeadibe TC, Egbule CL, Chukwuone NA, Agwu AE, Agu VC (2012) Indigenous innovations for climate change adaptation in the Niger Delta region of Nigeria. Environ Dev Sustain. doi:10.1007/s10668-012-9359-3

Olson DM, Dinnerstein E, Wikramanayake ED, Burgess ND, Powell GVN, Underwood EC, D'amico JA, Itoua I, Strand H, Morrison JC, Loocks CJ, Allnutt TF, Ricketts TH, Kura Y, Lamoreux JF, Wettengel WW, Hedao P, Kassem KR (2001) Terrestrial ecoregions of the world: a new map of life on Earth. BioScience 51(11):933–938

Republic of Cameroon (RoC) (1995) Decree No. 95/531/PM of 23 August 1995 establishing the modalities for the implementation of forestry regulations. Prime Ministry, Yaoundé, Cameroon

Shackleton CM, Shackleton SE, Buiten E, Bird N (2007) The importance of dry woodlands and forests in rural livelihoods and poverty alleviation in South Africa. For Policy Econ 9(5):558–577

Somorin OA (2010) Climate impacts, forest-dependent rural livelihoods and adaptation strategies: a review. Afr J Environ Sci Technol 4(13):903–912

Somorin OA, Brown HCP, Visseren-Hamakers IJ, Sonwa DJ, Arts B, Nkem J (2011) The Congo Basin forests in a changing climate: Policy discourses on adaptation and mitigation (REDD+). Glob Environ Chang

Sonwa DJ, Bele MY, Somorin OA, Nkem J (2010) Central Africa is not only carbon stock: Preliminary efforts to promote adaptation to climate change for forest and communities in Congo Basin. In: Bojang F (ed) Nature and fauna: Enhancing natural resources management for food security in Africa. Volume 25, Issue 1. pp. 52-57

Sonwa DJ, Nkem JN, Idinoba ME, Bele MY, Cyprain J (2012a) Building regional priorities in forests for development and adaptation to climate change in the Congo Basin. Mitig Adapt Strateg Glob Chang 17(4):441–450. doi:10.1007/s11027-011-9335-5

Sonwa DJ, Somorin OA, Jum C, Bele MY, Nkem JN (2012b) Vulnerability, forest-related sectors and climate change adaptation: The case of Cameroon. For Policy Econ

Stern Review (2006) Stern review final report on the economics of climate Change. Cambridge University Press, Cambridge and New York, 712 pp

Turner B, Kasperson R, Matson P, McCarthy J, Corell R, Christensen L, Eckley N, Kasperson J, Luers A, Martello M, Polsky C, Pulsipher A, Schiller A (2003) A framework for vulnerability analysis in sustainability science. PNAS 100(14):8074–8079, http://www.pnas.org/content/100/14/8074.full

United Nations Environment Programme (UNEP) (2008) UNEP 2008 annual report. Nairobi. 106p

United Nations for Environmental Programme (UNEP) (2000) Developing strategies for climate change: the UNEP country studies on climate change impacts and adaptations assessment. Report 2000:2

Yengoh GT, Tchuinte A, Armah FA, Odoi JO (2010) Impact of prolonged rainy seasons on food crop production in Cameroon. Mitigation and Adaptation Strategies for Global Change 15(8):825–841
Acknowledgment
This research was the International Development Research Centre (IDRC) and the Department for International Development (DFID) funded Congo Basin Forest Climate Change Adaptation project of the Center for International Forestry Research. Special thanks go to all the respondents for their time and interest in the research. They really deserve to be co-authors, because all what we are sharing are their knowledge. Special thanks also go to anonymous reviewers who have substantially improved the quality of this paper.
About this article
Cite this article
Bele, M.Y., Tiani, A.M., Somorin, O.A. et al. Exploring vulnerability and adaptation to climate change of communities in the forest zone of Cameroon. Climatic Change 119, 875–889 (2013). https://doi.org/10.1007/s10584-013-0738-z
Received:

Accepted:

Published:

Issue Date:

DOI: https://doi.org/10.1007/s10584-013-0738-z
Keywords