Abstract
Understanding public perceptions of climate change is fundamental to both climate science and policy because it defines local and global socio-political contexts within which policy makers and scientists operate. To date, most studies addressing climate change perceptions have been place-based. While such research is informative, comparative studies across sites are important for building generalized theory around why and how people understand and interpret climate change and associated risks. This paper presents a cross-sectional study from six different country contexts to illustrate a novel comparative approach to unraveling the complexities of local vs global perceptions around climate change. We extract and compare 'cultural knowledge' regarding climate change using the theory of 'culture as consensus'. To demonstrate the value of this approach, we examine cross-national data to see if people within specific and diverse places share ideas about global climate change. Findings show that although data was collected using ethnographically derived items collected through place-based methods we still find evidence of a shared cultural model of climate change which spans the diverse sites in the six countries. Moreover, there are specific signs of climate change which appear to be recognized cross-culturally. In addition, results show that being female and having a higher education are both likely to have a positive effect on global cultural competency of individuals. We discuss these result in the context of literature on environmental perceptions and propose that people with higher education are more likely to share common perceptions about climate change across cultures and tentatively suggest that we appear to see the emergence of a 'global', cross-cultural mental model around climate change and its potential impacts which in itself is linked to higher education.
This is a preview of subscription content,
to check access.
Access this article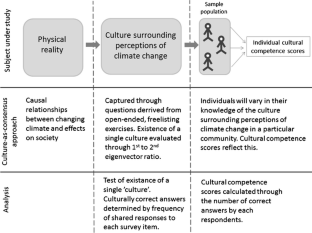 Similar content being viewed by others
References
Agho K, Stevens G, Taylor M, Barr M, Raphael B (2010) Population risk perceptions of global warming in Australia. Environ Res 110:756–763

Battaglini A, Barbeau G, Bindi M, Badeck FW (2009) European winegrowers's perceptions of climate change impact and options for adaptation. Reg Environ Chang 9:61–73

Bord RJ, Fisher A, O'Connor RE (1998) Public perceptionsof global warming: United States and international perspectives. Clim Res 11:75–84

Borgatti SP, Halgin DS (2011) Consensus analysis. In: Kronenfeld DB, Bennardo G, de Munck VC, Fischer MD (eds) A companion to cognitive anthropology. Wiley-Blackwell, Oxford, UK. doi:10.1002/9781444394931.ch10

Brechin SR (2003) Comparative public opinion and knowledge on global climatic change and the kyoto protocol: the U.S. versus the world? Int J Sociol Soc Policy 23(10):106–134

Brechin SR, Bhandari M (2011) Perceptions of climate change worldwide. Wiley Interdiscip Rev Clim Chang 2(6):871–885

Brody SD, Zahran S, Vedlitz A, Grover H (2008) Examining the relationship between physical vulnerability and public perceptions of global climate change in the United States. Environ Behav 40(1):72–95

Budescu DV, Broomwell S, Por H-H (2009) Improving communication of uncertainty in the reports of the Intergovernmental Panel on Climate Change. Psychol Sci 20(3):299–308

Bunce M, Rosendo S, Brown K (2010) Perceptions of climate change, multiple stressors and livelihoods on marginal African coasts. Environ Dev Sustain 12:407–440

Byg A, Salick J (2009) Local perspectives on a global phenomenon - climate change in Eastern Tibetan villages. Glob Environ Chang 19:156–166

Crate S, Nuttall M (eds) (2009) Anthropology and Climate Change: From Encounters to Actions. Left Coast Press, Walnut Creek

D'Andrade RG (1987) Modal responses and cultural expertise. Am Behav Sci 31(2):194–202

Etkin D, Ho E (2007) Climate change: perceptions and discourses of risk. J Risk Res 10(5):623–641

Eurobarometer (2007) Attitudes of European citizens towards the environment. Directorate General Environment, European Commission, Brussels

Gartin M, Crona BI, Wutich A, Westerhoff P (2010) Urban ecological knowledge? Urban perceptions of water quality in a desert city. Ecol Soc 15(4):art36

Gutterling JM, Wiegman O (1993) Gender-specific reactions to environmental hazards in the Netherlands. Sex Roles 28(7/8):433–447

Handwerker WP, Wozniak DF (1997) Sampling strategies for the collection of cultural data. Curr Anthropol 38:869–875

Kahan DM, Braman D, Gastil J, Slovic P, Mertz CK (2007) Culture and identity-protective cognition: explaining the white-male effect in risk perception. J Empir Leg Stud 4(3):465–505

Kahlor L, Rosenthal S (2009) If we seek, do we learn? Predicting knowledge of global warming. Sci Commun 30(3):380–414

Karoly D, Risbey J, Reynolds A (2003) Climate change - global warming contributes to Australia's worst drought. World Wildelife Fund Australia, Sydney

Kempton W (1991) Lay perspectives on global climate change. Glob Environ Chang 1(3):183–208

Kraus N, Mamlfors T, Slovic P (1992) Expert and lay judgements of chemical risks. Risk Anal 12(2):215–232

Leiserowitz AA (2005) American risk analysis: is clilmate change dangerous. Risk Anal 25(6):1433–1442

Leiserowitz AA (2006) Climate change risk perception and policy preferences: the role of affect, imagery and values. Climate Change 77:45–72

Lorenzoni I, Hulme M (2009) Believing is seeing: laypeople's views of future socioeconomic and climate change in England and in Italy. Public Underst Sci 18:383–400

Lorenzoni I, Pidgeon NF (2006) Public views on climate change: European and USA perspectives. Climate Change 77:73–95

Lorenzoni I, Leiserowitz AA, De Franca Doria M, Poortinga W, Pidgeon NF (2006) Cross-national comparisons of image associations with "global warming" and "climate change" among laypeople in the United States of America and Great Britain. J Risk Res 9(3):265–281

Midden CJH (1986) Individual and largescale technology: A comparative attitude study to the production of electricity with coal and uranium. Leiden University, Netherlands

O'Connor RE, Bord RJ, Fisher A (1999) Risk perceptions, general environmental beliefs, and willingness to address climate change. Risk Anal 19(3):461–471

Pilisuk M, Acredolo C (1988) Fear of technology hazards: one concern or many? Soc Behav 3:17–24

Plumwood V (1993) Feminism and the mastery of nature. Routledge, London

Radic V, Hock R (2011) Regionally differentiated contribution of mountain glaciers and ice caps to future sea-level rise. Nat Geosci 4:91–94

Rocheleau DE, Wangari E, Thomas-Slayter BP (1996) Feminist political ecology. Cross-cutting themes, theoretical insights, policy implications. In: Rocheleau DE, Thomas-Slayter BP, Wangari E (eds) Feminist political ecology: global issues and local experiences. Routledge, London

Romney AK (1999) Culture consensus as a statistical model. Curr Anthropol 40:S103–S115

Romney AK, Weller SC, Batchelder WH (1986) Culture as consensus: a theory of culture and informant accuracy. Am Anthropol 88:313–338

Salick J, Byg A, Posey D (2007) Indigenous people and climate change. Symposium Report (April 12–13). Environmental Change Institute, Oxford

Salick J, Fangb Z, Byg A (2009) Eastern Himalayan alpine plant ecology, Tibetan ethnobotany, and climate change. Glob Environ Chang 19(2):147–155

Savage I (1993) Demographic influences on risk perceptions. Risk Anal 13(4):313–420

Shafto P, Coley J (2003) Development of categorization and reasoning in the natural world: novices to experts, naïve similarity to ecological knowledge. J Exp Psychol 29(4):641–649

Speranza CI, Kiteme B, Ambenje P, Wiesmann U, Makali S (2010) Indigenous knowledge related to climate variability and change: insights from droughts in semi-arid areas of former Makueni District, Kenya. Climate Change 100:295–315

Stallen PJ, Thomas A (1988) Public concern about industrial hazards. Risk Anal 8:237–245

Sundblad E, Biel A, Gärling T (2009) Knowledge and confidence in knowledge about climate change among experts, journalists, politicians and laypersons. Environ Behav 41(2):281–302

Terry G (ed) (2009) Climate change and gender justice. Practical Action Publishing and Oxfam, Oxford

Turner WR, Oppenheimer M, Wilcove DS (2009) A force to fight global warming. Nature 462:278–279

Ungar S (2000) Knowledge, ignorance and the popular culture: climate change versus the ozone hole. Public Underst Sci 9(3):297–312

Walther G-R, Post E, Convey P, Menzel A, Parmesan C, Beebee TJC, Fromentin J-M, Hoegh-Guldberg O, Bairlein F (2002) Ecological responses to recent climate change. Nature 416(6879):389–395

Weller SC (2007) Cultural consensus theory: applications and frequently asked questions. Field Methods 19(4):339–368

Weller SC, Baer RD (2001) Intra- and intercultural variation in the definition of five illnesses: AIDS, diabetes, the common cold, empacho, and mal de ojo. Cross-Cult Res 35(2):201–226

Weller SC, Baer RD (2002) Measuring within- and between-group agreement: identifying the proportion of shared and unique beliefs across samples. Field Methods 14:6–25

Wolf J, Moser SC (2011) Individual understandings, perceptions, and engagement with climate change: insights from in-depth studies across the world. Wiley Interdiscip Rev Clim Chang 2(1):547–569
Acknowledgments
Work was locally seeded by the National Science Foundation (NSF) Grant No. SES-0345945 Decision Center for a Desert City (DCDC) and NSF grant number DEB-0423704 Central Arizona–Phoenix Long-Term Ecological Research,and ASU President's Late Lessons from Early History initiative. ASU global health and anthropology undergraduate students assisted with field-based data collection. Input by Crona has been made possible by funding from The Swedish Research Council Formas, and by Mistra through a core grant to the Stockholm Resilience Centre. Any opinions, findings and conclusions, or recommendations expressed in this material are those of the authors and do not necessarily reflect the views of the funding agencies.
About this article
Cite this article
Crona, B., Wutich, A., Brewis, A. et al. Perceptions of climate change: Linking local and global perceptions through a cultural knowledge approach. Climatic Change 119, 519–531 (2013). https://doi.org/10.1007/s10584-013-0708-5
Received:

Accepted:

Published:

Issue Date:

DOI: https://doi.org/10.1007/s10584-013-0708-5
Keywords