Abstract
Given the well-documented campaign in the USA to deny the reality and seriousness of anthropogenic climate change (a major goal of which is to "manufacture uncertainty" in the minds of policy-makers and the general public), we examine the influence that perception of the scientific agreement on global warming has on the public's beliefs about global warming and support for government action to reduce emissions. A recent study by Ding et al. (Nat Clim Chang 1:462–466, 2011) using nationally representative survey data from 2010 finds that misperception of scientific agreement among climate scientists is associated with lower levels of support for climate policy and beliefs that action should be taken to deal with global warming. Our study replicates and extends Ding et al. (Nat Clim Chang 1:462–466, 2011) using nationally representative survey data from March 2012. We generally confirm their findings, suggesting that the crucial role of perceived scientific agreement on views of global warming and support for climate policy is robust. Further, we show that political orientation has a significant influence on perceived scientific agreement, global warming beliefs, and support for government action to reduce emissions. Our results suggest the importance of improving public perception of the scientific agreement on global warming, but in ways that do not trigger or aggravate ideological or partisan divisions.
This is a preview of subscription content, log in to check access.
Access options
Buy single article
Instant access to the full article PDF.
US$ 39.95
Price includes VAT for USA
Subscribe to journal
Immediate online access to all issues from 2019. Subscription will auto renew annually.
US$ 199
This is the net price. Taxes to be calculated in checkout.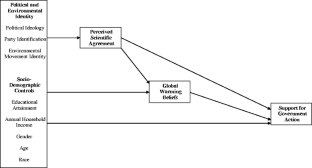 References
Bollen K (1989) Structural equations with latent variables. Wiley, New York

Bord RJ, O'Connor RE, Fischer A (2000) In what sense does the public need to understand global climate change? Pub Underst Sci 9:205–218

Bostrom A et al (2011) Causal thinking and support for climate change policies: international survey findings. Glob Environ Chang 22:210–222

Boykoff MT (2011) Who speaks for the climate?: Making sense of media reporting on climate change. Cambridge University Press, Cambridge

Dietz T, Dan A, Shwom R (2007) Support for climate change policy: social psychological and social structural influences. Rural Sociol 72:185–214

Ding D, Maibach EW, Zhao X, Roser-Renouf C, Leiserowitz A (2011) Support for climate policy and societal action are linked to perceptions about scientific agreement. Nat Clim Chang 1:462–466

Dunlap RE, McCright AM (2011) Organized climate change denial. In: Dryzek J, Norgaard R, Schlosberg D (eds) Oxford Handbook of Climate Change and Society, pp 144–160

Hamilton LC (2011) Education, politics, and opinions about climate change: evidence for interaction effects. Clim Chang 104:231–242

Hayes AF (2009) Beyond Baron and Kenny: statistical mediation analysis in the new millennium. Commun Monogr 76:408–420

Hoggan J (2009) Climate cover-up: the crusade to deny global warming. Greystone Books, Vancouver

Intergovernmental Panel on Climate Change (2007) IPCC fourth assessment report. IPCC, Geneva

Kline RB (2011) Principles and practices of structural equation modeling, 3rd edn. Guilford Press, New York

Krosnick JA, Holbrook AL, Lowe L, Visser PS (2006) The origins and consequences of democratic citizens' policy agendas: a study of popular concern about global warming. Clim Chang 77:7–43

Leiserowitz A (2006) Climate change risk perception and policy preferences: the role of affect, imagery, and values analysis. Clim Chang 77:45–72

Malka A, Krosnick JA, Langer G (2009) The association of knowledge with concern about global warming. Risk Anal 29:633–647

McCright AM (2009) The social bases of climate change concern, knowledge, and policy support in the US general public. Hofstra Law Rev 37:1017–1047

McCright AM, Dunlap RE (2003) Defeating Kyoto: the conservative movement's impact on U.S. climate change policy. Soc Probl 50(3):348–373

McCright AM, Dunlap RE (2010) Anti-reflexivity: the American conservative movement's success in undermining climate science and policy. Theory, Cult Soc 27(2–3):100–133

McCright AM, Dunlap RE (2011) The politicization of climate change and polarization in the American public's views of global warming, 2001–2010. Sociol Q 52:155–194

Mooney C (2012) The Republican brain: the science of why they deny science—and reality. Wiley, New York

National Research Council (2010) Advancing the science of climate change. National Academy Press, Washington

O'Connor RE, Bord RJ, Fisher A (1999) Risk perceptions, general environmental beliefs, and willingness to address climate change. Risk Anal 19:461–471

O'Connor RE, Bord RJ, Yarnal B, Wiefek N (2002) Who wants to reduce greenhouse gas emissions? Soc Sci Q 83:1–17

Oreskes N, Conway EM (2010) Merchants of doubt: how a handful of scientists obscured the truth on issues from tobacco smoke to global warming. Bloomsbury Press, New York

Powell JL (2011) The inquisition of climate science. Columbia University Press, New York

Xiao C, Hong D (2010) Gender and concern for environmental issues in urban China. Soc Nat Resour 25:468–482

Zahran S, Brody SD, Grover H, Vedlitz A (2006) Climate change vulnerability and policy support. Soc Nat Resour 19:771–789
Acknowledgments
The authors thank the Gallup Organization for making the data available for analysis.
About this article
Cite this article
McCright, A.M., Dunlap, R.E. & Xiao, C. Perceived scientific agreement and support for government action on climate change in the USA. Climatic Change 119, 511–518 (2013). https://doi.org/10.1007/s10584-013-0704-9
Received:

Accepted:

Published:

Issue Date:
Keywords
Global Warming

Climate Policy

Political Orientation

Government Action

Political Ideology