Abstract
A simulation analysis was carried out using the InfoCrop-rice model to quantify impacts and adaptation gains, as well as to identify vulnerable regions for irrigated and rain fed rice cultivation in future climates in India. Climates in A1b, A2, B1 and B2 emission scenarios as per a global climate model (MIROC3.2.HI) and a regional climate model (PRECIS) were considered for the study. On an aggregated scale, the mean of all emission scenarios indicate that climate change is likely to reduce irrigated rice yields by ~4 % in 2020 (2010–2039), ~7 % in 2050 (2040–2069), and by ~10 % in 2080 (2070–2099) climate scenarios. On the other hand, rainfed rice yields in India are likely to be reduced by ~6 % in the 2020 scenario, but in the 2050 and 2080 scenarios they are projected to decrease only marginally (<2.5 %). However, spatial variations exist for the magnitude of the impact, with some regions likely to be affected more than others. Adaptation strategies comprising agronomical management can offset negative impacts in the near future—particularly in rainfed conditions—but in the longer run, developing suitable varieties coupled with improved and efficient crop husbandry will become essential. For irrigated rice crop, genotypic and agronomic improvements will become crucial; while for rainfed conditions, improved management and additional fertilizers will be needed. Basically climate change is likely to exhibit three types of impacts on rice crop: i) regions that are adversely affected by climate change can gain in net productivity with adaptation; ii) regions that are adversely affected will still remain vulnerable despite adaptation gains; and iii) rainfed regions (with currently low rainfall) that are likely to gain due to increase in rainfall can further benefit by adaptation. Regions falling in the vulnerable category even after suggested adaptation to climate change will require more intensive, specific and innovative adaptation options. The present analysis indicates the possibility of substantial improvement in yields with efficient utilization of inputs and adoption of improved varieties.
This is a preview of subscription content, log in to check access.
Access options
Buy single article
Instant access to the full article PDF.
US$ 39.95
Price includes VAT for USA
Subscribe to journal
Immediate online access to all issues from 2019. Subscription will auto renew annually.
US$ 199
This is the net price. Taxes to be calculated in checkout.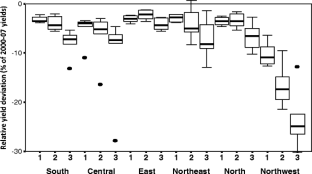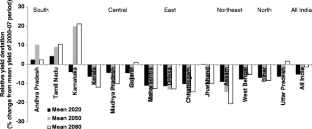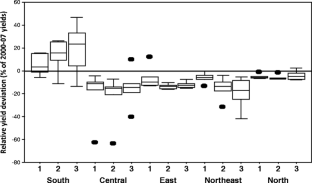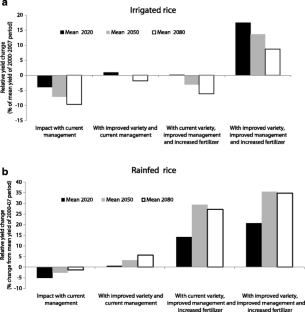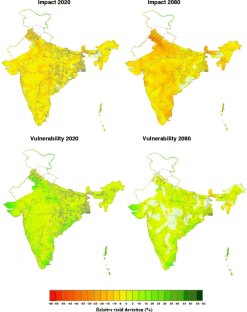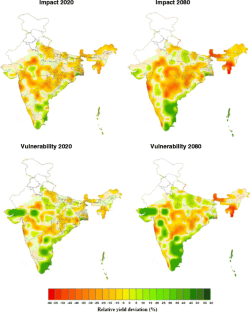 References
Aggarwal PK, Mall RK (2002) Climate change and rice yields in diverse agro-environments of India. II. Effect of uncertainties in scenarios and crop models on impact assessment. Clim Chang 52:331–343

Aggarwal PK, Kropff MJ, Cassman KG, ten Berge HFM (1997) Simulating genotypic strategies for increasing rice yield potential in irrigated, tropical environments. Field Crop Res 51:5–17

Aggarwal PK, Kalra N, Chander S, Pathak H (2006) InfoCrop: a dynamic simulation model for the assessment of crop yields losses due to pests and environmental impact of agro-ecosystems in tropical environments I Model description. Agric Syst 89:1–25

Baker JT (2005) Yield responses of southern US rice cultivars to CO2 and temperature. Agric For Meteorol 122:129–137

Baker JT, Boote KJ, Allen LH Jr (1995) Potential climate change effects on rice: carbon dioxide and temperature. In: Rosenzweig C et al (eds) Climate change and agriculture: analysis of potential international impacts. ASA Spec. Publ.59. ASA, CSSA and SSSA, Madison, pp 31–47

Bandyopadhyay A, Bhadra A, Raghuwanshi NS, Singh R (2008) Estimation of monthly solar radiation from measured air temperature extremes. Agric For Meteorol 148:1707–1718

Batjes NH (2008) ISRIC-WISE harmonized global soil profile dataset (V. 3.1). Report 2008/2, ISRIC-World Soil Information. Wageningen. The Netherlands

Cheng W, Sakai H, Yagi K, Hasegawa T (2010) Combined effects of elevated CO2 and high night temperature on carbon assimilation, nitrogen absorption, and the allocation of C and N by rice (Oryza sativa L.). Agric For Meteorol 150:1174–1181

Das L, Annan JD, Hargreaves JC, Emori S (2012) Improvements over three generations of climate model simulations for eastern India. Clim Res 51:201–216

DES (2012) Department of economics and statistics, agricultural statistics at a glance 2011. Ministry of Agriculture, Government of India

DRD (2011) Notified rice varieties in India during 1996–2010. Directorate of Rice Development. Ministry of Agriculture, Government of India. p 41

DRR (2009) Annual reports (2001-09). All India Coordinated Rice Improvement Programme (ICAR), Directorate of Rice Research, Hyderabad, India

Fan S, Chan KC (2005) Is small beautiful? Farm size, productivity, and poverty in Asian agriculture. Agric Econ 32:135–146

FAO (2009) Global agriculture towards 2050. High level expert forum-how to feed world in 2050. Rome, Italy. http://www.fao.org/fileadmin/templates/wsfs/docs/Issues_papers/HLEF2050_Global_Agriculture.pdf

FAOSTAT (2012) http://faostat3.fao.org/home/index.html#VISUALIZE_BY_DOMAIN

Hatfield JL, Boote K, Kimball BA, Ziska LH, Izaurralde RC, Ort D, Thomson AM, Wolfe D (2011) Climate impacts on agriculture: implications for crop production. Agron J 103:351–370

INCCA (2010) Climate change and India: A 4 × 4 assessment. Ministry of Environment and Forests, Government of India, New Delhi, India. http://envfor.nic.in/downloads/public-information

IPCC (2007) IPCC fourth assessment report: climate change 2007(AR4). IPCC, Geneva

IRRI (2012). International Rice Research Institute, www.irri.org

Kim HY, Lieffering M, Kobayashi K, Okada M, Miura S (2003a) Seasonal changes in the effects of elevated CO2 on rice at three levels of nitrogen supply: a free air CO2 enrichment (FACE) experiment. Glob Chang Biol 9:826–837

Kim HY, Lieffering M, Kobayashi K, Okada M, Mitchell MW, Gumpertz M (2003b) Effects of free-air CO2 enrichment and nitrogen supply on yield of temperate paddy rice crops. Field Crops Res 83:261–270

Kodra E, Ghosh S, Ganguly AR (2012) Evaluation of global climate models for Indian monsoon climatology. Environ Res Lett 7(014012):7. doi:10.1088/1748-9326/7/1/014012

Krishnan P, Swain DK, Baskar C, Nayak SK, Dash RN (2007) Impact of elevated CO2 and temperature on rice yield and methods of adaptation as evaluated by crop simulation studies. Agric Ecosyst Environ 122:233–242

Leakey ADB, Ainsworth EA, Bernacchi CJ, Rogers A, Long SP, Ort DR (2009) Elevated CO2 effects on plant carbon, nitrogen, and water relations: six important lessons from FACE. J Exp Bot 60:2859–2876

Lieffering M, Kim HY, Kobayashi K, Okada M (2004) The impact of elevated CO2 on the elemental concentrations of field grown rice grains. Field Crops Res 88:279–286

Lobell DB, Burke MB (2008) Why are agricultural impacts of climate change so uncertain? The importance of temperature relative to precipitation. Environ Res Lett 3:1–8

Mall RK, Aggarwal PK (2002) Climate change and rice yields in diverse agro-environments of India. I. Evaluation of impact assessment models. Clim Chang 52:315–330

Matsui T, Omasa K, Horie T (2000) High temperature at flowering inhibits swelling of pollen grains, a driving force for anther dehiscence in rice (Oryza sativa L.). Plant Prod Sci 3:430–434

Matthews RB, Wassmann R (2003) Modelling impacts of climate change and methane emission reductions on rice production: a review. Eur J Agron 19:573–598

Moya TB, Ziska LH, Namuco OS, Olszyk D (1998) Growth dynamics and genotypic variation in tropical, field-grown paddy rice (Oryza sativa L.) in response to increasing carbon dioxide and temperature. Glob Chang Biol 4:645–656

NATCOM (2012) India's Second National Communication to UNFCCC, Ministry of Environment and Forests, Government of India, New Delhi, India. http://envfor.nic.in/downloads/public-information/India%20Second%20National%20Communication%20to%20UNFCCC.pdf

Paroda RS, Kumar P (2000) Food production and demand in South Asia. Agril Econ Res Rev 13:1–24

Prasad PVV, Boote KJ, Allen LH Jr, Sheehy JE, Thomas JMG (2006) Species, ecotype and cultivar differences in spikelet fertility and harvest index of rice in response to high temperature stress. Field Crops Res 95:398–411

Rajeevan M, Nanjundiah R (2010) Coupled model simulations of twentieth century climate of the Indian summer monsoon. In: Current trends in science, Indian Academy of Sciences Publication, Bangalore, pp 537–567 (available at http://www.ias.ac.in)

Rupa Kumar K, Sahai AK, Krishna Kumar K, Patwardhan SK, Mishra PK, Revadekar JV, Kamala K, Pant GB (2006) High-resolution climate change scenarios for India for the 21st century. Curr Sci 90:335–345

Sheehy JE, Mitchell PL, Hardy B (2007) Changing new pathways to C4 rice. IRRI, Los Banos

Smit B, Skinner MW (2002) Adaptation options in agriculture to climate change: a typology. Mitig Adapt Strateg Glob Chang 7:85–114

Snyder AM (2000) The effects of elevated carbon dioxide and temperature on two cultivars of rice. M.S. thesis. Univ. of Florida, Gainsaville

Srivastava A, Naresh Kumar S, Aggarwal PK (2010) Assessment on vulnerability of sorghum to climate change in India. Agric Ecosyst Environ 138:160–169

Weerakoon WMW, Ingram KT, Moss DN (2005) Atmospheric CO2 concentration effects on N partitioning and fertilizer N recovery in field grown rice (Oryza sativa L.). Agric Ecosyst Environ 108:342–349
Acknowledgments
Authors thank the team of Indian Tropical Meteorological Institute, Pune, for providing the climate scenarios data.
About this article
Cite this article
Soora, N.K., Aggarwal, P.K., Saxena, R. et al. An assessment of regional vulnerability of rice to climate change in India. Climatic Change 118, 683–699 (2013). https://doi.org/10.1007/s10584-013-0698-3
Received:

Accepted:

Published:

Issue Date:
Keywords
Emission Scenario

Rice Yield

Global Climate Model

Rice Crop

Adaptation Option