Abstract
We hypothesized that the responses of boreal Norway spruce (Picea abies) forests to climate change would be region-specific due to regional differences in temperature and water availability. In this context, we analyzed the adaptive effects of varied thinning intensities on the gross primary production (GPP), total stem wood growth, and timber yield over a 100-year period using a process-based ecosystem model. Our simulations represented Norway spruce forests for five different bioclimatic zones spanning southern to northern Finland (61–67oN). Ten thinning regimes with thinning intensities ranging from 5 to 50 %, as well as an unthinned regime, were included in the calculations. The results showed that at the southern sites without thinning, the cumulative GPP and total stem wood growth were lower under the changing climate than in the current climate over the simulation period due to greater water depletion via evapotranspiration and reduced soil water availability. At the central and the northern sites, the climate changes increasingly enhanced the GPP and total stem wood growth due to the mitigation of low-temperature limitation and the improved soil water availability. Thinning generally mitigated the soil water deficit by reducing water evaporation and led to a reduction of the natural mortality. At the southern sites, light and moderate thinning intensities increased the GPP and total stem wood growth relative to sites with a changing climate that experienced no thinning. Moreover, moderate thinning resulted in the greatest timber yield. Heavy thinning, in which a large proportion of standing trees were removed, reduced the GPP and total stem wood growth despite allowing increased soil water availability. At the northern sites, all levels of thinning, including light thinning, decreased the GPP and stem wood growth, indicating that soil water availability was not a limiting factor for growth prior to thinning.
Access options
Buy single article
Instant access to the full article PDF.
US$ 39.95
Tax calculation will be finalised during checkout.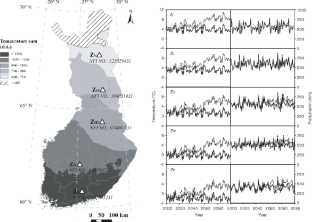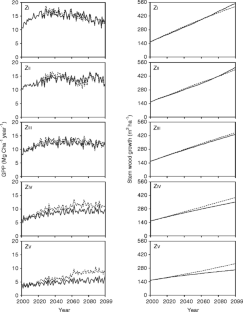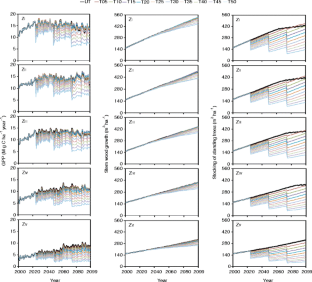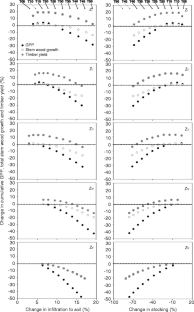 References
Albert M, Schmidt M (2010) Climate-sensitive modelling of site-productivity relationships for Norway spruce (Picea abies (L.) Karst.) and common beech (Fagus sylvatica L.). For Ecol Manag 259:739–749

Battles JJ, Robards T, Das A, Waring K, Gilless JK, Biging G, Schurr F (2008) Climate change impacts on forest growth and tree mortality: a data-driven modeling study in the mixed conifer forest of the Sierra Nevada, California. Clim Chang 87:S193–S213

Bergh J, Linder S, Bergström J (2005) Potential production of Norway spruce in Sweden. For Ecol Manag 204:1–10

Carter TR, Jylhä K, Perrels A, Fronzek S, Kankaanpää S (2005) FINADAPT scenarios for the 21st century: alternative futures for considering adaptation to climate change in Finland. FINADAPT Working Paper 2, Finnish Environmental Institute Mimeographs, Helsinki

Courbaud B (2002) Comparing light interception with stand basal area for predicting tree growth. Tree Physiol 20:407–414

D'Amato AW, Bradford JB, Fraver S, Palik BJ (2011) Forest management for mitigation and adaptation to climate change: Insights from long-term silviculture experiments. For Ecol Manag 262:803–816

Ge ZM, Zhou X, Kellomäki S, Wang KY, Peltola H, Väisänen H, Strandman H (2010) Effects of changing climate on water and nitrogen availability with implications on the productivity of Norway spruce stands in southern Finland. Ecol Model 221:1731–1743

Ge ZM, Kellomäki S, Peltola H, Zhou X, Wang KY, Väisänen H (2011) Impacts of changing climate on the productivity of Norway spruce dominant mix-stands with Scots pine and birch in relation to the water availability in southern and northern Finland. Tree Physiol 31:323–338

Ge ZM, Kellomäki S, Peltola H, Zhou X, Wang KY, Väisänen H (2012) Effects of climate change on the evapotranspiration and water availability in the boreal forests located in Southern Finland: an ecosystem model based approach. Ecohydrology. doi:10.1002/eco.276

Girardin MP, Raulier F, Bernier PY, Tardif JC (2008) Response of tree growth to a changing climate in boreal central Canada: a comparison of empirical, process-based, and hybrid modelling approaches. Ecol Model 213:209–228

Hynynen J, Ojansuu R, Hökkä H, Salminen H, Siipilehto J, Haapala P (2002) Models for predicting stand development in MELA System. Finnish Forest Research Institute, Research Paper 835:1–116

Jyske T, Mäkinen H, Saranpää P (2008) Wood density within Norway spruce stems. Silva Fenn 42:439–455

Jyske T, Hölttä T, Mäkinen H, Nöjd P, Lumme I, Spiecker H (2010) The effect of artificially induced drought on radial increment and wood properties of Norway spruce. Tree Physiol 30:103–115

Kellomäki S, Väisänen H (1996) Model computations on the effect of rising temperature on soil moisture and water availability in forest ecosystems dominated by Scots pine in the boreal zone in Finland. Clim Chang 32:423–445

Kellomäki S, Väisänen H (1997) Modelling the dynamics of the forest ecosystem for climate change studies in the boreal conditions. Ecol Model 97:121–140

Kellomäki S, Peltola H, Ryyppö A (2008a) Implications and consequences. In: Kahle HP et al (eds) Causes and consequences of forest growth trends in Europe. European Forest Institute. Brill, Leiden-Boston, pp 238–253

Kellomäki S, Peltola H, Nuutinen T, Korhonen KT, Strandman H (2008b) Sensitivity of managed boreal forests in Finland to climate change, with implications for adaptive management. Phil Trans R Soc B 363:2339–2349

Kilpeläinnen A, Peltola H, Ryppö A, Kellomäki S (2004) Scots pine responses to elevated temperature and carbon dioxide concentrations: growth and wood properties. Tree Physiol 25:75–83

Kirschbaum MUF (2000) Forest growth and species distribution in a changing climate. Tree Physiol 20:309–322

Kohler M, Sohn J, Nägele G, Bauhus J (2010) Can drought tolerance of Norway spruce (Picea abies (L.) Karst.) be increased through thinning? Eur J Forest Res 129:1109–1118

Loustau D, Bosc A, Colin A, Ogée J, Davi H, François C, Dufrêne E, Déqué M, Cloppet E, Arrouays D, Le Bas C, Saby N, Pignard G, Hamza N, Granier A, Bréda N, Ciais P, Viovy N, Delage F (2005) Modeling climate change effects on the potential production of French plains forests at the sub-regional level. Tree Physiol 25:813–823

Mäkinen H, Isomäki A (2004a) Thinning intensity and long-term changes in increment and stem form of Norway spruce trees. For Ecol Manag 201:295–309

Mäkinen H, Isomäki A (2004b) Thinning intensity and growth of Norway spruce stands in Finland. Forestry 77:349–364

Medhurst JL, Battaglia M, Beadle CL (2002) Measured and predicted changes in tree and stand water use following high-intensity thinning of an 8-year-old Eucalyptus nitens plantation. Tree Physiol 22:775–784

McCarthy HR, Oren R, Johnsen KH, Gallet-Budynek A, Pritchard SG, Cook CW, LaDeau SL, Jackson RB, Finzi AC (2010) Re-assessment of plant carbon dynamics at the Duke free-air CO2 enrichment site: interactions of atmospheric [CO2] with nitrogen and water availability over stand development. New Phytol 185:514–528

Olajuyigbe S, Tobin B, Saunders M, Nieuwenhuis M (2012) Forest thinning and soil respiration in a Sitka spruce forest in Ireland. Agr Forest Meteorol 157:86–95

Phillips N, Bergh J, Oren R, Linder S (2001) Effects of nutrition and soil water availability on water use in a Norway spruce stand. Tree Physiol 21:851–860

Pretzsch H, Schütze G (2009) Transgressive overyielding in mixed compared with pure stands of Norway spruce and European beech in central Europe: evidence on stand level and explanation on individual tree level. Eur J Forest Res 128:183–204

Roberntz P, Stockfors J (1998) Effects of elevated CO2 concentration and nutrition on net photosynthesis, stomatal conductance and needle respiration of field-grown Norway spruce trees. Tree Physiol 18:233–241

Selig MF, Seiler JR, Tyree MC (2007) Soil carbon and CO2 efflux as influenced by the thinning of Loblolly pine (Pinus taeda L.) plantations on the Piedmont of Virginia. Forest Sci 54:58–66

Tamminen P (1991) Expression of soil nutrient status and regional variation in soil fertility of forested sites in southern Finland. Folia For 777:1–40

Tang J, Qi Y, Xu M, Misson L, Goldstein AH (2005) Forest thinning and soil respiration in a ponderosa pine plantation in the Sierra Nevada. Tree Physiol 25:57–66

TAPIO (2006) Finnish forest management recommendations. Metsäkustannus OY, Helsinki, p 100

Wertin TM, McGuire MA, Teskey RO (2012) Effects of predicted future and current atmospheric temperature and [CO2] and high and low soil moisture on gas exchange and growth of Pinus taeda seedlings at cool and warm sites in the species range. Tree Physiol 32:847–858

Vesala T, Suni T, Rannik U, Keronen P, Markkanen T, Sevanto S, Gronholm T, Smolander S, Kulmala M, Ilvesniemi H, Ojansuu R, Uotila A, Levula J, Makela A, Pumpanen J, Kolari P, Kulmala L, Altimir N, Berninger F, Nikinmaa E, Hari P (2005) Effect of thinning on surface fluxes in a boreal forest. Global Biogeo Cycl Vol. 19, GB2001, doi:10.1029/2004GB002316

Yrjölä T (2002) Forest management guidelines and practices in Finland, Sweden and Norway. Internal Report 11. European Forest Institute, pp. 1–46
Acknowledgments
This work was funded through the National Natural Science Foundation of China (41201091), the National Basic Research Program of China (2010CB951204) and the Finnish Distinguished Professor Programme (FiDiPro) of the Academy of Finland (127299-A5060-06). We thank the Finnish Environmental Institute and the Finnish Meteorological Institute for the climate change scenarios (FINADAPT) under IPCC's guidance. We also acknowledge the assistance of American Journal Experts in revising the language of this paper.
Electronic supplementary material
Below is the link to the electronic supplementary material.
About this article
Cite this article
Ge, ZM., Kellomäki, S., Peltola, H. et al. Adaptive management to climate change for Norway spruce forests along a regional gradient in Finland. Climatic Change 118, 275–289 (2013). https://doi.org/10.1007/s10584-012-0656-5
Received:

Accepted:

Published:

Issue Date:
Keywords
Gross Primary Production

Carbon Uptake

Soil Water Availability

Stem Wood

Water Depletion