Abstract
Early instrumental series can play a key role in the study of recent climate change or assessments of specific extreme events. Unfortunately in the Iberian Peninsula few series are available relative to the 18th century. In this article we retrieved and make available the first daily instrumental series obtained in Iberia. The observations were made in Lisbon between 1 November 1724 and 11 January 1725 by Diogo Nunes Ribeiro. While pressure and temperature values were registered twice a day, the remaining variables, i.e. the state of the sky, wind direction and force, have only one value per day. Despite the relatively short period covered by this series, we were very fortunate to discover that it helps to characterize one of the strongest storms that struck Lisbon since the early 17th century. In particular, the data provide evidence for an outstanding pressure drop of 28.61 hPa from 1010.76 hPa on the 18 November to just 982.15 hPa on the 19 November. Using recently digitized pressure data for Lisbon since 1863, we can state that this 24 h decrease of surface pressure has been surpassed only once on the 28 November 1879. Moreover, the extreme winds associated with this "bomb" affected severely the entire Lisbon area as well as large sections of central and northern Portugal during the afternoon of 19 November and caused important damage in the eastern coast of Madeira the night before (18 November). This storm resembles the rare tropical storms that have reached the Iberian Peninsula as a tropical storm (Vince 2005) or the low intense hurricane that occurred in 1842.
Access options
Buy single article
Instant access to the full article PDF.
USD 39.95
Price includes VAT (USA)
Tax calculation will be finalised during checkout.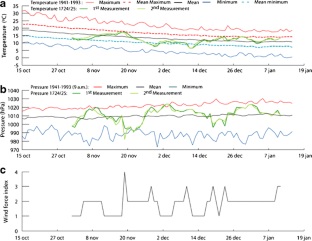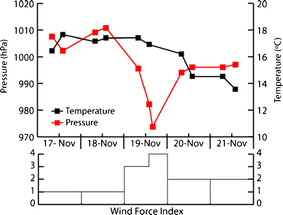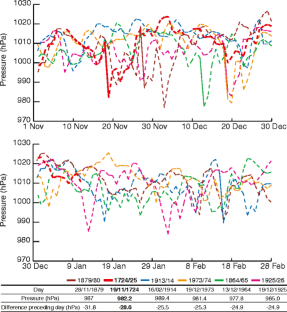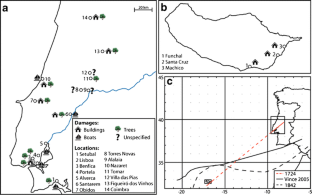 Notes
1.

According to Bernhard Varenius (1734) "The Ecnephia is a strong and sudden wind that breaks out from some cloud; which is frequent in the Ethiopic Sea [south Atlantic], between Brazil and Southern Africa; especially at the Cape of Good-Hope, and on the other Side of Africa, at Terra de Natal and at Guinea, under the Equator. The Portuguese call them Travados, the Latins Procella, but the Greeks word Ecnephia is the most appropriate: they are most frequent in certain places, and in certain months of the year".
References
Alcoforado MJ, Vaquero JM, Trigo RM, Taborda JP (2012) Early Portuguese meteorological measurements (18th century). Clim Past 8:353–371

Barriendos M, Gómez B, Peña JC (1997) Old series of meteorological readings for Madrid and Barcelona (1780–1860). Documentary and observed characteristics. In: Martín Vide J (ed) Advances in Historical Climatology in Spain. Oikos-Tau, Barcelona, pp 157–172

Barriendos M, Martin-Vide J, Peña JC, Rodríguez R (2002) Daily Meteorological Observations in Cádiz—San Fernando. Analysis of the Documentary Sources and the Instrumental Data Content (1786–1996). Clim Chang 53:151–170

Bergström H, Moberg A (2002) Daily air temperature and pressure series for Uppsala (1722–1998). Clim Chang 53:213–252

Betencourt J, Dorta P (2010) The storm of November 1826 in the Canary Islands: possibly a tropical cyclone? Geogr Ann 92(3):329–337

Böhm R, Ingeborg A, Brunetti M et al (2001) Regional temperature variability in the European Alps: 1760–1998 from homogenized instrumental time series. Int J Climatol 21:1779–1801

Brázdil R, Wheeler D, Pfister C (2010) European climate of the past 500 years based on documentary and instrumental data. Clim Chang 101(1–2):1–6

Brázdil R, Zahradníček P, Pišoft P et al (2012) Temperature and precipitation fluctuations in the Czech Republic during the period of instrumental measurements. Theor Appl Climatol 110(1–2):17–34

Büntgen U, Tegel W, Nicolussi K et al (2011) 2500 years of European climate variability and human susceptibility. Science 331:578–582

Camuffo D, Bertolin C (2012a) The earliest temperature observations in the world: the Medici Network (1654–1670). Clim Chang 111(2):335–363

Camuffo D, Bertolin C (2012b) Recovery of the early period of long instrumental time series of air temperature in Padua, Italy (1716–2005). Phys Chem Earth 40–41:23–31

Camuffo D, Jones P (2002) Improved understanding of past climatic variability from early daily European instrumental sources. Clim Chang 53(1–4)

Camuffo D, Bertolin C, Barriendos M et al (2010) 500-year temperature reconstruction in the Mediterranean Basin by means of documentary data and instrumental observations. Clim Chang 101:169–199

Camuffo D, Bertolin C, Diodato N et al (2012) Western Mediterranean precipitation over the last 300 years from instrumental observations. Clim Chang. doi:10.1007/s10584-012-0539-9

Chenoweth M, Landsea CW (2004) The San Diego hurricane of 2 October 1858. Bull Amer Meteorol Soc 85:1689–1697

Comani S (1987) The historical temperature series of Bologna (Italy): 1716–1774. Clim Chang 11:375–390

Compo GP, Whitaker JS, Sardeshmukh PD et al (2011) The Twentieth Century Reanalysis Project. Q J R Meteorol Soc 137:1–28. doi:10.1002/qj.776

Cornes RC, Jones PD, Briffa KR, Osborn TJ (2012a) A daily series of mean sea-level pressure for London, 1692–2007. Int J Climatol 32(5):641–656

Cornes RC, Jones PD, Briffa KR, Osborn TJ (2012b) A daily series of mean sea-level pressure for Paris, 1670–2007. Int J Climatol 32(8):1135–1150

Da Conceição (1820) Gabinete Historico, desde 1717 até1729 vol 7. Na Impressāo regia, Lisboa

Da Silva FA, Azevedo C (1940) Elucidário Madeirense. Typograhia Esperanca, Funchal

Demarée GR, Lachaert PJ, Verhoeve T, Thoen E (2002) The long-term daily central Belgium temperature (CBT) series (1767–1998) and early instrumental meteorological observations in Belgium. Clim Chang 53:269–293

Doria JM (2001) Antonio Ribeiro Sanches A Portuguese doctor in 18th century Europe. Vesalius 7:27–35

Esaguy A (1936) A short note on Isaac de Sequeira Samuda. Inst Hist Med Bull 4:783–788

Fiolhais C (2011) Membros portugueses da Royal Society. Universidade de Coimbra, Coimbra

Franklin JL (2006) Tropical cyclone report: Hurricane Vince, 8–11 October 2005. Nacional Hurricane Center. www.nhc.noaa.gov/pdf/TCR-AL242005_Vince.pdf. Accessed 20 July 2012

Greenberg MI (2002) A "Haven of Benignity": Conflict and Cooperation between Eighteenth-Century Savannah Jews. Georgia Hist Q 86(4):544–568

Hyamson AM (1951) Sephardim of England: History of the Spanish and Portuguese Jewish Community, 1492–1951. Methuen & Co., London

Jones PD, Lister DH (2002) The daily temperature record for St. Petersburg (1743–1996). Clim Chang 53:253–267

Jurin J (1723) Invitatio ad Observationes Meteorologicas Communi Consilio Instituendas. Philos Trans 32:422–427. doi:10.1098/rstl.1722.0082

Können GP, Jones PD, Kaltofen MH, Allan RJ (1998) Pre 1866 extensions of the Southern oscillation index using early Indonesian and Tahitian Meteorological Readings. J Clim 11:2325–2339

Landman I (1969) The Universal Jewish Enciclopedia, vol 9. KTAV Publishing Haouse, Jersey City

Liberato MRL, Pinto JG, Trigo IF, Trigo RM (2011) Klaus—an exceptional winter storm over northern Iberia and southern France. Weather 66(12):330–334

Manley G (1974) Central England temperatures: monthly means 1659 to 1973. Q J R Meteorol Soc 100:389–405

Middleton WEK (1964) The history of the barometer. The John Hopkins Press, Baltimore

Middleton WEK (1966) A History of the Thermometer and Its Use in Meteorology. The John Hopkins Press, Baltimore

Moberg A, Jones PD, Barriendos M et al (2000) Day-to-day temperature variability trends in 160- to 275-year-long European instrumental records. J Geophys Res 105(D18):22849–22868. doi:10.1029/2000JD900300

Moberg A, Bergström H, Ruiz Krigsman J, Svanered O (2002) Daily air temperature and pressure series for Stockholm (1756–1998). Clim Chang 53:171–212

Muir-Wood R (2011) The 1941 February 15th Windstorm in the Iberian Peninsula. Trébol 56:4–13

Pfister C, Garnier E, Alcoforado MJ et al (2010) The meteorological framework and the cultural memory of three severe winter-storms in early eighteenth-century Europe. Clim Chang 101:281–310

Przybylak R (2010) Instrumental Observations. In: Przybylak R, Majorowicz J, Brázdil R, Kejna M (eds) The Polish Climate in the European Context an Historical Overview. Springer, Dordrecht Heidelberg London New York, pp 129–166

Sanders F, Gyakum R (1980) Synoptic-Dynamic Climatology of the "Bomb". Mon Weather Rev 108:1589–1606

Taborda JP (2006) O temporal de 3 a 6 de dezembro em Portugal reconstituição a partir de fontes documentais descritivas. Finisterra 82:73–86

Trigo IF (2006) Climatology and interannual variability of storm-tracks in the Euro-Atlantic sector: a comparison between ERA-40 and NCEP/NCAR reanalyses. Clim Dyn 26:127–143

Trigo RM, Vaquero JM, Alcoforado MJ et al (2009) Iberia in 1816, the year without summer. Int J Climatol 29:99–115

Van Swinden JH (1778) Dissertation sur la comparaison des thermomèters. Marc Michel Rey, Amsterdam

Vaquero JM, García-Herrera R, Wheeler D et al (2008) A Historical Analog of 2005 Hurricane Vince. Bull Am Meteorol Soc 89(2):191–201

Varenius B (1734) A complete system of general geography: explaining the nature and properties of the earth. Stephen Austen, London

Wheeler D, García-Herrera R, Vaquero JM et al (2009) Reconstructing the trajectory of the August 1680 hurricane from contemporary records. Bull Am Meteorol Soc 90(7):971–978
Acknowledgments
This work was supported by Salvà-Sinobas project (Ministry of the Environment, Rural and Maritime Affairs of Spain, Nr. 200800050083542), ERA-CLIM (European Union, FP7, Grant Agreement Nr. 265229) and Junta de Extremadura-Research Groups Grants (GR100131). Ricardo Trigo was partially supported by the FCT (Fundação para a Ciência e a Tecnologia, Portugal) through project STORMEx FCOMP-01-0124-FEDER-019524 (PTDC/AAC-CLI/121339/2010) co-funded by FEDER through COMPETE programme. We gratefully acknowledge the constructive comments of the three anonymous referees.
About this article
Cite this article
Domínguez-Castro, F., Trigo, R.M. & Vaquero, J.M. The first meteorological measurements in the Iberian Peninsula: evaluating the storm of November 1724. Climatic Change 118, 443–455 (2013). https://doi.org/10.1007/s10584-012-0628-9
Received:

Accepted:

Published:

Issue Date:
Keywords
Tropical Cyclone

Iberian Peninsula

Storm Track

Tropical Storm

Wind Force