Abstract
Scenarios exist so that decision makers and those who provide them with information can make statements about the future that claim less confidence than do predictions, projections, and forecasts. Despite their prevalence, fundamental questions remain about how scenarios should best be developed and used. This paper proposes a particular conceptualization of scenarios that aims to address many of the challenges faced when using scenarios to inform contentious policy debates. The concept envisions scenarios as illuminating the vulnerabilities of proposed policies, that is, as concise summaries of the future states of the world in which a proposed policy would fail to meet its goals. Such scenarios emerge from a decision support process that begins with a proposed policy, seeks to understand the conditions under which it would fail, and then uses this information to identify and evaluate potential alternative policies that are robust over a wide range of future conditions. Statistical cluster analyses applied to databases of simulation model results can help identify scenarios as part of this process. Drawing on themes from the decision support literature, this paper first reviews difficulties faced when using scenarios to inform climate-related decisions, describes the proposed approach to address these challenges, illustrates the approach with applications for three different types of users, and concludes with some thoughts on implications for the provision of climate information and for future scenario processes.
This is a preview of subscription content,
to check access.
Access this article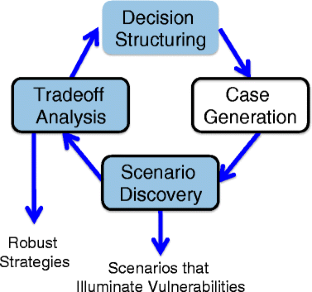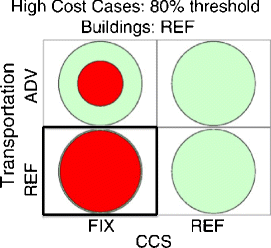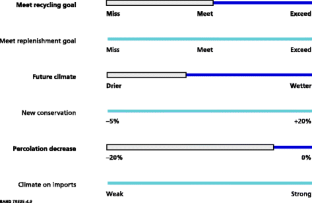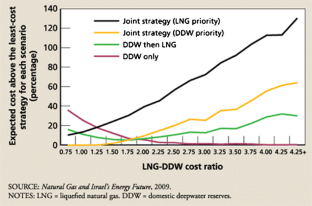 Notes
Rozenberg et al. (2012) does use scenario discovery to consider a wide range of such factors in an analysis aimed at national government level decision makers.

Our group conducted several versions of the IEUA analysis, each reflecting a different iteration of the process shown in Fig. 1 and considering different strategies and performance measures. This example derives from the first iteration.
References
Adger WN (2006) Vulnerability. Glob Environ Chang 16:228–268

America's Climate Choices (ACC) (2010) Informing an effective response to climate change

Bankes SC (1993) Exploratory modeling for policy analysis. Oper Res 41(3):435–449

Berkes F (2007) Understanding uncertainty and reducing vulnerability: lessons from resilience thinking. Nat Hazard 41:283–295

Bishop P, Hines A, Collins T (2007) The current state of scenario development: an overview of techniques. Foresight 9(1):5–25

Borjeson L, Hojer M, Dreborg I, Ekvall T, Finnveden G (2006) Scenario types and techniques: towards a user's guide. Futures 38:723–739

Bradfield R, Wright G, Burt G, Cairns G, Heijden KVD (2006) The origins and evolution of scenario techniques in long range business planning. Futures 37:795–812

Brown C (2010) "The end of reliability." J Water Resour Plan Manag 143–145

Bryant BP, Lempert RJ (2010) Thinking inside the box: a participatory, computer-assisted approach to scenario discovery. Technol Forecast Soc Chang 77:34–49

Carter TR, Jones RN, Lu SBX, Conde C, Mearns LO, O'Neill BC, Rounsevell MDA, Zurek MB (2007) New assessment methods and the characterisation of future conditions. In: Parry ML, Canziani OF, Palutikof JP, Linden PJvd, Hanson CE (eds) Climate change 2007: impacts, adaptation and vulnerability. Contribution of working group II to the fourth assessment report of the intergovernmental panel on climate change. Cambridge, UK, Cambridge University Press, 1: 33–171

Dessai S, Hulme M (2004) Does climate adaptation policy need probabilities? Clim Pol 4:107–128

Dessai S, Hulme M (2007) Assessing the robustness of adaptation decisions to climate change uncertainties: a case study on water resources management in the East of England. Glob Environ Chang 17(1):59–72

Dixon L, Lempert RJ, LaTourrette T, Reville RT (2007) The federal role in terrorism insurance: evaluating alternatives in an uncertain world. RAND Corporation, Santa Monica, p 150

Dodd C (2007, November 16) "Terrorism risk insurance program reauthorization." Congr Rec 153: S14592

European Environmental Agency (EEA) (2009) Looking back on looking forward: a review of evaluative scenario literature. Copenhagen

Friedman JH, Fisher NI (1999) Bump hunting in high-dimensional data. Stat Comput 9:123–143

Fussel H-M (2007) Vulnerability: a generally applicable conceptual framework for climate change research. Glob Environ Chang 17:155–167

Garb Y, Pulver S, VanDeveer SD (2008) Scenarios in society, society in scenarios: toward a social scientific analysis of storyline-driven environmental modeling. Environ Res Lett 3:1–8

Groves DG, Lempert RJ (2007) A new analytic method for finding policy-relevant scenarios. Glob Environ Chang 17:73–85

Groves DG, Davis M, Wilkinson R, Lempert R (2008a) "Planning for climate change in the Inland Empire: Southern California." Water Resour IMPACT July

Groves DG, Knopman D, Lempert R, Berry S, Wainfan L (2008b) Presenting uncertainty about climate change to water resource managers–summary of workshops with the inland empire utilities agency. RAND Corporation, Santa Monica

Groves DG, Lempert RJ, Knopman D, Berry S (2008c) Preparing for an uncertain future climate in the inland empire–identifying robust water management strategies. RAND Corporation, Santa Monica

Grubler AN, Nakicenovic N (2001) Identifying dangers in an uncertain climate. Nature 412:15

Hulme M, Dessai S (2008) Predicting, deciding, learning: can one evaluate the 'success' of national climate scenarios? Environ Res Lett 3:1–7

IEUA (2005) 2005 regional urban water management plan. Inland Empire Utilities Agency, Chino

IPCC (2007) Climate change 2007: impacts, adaptation and vulnerability, intergovernmental panel on climate change

Jenkins H (August 8, 2007) Terror insurance is here to stay. Wall Str J

Kahneman D, Lovallo D (1993) Timid choices and bold forecasts: a cognitive perspective on risk taking. Manag Sci 39(1):17–31

Kirshen P, Watson C, Dougla E, Gontz A, Lee J, Tian Y (2008) Coastal flooding in the northeastern United States due to climate change. Mitig Adapt Strateg Glob Chang 13:437–451

Lempert RJ (2007) Can scenarios help policymakers be both bold and careful? In: Fukuyama F (ed) Blindside: how to anticipate forcing events and wild cards in global politics. Brookings Institution Press, Washington

Lempert RJ, Collins M (2007) Managing the risk of uncertain threshold responses: comparison of robust, optimum, and precautionary approaches. Risk Anal 27(4):1009–1026

Lempert R, Groves DG (2010) Identifying and evaluating robust adaptive policy responses to climate change for water management agencies in the American West. Technol Forecast Soc Chang 77:960–974

Lempert RJ, Popper SW, Bankes S (2002) Confronting surprise. Soc Sci Comput Rev 20(4):420–440

Lempert RJ, Popper SW, Bankes SC (2003) Shaping the next 100 years: new methods for quantitative, long-term policy analysis. RAND Corporation, Santa Monica

Lempert R, Nakicenovic N, Sarewitz D, Schlesinger M (2004) Characterizing climate-change uncertainties for decision-makers–an editorial essay. Clim Chang 65(1–2):1–9

Lempert RJ, Groves DG, Popper SW, Bankes SC (2006) A general, analytic method for generating robust strategies and narrative scenarios. Manag Sci 52(4):514–528

March J, Simon H (1958) Organizations. John Wiley

March J, Sproul L, Tamuz M (1991) Learning from samples of one or fewer. Organ Sci 2:1–13

McJeon HC, Clarke L, Kyle P, Wise M, Hackbarth A, Bryant B, Lempert RJ (2011) Technology interactions among low-carbon energy technologies: what can we learn from a large number of scenarios? Energy Econ 33:619–631

Means E, Laugier M, Daw J, Kaatz L, Waage M (2010) Decision support planning methods: incorporating climate change into water planning, water utility climate alliance: 76

Morgan MG, Henrion M (1990) Uncertainty: a guide to dealing with uncertainty in quantitative risk and policy analysis. Cambridge University Press, Cambridge

Morgan MG, Keith DW (2008) Improving the way we think about projecting future energy use and emissions of carbon dioxide. Clim Chang 90:189–215

Morgan MG, Dowlatabadi H, Henrion M, Keith D, Lempert RJ, McBride S, Small M, Wilbanks T (2009) Best practice approaches for characterizing, communicating, and incorporating scientific uncertainty in decision-making. Synthesis and Assessment Product 5.2 Washington D.C., U.S. Climate Change Science Program, National Oceanic and Atmospheric Administration

Nakicenovic N, Alcamo J, Davis G, de Vries B, Fenhann J, Gaffin S, Gregory K, Grubler A, Jung TY, Kram T, La Rovere EL, Michaelis L, Mori S, Morita T, Pepper W, Pitcher HM, Price L, Riahi K, Roehrl A, Rogner H-H, Sankovski A, Schlesinger M, Shukla P, Smith SJ, Swart R, van Rooijen S, Victor N, Dadi Z (2000) Special report on emissions scenarios: a special report of working group III of the intergovernmental panel on climate change. Cambridge University Press

National Research Council (2009) Informing decisions in a changing climate. T. N. A. Press. Washington, DC, Panel on Strategies and Methods for Climate-Related Decision Support, Committee on the Human Dimensions of Climate Change, Division of Behavioral and Social Sciences and Education

Nelson DR, Adger N, Brown K (2007) Adaptation to environmental change: contributions of a resilience framework. Annu Rev Environ Resour 32:395–419

Olsson P, Gunderson LH, Carpenter SR, Ryan P, Lebel L, Folke C, Holling CS (2006) Shooting the rapids: navigating transitions to adaptive governance of social-ecological systems. Ecol Soc 11(1):18

O'Neill BC, Nakicenovic N (2008) Learning from global emissions scenarios. Environ Res Lett 3:1–9

O'Neill BC, Pulver S, VanDeveer SD, Garb Y (2008) Editorial–where next with global environmental scenarios? Environ Res Lett 3:1–4

Parson EA (2008) Useful global-change scenarios: current issues and challenges. Environ Res Lett 3:1–5

Parson EA, Burkett V, Fischer-Vanden K, Keith D, Mearns LO, Pitcher H, Rosenweig C, Webster M (2007) Global-change scenarios: their development and use, synthesis and assessment product 2.1b. US Climate Change Science Program

Pidgeon N, Fischhoff B (2011) The role of social and decision sciences in communicating uncertain climate risks. Nat Clim Chang 1:35–41

Popper SW, Berrebi C, Griffin J, Light T, Min EY, Crane K (2009) Natural gas and Israel's energy future: near-term decisions from a strategic perspective. RAND Corporation, Santa Monica

Postma TJBM, Liebl F (2005) How to improve scenario analysis as a strategic management tool? Technol Forecast Soc Chang 72:161–173

Ranger N, Millner A, Dietz S, Fankhauser S, Lopez A, Ruta G (2010) Adaptation in the UK: a decision making process. Granthan/CCEP Policy Brief

Rittel H, Webber M (1973) Dilemmas in a general theory of planning. Policy Sci 4:155–169

Rounsevell MDA, Metzger MJ (2010) Developing qualitative scenario storylines for environmental change assessment. Adv Rev WIREs Clim Chang 1:606–619

Rozenberg J, Guivarch C, Lempert R, Hallegatte S (2012) Building SSPs: a scenario elicitation methodology to map the space of possible future mitigative and adaptative capacity. FEEM (Fondazione Eni Enrico Mattei) Working Paper. 2012.052

Sarewitz D, Pielke JRA (2000) Science, prediction: decision-making, and the future of nature. Island Press, Washington

Savage LJ (1954) The foundation of statistics. Dover Publications

Schneider SH (2001) What is 'dangerous' climate change? Nature 411:17–19

Schoemaker PJH (1993) Multiple scenario development: its conceptual and behavioral foundation. Strateg Manag J 14(3):193–213

Schwartz P (1996) The art of the long view–planning for the future in an uncertain world. Currency-Doubleday, New York

Shapiro I (2003) Moral foundation of politics. Yale University Press

Smith JB, Schneider SH, Oppenheimer M, Yohe GW, Hare W, Mastrandrea MD, Patwardhan A, Burton I, Corfee-Morlot J, Magadza CHD, Fuessel H-M, Pittock AB, Rahman A, Suarez A, Ypersele J-PV (2009) Assessing dangerous climate change through an update of the intergovernmental panel on climate change (IPCC) "reasons for concern". Proc Natl Acad Sci U S A 106:4133–4137

Treverton G (2001) Reshaping national intelligence for an age of information. Cambridge University Press

U.S. Commission on National Security in the 21st Century (1999) New world coming: American security in the 21st century, Study Addendum

van der Heijden K (1996) Scenarios: the art of strategic conversation. Wiley, Chichester

Van Notten P, Sleegers AM, van Asselt MBA (2005) The future shocks: on discontinuity and scenario developments. Futures 35:423–443

van't Klooster SA, van Asselt MBA (2006) Practising the scenario-axes technique. Futures 38(1):15–30

Wack P (1985) "The gentle art of reperceiving–scenarios: uncharted waters ahead (part 1 of a two-part article)." Harv Bus Rev (September–October): 73–89

Walker BH, Anderies JM, Kinzig AP, Ryan P (2006) Exploring resilience in social-ecological systems: comparative studies and theory development. CSIRO Publishing, Collingwood
Acknowledgments
The ideas expressed in this essay emerged from fruitful discussions, collaborations, and debates with numerous wonderful colleagues. I owe particular thanks to Andy Parker for comments on this manuscript and to Chris Weaver for encouragement and funding of several earlier versions. Comments from two anonymous reviewers played a key role in shaping the essay you see here. I thank the National Science Foundation for its support through grant SES‐0345925 and the center for Climate and Energy Decision Making (SES‐0949710) for its support through a cooperative agreement between the National Science Foundation and Carnegie Mellon University.
About this article
Cite this article
Lempert, R. Scenarios that illuminate vulnerabilities and robust responses. Climatic Change 117, 627–646 (2013). https://doi.org/10.1007/s10584-012-0574-6
Received:

Accepted:

Published:

Issue Date:

DOI: https://doi.org/10.1007/s10584-012-0574-6
Keywords