Abstract
Developing appropriate climate change adaptations to protect biodiversity requires taking into account the dynamics of agro-ecological and socio-economic change. A framework for approaching this problem was proposed, but not applied in detail, as part of a major biodiversity and climate change report prepared in Australia. This paper describes the first trial application of the method. It was applied across Vietnam as the Government is interested in identifying adaptation options and detailed data are readily available for its 65 provinces. The process involves identifying ecoregions and collating information for each region based on the current conditions and trends in biodiversity, population, income and agricultural production. Climate change scenarios are identified for each region, together with governance options. Educational needs and key adaptation actions are then identified for each region taking into account the agro-ecological and socio-economic input data. It is concluded that the framework could easily be applied in other countries and should assist the development of strategic adaptation options.
This is a preview of subscription content,
to check access.
Access this article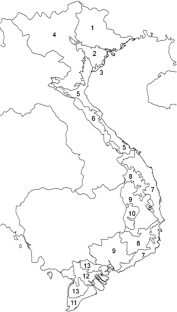 References
Barr NR (2005) The changing social landscape of rural Victoria. Department of Primary Industries, Melbourne. http://www.dpi.vic.gov.au/agriculture/about-agriculture/publications-resources/ Accessed 23 March 2012

Beharrell N (2004) Innovative conservation initiatives: Bai Tu Long Bay, Vietnam. Biodiversity 5:3–11

Booth TH (1991) A global climatological audit of forest resources to assist conservation and sustainable development. 10th World Forestry Congress, Paris, Proceedings Section 2, 1.3: 65–70

Booth TH (2012) Biodiversity and climate change adaptation in Australia: strategy and research developments. Adv Clim Chang Res 3:12–21

Booth TH, Nguyen Hoang Nghia, Kirschbaum MUF, Hackett C, Jovanovic T (1999) Assessing possible impacts of climate change on species important for forestry in Vietnam. Clim Chang 41:109–126

Chu Van Cuong, Dart P (eds) (2011) Conservation and development of the Kein Giang biosphere reserve project. Phase I. Climate change, conservation and development. Pilot project under the joint Australia-German agreement of cooperation. Deutsche Gesellschaft fur Internationale Zusammenarbeit (GIZ) GmbH, Rach Gia City

Dessai S, Hulme M, Lempert R, Pielke RJ (2008) Climate prediction: a limit to adaptation? In: Adger WN, Lorenzoni I, O'Brien KL (eds) Adapting to climate change: thresholds, values, governance. Cambridge University Press, Cambridge, pp 64–78

Driscoll DA, Felton A, Gibbons P, Felton AM, Munro NT and Lindenmayer DB (2012) Priorities in policy and management when existing biodiversity stressors interact with climate-change. Clim Chang 111:533–557

Eken G, Bennun L, Brooks TM, Darwall W, Fishpool LDC, Foster M, Knox D, Langhammer, Matiku P, Radford E, Salaman P, Sechrest W, Smith ML, Spector S, Tordoff (2004) Key biodiversity areas as site conservation targets. Bioscience 54:1110–1118

Ferrier S, Manion G, Elith J, Richardson K (2007) Using generalised dissimilarity modelling to analyse and predict patterns of beta diversity in regional biodiversity assessment. Divers Distrib 13:252–264

Forest Inventory and Planning Institute (1996) Vietnam forest trees. Agricultural Publishing House, Hanoi

Garnaut R (2011) Garnaut climate change review – update 2011 – update paper five: the science of climate change. Commonwealth of Australia, Canberra

Heider B, Schmidt A, Schultze-Kraft R, Tran Dinh Long (2002) Assessment of legume diversity in the highlands of North Vietnam – an on-going research project. Plant Genet Resour Newsl 131:73

Hobbs RJ, McIntyre S (2005) Categorizing Australian landscapes as an aid to assessing the generality of landscape management guidelines. Glob Ecol Biogeogr 14:1–15

Holmes J (2009) Comment: agency in facilitating the transition to a multifunctional countryside. J Rural Stud 22:248–249

Hu J, Hu H, Jiang Z (2010) The impacts of climate change on the wintering distribution of an endangered migratory bird. Oecologia 164:555–565

ICEM (2003) Vietnam national report on protected areas and development. Review of protected areas and development in the Lower Mekong River region. International Centre for Environmental Management, Indooroopilly

Liu JG, Dietz T, Carpenter SR, Alberti M, Folke C, Moran E, Pell AN, Deadman P, Kratz T, Lubchenco J, Ostrom E, Ouyang Z, Provencher W, Redman CL, Schneider SH, Taylor WW (2007) Complexity of coupled human and natural systems. Science 317:1513–1516

Lunde DP, Nguyen Truong Son, Musser GG (2007) A survey of small mammals from Huu Lien Nature Reserve, Lang Son Province, Vietnam. Mammal Study 32:155–168

Miller C, Alexander K, Jovanovic T, Booth TH, Ho Ngoc Son (2009) Towards regionally relevant biodiversity, poverty and climate change policy: a report on the Los Banos workshop, CSIRO Climate Adaptation Flaghsip, Canberra. http://www.rfdalliance.com.au/site/phase_1_-_climate_change_project_1.php Accessed 23 March 2012

MONRE (2009) Climate change, sea level rise scenarios for Vietnam. Ministry of Natural Resources and Environment, Hanoi

Nghia NH (2000) Some threatened tree species of Vietnam. Agricultural Publishing House, Hanoi

Nikolic N, Schultze-Kraft R, Nikolic M, Bocker R, Holz I (2008) Land degradation on barren hills: a case study in Northeast Vietnam. Environ Manag 42:19–36

Olson DM, Dinerstein E, Wikramanayake ED, Burgess ND, Powell GVN, Underwood EC, D'amico JA, Itoua I, Strand HE, Morrison JC, Loucks CJ, Allnutt TF, Ricketts TH, Kura Y, Lamoreux JF, Wettengel WW, Hedao P, Kassem KR (2001) Terrestrial ecoregions of the world: a new map of life on earth. BioScience 51:933–938

Pan Y, Birdsey RA, Fang J, Houghton R, Kauppi PE, Kurz WA, Phillips OL, Shvidenko A, Lewis SL, Canadell JG, Ciais P, Jackson RB, Pacala S, McGuire AD, Piao S, Rautianen A, Sitch S, Hayes D (2011) A large and persistent carbon sink in the world's forest's. Sciencexpress, http://www.sciencemag.org/content/early/2011/07/13/science.1201609 Accessed 23 March 2012

Park S, Howden M, Booth TH, Stokes C, Webster T, Crimp S, Pearson L, Attard, S, Jovanovic T (2009) Assessing the vulnerability of rural livelihoods in the Pacific to climate change. Prepared for the Australian Government Overseas Aid Program (AusAID), CSIRO Climate Adaptation Flagship, Canberra www.sprep.org/att/irc/ecopies/pacific_region/583.pdf Accessed 23 March 2012

Petrtyl M, Bohlen J, Kalous L, Bui AT, Chaloupkova P (2011) Loaches and the environment in two provinces in Northern Vietnam. Folia Zool 60:368–374

Rahmstorf S, Cazenave A, Church JA, Hansen JE, Keeling RF, Parker DE, Somerville RCJ (2007) Recent climate observations compared to projections. Science 316:709

Sekhar NU (2007) Traditional versus improved agroforestry systems in Vietnam. Land Degrad Dev 18:89–97

Seppälä R, Buck A, Katila P (eds) (2009) Adaptation of forests and people to climate change – a global assessment report. IUFRO world series volume 22. IUFRO, Helsinki

Stafford Smith M, Horrocks L, Harvey A, Hamilton C (2011) Rethinking adaptation for a 4C world. Philos T Roy Soc A 369:196–216

Steffen W, Burbidge AA, Hughes L, Kitching R, Lindenmayer D, Musgrave W, Stafford Smith M, Werner PA (2009) Australia's biodiversity and climate change. CSIRO, Melbourne

Verburg PH, Veldkamp A, Willemen L, Overmars KP, Castella JC (2004) Landscape level analysis of the spatial and temporal complexity of land-use change. Ecosyst Land Use Chang Geophys Monogr Ser 153:217–230

Wertz-Kanounnikoff S, Kongphan-apirak M (2009) Emerging REDD+ center for international forestry research, Bogor

World Bank (2005) Vietnam environment monitor 2005. World Bank, Washington
Acknowledgments
This trial application was carried out as part of an AusAID funded project on 'Climate Change and Ecological Assets in the South-East Asian Region'. We're grateful to Mark Stafford Smith for sharing some early drafts of section 7.7 from Steffen et al. (2009). Thanks to Mark Stafford Smith and Sarah Park for their comments on an earlier draft of this paper and also to the three anonymous reviewers for their very helpful comments.
About this article
Cite this article
Booth, T.H., Jovanovic, T., Ho, N.S. et al. A systematic regional approach for climate change adaptation to protect biodiversity. Climatic Change 117, 757–768 (2013). https://doi.org/10.1007/s10584-012-0568-4
Received:

Accepted:

Published:

Issue Date:

DOI: https://doi.org/10.1007/s10584-012-0568-4
Keywords