Abstract
Livestock constitutes an integral component of Indian agriculture sector and also a major source of GHGs emissions. The study presents a detailed inventory of GHG emissions at district/state level from different age-groups, indigenous and exotic breed of different Indian livestock categories estimated using the recent census 2003 and country-specific emission coefficients based on IPCC guidelines. The total methane emission including enteric fermentation and manure management of livestock was estimated at 11.75 Tg/year for the year 2003. Enteric fermentation constitutes ~91 % of the total methane emissions from Indian livestock. Dairy buffalo and indigenous dairy cattle together contribute 60 % of the methane emissions. The total nitrous oxide emission from Indian livestock for the year 2003 is estimated at 1.42 Gg/year, with 86.1 % contribution from poultry. The total GHGs emission from Indian livestock is estimated at 247.2 Mt in terms of CO2 equivalent emissions. Although the Indian livestock contributes substantially to the methane budget, the per capita emission is only 24.23 kgCH4/animal/year. Using the remote sensing derived potential feed/fodder area available for livestock, the average methane flux was calculated as 74.4 kg/ha. The spatial patterns derived in GIS environment indicated the regions with high GHGs emissions that need to be focused subsequently for mitigation measures. The projected estimates indicate a likely increase of 40 % in methane emissions from buffalo population.
Access options
Buy single article
Instant access to the full article PDF.
USD 39.95
Price excludes VAT (USA)
Tax calculation will be finalised during checkout.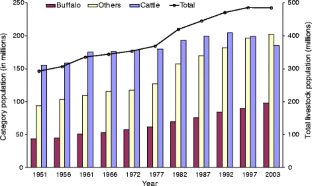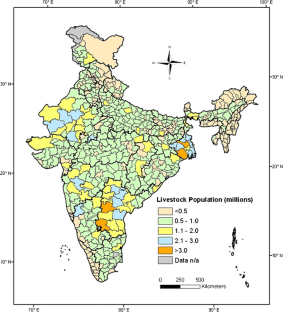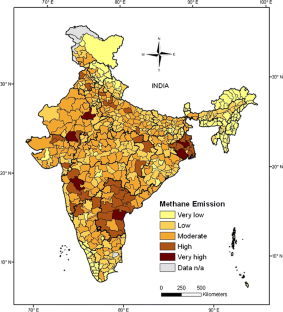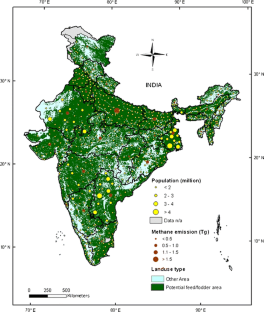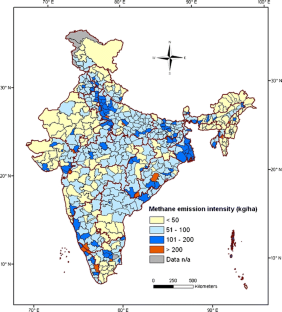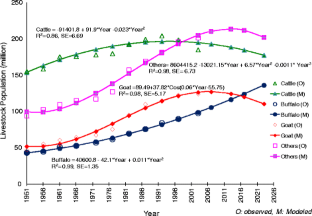 References
Agrawal S, Joshi PK, Shukla Y, Roy PS (2003) SPOT-Vegetation multi temporal data for classifying vegetation in South Central Asia. Curr Sci 84(11):1440–1448

ALGAS (1998) Asia Least-cost Greenhouse Gas Abatement Strategy: India. ADB-GEF-UNDP, Asian Development Bank and United Nations Development Programme, Manila, p 238

Chhabra A, Manjunath KR, Panigrahy S, Parihar JS (2009) Spatial pattern of methane emissions from Indian livestock. Curr Sci 96(5):683–689

Dastagiri MB (2004) Demand and supply projections for livestock products in India. Policy paper, 21. National Centre for Agricultural Economics and policy Research (ICAR), New Delhi, p 58

EPA (1994) International Anthropogenic Methane Emissions: Estimates for 1990, EPA-230-R-93-010. U. S. Environmental Protection Agency, Global Change Division, Office of Air and Radiation, Washington, DC

FAO (2006) In: Steinfeld H, Gerber P, Wassenaar T, Castel V, Rosales M, de Haan C (eds) Livestock's long shadow. Environmental issues and options. Food and Agriculture Organization of the United Nations, Rome, ISBN: 978-92-5-105571-7

Hansen J, Sato M, Ruedy R, Lacis A, Oinas V (2000) Global warming in the twenty-first century: an alternative scenario. Proc Natl Acad Sci 97:9875–9880

IPCC (1996) Revised 1996 IPCC Guidelines for National Greenhouse gas Inventories. In: Houghton JT, Meira Filho LG, Lim B, Treanton K, Mamaty I, Bonduki Y, Griggs DJ, Callender BA (eds). IPCC/OECD/IEA, UK Meteorological Office, Bracknell

IPCC (2001) Climate Change 2001: The Scientific Basis. Intergovernmental Panel on Climate Change and UN Environmental Programme, Cambridge University Press, http://www.ipcc.ch

IPCC (2007) Climate Change 2007: The Physical Science basis, Summary for Policy Makers: Contribution of Working Group I to the Fourth Assessment Report of Intergovernmental Panel on Climate Change. http://www.ipcc.ch

Kumar S, Krishnan R, Nigam S (2008) Contribution of livestock in Indian scenario. Agric Situat (India) 2008:25–28

Mitra AP (1996) GHG Inventories from India, Global Change Scientific Report, vol 8. National Physical Laboratory, New Delhi

MOA (2003) 17th Livestock census of India, Department of Animal Husbandry and Dairying, Ministry of Agriculture, Government of India. http://www.indiastat.com

MOEF (2004) IINC-UNFCCC India's Initial National communication to the United Nations Framework Convention on Climate Change, NATCOM report. Ministry of Environment and Forests, Government of India, 267p. http://www.natcomindia.org

Ramdas SR, Ghotge NS (2006) India's livestock economy. http://www.india-seminar.com.

Ranjhan SK (2001) Animal Nutrition in Tropics. Vikas Publishing House, New Delhi

RNCOS (2006) http://www.marketsmonitor.com

Scheehle EA, Kruger D (2006) Global anthropogenic methane and nitrous oxide emissions. The Energy Journal. http://www.allbusiness.com/energy-journal

Sirohi S, Michaelowa A (2007) Sufferer and cause: Indian livestock and climate change. Clim Chang 85(3–4):285–298

Swamy M, Bhattacharya S (2006) Budgeting anthropogenic greenhouse gas emission from Indian livestock using country-specific emission coefficients. Curr Sci 91(10):1340–1353

Swamy M, Singhal KK, Gupta PK, Mohini M, Jha AK, Singh N (2004) Reduction in uncertainties from livestock emissions. In: Mitra AP, Sharma S, Bhattacharya S, Garg A, Devotta S, Sen K (eds) Climate Change in India: uncertainties reduction in greenhouse gas inventory estimates. Universities Press, India, pp 223–243
Acknowledgments
This study was carried out as a part of Environment Impact Assessment of Agriculture project under Earth Observation Applications Mission Programme of DOS-ISRO. We sincerely acknowledge the encouragement received from Dr. R.R. Navalgund, former Director, SAC for undertaking this study. Thanks are due to Dr. Saroj Maity, Scientist EPSA/SAC for scientific discussion. Indiastat team is thankfully acknowledged for online livestock statistics. Authors extend sincere thanks to anonymous reviewers for their useful comments and suggestions.
About this article
Cite this article
Chhabra, A., Manjunath, K.R., Panigrahy, S. et al. Greenhouse gas emissions from Indian livestock. Climatic Change 117, 329–344 (2013). https://doi.org/10.1007/s10584-012-0556-8
Received:

Accepted:

Published:

Issue Date:

DOI: https://doi.org/10.1007/s10584-012-0556-8
Keywords
Methane Emission

Methane Flux

Nitrous Oxide Emission

Manure Management

Enteric Fermentation