Abstract
This article illustrates how a wildfire risk forecast evolved iteratively based on stakeholder consultations. An assessment based on phone interviews indicates that such forecasts can assist fire management decisions, such as deployment of human, financial, and material resources and management of forest, timber, and habitats, and public safety. But careful attention to communication, collaboration, and capacity building is key to realizing this potential.
Access options
Buy single article
Instant access to the full article PDF.
USD 39.95
Price excludes VAT (USA)
Tax calculation will be finalised during checkout.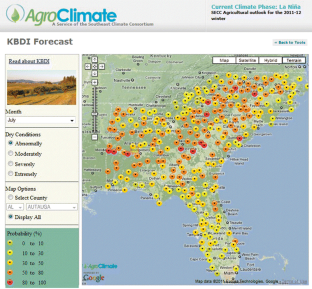 References
Austin D, Wolf B (2001) Fire in Indian country: two case studies in the southwestern United States. Institute for the Study of Planet Earth, University of Arizona, Tuscon, AZ. CLIMAS Report Series CL1-01

Brenner J (1991) Southern oscillation anomalies and their relationship to wildfire activity in Florida. Int J Wildland Fire 1:73–78

Breuer N, Cabrera V, Ingram K, Broad K, Hildebrand P (2008) AgClimate: a case study in participatory decision support system development. Clim Chang 87:385–403

Brolley J, O'Brien J, Schoof J, Zierden D (2007) Experimental drought threat forecast for Florida. Agric For Meteorol 145:84–96

Brown G, Squirrel T (2010) Organizational learning and the fate of adaptive management in the US Forest Service. J Forest 108:379–388

Brzuszek R, Walker J, Schauwecker T, Campany C, Foster M, Grado S (2010) Planning strategies for community wildfire defense design in Florida. J Forest 108:250–257

Butry D, Mercer E, Prestemon J, Pye J, Holmes T (2001) What is the price of catastrophic wildfire? J Forest 99:9–17

Canton-Thompson J, Gebert K, Thompson B, Jones G, Calkin D, Donovan G (2008) External human factors in incident management team decision-making and their effect on large fire suppression costs. J Forest 106:416–424

Cash D, Borck J, Patt A (2006) Countering the loading-dock approach to linking science and decision making: comparative analysis of El Niño-Southern Oscillation (ENSO) forecasting systems. Sci Technol Hum Values 31:465–494

Cleaves D, Martinez J, Haines T (2000) Influences on prescribed burning activity and costs in the national forest system. Technical Report SRS-37. Southern Research Station, US Forest Service

Corringham T, Westerling A, Morehouse B (2008) Exploring use of climate information in wildfire management: a decision calendar study. J Forest 106:71–77

Dilling L, Lemos MC (2011) Creating usable science: opportunities and constraints for climate knowledge use and their implications for science policy. Glob Environ Chang 21:680–689

Dixon P, Goodrich G, Cooke W (2008) Using teleconnections to predict wildfires in Mississippi. Mon Weather Rev 136:2804–2811

Feldman D, Ingram H (2009) Making science useful to decision makers: climate forecasts, water management, and knowledge networks. Weather Clim Soc 1:9–21

Garfin G, Morehouse B (2005) Fire in the West. Workshop Proceedings. March 5–6, 2002, Tuscon, AZ, CLIMAS and The Institute for the Study of Planet Earth, Available at: http://www.climas.arizona.edu/files/climas/pubs/2002fireproceedings-draft.pdf

Garfin G, Owen G, Morehouse B, Lenart M, Brown T (2003) National seasonal assessment workshops for fire potential. Available at: http://www.climas.arizona.edu/projects/national-seasonal-assessment-workshops-fire-potential

Garfin G, Brown T, Ochoa R, Hockenberry H (2004) National seasonal assessment workshop final report: Eastern and Southern States January 27–29, 2004. Shepherdstown, WV. CLIMAS, Institute for the Study of Planet Earth. The University of Arizona Tucson, AZ

Georgia Forestry Commission (2007) The Historic 2007 Georgia wildfire: learning from the past—planning for the future, Available at: http://www.wildfirelessons.net/documents/Historic_2007_GA_Wildfires.pdf

Glaser B, Strauss A (1967) The discovery of grounded theory: strategies for qualitative research. Academic Press, New York

Goodrick S, Brenner J (2000) Climate's influences on wildfires in Florida. In: Morehouse B (ed) The implications of La Niña and El Niño for fire management. Workshop Proceedings, February 23–24, 2000, CLIMAS, The Institute of Planet Earth, The University of Arizona, Tuscon, AZ, pp 18–20

Goodrick S, Hanley D (2009) Florida wildfire activity and atmospheric teleconnections. Int J Wildland Fire 18:476–482

Hodges A, Mulkey D, Alavalapati J, Carter D, Kiker C (2005) Economic impacts of the forest industry in Florida. Final Report to the Florida Forestry Association. University of Florida, Institute of Food & Agricultural Sciences, Gainesville, FL

Jones C, Shriver J, O'Brien J (1999) The effects of El Niño on rainfall and fire in Florida. Fla Geogr 30:55–69

Johnson T, Bentley G, James W, Howell M (2006) The South's timber industry: an assessment of timber product output and use, 2003. U.S. Department of Agriculture Forest Service, Southeastern Experiment Research Station. Resour. Bull. SRS–11, Asheville, NC

Keetch J, Byram D (1968) A drought index for forest fire control. U.S. Department of Agriculture Forest Service, Southeastern Experiment Research Station. Research Paper S E-38. Asheville, NC. Available at: http://www.fl-dof.com/fire_weather/information/se038_keetchbyram_di.pdf

Kobziar L, Rocca M, Dicus C, Hoffman C, Sugihara N, Thode A, Morgan Varner A, Morgan P (2009) Challenges to educating the next generation of wildfire fire professionals in the United States. J Forest 107:339–345

McCaffrey S, Stidham M, Toman E, Shindler B (2011) Outreach programs, peer pressure, and common sense: what motivates homeowners to mitigate wildfire risk? Environ Manage 48:475–488

Prater C, Lindell M (2000) Politics of hazard mitigation. Nat Hazards Rev 1(2):73–82

Slocum M, Platt W, Beckage B, Orzell S, Taylor W (2010) Accurate quantification of seasonal rainfall and associated climate-wildfire relationships. J Appl Meteorol Clim 49:2559–2573

Taylor J, Gillette S, Hodgson R, Downing J, Burns M, Chavez D, Hogan J (2006) Informing the network: improving communication with interface communities during wildland fire. Hum Ecol Rev 14:198–211

Winsberg M, O'Brien J, Zierden D, Griffin M (2003) Florida weather. University of Florida Press, Gainesville
Acknowledgments
This study was supported by USDA and NOAA through the Southeast Climate Consortium. We appreciate comments by Alan Dozier, Carrie Furman, Gregg Garfin, and Keith Ingram, and graphic work by Shenandoah Evans and Oxana Uryasev.
Electronic supplementary material
Below is the link to the electronic supplementary material.
Example of wildfire risk forecast available on the AgroClimate website in June 2008 (JPEG 4542 kb)
Example of wildfire risk forecast available on the AgroClimate website in July 2011, indicating a 58% probability of severely dry conditions for Laurel County, Georgia (JPEG 3370 kb)
Potential applications of wildfire risk forecasts identified by stakeholders (DOC 41 kb)
About this article
Cite this article
Roncoli, C., Breuer, N., Zierden, D. et al. The art of the science: climate forecasts for wildfire management in the southeastern United States. Climatic Change 113, 1113–1121 (2012). https://doi.org/10.1007/s10584-012-0526-1
Received:

Accepted:

Published:

Issue Date:

DOI: https://doi.org/10.1007/s10584-012-0526-1
Keywords