Abstract
We analyse the impact of climate interannual variability on summer forest fires in Catalonia (northeastern Iberian Peninsula). The study period covers 25 years, from 1983 to 2007. During this period more than 16000 fire events were recorded and the total burned area was more than 240 kha, i.e. around 7.5% of whole Catalonia. We show that the interannual variability of summer fires is significantly correlated with summer precipitation and summer maximum temperature. In addition, fires are significantly related to antecedent climate conditions, showing positive correlation with lagged precipitation and negative correlation with lagged temperatures, both with a time lag of two years, and negative correlation with the minimum temperature in the spring of the same year. The interaction between antecedent climate conditions and fire variability highlights the importance of climate not only in regulating fuel flammability, but also fuel structure. On the basis of these results, we discuss a simple regression model that explains up to 76% of the variance of the Burned Area and up to 91% of the variance of the number of fires. This simple regression model produces reliable out-of-sample predictions of the impact of climate variability on summer forest fires and it could be used to estimate fire response to different climate change scenarios, assuming that climate-vegetation-humans-fire interactions will not change significantly.
Access options
Buy single article
Instant access to the full article PDF.
USD 39.95
Price excludes VAT (USA)
Tax calculation will be finalised during checkout.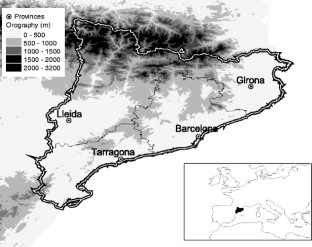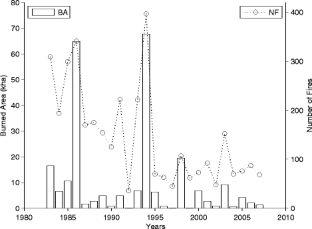 References
Akaike H (1974) A new look at the statistical model identification. IEEE Trans Automat Contr 19(6):716–723.

Archibald S, Roy DP, van Wilgen BW, Scholes RJ (2009) What limits fire? An examination of drivers of burnt area in Southern Africa. Glob Chang Biol 15(3):613–630

Bonan GB (2008) Forests and climate change: forcings, feedbacks, and the climate benefits of forests. Science 320(5882):1444–1449

Bowman D, Balch JK, Artaxo P, Bond WJ, Carlson JM, Cochrane MA, DAntonio CM, DeFries RS, Doyle JC, Harrison SP, Johnston FH, Keeley JE, Krawchuk MA, Kull CA, Marston JB, Moritz MA, Prentice IC, Roos CI, Scott AC, Swetnam TW, van der Werf GR, Pyne SJ (2009) Fire in the earth system. Science 324(5926):481–484

Calmanti S, Motta L, Turco M, Provenzale A (2007) Impact of climate variability on Alpine glaciers in northwestern Italy. Int J Climatol 27:2041–2053

Camia A, Amatulli G (2009) Weather factors and fire danger in the Mediterranean. In: Chuvieco E (ed) Earth observation of wildland fires in Mediterranean ecosystems, pp 71–82. Springer-Verlag, Berlin

Camia A, San Miguel Ayanz J, Vilar del Hoyo L, Durrant Houston T (2011) Spatial and temporal patterns of large forest fires in Europe. In: EGU general assembly. Vienna

Crimmins M, Comrie A (2004) Interactions between antecedent climate and wildfire variability across south-eastern Arizona. Int J Wildland Fire 13(4):455–466

Díaz-Delgado R, Lloret F, Pons X (2004) Spatial patterns of fire occurrence in Catalonia, NE, Spain. Landsc Ecol 19(7):731–745

Dube OP (2009) Linking fire and climate: interactions with land use, vegetation, and soil. Curr Opin Environ Sustain 1(2):161–169

Dwyer E, Grégoire J, Pereira J (2000) Climate and vegetation as driving factors in global fire activity, pp 171–191. Kluwer Academic Publishers, Dordrecht

Flannigan MD, Stocks BJ, Wotton BM (2000) Climate change and forest fires. Sci Total Environ 262(3):221–9

Harrison S, Marlon J, Bartlein P (2010) Fire in the Earth system. In: Dodson J, Mulder EF, Derbyshire E (eds) Changing climates, Earth systems and society, International Year of Planet Earth, pp 21–48. Springer Netherlands

Herrera S, Gutiérrez JM, Ancell R, Pons MR, Frías MD, Fernández J (2010) Development and analysis of a 50-year high-resolution daily gridded precipitation dataset over Spain (Spain02). Int J Climatol. doi:10.1002/joc.2256

Hessl AE (2011) Pathways for climate change effects on fire: models, data, and uncertainties. Prog Phys Geogr 35(3):393–407

Hill J, Stellmes M, Udelhoven T, Röder A, Sommer S (2008) Mediterranean desertification and land degradation. Glob Planet Change 64(3–4):146–157

Krawchuk MA, Moritz MA, Parisien M, Van Dorn J, Hayhoe K (2009) Global pyrogeography: the current and future distribution of wildfire. PLoS ONE 4(4):1.12

Llasat MC (1997) Meteorología agrícola i forestal a Catalunya: anàlisis, estacions i estadístiques (in Catalan), 298 pp. Departament dAgricultura, Ramaderia i Pesca, Generalitat de Catalunya, Barcelona

Llasat MC, Corominas J (2010) Riscos associats al clima (en Catalan). In: Llebot JE (ed) Segon informe sobre el canvi climàtic a Catalunya, pp 243–307. Generalitat de Catalunya

Lobell DB, Field CB (2007) Global scale climate–crop yield relationships and the impacts of recent warming. Environ Res Lett 2(1):1–7

Macias Fauria M, Michaletz ST, Johnson EA (2011) Predicting climate change effects on wildfires requires linking processes across scales. WIREs Clim Change 2(1):99–112

Malamud BD, Millington JDA, Perry GLW (2005) Characterizing wildfire regimes in the United States. Proc Natl Acad Sci U S A 102(13):4694–4699

Martín Vide J (1992) El Clima. Geografia General dels Països Catalans. Enciclopèdia Catalana, Barcelona

Meyn A, White PS, Buhk C, Jentsch A (2007) Environmental drivers of large, infrequent wildfires: the emerging conceptual model. Prog Phys Geogr 31(3):287–312

Mouillot F, Rambal S, Joffre R (2002) Simulating climate change impacts on fire frequency and vegetation dynamics in a Mediterranean-type ecosystem. Glob Chang Biol 8(5):423–437

O'Connor CD, Garfin GM, Falk DA, Swetnam TW (2011) Human pyrogeography: a new synergy of fire, climate and people is reshaping ecosystems across the globe. Geography Compass 5(6):329–350

Oliveras I, Gracia M, Moré G, Retana J (2009) Factors influencing the pattern of fire severities in a large wildfire under extreme meteorological conditions in the Mediterranean basin. Int J Wildland Fire 18(7):755

Pausas J, Paula S (2012) Fuel shapes the fire climate relationship: evidence from Mediterranean. Glob Ecol Biogeogr. http://onlinelibrary.wiley.com/doi/10.1111/j.1466-8238.2012.00769.x/abstract

Pausas JG (2004) Changes in fire and climate in the eastern Iberian Peninsula (Mediterranean Basin). Clim Change 63(3):337–350

Pausas JG, Fernández-Muñoz S (2011) Fire regime changes in the Western Mediterranean Basin: from fuel-limited to drought-driven fire regime. Clim Change 1–12. doi:10.1007/s10584-011-0060-6

Pausas JG, Keeley JE (2009) A burning story: the role of fire in the history of life. BioScience 59(7):593–601

Pereira M, Trigo R, Dacamara C, Pereira J, Leite S (2005) Synoptic patterns associated with large summer forest fires in Portugal. Agric For Meteorol 129(1–2):11–25

Pino J, Font X, Carbó J, Jové M, Pallarès L (2005) Large-scale correlates of alien plant invasion in Catalonia (NE of Spain). Biol Conserv 122(2):339–350

Piñol J, Terradas J, Lloret F (1998) Climate warming, wildfire hazard, and wildfire occurrence in coastal eastern Spain. Clim Change 38:345–357

Pyne S, Andrews P, Laven R (1996) Introduction to wildland fire, 769 pp. New York

Terradas J (1996) Ecologia del foc (Catalan Edition), 1 ed, 270 pp. Proa, Barcelona

Tong H (1993) Non-linear time series: a dynamical system approach. Oxford Statistical Science Series, Clarendon Press

Trigo RM, Pereira JMC, Pereira MG, Mota B, Calado TJ, Dacamara CC, Santo FE (2006) Atmospheric conditions associated with the exceptional fire season of 2003 in Portugal. Int J Climatol 26(13):1741–1757

Venevsky S, Thonicke K, Sitch S, Cramer W (2002) Simulating fire regimes in human-dominated ecosystems: Iberian Peninsula case study. Glob Chang Biol 8(10):984–998

Viegas DX, Viegas MT (1994) A relationship between rainfall and burned area for Portugal. Int J Wildland Fire 4(1):11–16

von Storch H, Zwiers FW (1999) Statistical analysis in climate research. Cambridge University Press, Cambridge

Westerling AL, Hidalgo HG, Cayan DR, Swetnam TW (2006) Warming and earlier spring increase western US forest wildfire activity. Science 313(5789):940–943
Acknowledgements
This work was supported by esTcena project (Exp. 200800050084078), a strategic action from Plan Nacional de I+D+i 2008-2011 funded by Spanish Ministry of Medio Ambiente y Medio Rural y Marino. The authors thank AEMET and UC for the data provided for this work (Spain02 gridded precipitation data set) and the Forest Fire Prevention Service of "Generalitat de Catalunya" (SPIF) for the fire data. Special thanks to Xavier Castro, Antoni Tudela and Esteve Canyameras from SPIF for the helpful discussions on the matter.
About this article
Cite this article
Turco, M., Llasat, M.C., von Hardenberg, J. et al. Impact of climate variability on summer fires in a Mediterranean environment (northeastern Iberian Peninsula). Climatic Change 116, 665–678 (2013). https://doi.org/10.1007/s10584-012-0505-6
Received:

Accepted:

Published:

Issue Date:

DOI: https://doi.org/10.1007/s10584-012-0505-6
Keywords
Interannual Variability

Burned Area

Fire Regime

Fuel Load

Fuel Moisture