Abstract
'Scepticism' in public attitudes towards climate change is seen as a significant barrier to public engagement. In an experimental study, we measured participants' scepticism about climate change before and after reading two newspaper editorials that made opposing claims about the reality and seriousness of climate change (designed to generate uncertainty). A well-established social psychological finding is that people with opposing attitudes often assimilate evidence in a way that is biased towards their existing attitudinal position, which may lead to attitude polarisation. We found that people who were less sceptical about climate change evaluated the convincingness and reliability of the editorials in a markedly different way to people who were more sceptical about climate change, demonstrating biased assimilation of the information. In both groups, attitudes towards climate change became significantly more sceptical after reading the editorials, but we observed no evidence of attitude polarisation—that is, the attitudes of these two groups did not diverge. The results are the first application of the well-established assimilation and polarisation paradigm to attitudes about climate change, with important implications for anticipating how uncertainty—in the form of conflicting information—may impact on public engagement with climate change.
Access options
Buy single article
Instant access to the full article PDF.
US$ 39.95
Tax calculation will be finalised during checkout.
Subscribe to journal
Immediate online access to all issues from 2019. Subscription will auto renew annually.
US$ 119
Tax calculation will be finalised during checkout.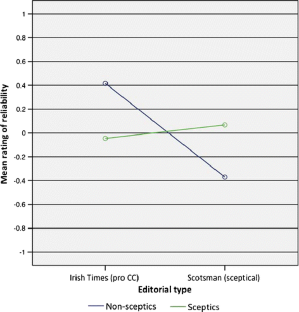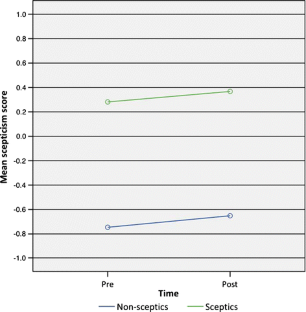 Notes
1.

The research in this manuscript is predicated on the uncontroversial scientific position that human activity is the primary forcing of current observed climate change. We take the mildly normative position that public awareness of and engagement with the issue of climate change, and the significant negative impacts it has on human and natural systems, is a desirable goal. We do not discuss these issues further in the main body of the paper.

2.

The term 'biased' does not indicate a judgment about the validity of a particular opinion. It is a formal term for a process that has been well documented in the social psychological literature: the tendency of individual s to assimilate new information in a way that is consistent with their existing attitudes.

3.

We discuss the difference between reported and actual attitude change in detail later in the paper—but actual attitude change would typically be measured by a 'before-and-after' method, where participants respond to a question asking them to state their current attitude towards a topic. Reported attitude change would typically be measured only once, after the provision of some information or stimuli, and would require participants to state whether their attitudes had changed since before the experiment was administered (i.e., a self-assessed change in attitudes).

4.

A great deal of experimental psychology utilises 'convenience samples'—which typically means the undergraduates studying in the Psychology department where the researchers are based. In the UK, the gender ratio of Psychology undergraduates is almost always heavily skewed towards females, and this is reflected in our sample.

5.

Despite the loss of statistical power associated with transforming a continuous variable into a categorical one, a median split (and the corresponding use of statistical Analyses of Variance) permitted us to observe evidence of polarization more clearly than continuous data and regression analyses. We repeated the analyses presented here using a different split (around the 'absolute' value of 0 on the scepticism scale). The results did not differ, suggesting that a median-split was an appropriate way of analysing the data.

6.

In both convincingness and reliability ratings, the scientific editorials were rated more highly than the editorials that focussed on moral/political uncertainty. This indicates that the two experimental conditions were not equivalent. However, we were not seeking to construct editorials of equivalent strength (which would be challenging for multiple reasons), but to compare participants' responses to the different types of uncertainty—scientific and moral/political—generated through the conflicting articles.
References
Antilla L (2005) Climate of scepticism: U.S. newspaper coverage of the science of climate change. Global Environ Change, Part A: Hum Policy Dimens 15(4):338–352

Bord RJ, O'Connor RE, Fisher A (2000) In what sense does the public need to understand global climate change? Public Underst Sci 9:205–218

Boykoff M (2007) Flogging a dead norm? Media coverage of anthropogenic climate change in United States and United Kingdom, 2003–2006. Area 39(4):470–481

British Broadcasting Corporation (2010) BBC climate change poll—February 2010. Available from http://news.bbc.co.uk/nol/shared/bsp/hi/pdfs/05_02_10climatechange.pdf

Budescu DV, Broomell S, Por H (2009) Improving communication of uncertainty in the reports of the intergovernmental panel on climate change. Psychol Sci 20:299–308

Butler C, Pidgeon N (2009) Media communications and public understanding of change—reporting scientific consensus on anthropogenic climate change. In: Boyce T, Lewis J (eds) Climate change and the media. Peter Lang, New York, pp 43–58

Carvalho A, Burgess J (2005) Cultural circuits of climate change in U.K. broadsheet newspapers, 1985–2003. Risk Anal 25(6):1457–1469

Corbett JB, Durfee JL (2004) Testing public (Un) certainty of science: media representations of global warming. Sci Commun 26:129–151

Corner A, Hahn U (2009) Evaluating scientific arguments: evidence, uncertainty & argument strength. J Exp Psychol Appl 15(3):199–212

Corner A, Harris AJ, Hahn U (2009) Conservatism in belief revision: source reliability and experimental pragmatics. Paper presented at the European Conference for Cognitive Science, Venice, Italy

DEFRA (2007) Survey of public attitudes and behaviours toward the environment: 2007. Department for Environment, Food and Rural Affairs, London

Doran PT, Zimmerman MK (2009) Examining the scientific consensus on climate change. EOS, Trans Am Geophys Union 90(3):22–23

Dunlap RE, Grieneeks JK, Rokeach M (1983) Human values and pro-environmental behaviour. In: Conn WD (ed) Energy and material resources: attitudes, values, and public policy. Westview, Boulder, CO

Dunlap RE, van Liere KD, Mertig AG, Jones RE (2000) Measuring endorsement of the new ecological paradigm: a revised NEP scale. J Soc Issues 56(3):425–442

Frewer L, Hunt S, Brennan M, Kuznesof S, Ness M, Ritson C (2003) The views of scientific experts on how the public conceptualize uncertainty. J Risk Res 6(1):75–85

Gallup (2009) Increased number think global warming is "Exaggerated". http://www.gallup.com/poll/116590/increased-number-think-global-warming-exaggerated.aspx

Hahn U, Harris AJ, Corner A (2009) Argument content and argument source: an exploration. Informal Logic 29(4):337–367

Harris AJ, Corner A (2011) Communicating environmental risks: clarifying the severity effect in interpretations of verbal probability expressions. J Exp Psychol Learn Mem Cogn 37:1571–1578

Hulme M (2009) Why we disagree about climate change: understanding controversy, inaction and opportunity. Cambridge University Press, Cambridge

Kahan D, Braman D, Jenkins-Smith H (2010) Cultural cognition of scientific consensus. Cultural Cognition Project Working Paper No. 77

Kuhn D, Lao J (1996) Effects of evidence on attitudes: is polarization the norm? Psychol Sci 7(2):115–120

Kruglanski AW, Webster DM, Klem A (1993) Motivated resistance and openness to persuasion in the presence or absence of prior information. J Pers Soc Psychol 65(5):861–876

Lord CG, Ross L, Lepper MR (1979) Biased assimilation and attitude polarization: the effects of prior theories on subsequently considered evidence. J Pers Soc Psychol 37(11):2098–2109

Lorenzoni I, Nicholson-Cole S, Whitmarsh L (2007) Barriers perceived to engaging with climate change among the UK public and their policy implications. Glob Environ Chang 17:445–459

Lorenzoni I, Pidgeon NF, O'Connor RE (2005) Dangerous climate change: the role for risk research. Risk Anal 25(6):1287–1398

Maio GR, Haddock GG (2010) The psychology of attitudes and attitude change. Sage, London

McCright AM, Shwom R (2010) Newspaper and television coverage. In: Schneider SH, Rosencranz A, Mastrandrea MD, Kuntz-Duriseti K (eds) Climate change science and policy. Island Press, Washington, D.C

Miller AG, McHoskey JW, Bane CM, Dowd TG (1993) The attitude polarization phenomenon: role of response measure, attitude extremity, and behavioural consequences of reported attitude change. J Pers Soc Psychol 64(4):561–574

Morton TA, Rabinovich A, Marshall D, Bretschneider P (2010) The future that may (or may not) come: how framing changes response to uncertainty in climate change communication. Glob Environ Chang 21(1):103–109

Munro GD, Ditto PH (1997) Biased assimilation, attitude polarization, and affect in reactions to stereotype-relevant scientific information. Pers Soc Psychol Bull 23(6):636–653

Nilsson A, von Borgstede C, Biel A (2004) Willingness to accept climate change strategies: the effect of values and norms. J Environ Psychol 24:267–277

Oppenheimer M (2005) Defining dangerous anthropogenic interference: the role of science, the limits of science. Risk Anal 25(6):1399–1407

Patt A (2007) Assessing model-based and conflict-based uncertainty. Glob Environ Chang 17:37–46

Patt A, Dessai S (2005) Communicating uncertainty: lessons learned and suggestions for climate change assessment. Cr Geosci 337(4):425–441

Patt AG, Schrag DP (2003) Using specific language to describe risk and probability. Clim Chang 61:17–30

Petty RE, Cacioppo JT (1984) The effects of involvement on responses to argument quantity and quality: central and peripheral routes to persuasion. J Pers Soc Psychol 46(1):69–81

Pew Research Centre for the People and the Press (2009) Fewer Americans see solid evidence of global warming. Available from http://people-press.org/report/556/global-warming

Pidgeon N, Fischhoff B (2011) The role of social and decision sciences in communicating uncertain climate risks. Nat Clim Change 1(1):35–41

Plous S (1991) Biases in the assimilation of technological breakdowns: do accidents make us safer? J Appl Soc Psychol 21(13):1058–1082

Pollack HN (2005) Uncertain science.. . uncertain world. Cambridge University Press, Cambridge

Poortinga W, Spence A, Whitmarsh L, Capstick S, Pidgeon N (2011) Uncertain climate: an investigation into public scepticism about anthropogenic climate change. Glob Environ Chang 21:1015–1024

Powell M, Dunwoody S, Griffin R, Neuwirth K (2007) Exploring lay uncertainty about an environmental health risk. Public Underst Sci 16:323–343

Prins G, Galiana I, Green C, Grundmann R, Hulme M, Korhola A, Laird F, Nordhaus T, Rayner S, Sarewitz D, Schellenberger M, Stehr N, Tezuka H (2010) The Hartwell paper: a new direction for climate policy after the crash of 2009. Institute for Science, Innovation & Society, Oxford

Society R (2010) Climate change: a summary of the science. Royal Society, London

Shome D, Marx S (2009) The psychology of climate change communication: a guide for scientists, journalists, educators, political aides and the interested public. Centre for Research on Environmental Decisions: Columbia, USA

Shwom R, Bidwell D, Dan A, Dietz T (2010) Understanding U.S. public support for domestic climate change policies. Glob Environ Chang 20:472–482

Spence, A., Venables, D., Pidgeon, N., Poortinga, W., & Demski, C. (2010). Public perceptions of climate change and energy futures in britain: summary findings of a survey conducted in January-March 2010. Technical Report (Understanding Risk Working Paper 10–01). School of Psychology, Cardiff

Taber CS, Lodge M (2006) Motivated skepticism in the evaluation of political beliefs. Am J Polit Sci 50(3):755–769

Tanner C, Elvers HD, Jandrig B (2007) The ethics of uncertainty. Eur Mole Biol Org 8(10):892–896

UK Climate Impacts Programme (2009) Adapting to climate change: UK climate projections. Available from http://ukclimateprojections.defra.gov.uk/content/view/824/517/

Ward B (2008) A higher standard than 'balance' in journalism on climate change science. Clim Chang 86:13–17

Whitmarsh L (2011) Scepticism and uncertainty about climate change: dimensions, determinants and change over time. Glob Environ Chang 21:690–700

Wynne B (2010) Strange weather, again: climate science as political art. Theor Cult Soc 27:289–305

Zehr S (2000) Public representations of scientific uncertainty about global climate change. Public Underst Sci 9:85–103
Electronic supplementary material
Below is the link to the electronic supplementary material.
About this article
Cite this article
Corner, A., Whitmarsh, L. & Xenias, D. Uncertainty, scepticism and attitudes towards climate change: biased assimilation and attitude polarisation. Climatic Change 114, 463–478 (2012). https://doi.org/10.1007/s10584-012-0424-6
Received:

Accepted:

Published:

Issue Date:
Keywords
Climate Change

Public Engagement

Attitude Polarisation

Newspaper Editorial

Prior Attitude